Check Out The 11 Best Violin Metronomes + Great Buyers Guide!
What is a Violin Metronome
Metronomes are small units that keep time. They had been first invented in 1815. You will probably have seen the original pendulum metronome design in movies. In the present day, metronomes vary in style and performance.
But no matter the metronome you will choose, if you especially pick from the models we have in our review, they are all going to keep a good time.
Are Violin Metronomes a great tool?
Having the best violin metronome as a tool is essential and will be a great advantage for any musician. They will assist you to play on the beat and should be a part of any violin training session. No matter if you're a solo or ensemble player, you will probably need a great metronome.
In order to provide you with more information and to make some suggestions about metronomes, we made a list of the best 11 violin metronomes that you can find available in 2023, enjoy!
---
1. BOSS DB-90 Digital Metronome
In case you are searching for a high-end and very professional digital metronome, this product is definitely the one for you.
You will be able to get this beat metronome at quite an affordable price and it is perfect for beginners, students, coaches, and professional musicians as well. All you need to do is trigger the input to obtain access to unique exercises for rhythm coaches and advanced musicians.
It offers four different options to allow you to measure several types of sounds from guitar, violin, a wide range of musical instruments, and even a human voice.
It additionally comes with pre-recorded sample drum machine rhythms to not just improve your playing or singing abilities but additionally to enable you to discover new rhythms.
Features
This is the most advanced metronome available.
Trigger input to access unique Rhythm Coach exercises.
MIDI in for syncing to external sequencer temposPCM sounds with "drum machine" style patterns.
50 memories. Human-voice count.
The beat range on the DB-90 metronome is very large. It goes from 30-280 BPM (beats per minute).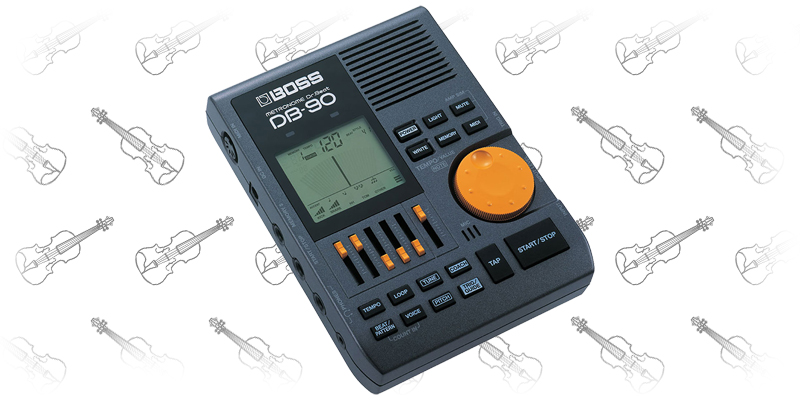 You Can Buy BOSS DB-90 Digital Metronome on the Links Below!
---
2. Wittner 811M Pyramid Mahogany Metronome
These Pyramid-style pendulum metronomes have only one job (to be just a metronome), at which they excel, and Wittner's extensive range of models delivers simply the best mix of vintage style and fashionable build quality for individuals who want a traditional approach to timekeeping.
The Wittner 811 is the most well-liked model in the German company's Maelzel range, and though there are admittedly few boxes to tick with this kind of mechanical metronomes, the 811 ticks all of them, with its smart wooden end and classical tempo scale printed behind the pendulum shaft for reference.
It has a bell that may be set to point 2/4, 3/4, 4/4, or 6/8 times, chiming on the downbeat of every bar. If the bell selector is pushed totally in, it disables the bell and you simply get a constant metronome tick.
The 811 isn't the most affordable choice, however, its timeless high quality will make it definitely worth the price and it is one of the best metronomes available in 2023.
Features
WITTNER Metronome System Maelzel.
Mat Silk.
With Bell.
Walnut Color.
The all-wood construction of the Tuner 813M makes it a durable and classy metronome.
You will never have to worry about the Wittner Tuner 813M breaking or having faulty mechanics.
It weighs just over a pound.
Anyone can use and carry this metronome around.
Made in Germany.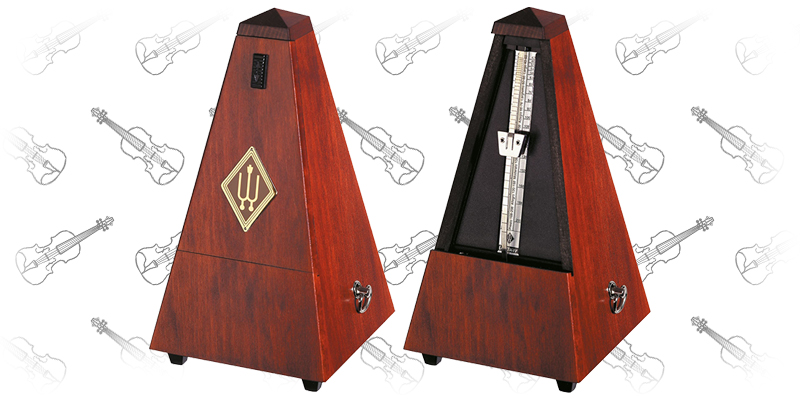 You Can Buy Wittner 811M Pyramid Metronome on the Links Below!
---
3. Korg TM60BK Tuner and Metronome Combo with Clip-on Microphone
Korg's digital instrument tuners became somewhat legendary, so it is a great thing to find a digital metronome like the TM-60. The Korg TM-60 additionally houses a tuner of typical Korg high quality inside the same tiny unit, rugged enough to be chucked into a music case.
It features a tap tempo function, auto power-off, 15 rhythm variations, and a memory backup that remembers your previous settings. If you use AAA batteries it will be working for around 130 hours.
The TM-60 boasts a backlit LCD display that's 30% bigger than that of the previous TM-50 model, allowing it to show the tuner and metronome simultaneously, so you'll be able to stay in tune while training.
There's additionally an input jack for Korg's optional TM-200 contact microphone to increase tuner sensitivity.
Features
Metronome and tuner functionality
Great value and pedigree.
Microphone input jack.
Battery 2xAAA.
6.3mm instrument input.
3.5mm headphone output.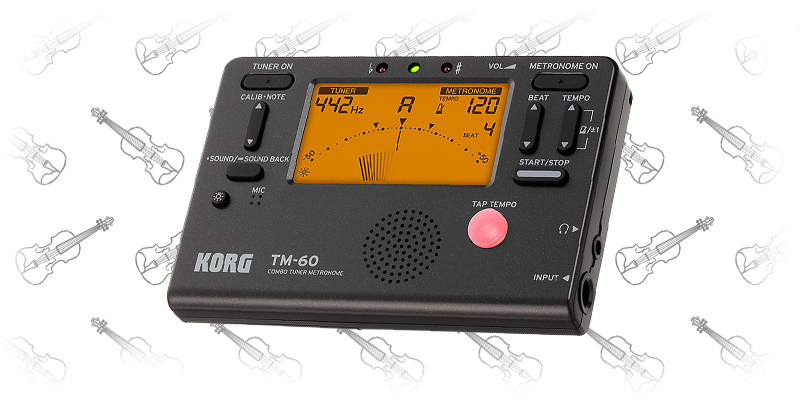 You Can Buy Korg TM 60 BK Tuner and Metronome on the Links Below!
---
4. KLIQ MetroPitch – Metronome Tuner for All Instrument
This combined tuner, digital metronome, and tone generator from Kliq are compact and ultra-portable. It features a big, bright LED display and a sizable rotary jog wheel in order to help you set the tempo.
On the metronome side, there are many options including a tap tempo option and a good number of beats, alongside a tuner with different tuning modes, transposition settings, and pitch calibration for all kinds of instruments.
There's just one beep sound for the metronome, but as beeps go it's not as harsh and annoying as some we've heard.
The MetroPitch runs for 40 hours on a pair of AAA batteries, is available on the market in good metallic black, blue, gold, or red finishes, and Kliq clearly knows what musicians are like because the unit comes with a protective pouch and a three-year guarantee.
Features
The MetroPitch combines a Tuner, a Metronome, and a Tone Generator, all housed in a pocket-sized device.
The included carrying pouch makes for easy transport to your next gig or practice.
The fast and accurate tuner boasts a wide range of A0-C8, various tuning modes, transposition settings, and pitch calibration.
With a broad range of 30-250 Beats Per Minute, tap tempo, and various beats and rhythm patterns, this metronome will improve your timing in a rich variety of musical styles.
The intuitive JOG Dial let's you literally dial in your desired tempo quickly and easily.
Allows for making swift pitch selection in the Tone Generator, among many other functions.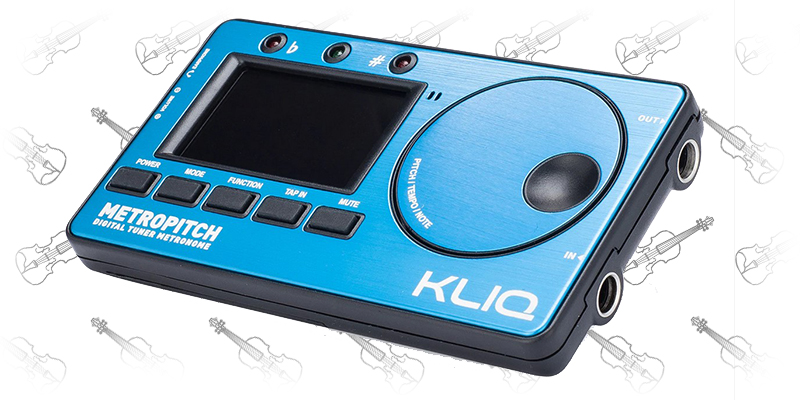 You Can Buy KLIQ MetroPitch – Metronome Tuner on the Link Below!
---
5. Korg MA-2 Compact Metronome, Blue
Korg has improved upon its predecessor in a number of areas while managing to maintain the price way down with the new update to Korg's bestselling MA-1 digital metronome.
The MA-2 sports a bigger pendulum swing display that's 30% larger than that of the MA-1, and a beefed-up beep tone to address loudness issues encountered by users of the previous model.
Consider a brand-new Timer mode and a powerful 400-hour battery life from a pair of AAA and you've got a considerably improved package that still represents an absolute bargain when it comes to electronic metronomes.
In case you can put up with the one and only beep tone, all that's left is to decide on which of the two available colors you want – it's obtainable in two-tone blue/black or black/red – and you'll be ticking along nicely.
Features
Larger and more easily readable display.
Enhanced volume and crisp sound for easier detection.
Covers all the needs of rhythm training.
Equipped with "timer mode" and "sound out mode" for daily practicing.
All-new body design & improved functionality with up to 400 hours of continuous use.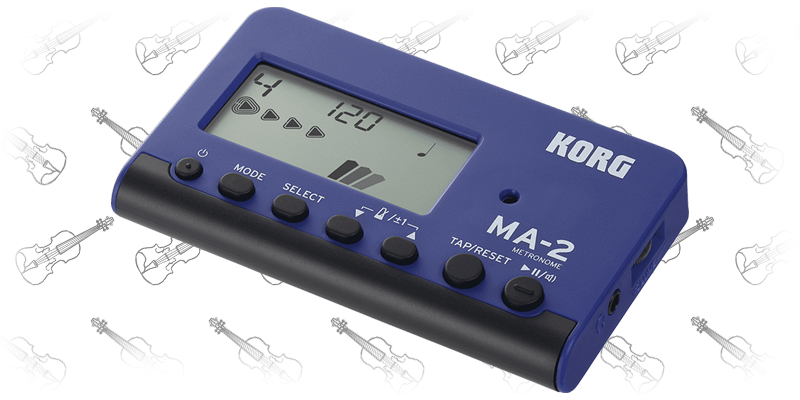 You Can Buy Korg MA-2 Compact Metronome at the Links Below!
---
6. Soundbrenner Core Steel – 4-in-1 music tool for musicians
For many who dislike the clicking of a metronome tick, vibration may prove a much less intrusive medium for timekeeping. That is where the Soundbrenner Pulse comes in, providing a haptic feedback solution for situations where an audible click can be difficult or impractical.
A 50cm diameter round metronome device that can be hooked up to one of two bundled straps and worn like a big smartwatch on your wrist, or alternatively across your arm or leg (and even across the body using an optionally available lengthy strap), the Pulse vibrates to the beat and flashes an LED rather than playing an audible sound.
Like a smartwatch, the Pulse metronome has a capacitive touch sensor for tapping interaction and a rotating outer wheel to pick the tempo value.
It communicates via Bluetooth with a slick and complete companion app, permitting you to customize LED color, alter vibration strength settings, add an audible click, create setlists, sync a number of Pulses together, and much more.
Features
Everything you need is right there with you! A vibrating metronome, contact tuner, dB meter, and smartwatch in one device.
Get rid of the annoying audible click and feel the beat with vibrations 7x stronger than a typical phone.
Customize time signature and subdivisions, create accents to the right note directly on the Core.
Detach the Core from its bezel and connect it directly to your musical instrument.
With an easy interface and LED ring display, the Core can guide you to perfect pitch of most instruments.
View time, date, and notification directly on the Core.
You can also accept or reject calls within a push of a button.
The Soundbrenner Core Steel comes with a premium stainless steel finish.
It's durable design gives it a quality feel that matches any musician's personality. Additional add-ons: Italian leather strap, carrying pouch.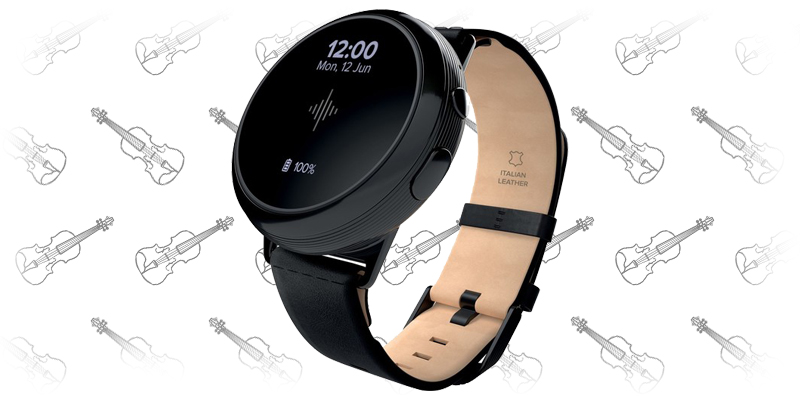 You Can Buy Soundbrenner Core Steel on the Links Below!
---
7. Seiko SQ50V Metronome
Seiko is a well-known company with a high reputation for manufacturing small and large tech units of all types. It is recognized for its qualitative watches, but additionally for the precision of its metronomes.
The SQ50-V is the company's basic quartz metronome, as well as the most recognized device in its field. It provides you the chance to decide between two different types of tempo and beat sounds to experiment with numerous musical intensities and speeds.
Because of this, you'll have the ability to focus more on your own interpretations and even create your personal music style and imprint.
This mechanical metronome is sufficiently powerful to measure up to 208 beats per minute with the big LED working as a visual tempo indicator. Because of the metronome ability, you will be able to measure the beats of your violin play without having to even touch the item while playing.
This Seiko metronome additionally comes with two different sounds and volume control to ensure you hear the tempo counting when playing the violin.
Features
Features easy operation, a tempo dial, adjustable volume, two selectable click tones and two tone generators (A and Bb).
Tempo range from 40-208BPM can be set easily from the 39-position rotary dial.
A red LED can be selected for a visual beat or combined with a click sound for visual and audible beat-keeping.
Includes earphone jack.
The SQ50-V quartz metronome is an upgrade from Seiko's SQ50.
Features new look, easy operation tempo dial, adjustable volume, two selectable click tones (high and low), and two tone generators (A and Bb).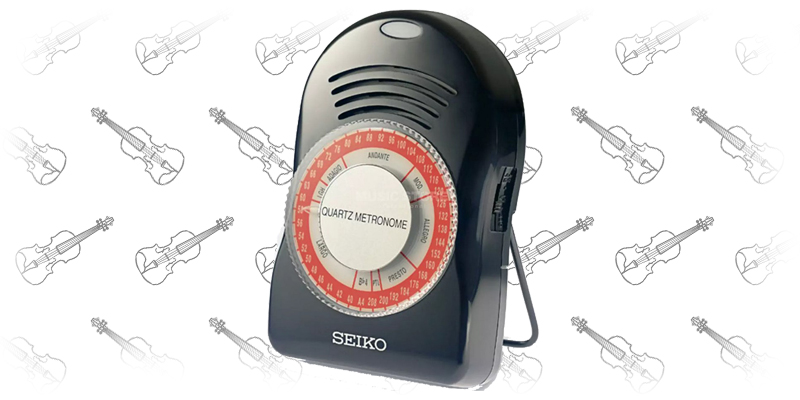 You Can Buy Seiko SQ50V Metronome on the Links Below!
---
8. Tempi Metronome for Musicians
Resembling the old-style watches and metronomes, this Tempi product is appropriate for both professionals and beginners as well.
It is available in four different trendy designs, with various types of wood patterns integrated. The Mahogany design is elegant and makes an amazing gift for music connoisseurs and violin lovers.
The no-battery design provides you with a hustle-free measurement of the tempo without having to worry about charging the batteries. On average, the product will provide you with a 20-minute window to practice extra and feel much less annoyed and stressed.
The adjustable beat bell measures from 0 to 6. It is able to measure between 40 and 208 beats per minute so you'll have a wide selection of options when selecting the best tempo for your own violin play. Furthermore, the item will help you accurately play the music you want and love while improving your musical skills.
This Tempi product is backed by a two-year warranty and worldwide customer support for hustle-free use anyplace you want.
Features
Improve your timing and feel confident with your music skills or your money back!
This metronome establishes accurate musical timing, helps play at a proper pace, provides a firm sense of rhythm, develops finger agility and preciseness, shows a visual sense of timing from the pendulum.
No batteries, average 20-minute wind for longer practice and less frustration, steel gears for durability, 40-208bpm for choosing any tempi, and easily adjustable/optional 0/2/3/4/6 beat bell.
The outside is a beautiful plastic, mahogany grain veneer.
When you order now, you will be protected by our not one, but 2-year warranty! As an added bonus, your Tempi metronome comes with a free e-book and 2 months of free online music lessons..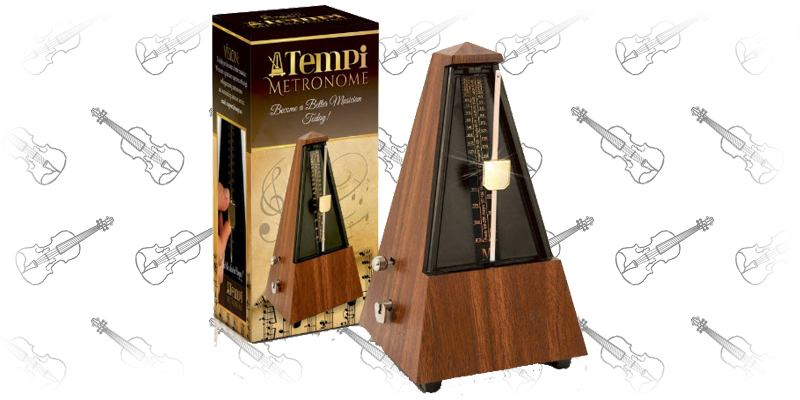 You Can Buy Tempi Metronome on the Link Below!
---
9. Korg KDM-3 Metronome
The Korg KDM-3 is one of the best digital metronomes for combining a classic aesthetic with modern functionality in a feature-rich package deal and with its unique truncated pyramid design. It's obtainable in a wide range of finishes, including a limited-edition model with a wood front panel.
The KDM-3 digital metronomes have eight selectable click tones to select from, including human 1,2,3,4 voice count and a sampled mechanical metronome tick. The massive start/stop button on the top additionally flashes in time with the beat for a helpful visual indicator.
With a built-in timer mode for timed practice sessions and a helpful tempo guide printed up one side, the KDM-3 gives an awesome balance of traditional metronome design and modern functionality.
Features
Stylish design that's reminiscent of a mechanical metronome.
Eight metronome sounds, including a Mechanical metronome sound.
19 beat patterns support songs of any genre.
Easy one-touch operation and an easily-readable display.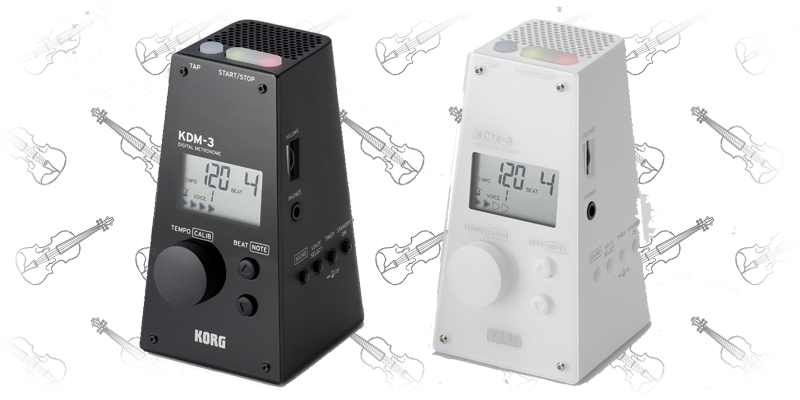 You Can Buy Korg KDM-3 Metronome on the Links Below!
---
10. Qwik Time QT-3 Quartz Metronome
This digital metronome is the ideal device for beginners who are on a low budget but still require an accurate metronome to assist them with their violin plays.
This model includes a built-in speaker to deliver clear clicks that cut through the music and provide correct measurement beat after beat. It will be able to assist you to measure between 40 and 208 beats per minute while additionally displaying you the type of tempo (from largo to prestissimo).
The earphone jack is extremely useful when wanting to be the only one counting the beats per minute without interrupting other individuals' lessons and rehearsals.
The low battery indicator warns you that you must recharge or change the battery used and also will show you the period of time left until the product discharges and you have to start over.
The small dimensions and flat, lightweight design make this product really easy to carry around and use anytime, anyplace.
Features
Features a speaker that projects clear clicks that cut through the music.
More than 200 speed settings. A440 tuning tone.
Low battery indicator. Earphone jack.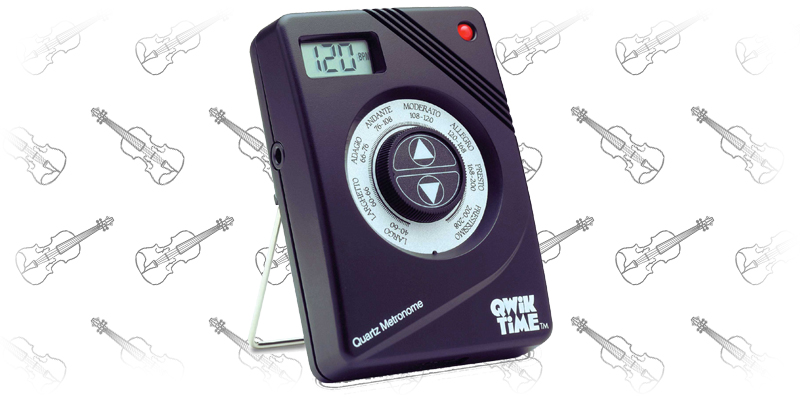 You Can Buy Qwik Time QT-3 Quartz Metronome on the Link Below!
---
11. Snark ST-2 Chromatic Metronome & Tuner
This isn't a usual metronome because it comes with a revolutionary and colorful design. The full-color display rotates to 360 degrees for increased versatility. It's going to help you see precisely the beat measurement wherever you are in the room. It comes with a clip that helps you simply attach the device to any place you want.
You'll be able to put it on your desk or attach it to your instrument case to be able to measure the tempo of your violin play without the hustle and without worrying about carrying the gadget in your hands while also playing.
The high-sensitivity vibration sensor easily counts every beat and helps you easily count and reach the right tempo for your play. The frequency is particularly designed to measure guitar bass and violin tempos with excellent accuracy.
Moreover, the tuner can be used by both left-handed and right-handed musicians. The lightweight design will help you carry this product with ease everywhere you go.
Features
All Instrument Tuner with Tap Tempo Metronome.
Stay put clip, display rotates 360 degrees for easy viewing.
The extended frequency range for all instruments.
High Definition Display.
Highest Accuracy Ever.
Tap Tempo Metronome with High sensitivity vibration sensor and internal mic.
RS Berkeley Microfiber cleaning cloth provides easy cleaning; removes dust, dirt, smudges, and fingerprints.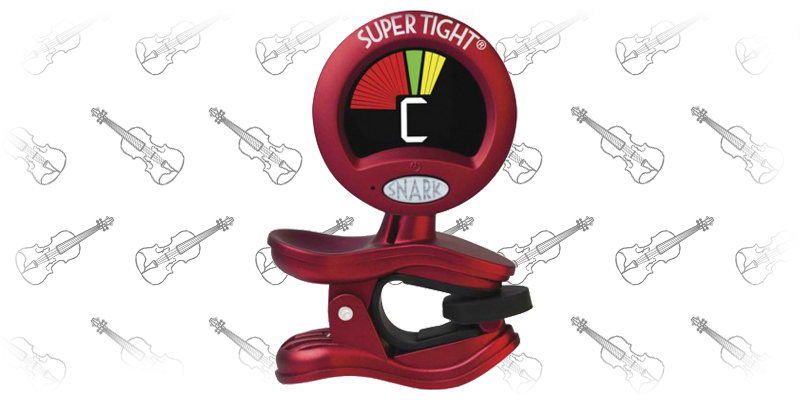 You Can Buy Snark ST-2 Chromatic Metronome & Tuner on the Links Below!
---
Violin Metronomes Review – Buyers Guide
The ideal metronome for you
When choosing the right metronome for you there are plenty of things to look out for, which is really interesting for a device designed to do only one job, to 'tick' at a specific set speed.
Electronic vs Mechanical Metronomes
Each of those two comes with its own pros and cons, while the prices stay slightly the same. Many of the regular metronomes are available in wood and hard plastic cases and have a mechanical movement to measure the beats per minute.
The good advantage is that they won't require charging or changing the batteries, however, the number of functions they provide is kinda restricted.
On the other hand, electronic metronomes offer a wide selection of features for measuring your tempo and beats, and can also make it easier to experiment with different music styles or improve your playing abilities like other musicians are doing.
So, even though the perfect and best metronome and tuner don't exist, you will need to go through some product reviews and items that are available on the market. Additionally, be sure to read the negative reviews to see the failings of the item and understand if the one you're searching for corresponds with the description made by different verified purchasers.
Weight and Size of the metronome
The best metronome is an essential tool and is available in different sizes, shapes, and weights, and it's up to you to search for the item that matches your needs the most.
The good majority of the metronomes follow the traditional pyramid-like design that can be easily positioned on your desk and measure the tempo of your violin play. However, these items are a bit large most of the time and are hard to move from one place to another(like other metronomes) if you want that.
Therefore, in case you're searching for a lightweight metronome design and increased portability, you should be looking at pocket-size metronomes.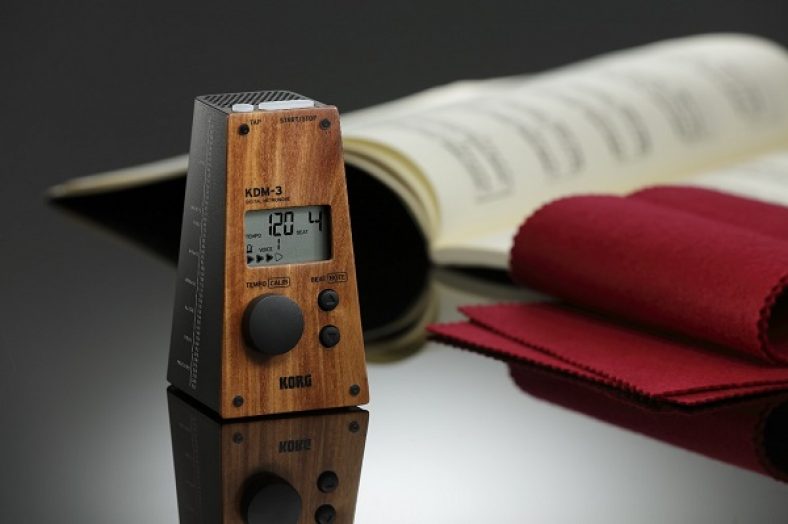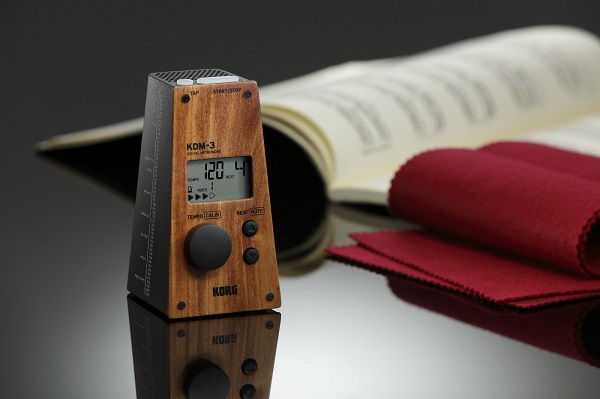 Most of these are really easy and small-sized so that they can fit in your backpack pocket or even in the case of your musical instrument. Like this, you'll be able to easily carry the metronome with you wherever you go and experiment with various tempos until you discover the best match for you.
You can also find a good violin metronome with clip-on or on-ear hanging devices, and even some that can be placed on your keychain.
Sure, these are sometimes of inferior quality however will do the work just fine if you want to be able to practice your play anywhere you go. Moreover, the very best clip-on tuner is great for putting it on any surface without worrying about it falling on the ground.
Conclusion
With our Violin Metronomes review, we wanted to give you more information about the electronic and mechanical metronomes that are available on the market in 2023!
There are a lot of metronomes in a wide range of prices and also for every musician, for beginners, and for professional players as well.