Cremona Violins Review + Great Buyers Guide!
Not far away from the city of Milano, passing tourists are able to stop and gaze at the historic buildings of the lovely city of Cremona which is sitting beside the Po River in Lombardy – Northern Italy.
Since the 16th Century, the city of Cremona has forged a musical history like no other place. And once housed the workshops of Guarneri, Francesco, and Vincenzo Rugeri, members of the Amati family and of course one of the most famous Antonio Stradivari.
However, in this part of Italy, times have changed. The Second World war took its toll, however, the manufacture of violins and other different instruments survived.
Nowadays a big number of budget instruments are made overseas, particularly in China. Made by Luthiers that retain the skills and the craftsmanship.
In order to make your decision easier and to provide you with more information about the best models from this brand, we made a list of the best 6 violins that you can buy in 2023 and a Cremona violin review!
---
1. Cremona Violin SV-130 Premier – 4/4 Size
The SV-130 is one superb violin made and used mostly by beginners (many of those beginners consider this model the best Cremona violin for starters). It has an oiled neck for better playability. This primarily makes it easier to change hand positions as you progress between the strings.
We'd say it's a good feature to look out for if you're not a complete beginner and need a violin that is going to improve your playing. Apart from the oiled neck, these violins' bodies are usually the same. They each have that pretty vintage-looking varnish and an attractive spruce top.
Here's where some additional differences come into play. This violin has solid ebony fittings which are different from the SV-75. Because of this, its resonance and volume are slightly better and it is typically extra durable. In case you're an adult who is just starting with the violin then this model is a nice option for a first violin.
You won't need to improve as rapidly as younger beginners do so we would suggest spending a tiny bit more on a violin that will last you. This violin sounds really great, it has a nice clean voice, so transitioning between strings sounds really beautiful. The ebony fittings give it a very nice resonance as well.
As we are writing this article, there is a discount price for this violin on Amazon – 25% off the price, you should hurry and take your next instrument.
Features
Cremona's top-selling novice violin for more than 10 years, and is highly rated in many Cremona violin reviews.
Every Cremona student violin comes with US-made Prelude strings; the educator's preferred strings for students.
Properly fitted Swiss-style ebony pegs and quality lightweight composite tailpiece with 4 smooth fine tuners for easy tuning.
Low profile Kaufman-style chinrest; oiled neck for better feel and well-balanced bow for ease of playing.
Correct string height and string spacing for accurate finger positioning and intonation.
Ebony fittings.
Ebony fingerboard.
Hand-carved solid spruce and solid maple body.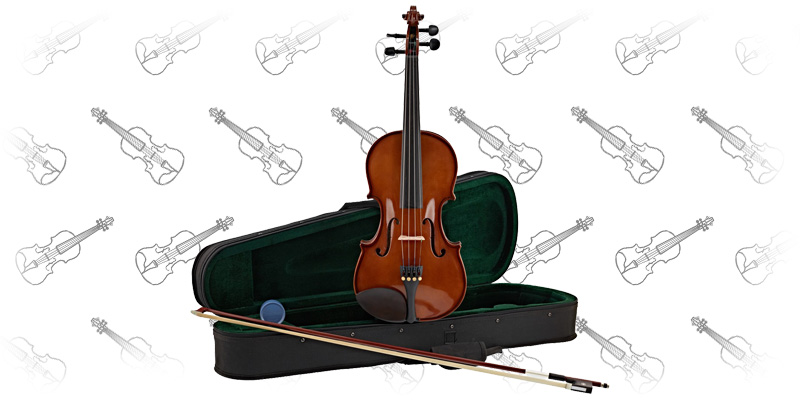 ---
2. Cremona Violin SV-1500 Master Series – 4/4 Size
This violin is one of the most luxurious choices from this brand and this is the best Cremona violin from the master series. The Cremona SV-1500 is really an instrument that you need to see and to be honest for a high-end violin it's really not that expensive.
This violin spruce top is one of the things that has given this beautiful violin its price tag. We already spoke in many previous violin reviews that are all about that aged wood, which gives the instrument a magic touch and exceptional sound.
Actually, this spruce top has been aged for over 100 years! It's fantastic hand carved and you can really tell how delicate those F-holes are. It has a real ebony fingerboard as well and when it comes to high-end violins, ebony sort of goes out the window.
Boxwood is actually costlier than ebony and it's almost as strong. Ebony fittings normally get all the praise, however, boxwood definitely isn't inferior. Those boxwood fittings look beautiful on a warm varnished violin like this.
The SV-1500 additionally has a stunning, Sacconni-style tailpiece with one fine-tuner on the E string. This violin sounds so smooth it's warm, it's resonant, and it sings out with a lot of volume.
This violin is certainly up there with a few of the best. It's undoubtedly worth a go in case you've got the budget! It's fitted with Anton Breton VNS-150 Perlon strings, which are some of our favorites.
For those looking for a more detailed review of this great instrument, feel free to check our single review about Cremona Violin SV-1500 Master Series Review!
Features
100+ year old, hand-carved and graduated, solid spruce top.
Superb, deeply figured, hand-carved one-piece, premium solid maple back and sides.
Solid maple neck, Hill style boxwood fittings, Cremona aged maple bridge.
Anton Breton VNS-150 Perlon strings, VP-14 fine tuner, and Sacconi style tailpiece hanger.
Best quality ebony fingerboard, nut, and saddle.
Includes Travelite TL-35 deluxe suspension case for ultra-lightweight protection.
Exceptionally well balanced J. LaSalle LB-17 brazilwood bow.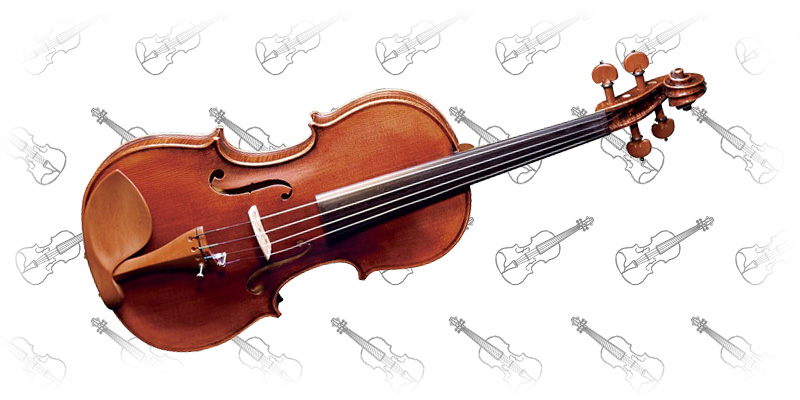 ---
3. Cremona SV-500 Premier Artist Violin Outfit – 1/4 Size
The Cremona SV-500 premier artist violin is by many players the best Cremona violin that you can get in 2023. This model is excellent for complete beginners, intermediate students, or any violin collector who would like to play a new violin.
Cremona SV500 really has a nice appearance, the tight-grained spruce top is really attractive and it's deep warm varnish. As with all Cremona violins, its physique has been hand-carved and expertly crafted.
The SV-500 is fitted with genuine ebony fittings, which are nice because they're durable. Ebony pegs maintain your violin tuning very well, so in case, you do want to spend a bit more on your violin, search for one like this with some nice fittings.
Students tend to depend on fine-tuners a lot, so you're most likely a fan! Composite tailpieces like this one are lighter than ebony tailpieces, so having fixed fine tuners probably makes the violin lighter overall! Having fixed fine-tuners will make the violin lighter because composite tailpieces like this one are lighter than ebony tailpieces.
This Cremona Violin comes with a brazilwood bow as well. It's not probably the most amazing one you have ever used but it's a great student bow.
The SV-500 is popular for having a beautiful tone. Cremona violins always sound a lot better than you'd expect them when you see their price. This model has great volume and resonance, it's one of the best student violins ever. It has a beautiful, mellow tone to match its warm body!
Features
Best tone quality for the advanced student and Cremona's most popular violin for sound.
Flamed maple with a rich, hand-applied reddish-brown varnish finish, hand-carved solid spruce, and solid maple body.
Set-up to MENC Standards at Cremona workshop in California.
French-made Aubert bridge.
US-made Prelude strings.
Low profile, lightweight, and well-designed Stradivarius-style chinrest.
Deluxe Brazilwood bow and oblong case.
Quality Swiss-style ebony fittings and a select ebony fingerboard with a lightweight composite tailpiece for easy tuning.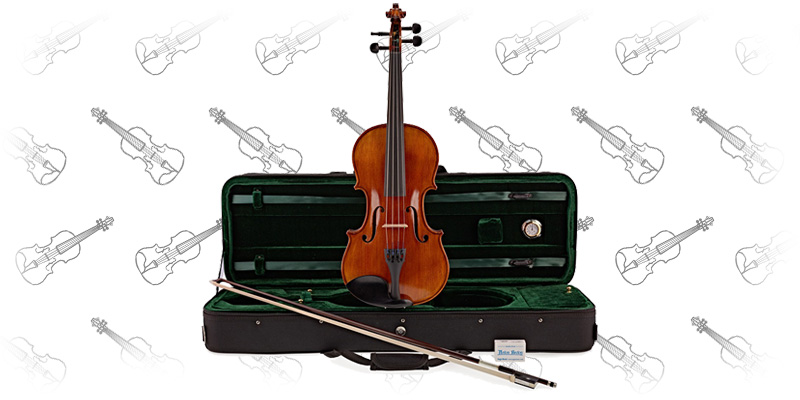 ---
4. Cremona Violin SV-75 Premier Novice Violin Outfit – Sparkling Red – 1/4 Size
In case you are buying your kid their first violin, then one of the crucial concerns needs to be the size. Not all instruments are full-sized, and there are some made for young starters.
This Cremona SV-75 Premier Novice Violin is one such instrument. The kid should additionally find an instrument that is attractive to the eye. This is a half-size instrument made for beginners mostly. It is perfect as it is going to be easy to carry and, at only two and a half pounds, it is quite lightweight.
Once you decide on the size that you will buy, you need to verify the quality of the workmanship and the materials that are used to make the violin. A poorly made-violin will probably be almost unplayable. Low-cost materials are not going to offer you a nice sound. Workmanship and materials are very important. However, none of this should concern you when buying a Cremona violin.
Cremona SV-75 has a maple body and a strong and solid spruce top making it a higher-quality instrument. The neck is maple with an elegant Ebony fingerboard. The f-holes are cut into the physique.
Cremona makes instruments for starters to professionals, but one thing is constant all the time. They use good materials, and they are made by individuals who know what they are doing and are always able to provide you with the best Cremona violin quality.
They have actually given this violin a really nice red color, totally different from the usual plain wood styles, this violin stands out in a crowd. We are pretty much sure that young players will be impressed.
The usual quality fittings are included. The swirling headstock design with the four pegs, and composite material for the tailpiece with four fine tuners and chin rest.
Features
Every Cremona student violin comes with US-made Prelude strings, the educator's preferred strings for students.
Proper peg fitting, low profile chinrest, and oiled neck for ease of playing.
Correct string height, string spacing, and neck relief for accurate finger positions and tone.
All hand-carved, all solid spruce and maple body with a sparkling red gloss finish.
Hardwood fittings and lightweight composite tailpiece with 4 built-in fine tuners for easy tuning.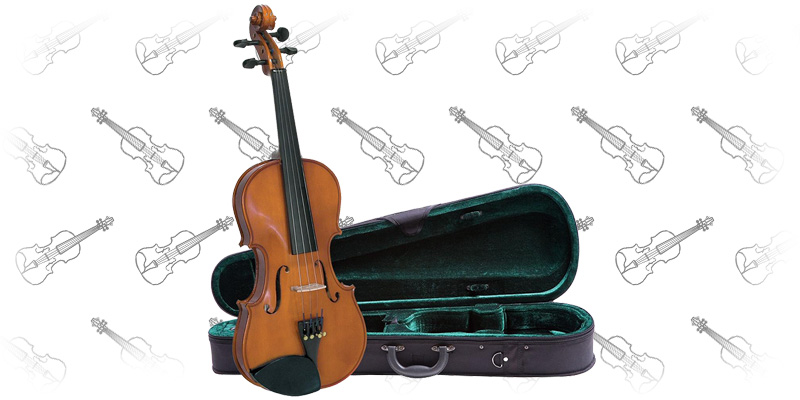 ---
5. Cremona SV-100 Premier Novice Violin
The decision of getting the proper instrument for an aspiring violin player was never easier than now, with the Cremona SV-100 Premier Student Violin Outfit.
Top-quality tonewoods are expertly crafted into instruments that play and sound really great, ultimately encouraging the training and learning process. If we add on that a set of USA-made D'Addario Prelude strings, the most preferred strings for students, and a professional setup.
When it comes to playability, tone, and value this instrument will most probably exceed the expectations of teachers, students but also parents as well. Every instrument is set up to Cremona standards at their U.S. workshop.
Features
Top: Solid spruce.
Back and Sides: Solid maple.
Neck: Oiled solid maple.
Fingerboard: Dyed rosewood.
Fittings: Dyed rosewood.
Tailpiece: Composite with four built-in fine tuners.
Chin Rest: Kaufman dyed rosewood.
Bridge: Cremona 2-star aged maple.
Strings: D'Addario Prelude.
Finish: Translucent warm brown lacquer.
Bow: AB-110 round brazilwood horsehair bow with rosewood frog.
Case: Lightweight semi-shaped foam with two bow holdersd.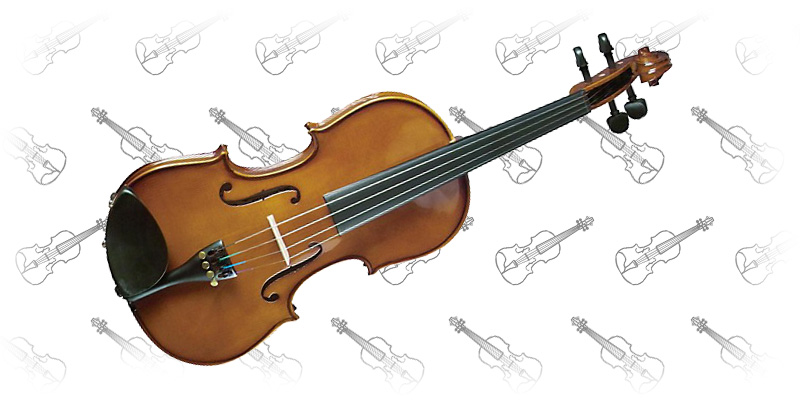 ---
6. Cremona SV-1220 Maestro First
The Cremona SV-1220 Maestro violin is a folk player's dream. This model's deep, reddish varnish is really unique. Its spruce top hasn't been aged for quite as long as the SV-1500, which means it's more reasonably priced.
The only other important difference between these two models on the body is the maple flaming. The SV-1220'S back isn't quite as highly flamed.
However, you will be able to see the grain of the wood so clearly, regardless of its darker varnish, and also appears really rustic-looking. The SV-1220 is entirely hand carved and its neck is oiled for excellent playability!
Another difference between this violin and the 1500 is its fittings. I'm afraid the pegs don't have any fancy carvings. It's only got one fine-tuner on the E string, which is nice for minimizing that pesky buzzing noise fine-tuners are likely to make.
Basically, the SV-1220 is an understated version of the 1500. However, it still comes with a gorgeous balanced J. LaSalle LB-17 brazilwood bow and one of our favorite Anton Breton strings.
Cremona violins are usually very mellow and warm however this model has a little bit of a twist. Its tone has a bit of edge to it, which most people will probably love. It's still silky smooth and it's not too bright, it's just right in that sweet spot.
The Cremona SV-1220 is a beautiful violin. We think that this model is an ideal high-end choice for anyone who's searching for luxury but can't quite afford 1500. Cremona SV-1220 is for more advanced players but it could probably be a good option for intermediate players as well.
Features
Clarity and volume come with a hand-carved, properly graduated, select solid spruce top.
Handcarved and graduated select solid maple back, sides and neck assure a focused sound and attack.
Boxwood fittings.
Cremona aged maple bridge.
Anton Breton VNS-150 Perlon strings and VP-14 finetuner.
Sacconi-style tailpiece hanger
High-quality polished ebony fingerboard, nut, and saddle.
Includes Travelite TL-35 deluxe suspension case for ultra-lightweight protection and exceptionally well balanced J. LaSalle LB-17 brazilwood bow.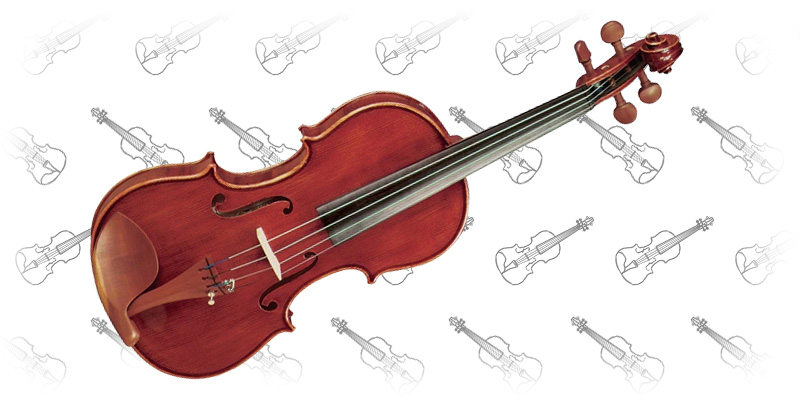 ---
Cremona Violins Review – Buyers Guide!
Beginner steps
There is a long way until you reach the level that you want, however, it has to begin somewhere. Just remember that many low-cost Violins are purchased and are almost unplayable. The result is that the kid gives up, and you cannot really blame them.
In case you are not sure about spending a bit more money, then you always have the option to rent one. However, after one year, that will probably end up being just as costly as buying a new violin.
Moreover, if you purchase a quality instrument, then you can always sell it if you have to. Cremona violins are generally known as high-quality instruments.
Which model and size you should buy?
At the very beginning, you should decide about the size of the violin that will be the perfect fit for you. Once you sort that out, other important things that you should consider are the violin's weight and violin length.
Because the violins are held under the chin those things are important especially if a younger kid is playing the instrument.
The Cremona brand has really good violins and almost every instrument comes in all sizes even the smallest ones that Cremona is making are made of quality wood and excellent workmanship.
Price of the Cremona violins
Many of these violins from the Cremona brand are not cheap options (they do have cheap options) but you can be sure that you will enjoy the instrument for a long time.
When you buy the costlier option it will have a positive and good resale price once you decide that you need an upgrade.
Conclusion
Our list is fresh and we hope it will help you decide about your new violin. The Cremona has some really great models and also they have models in a wide range of prices.
When looking for Cremona violin, most of the time you will find options for intermediate and professional players but they do have some beginner models as well.
Related Articles