PRS SE Standard 24 Guitar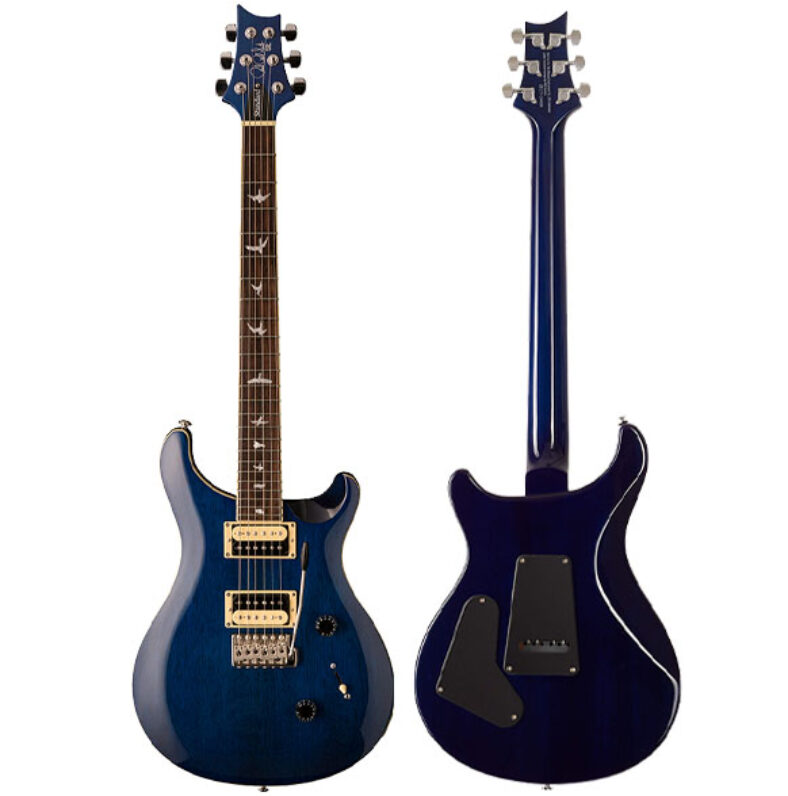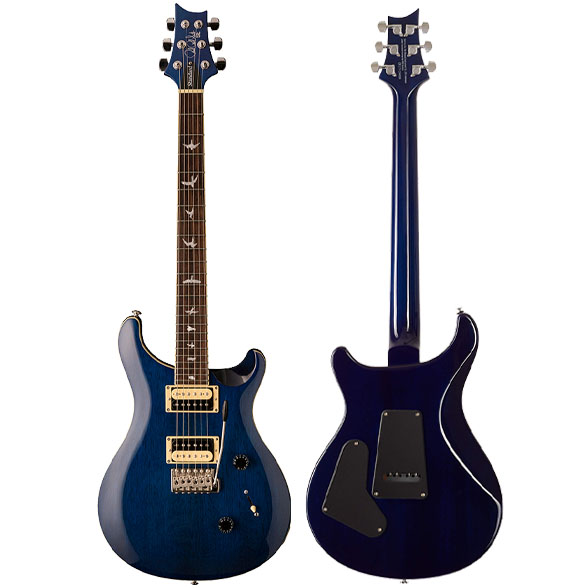 Extremely versatile.
Excellent build quality.
Very well-balanced.
Great Price!
Comes with a gig bag!
---
History of Paul Reed Smith Guitars
When Paul Reed Smith launched his company in Maryland in 1985, his Custom 24 was among the first guitars he sold.
It was the quality and craftsmanship of the guitars on display at the 1985 NAMM Show that wowed attendees. These guitars featured mahogany necks and bodies, an innovative vibrato system, and very accurate tuning pegs.
Since its founding, the company has developed and released many electric and acoustic instruments, as well as bass guitars and amplifiers.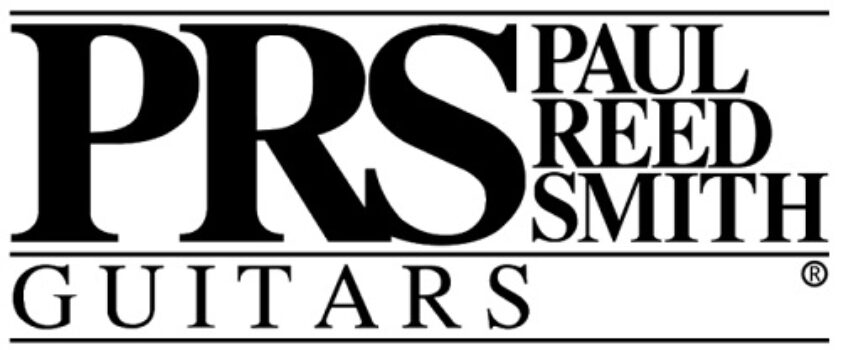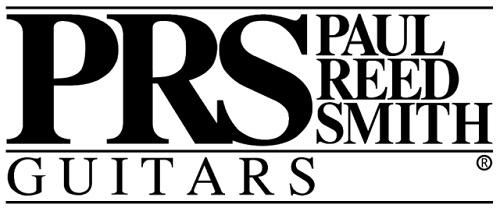 Bird inlays adorn the necks of all models and are the most distinctive feature of the brand. A tribute to his mother, who was an avid bird watcher, is what inspired the founder's birds. Across the frets of the 24-fret model, 10 different birds are inlaid.


It is no secret that some of the most celebrated guitarists of all time have earned their living playing PRS guitars, including Carlos Santana.
A Silver Sky signature model produced by John Mayer, the brand's most recent sponsor, broke several sales records. Due to its striking resemblance to Mayer's last guitar with Fender, a Stratocaster, the guitar created some controversy.
There is a wide range of guitars available from PRS at all price levels, with the SE Standard 24 serving as an entry-level model.
PRS SE Standard 24 Guitar – Introduction
Almost 35 years have passed since Paul Reed Smith Guitars unleashed the Custom 24, arguably the company's most iconic axe. Players were immediately drawn to the Custom 24's figured maple top, mahogany back, and neck.
PRS soon realized that selling four-figure guitars wouldn't be enough to compete with Fender, Epiphone, and Ibanez in the guitar world.
As a result, PRS has expanded its impressive lineup of guitars for players on a tight budget over the past decade or so. This includes the launch of PRS SE Standard 24.
Its budget-friendly price makes this Asian-made guitar an excellent choice.
We hope this review helps answer your questions about the PRS SE Standard 24 if you have been on the fence about purchasing one. By reading our review, you can determine if this is the right guitar for you, your playing style, and your budget.
PRS SE Standard 24 Guitar
Specs
Body: Mahogany.
Body binding.
Neck: Maple.
Scale: 635 mm (25″).
24 Frets.
Neck profile: Wide Thin.
Fretboard: Rosewood (Dalbergia latifolia) with binding.
Fretboard inlays: PRS Birds.
PRS tremolo.
Pickups: 85/15 "S" treble and bass humbuckers.
Volume control.
Tone control with push / pull function.
3-Way blade switch.
PRS-designed machine heads.
Hardware: Nickel.
Colour: Translucent Blue.
Includes gig bag.
---
PRS SE Standard 24 Guitar – Review!
Quality of Build
SE Standard 24 shares a common theme with PRS Guitars: solid, high-quality construction. As soon as you pick up the SE Standard 24, you can feel its solid construction. Despite being mass-produced in Asia, PRS' commitment to quality ensures that each product is just as good as the last.


The Body
In terms of durability, this is about as durable as it gets for a guitar that's out there made out of all-mahogany.
The Neck
As a result of its wide-thin carve, the maple neck is quite comfortable to play with as it provides good responsiveness.

Durable Hardware
There are tough hardware components, such as the PRS tremolo bridge and tuners, that will keep the guitar going for years to come.
Additionally, the neck has a gloss finish, which contributes to its durability. This has been mentioned a few times, but it cannot be emphasized enough: This guitar is of much higher quality than its price tag would suggest, which is why it is often out of stock.
Electronics and Hardware
In spite of the fact that this is a factory-made guitar, it is fitted with top-quality hardware and electronics, which give it the appearance of a professional instrument.
The Headstock
It features chrome tuners designed by PRS that have received mixed reviews. While some players recommend swapping them out for a set of locking tuners, others say that they work great out of the box.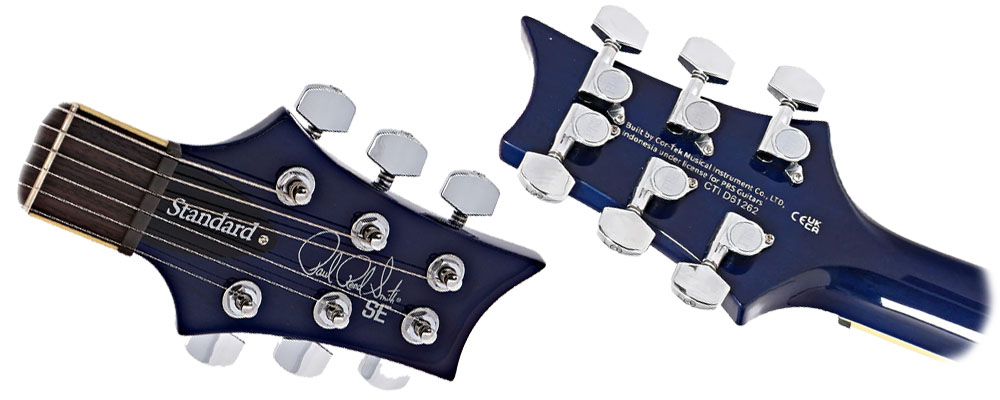 The Pickups
This super-affordable guitar is equipped with PRS's own 85/15 "S" humbucking pickups, which are modeled after Mr. Smith's 1985/15 pickups that were designed for his 30th anniversary.
Wired to a three-way selector, these pickups are versatile. It has a push-pull tone knob that you can use to split the humbuckers into some super-clean single-coil sounds.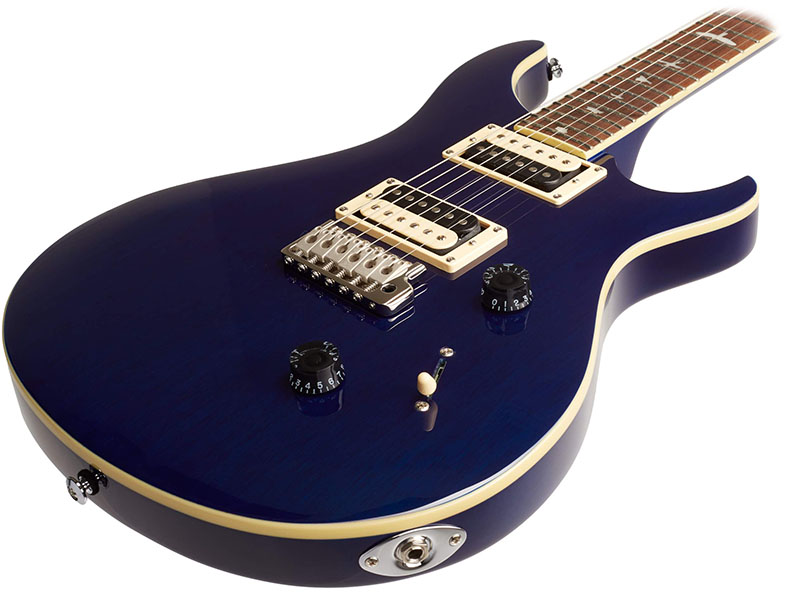 Tremolo
Tuners from PRS are paired with a tremolo system that works well. Perhaps those who complain about the tuners are overusing the tremolo.
The Sound of PRS SE Standard 24 Guitar
A mahogany body makes the PRS SE Standard 24's acoustics really balanced and warm when unplugged. Plugging the guitar into an amplifier certainly transfers that warm tone.
This guitar's sound can best be described as versatile. The 85/15 "S" humbuckers we discussed above work in any genre, including jazz and hard rock. There's enough power from the humbuckers to provide intense distortion if you need it. For a more traditional sound, you can switch to single coils, similar to what you can find on a Fender Stratocaster.
When you play clean tones on the guitar, you'd say the mahogany body adds a hint of an acoustic vibe.
Its versatility is best experienced with a tube amp, like a Fender Blues Junior or an Orange Tremlord, for rockers and blues and jazz players.
---
You can hear the sound of this guitar in this small review by PRS company!
---
PRS SE Standard 24 – Playability
SE Standard 24 was designed to enable players of all experience levels to plug it in, start playing immediately and play without any setup. In fact, many owners claim that's the case with this guitar.
Bridge
It seems as though the bridge is floating with the smallest gap between it and the body. As far as we are concerned, there are no complaints to be made.
Strings
It is equipped with light, 9-gauge strings and has quite a low action, making it easy to play, and that is why it is a good choice for beginners.
Frets
The fretboards of these guitars are perfectly rounded and polished by all reports, allowing your fingers to travel smoothly along the fretboard as you play.
Plastic Nut Issue
There appears to be a problem with the molded plastic nut, which appears to be too tall. This can lead to strings sitting inward, affecting tuning stability. The nut could also wear out after some time, depending on how hard you play.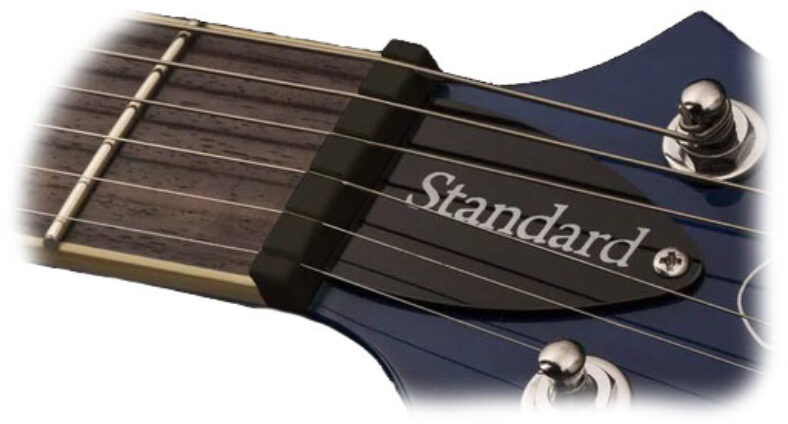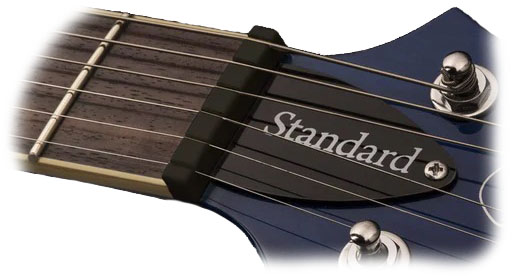 As we have already mentioned, the cutaways on this guitar allow for comfortable and easy fret access.
PRS SE Standard 24 Guitar
It's beautiful and works perfectly, a guitar made to last!
Pros
Extremely versatile guitar.
Very well-balanced.
Excellent weight distribution.
Comes with a gig bag!
Cons
The plastic nut may be a problem.
Price To Value
The PRS SE Standard 24 must be of the highest quality. It's almost impossible not to have one at a price of around $500.
It's true that there are several guitar options available at this price point, but the SE Standard 24 stands out for its high-quality build and playability. With every new version of PRS' standard lineup, the company adds value.
Last Words
It doesn't matter if your budget is low or high, you cannot go wrong with PRS SE Standard 24. Do not hesitate to choose PRS SE Standard 24 if you have a limited budget.
There aren't many guitars in the $500 range that offer such quality at such an affordable price point. If you find it in stock, take advantage of the opportunity!