Fender American Vintage II 57 Stratocaster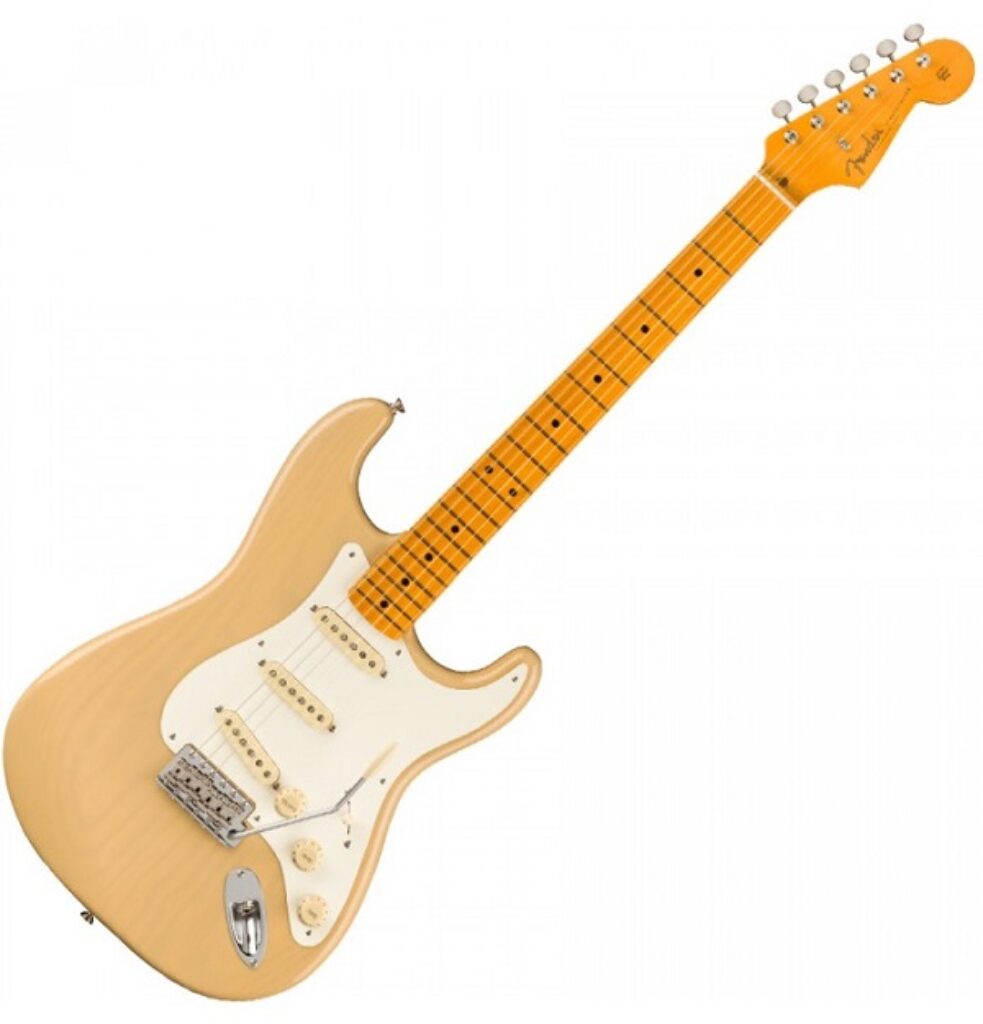 Electric Guitar
Pure Vintage Single Line "Fender Deluxe
Finish: Vintage Blonde
Nickel/Chrome; tuning machines
---
Fender AV II Stratocaster 57 Review
One of the best guitars ever made is the 1957 Fender Stratocaster, particularly renowned among guitarists. In 1957, three years after the model was introduced, Fender mastered the art of guitar manufacturing. A perfect storm of sonic sweetness was created by refining every aspect of the instrument.
Guitar players were in awe of the "V"-shaped neck and burnt amber finish, and employees took great pride in their workmanship at Fender's Californian Factory.
The American Vintage II 1957 Stratocaster is one of many '50s and '60s reissues and vintage-inspired models released by Fender in the last few years. Fender has brought out a beautiful dedication to its original predecessor, whether it is due to nostalgia from musicians of yesteryear, or an unwavering desire from younger players to experience the precision and feel of a 1957 Stratocaster.
Similar to the original 1957 Stratocaster, the American Vintage II Stratocaster has been built seemingly flawlessly. Designed to match the specifications of the original 1957 Stratocaster, the guitar's body's famous curves are identical. During 1957, the Fender Stratocaster's curves were believed to have reached their peak, which is evident in this model.
American Vintage II 57 Design
In the first place, the neck. Unlike the 57, which runs a compound modern C to D shape, the HSS has a v-neck shape. The 57 has a very rounded 7.25-inch radius on its maple fretboard, whereas the Modern has a rosewood fretboard with a compound radius that starts at 9.5 inches at the nut and flattens out to 14 inches at the body.
57s' rounder necks are, in our opinion, more comfortable to play, especially when you use your thumb on the low E string, like Hendrix. It is understandable why many artists wanted this radius on the PRS Silver Sky signature model.
When you move up the board and bend notes, particularly on the top string, the modern compound neck shows its advantage. There is even a noticeable improvement in vibrato. Some folks prefer to really lay into their guitars, but whether that's a good thing for you is entirely up to you.
On the tuners, the 57 sports a set intended to emulate the original Klusen "single line" units from the 1960s and 1970s. Their functionality is excellent. With a modern guitar, you'll have access to locking tuners, making changing strings easier. There is no conflict between them.
A period-authentic six-point bridge on the 57 is coupled with bent steel saddles on the Modern, while block saddles are used on the 57. In both cases, you can easily adjust each string action by using tiny hex keys as long as you don't lose them.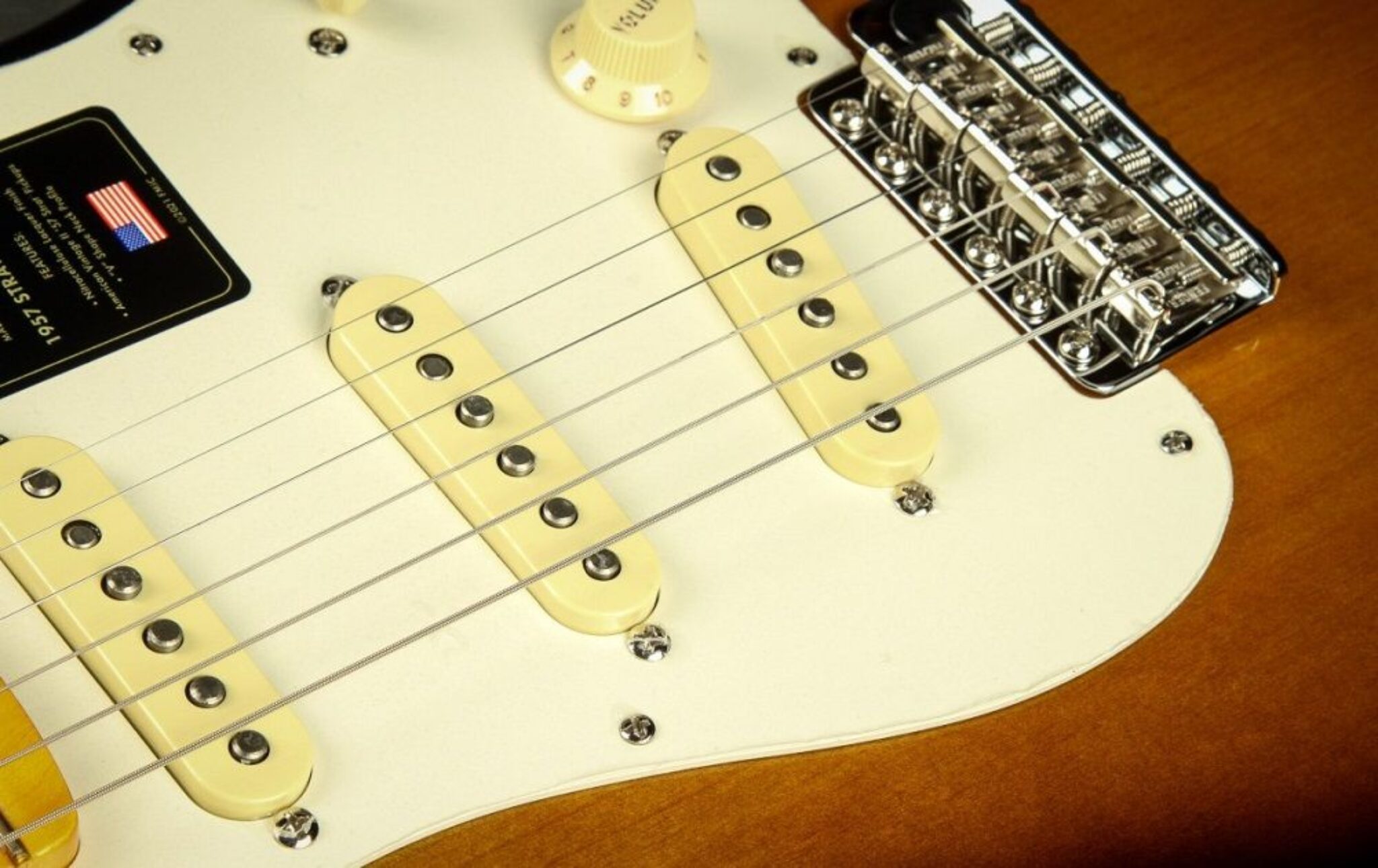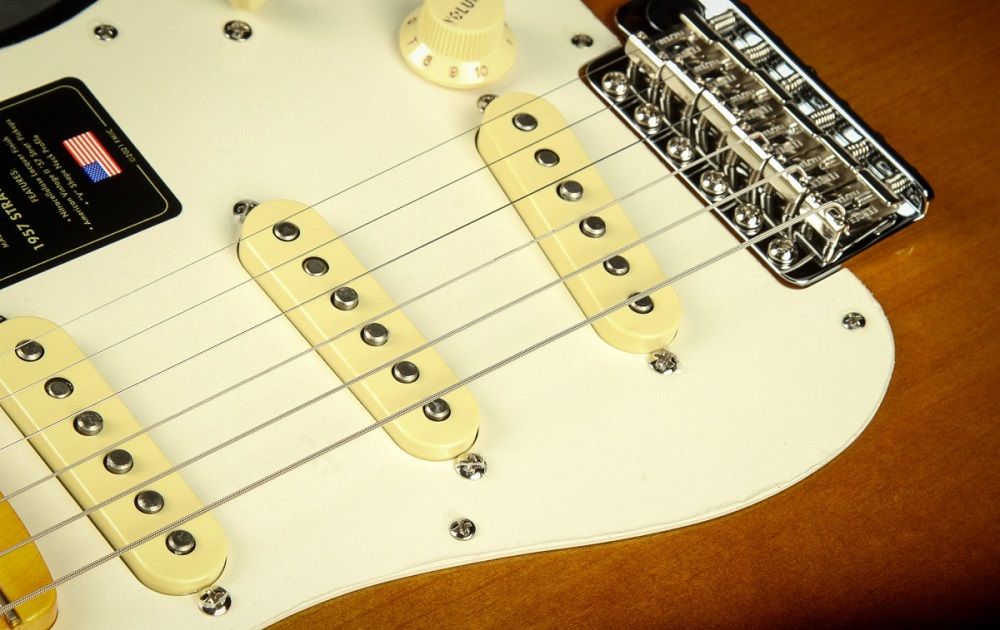 Fender AV II Stratocaster Sound
This 1957 Stratocaster is as good looking as it sounds and plays. Guitarists the world over simply love the tone this guitar emits when plugged into a tube amp. A warm, well-rounded sound is produced in the bridge position, yet it is bold and wide in nature.
There is a strong sense of swell in the chords, and the notes sustain beautifully, especially with a hint of reverb. By itself, the neck pickup is bold and pleasing to the ear. By contrast, the bridge pickup's midrange and high range really pierce through.
As well as sounding wide and open, the bridge pickup seems to convey intent and clarity with every note played. Some players don't like the classic Fender rattle when playing with some force, but many others love it. However, this can be adjusted relatively easily.


While the middle pickup is less spanky than the bridge pickup, it still retains that same dynamic grit. Some people may not be used to treble-y instruments such as the Stratocaster's single coil pickups because they are used to humbuckers, but this can be an advantage in genres such as blues, rock, and country.
It is evident that the Pure Vintage '57 Single-Coil Strat pickups respond well to dynamic playing, with softly picked notes sounding sweet and subtle and hard picking having its own grit and natural breakup.
Fender AV II 57 Brief Features:
Alder and maple construction
Authentic 1957 "V"-shape neck profile
Nickel and chrome hardware
Vintage synchronized tremolo
3 Pure Vintage '57 Single Coil Strat pickups
5-position pickup switch, dual tone knobs and a single volume control
"Fender Deluxe" tuning machines
Premium gloss nitrocellulose lacquer finish
---
Why To Go For the Fender AV II 57
Wanna get a new guitar with a vintage flare to it, but made with the latest techniques? Fender got you covered. For a really nice price for the beast that you are getting, the Fender AV II 57 is a perfect choice for all the guitar players that appreciate a vintage Stratocaster.
We believe that Fender nailed it and recreated this amazing instrument with all the experience they gathered from all the years they are in the industry. So if you are on the edge of bying this guitar but still undecided, we believe that this brief review will help you to decide. Above also we provide several links that you can follow for online purchase.
American Vintage II 57 Review
The American Vintage II 1957 Stratocaster is one of many '50s and '60s reissues and vintage-inspired models released by Fender in the last few years.
Pros
Amazing Vintage Sound
Three Pickups and Mix on them
Tremolo bar
Conclusion
Amazing instrument for real guitar lovers. You will be able to find it in varous colors, the one that suits you most and you love most. The American Vintage II 1957 Stratocaster is available in three stunning nitrocellulose lacquer finishes: 2-Color Sunburst, Sea Foam Green, and Vintage Blonde over alder.
When it comes to the sound, do not have any worries – you are getting the best out and the closest to the original guitar. If you are having any questions about the guitar, please let us know in the comment section below or reach out to the Fender support site.
Read more from our Guitar Articles below: