Flight A10 QM Aqua Blue 10th Anniversary Tenor Ukulele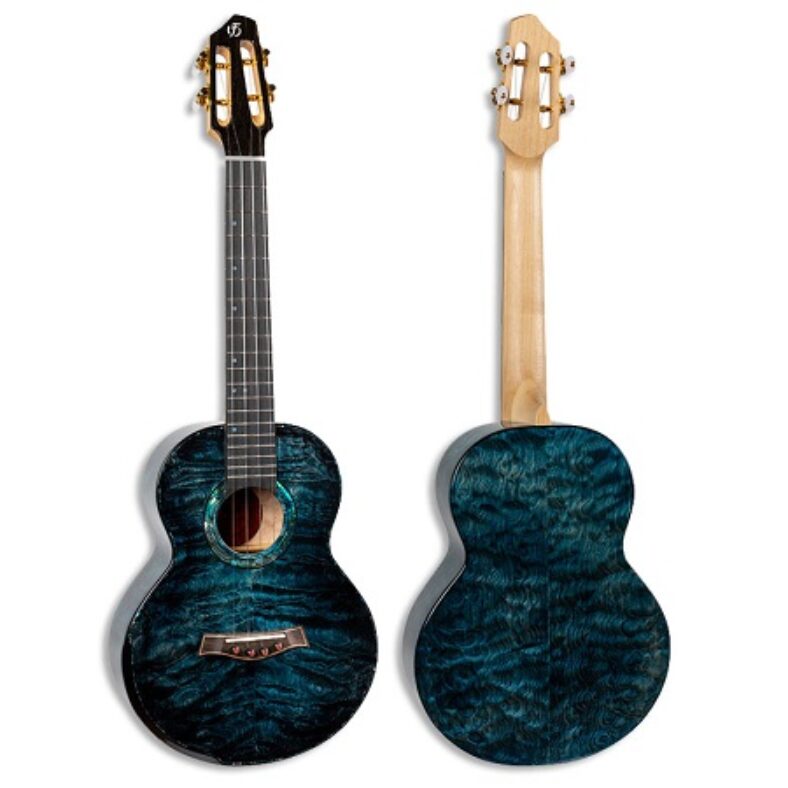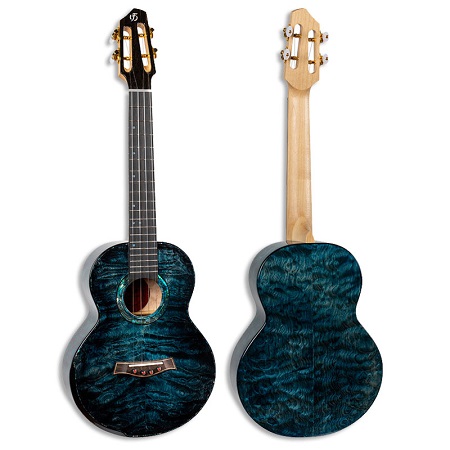 Wonderful bridge
Glassy smooth neck
Wonderful fret ends
Great volume and sustain
Serious character to the voice
Ukuleles like the Flight A10 QM Aqua Blue Tenor are stunning instruments that sound and play great. Featuring the highest grade quilted maple, this instrument has an ebony fretboard, ebony bridge, and ebony comfort edge. In addition, it's got a maple neck, a 10th-anniversary headstock, an abalone rosette and purfling, Brazilian fluorocarbon strings, and an updated gig bag. It's a ukulele you'll never want to put down once you pick it up.
It's Flight Ukuleles' 10th anniversary! To celebrate Flight's tenth anniversary, they're releasing four amazing tenor ukuleles. Flight's ukuleles are known for being great, and affordable, but these anniversary models take Flight to a whole new level. Solid wood ukuleles, handcrafted by a master luthier, have a level of craftsmanship, playability, and sound that rivals the best ukuleles on the planet.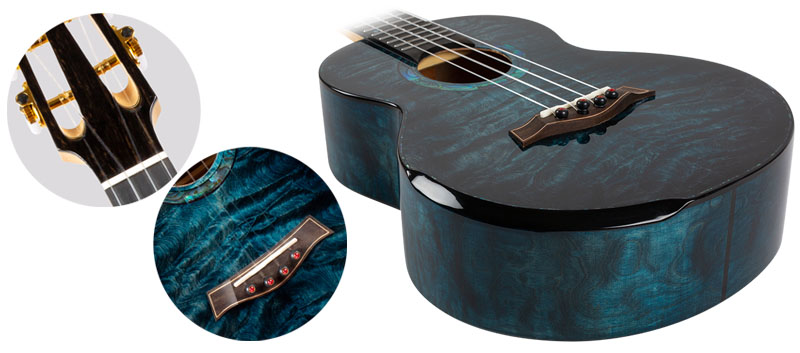 Specifications
There is a lot of importance in every little detail.
Body:
Body Shape: Tenor (19 frets – 14 to body)
Top: Solid Quilted Maple
Back & Side: Solid Quilted Maple
Bridge: Ebony
Bridge Style: Pin Bridge
Strings: Brazilian Fluorocarbon
Neck:
Neck: Maple
Fretboard: Ebony
Nut & Saddle: Bone
Nut Width: 38mm
Handcrafted Tenor Ukulele
Flight is one of the most well-known brands in the world of ukuleles. Their product line improves with each new model. It has been ten years since they began, and I was unaware of how long they have been going. The company has released a limited edition set of four-anniversary models in order to commemorate this occasion. The lineup continues to improve, with these taking things to a new level.
A master luthier handcrafted all four models in China. There's also a flamed maple model (quilted maple) with a blue fade like the Pathfinder electric, and a spruce top with cocobolo back and sides. All models have the same headstocks and bridges, but only maple models have maple necks.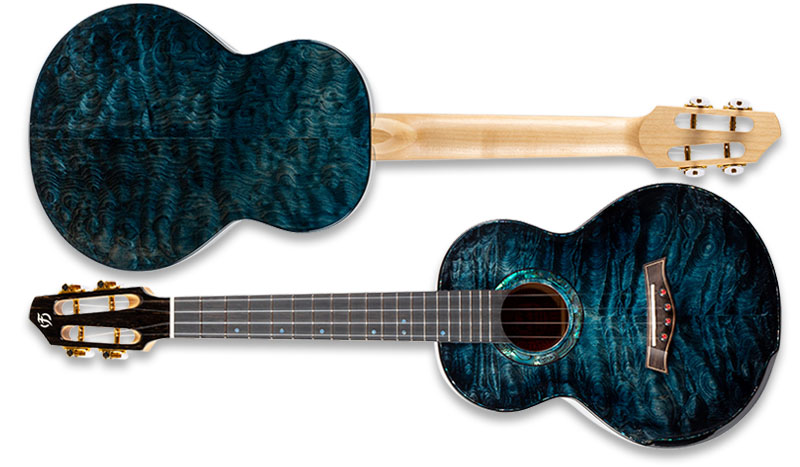 What Makes Flight A10QM Aqua Blue's 10th Anniversary Ukulele so Special?
It is not a cheap ukulele, but I found the assumption that 'it is a Flight ukulele, it should be cheap' to be confusing. People did not say that about aNueNue when the Moon Birds were released, so why say it here?
In this case, I am able to see EXACTLY where the money has been allocated in terms of build quality and appointments. Can it compete with the K brands, aNueNue, The Rebel, and others at the top of the table? According to this example, it absolutely does. The uke is impressive to look at as well as to play.
Spectacular Maple
Featuring solid quilted maple for the body, the A10 QM Aqua Blue Tenor Ukulele is as beautiful to look at as it is to play. The A10 series ukuleles are all handcrafted by a single master luthier.
Maple Neck & Ebony Fingerboard
Maple – the wood used for the neck – is a great, strong, and visually striking hardwood. Ebony is used for the fretboard, which is considered to be the best hardwood for a fingerboard. As a result of Ebony's clear, crisp attack, you will be able to play the instrument slickly and quickly.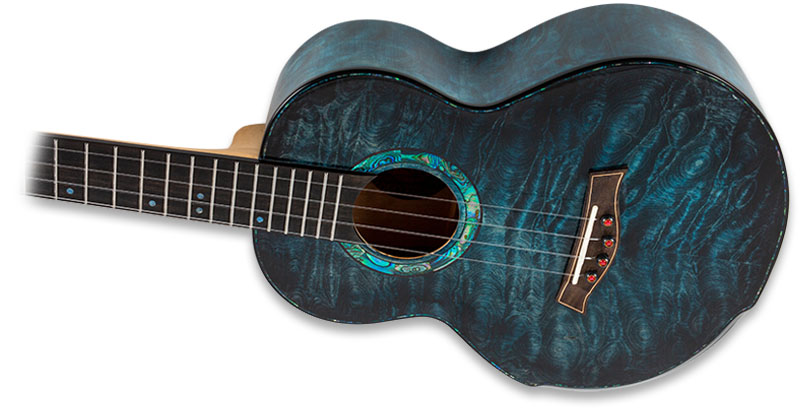 Bone-Compensated Saddle and Pin Bridge
There is an ebony bridge (matching the fretboard), as well as a bone nut and a compensated saddle on the A10 Series. In order to maintain the proper intonation of each string, compensated saddles are essential. Using a pin bridge system, the A10 series keeps the strings aligned on the ukulele, as well as creates a break angle over the saddle, which transfers vibrations efficiently to the soundboard.
Ebony Armrest
Playing and holding the A10 QM Aqua Blue Tenor Ukulele is more comfortable with the armrest. As you play this ukulele, you'll want to play it more and more!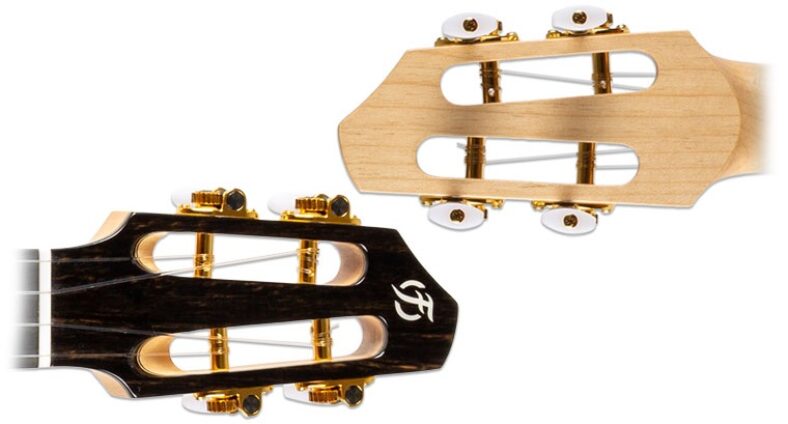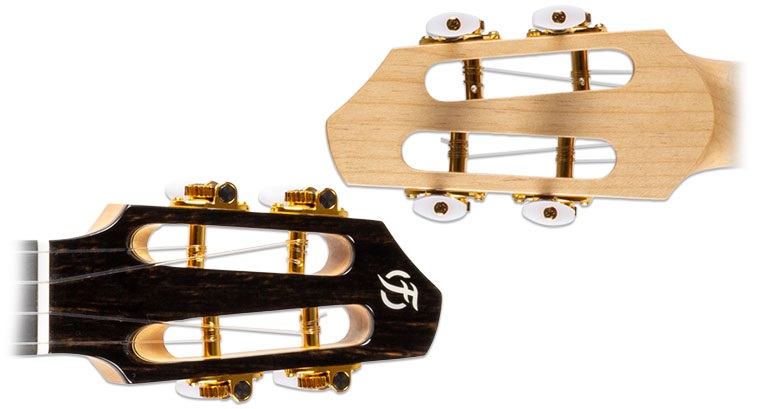 Special Anniversary Headstock
While the A10 models share some design similarities with Royal Series, it's adapted with a special twist to make them unique and special for our 10th anniversary.
Anniversary Gig Bag
The Flight Ukulele company sells great ukuleles at incredible prices, and every ukulele comes with a gig bag. There's no doubt that this deluxe gig bag is one of the best out there. Anniversary models have once again been improved upon our already excellent gig bag, with slight changes to match the design of the A10 series.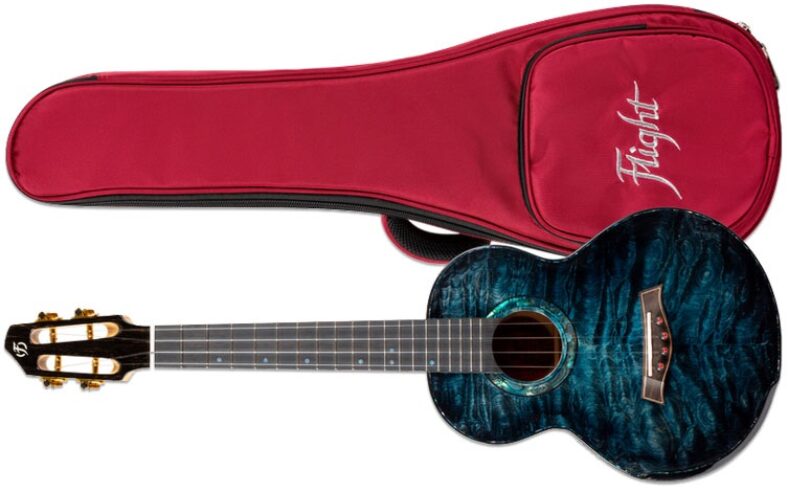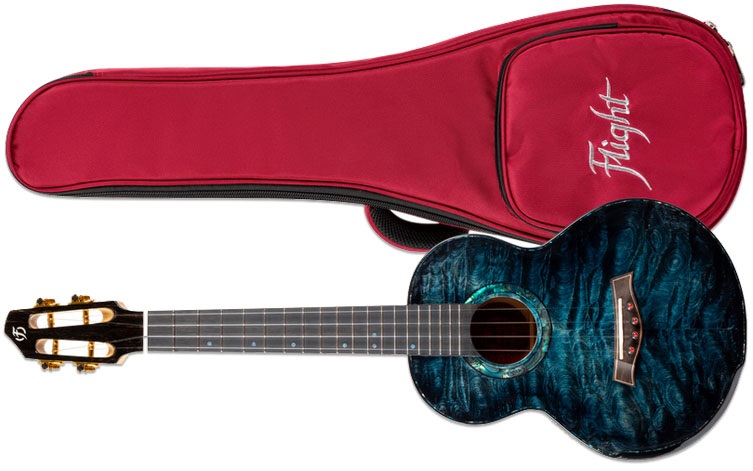 Flight A10 QM Aqua Blue 10th Anniversary Tenor Ukulele
Featuring solid quilted maple for the body, the A10 QM Aqua Blue Tenor Ukulele is as beautiful to look at as it is to play.
Pros
Looks to die for in all areas
Wonderful bridge
Glassy smooth neck
Cons
Would prefer completely black ebony on the fingerboard
Price
Final Thoughts
We have seen the offerings from Flight, as have many others. It is like they always seem to be able to come up with something that checks a lot of boxes in terms of style, sound, and quality. In terms of level, at what level would you like to play?
There will be something at each price point, but what one sees is something that is well thought out and well executed, whatever the price point is, at the time when it is offered. Maybe the X series is a little expensive, but not by much.
Here is a list of more articles about tenor ukuleles that you might be interested in: