Kala U Bass Journeyman Acoustic-Electric Ukulele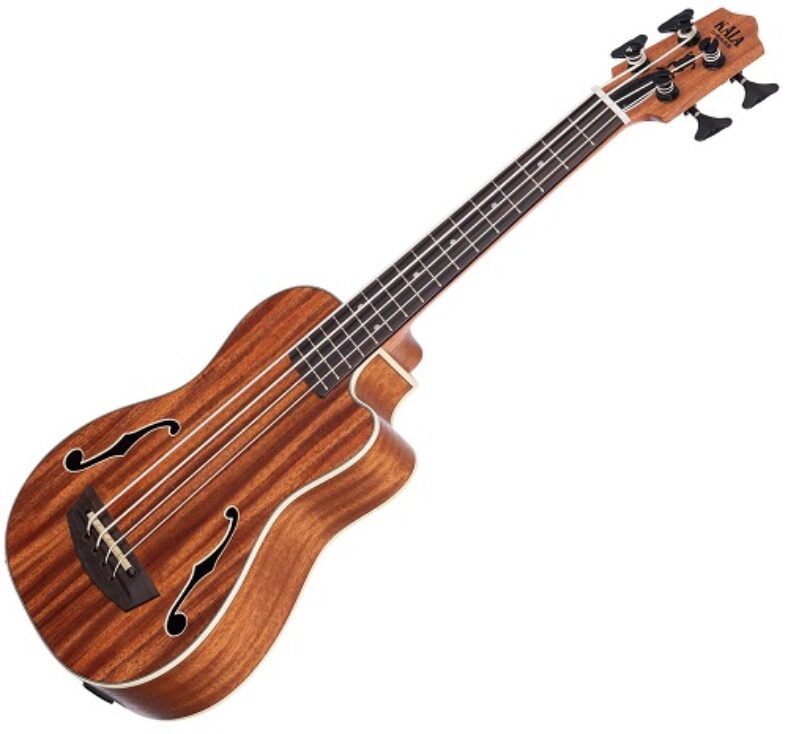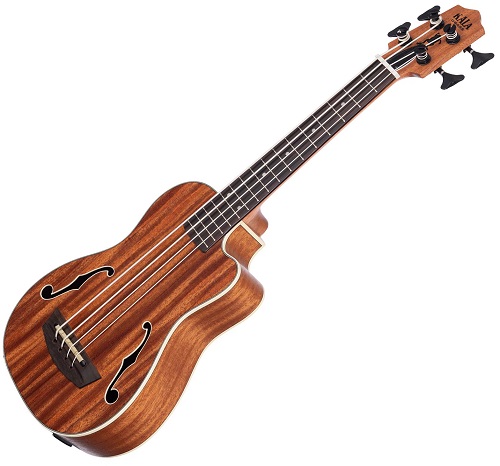 Mahogany Neck, Top, Back and Sides
Cream Binding
Satin Finish
This might look like a toy at first glance, but that's far from the truth. You'll love playing the Journeyman! It sounds amazing! As a performer and a recording engineer, I've used it a lot and it did great in both environments. I play it around or learn new songs when I'm not gigging or recording.
There were round wounds on the model sent for review, which produce a different tone than the Road Toad Pahoehoe strings on other Kala U•BASS® models. It's got a tone that'll remind you of a P-Bass and the model presented was the UBASS-JYMN-BK-FS.
With mahogany back, sides, and neck, cream binding for the body, and a matte black finish, this Journeyman looks great. There are also two f-holes on the top that provide plenty of volume without an amp. It's got 16 frets on the neck and a Venetian cutaway on the body. A scale of 20.875 inches and an overall length of just over 29 1/2 inches.
Electronics include the UK-500B, which has controls for bass, mids, treble, and volume. Two CR2032 lithium batteries power the tuner as well. Tuners are black die-cast on a standard headstock, and the nut and saddle are plastic.
There are several models and colors of Kala Journeyman Acoustic-Electric U•BASS.
This bass is great to add just a bit more bass to your life, whether you're playing gigs, recording, or traveling with it, since it's so convenient to take with you. There's also a padded gig bag with the Journeyman.
THESE ARE
The Key Features:
A great gigging bass, the Journeyman has the original U-Bass tone, and it does not cost a fortune.
Take your skills to the next level with this U-Bass.
A Mahogany U-Bass with white binding, f-holes, and a cutaway is part of the new line-up.

What Makes Kala U Bass Journeyman so Special?
The Journeyman's new U-Bass looks pretty sweet: The finish, f-holes, and cream binding give it a retro look. In contrast to other electro-acoustic U-basses, the Journeyman has a larger body made entirely of mahogany. As a result of a rounded Venetian cutaway, the Journeyman's high registers are easier to access than those found on U-basses with traditional body shapes.
The Journeyman comes in a lightly padded gig bag with backpack straps and a front pocket, which offers enough protection to transport to rehearsals or gigs.
Quality and Craftsmanship
The neck is made of mahogany, and the fingerboard has 16 frets and round inlays for position markers. In addition to the simple plastic nut and bridge that come with the Journeyman, Kala keeps the hardware of its affordable entry-level U-basses quite simple. There is something special about the tuners – they are called "Custom Black Die Cast" tuners, which are visually modeled after the high-quality Hipshot Utra-Lites. What more could you possibly ask for if the tuners run smoothly and maintain tuning?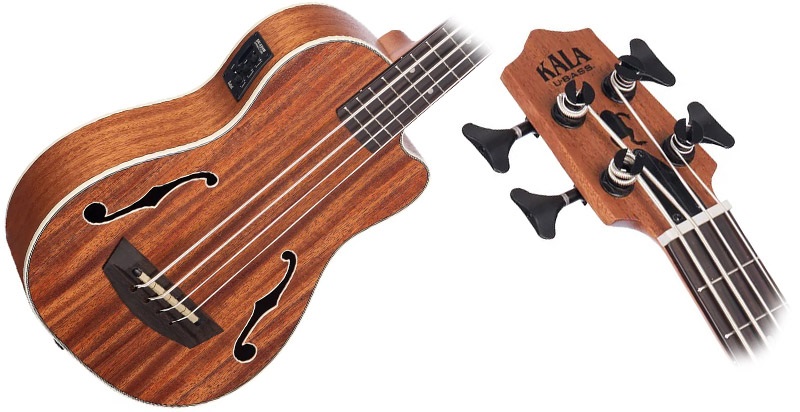 It should be noted that the strings used on the Journeyman models are not the thick Poly or Thundergut strings, but Kala's own "Metal Round Wound" strings. Roundwound strings intonate more precisely than elastic rubber strings due to their thinner and tighter construction.
In addition to piezo elements in the bridge, the Journeyman also features electronics that offer a three-band equalizer for processing the sound. All controls are easily accessible due to the UK-500B preamp located in the upper rib of the U-bass. There is a slider and three EQ controls located on the panel, one for bass, one for mid-range, and one for treble.
Additionally, a chromatic tuner is located below this, which is actuated by a small switch. With its small, yet easy-to-read display, the tuner indicates the tone that needs to be tuned and the pitch at the moment.
The craftsmanship of this bass is excellent, although Kala's somewhat sharp-edged fret edges should definitely be revised so that this bass is as pleasant to play as possible.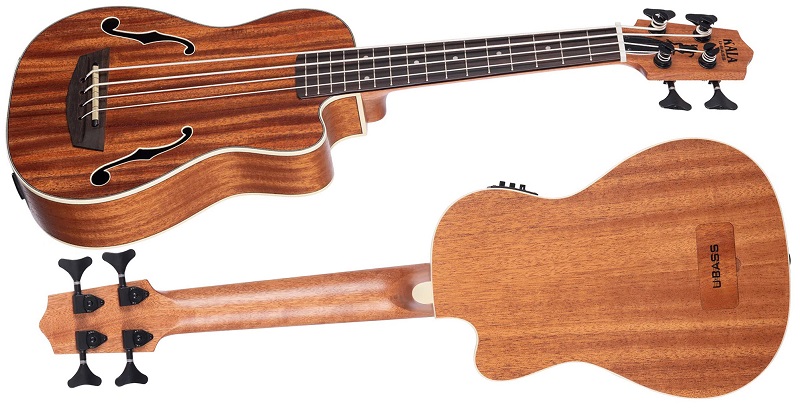 Kala U Bass Journeyman Acoustic-Electric Ukulele
A Kala U Bass Journeyman is a great gigging bass, with the original U-Bass tone, and at an affordable price.
Final Thoughts
With a mahogany body, white binding, f-holes, and a cutaway, the Journeyman is one of the grandest U-basses in the new lineup. There is no doubt that the Journeyman is a great gigging bass, it has the original U-Bass tone, and it is not expensive. With this U•Bass, you will be able to hone your skills and perfect your craft, so you can progress as far as you want. You will be able to become a master through The Journeyman as it will set you on the path to becoming one.
Here is a list of more articles about Kala ukuleles that you might be interested in: