Making Use of Harp Stools and Benches
It is essential that every harp player has a very good and adjustable music harp stool. A stool height will be dependable on your height and also the size of the harp that you are playing.
The most important thing is maintaining good posture and sitting and feeling comfortable while playing your instrument which means that the size of your best harp stool will vary depending on who is playing the instrument and what kind of harps they are playing.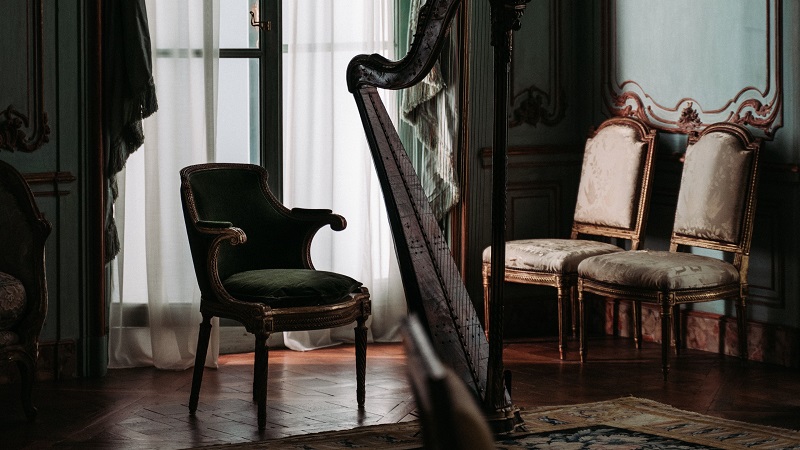 When we talk about the colors and special designs of these stools and benches we know that is a matter of personal taste and it doesn't really affect play.
You will need to know there are a lot of people that are using different types of stools and benches, of different sorts, and heights. There are players who are able and feel comfortable playing on very low or high heights that will make you wonder "How do they do that?" without being sore afterward.
We are all built differently and there are a lot of people who are sitting and playing in different positions which may be unnatural for you but they feel comfortable and that is all that matters.
There are some examples where short people are able to play concert grand without any problems. Shorter people are mostly using lower stools and benches that can be also used by tall people but for a shorter period of time. You need to know that with good positioning even shorter people are able to play concert grand without any problems.
For those who would like to change their old stool or bench and buy a new one, we have a list of the bests stools and benches that are available on the market in 2023!
---
1. Neewer PU Leather Adjustable Harp Bench with Waterproof Cushion
The appearance of this harp bench is first class and it will definitely look great even if you use it for something very different. Neewer Padded Bench has a large capacity which allows more than one person to be able to take a seat on it.
This bench can be assembled by any person who would like to put some effort into it without any problems. All the instructions are included in the package and it is not going to be a problem to get to use it.
Under the cushion, there is a storage space that can be used for keeping your things there like songbooks, etc. With this storage space, you will always know where you put your things.
The best thing about this item is that promotes perfect posture for those who are having longer sessions.
Features
Deluxe Appearance: Black smooth Leather and soft-touch match perfectly to create professional combinations.
High-quality cushion for a long time using avoids shape-changing, faux leather is made for easy cleaning and comfortable seating at the correct height.
Adaptable height: 7centimeters height is available to modify on this bench from 18.89 inches/48 centimeters to 21.65 inches/55 centimeters.
You can modify it to a suitable height according to your stature; The knob beside the bench is convenient for you to alter.
Extra Storage Compartment: A extra built-in storage compartment under the cushion is designed to store several music books.
Durable bench: The 4 legs are made of hard rubberwood, and the stent is made of durable metal, so the sturdy frame will provide you great playing experience.
Padded cushion with PU leather provides you a soft and comfortable seating; The bench with a load capacity of up to 250 pounds/113 kilograms.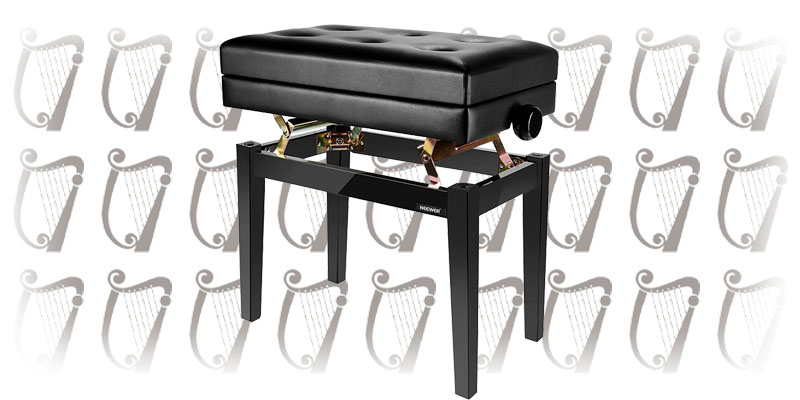 ---
2. SONGMICS Adjustable Stool (Best Harp Stool)
Of all the stools that you can search and find out there on the market, this one is the best and most comfortable stool for use.
The seat height is adaptable and you will finally have the freedom to modify it to your preferred level which means you won't have a problem playing on it comfortably. This stool will perform really well and it brings great value for the money.
For some people, the cushion may be a little hard and they should work on making it less stiff.
You need to know that this SONGMICS stool is not going to take long to assemble and you won't need any tools to put it together also it has a fair price (low cost) which means it's not going to break your budget.
Features
Awaken your body with this 360° swivel active stool.
Rock, roll, brake, and make work time fun while aligning muscles and improving posture—it's that easy!
Treat yourself with this work stool, featuring a dia.
Fed up with sitting stiffly for long hours? Modify the desired height from 23.4″ to 31.9″, and take a load off by resting your feet on the also adaptable looped footrest.
The resistant PU casters are blocked while sitting down to prevent unwanted movements, making it easier to concentrate on any job you need to get done.
The castors also leave no scratches on your floor, even on wooden floors.
Feel free to sit on this standing stool with the certainty that you're well supported, no matter which sitting position you take.
The five-star base measures 20.3″ in diameter and can hold up to 242 lb.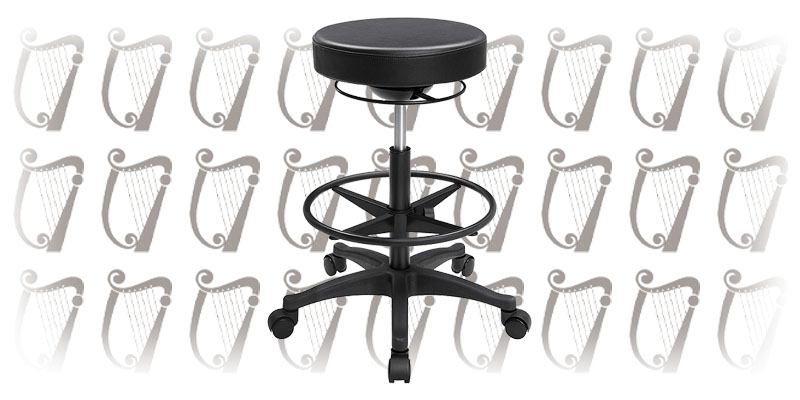 ---
3. Antlu Rolling Stool Swivel Chair
This stool will make you feel really comfortable while playing and that is because they used cotton in order to produce this really great product. There is also a PVC material used which will make you sure that this stool is going to last for a long time. It will definitely take some time before you need to buy a new stool for playing your instrument.
The frame of this stool has some really great design and the producers mentioned they spend a lot of time designing this stool which is really visible and notable. Additionally, this stool has a stainless steel base which adds to the security of this product.
It is a lightweight stool that won't cause you any problems whenever you try to move it from one place to another.
Features
This rolling stool with a back can be raised higher about 4 inches than an ordinary stool (20.4″ to 28.3″), suitable for the real needs of more people.
First, We use a 4-inch thick cushion to make you feel more comfortable when using them.
Second, A stronger material was used to prevent the base from twisting.
Compared to a heavy chair, this Office stool is lighter and smaller, so you can roll very well even in a narrow place.
At the same time, these caster wheels roll very smooth, safe for all carpets, hardwood, and tile.
This rolling chair seat can rotate 360 degrees, making it easier to use at work or in the kitchen and so on. Weight capacity:300 lbs.
You don't need any tools, and according to the instructions that come with the package, you can assemble this rolling chair by yourself in 5 minutes.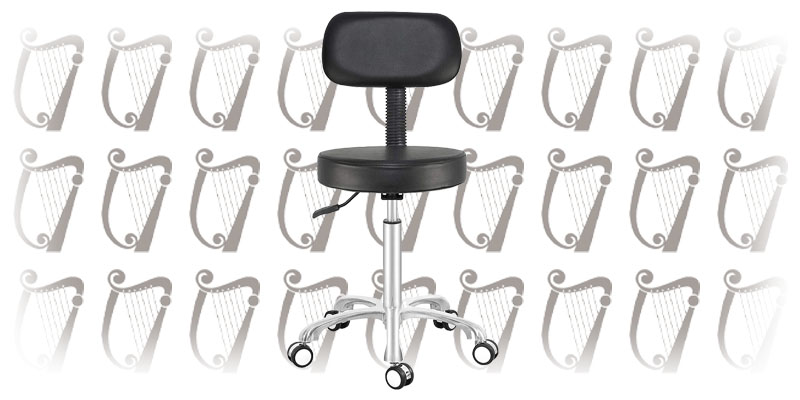 ---
4. Boss Office Stool
With this Boss Office Stool, you will be able to move from one place to another in a matter of seconds because this stool has little wheels.
This stool comes with a removable backrest that is completely adaptable which means that you can adjust it to your needs. This stool will definitely be a great option for everyone because it brings a lot of quality even better than those stools that are far more expensive than this model.
You will only need to take care of the vinyl It was reported that it doesn't last long when bigger people sit on the stool and that means this model is far better for smaller people.
It is important to know that anyone can put this stool together because the whole process is short, very simple, and can be done without previous experience.
Features
Ergonomic design.
Upholstered in durable Cares soft vinyl for easy maintenance and cleaning.
Adaptable Seating Height with a 6″ vertical height range.
Attractive Chrome Finish on the base, foot ring, and gas lift.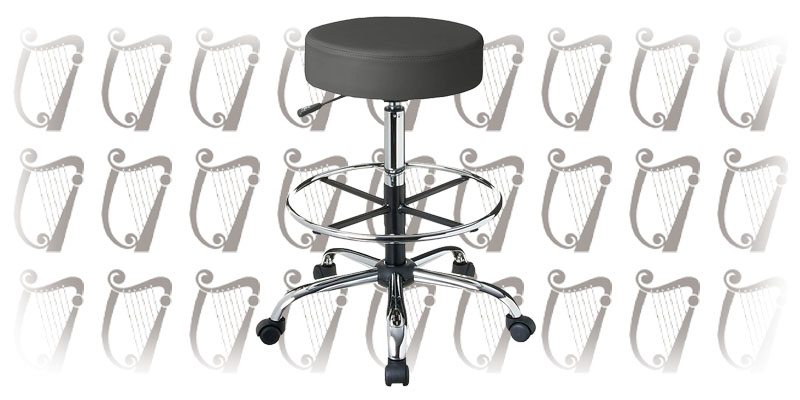 ---
5. SONGMICS Adaptable Best Harp Bench
This adaptable bench is definitely not like other benches that are really overpriced. This bench is really affordable and what is more important, it has great quality.
If you are looking for a space to store your accessories you can just open the seat and store them there since this bench has great storage space.
You will receive this bench in really nice packaging and those benches we bought, came in great condition. Another important thing is they do not make noise every time the height is adjusted.
Features
With dual side dials to adjust bench height from 18.5" to 22.4", you can find the most comfortable height to enjoy yourself.
The built-in storage compartment beneath the seat provides roomy space for your sheet music and accessories, folding lip support makes it convenient to open.
Resilient-cushioned seat with 6 decorative buttons is designed both for comfort in function and attractive in appearance; seats up to 1 person.
Sturdy and stable solid wood legs make it safe for sitting; rubber pads on feet prevent slipperily and floor-scratching; high-quality PU leather makes it easy to clean with a damp cloth.
Simple assembly required a tool and detailed instruction was provided.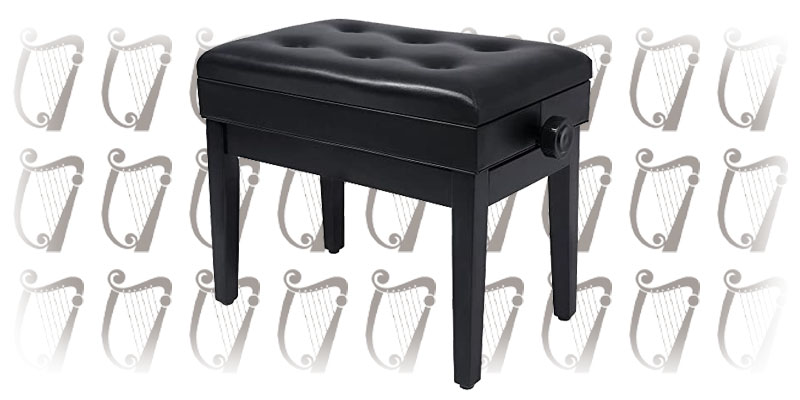 ---
Stool vs Bench
This is a long debate that is going on for a long period of time. You will need to know that many professional players prefer using a sturdy bench especially when they are playing gigs.
You shouldn't be playing in a regular chair unless you are a beginner and you are just learning how to properly play your instrument.
Every good harpist that wants to take care of his health look to have proper form and posture while playing. Let's look at them separately.
Stools
Stools are also a great addition for players that are just starting and many of those people already have stools at their homes even those regular stools.
Many people don't like them because they don't feel sturdy enough and they turn out not to be that comfortable after long sessions.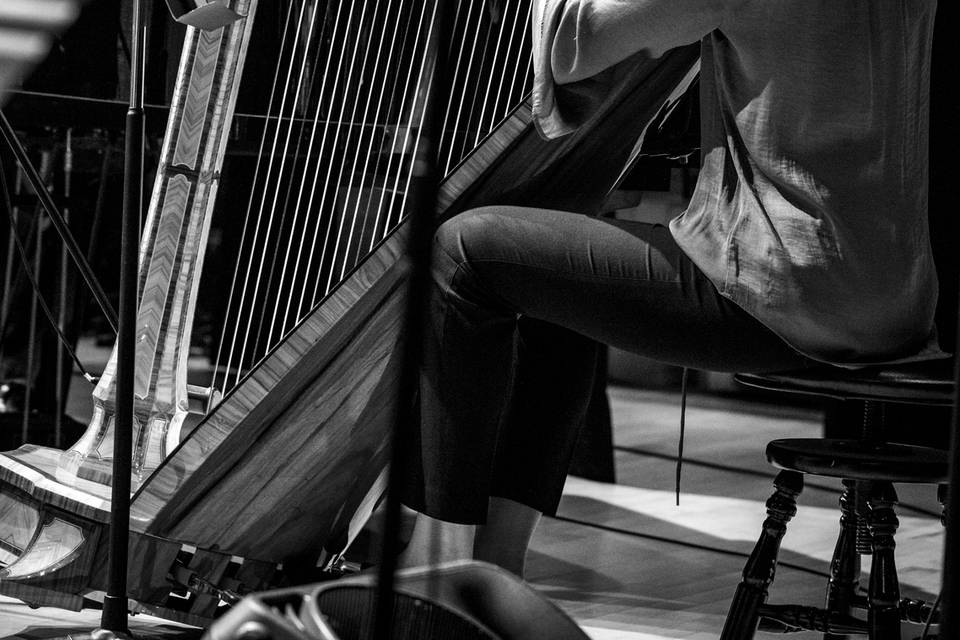 However, if you choose some of the stools that we have in our review you can be sure they are top-of-the-line and great products that you can use for many years no matter how advanced you are in the harp.
Benches
Those players that are playing their instrument for longer periods and are playing a lot more, in general, are usually considering benches because they feel more comfortable with those who are playing for longer periods of time.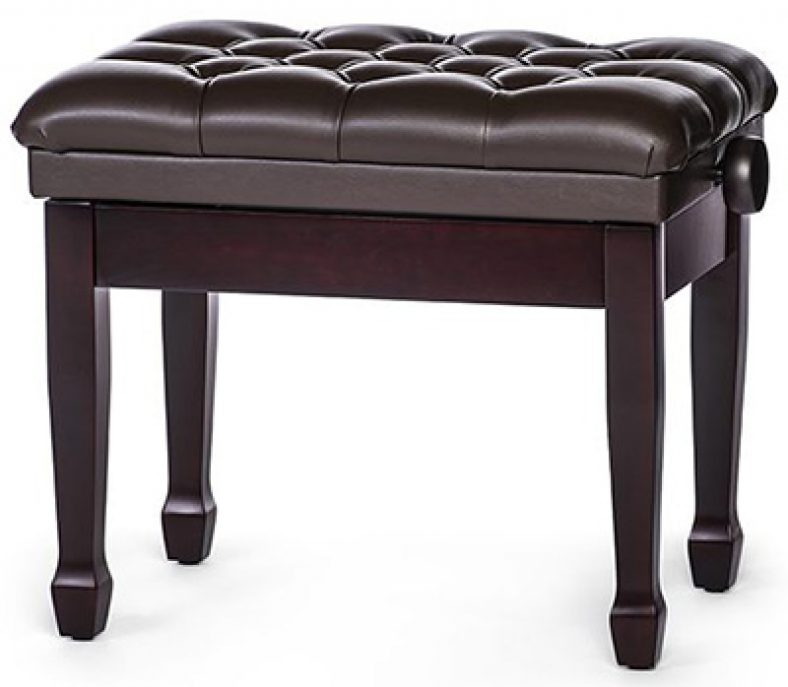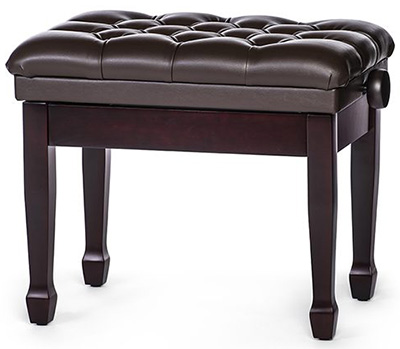 Benches are probably the best options for players that are playing for a long time because they add some extra comfort. Additionally, they aesthetically look better than stools.
Last Words
In the end, it doesn't really matter if you are going to choose a stool or bench. You just need to choose the right product for you and your needs, which looks attractive, fits well with your body, and which one you would like to have around you in your home.
Happy Strumming!