Best Sharping Lever Harps That You Need to Know
Sharping harp levers (it's not, a "sharpening" lever) are a tool that raises the pitch of the string by one-half step. For example, a string tuned to F when the sharping lever is neutral becomes an F# when the sharping lever is engaged or, more interestingly, for individuals who wish to have the key of F in their harp, a string tuned to B-flat when the lever is neutral becomes B-natural when the lever is actuated.
The sharping levers allow the harper to play in different keys without having to retune the instrument. Sharping Levers additionally provides assistance for accidentals when needed.
Sharping levers achieve this by shortening the vibrating length of the string to a specific amount with an added fret while slightly stretching the string. That is just like the first fret on a guitar except that on a harp the sharping lever makes the fret movable, engaging, and disengaging the string.
A high-quality sharping lever could have enough mass and rigidity so that it doesn't dissipate the string energy and, instead, forces the vibrations back down to the soundboard where they belong.
All sharping devices, together with blades, hooks, and pedals, displace the string slightly. Some devices displace the string side to side, by a small amount, which adjusts the spacing between strings. Most of these devices include pedal harp discs, the Lyon & Healy Performance lever, the current Salvi levers, the Triplett Ultimate, the levers used by Pilgrim Harps, and all blades and hooks.
Other levers displace the string up and down, once more, a small amount, keeping the string spacing the same but moving the string out toward the hand of the player. These include the Rees, Truitt, Camac, Loveland, and Robinson levers.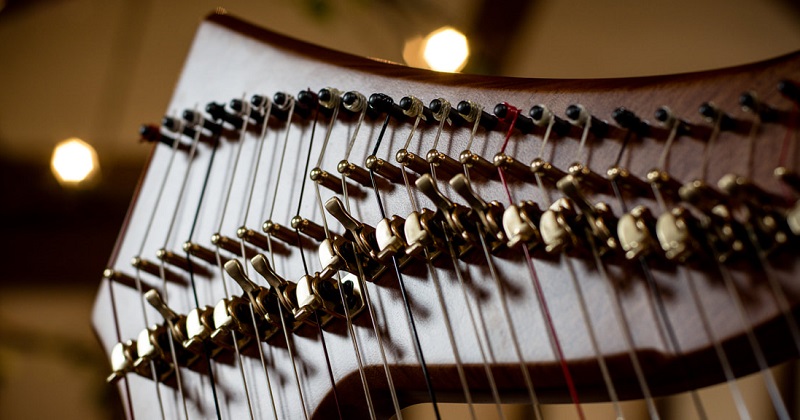 Brough Levers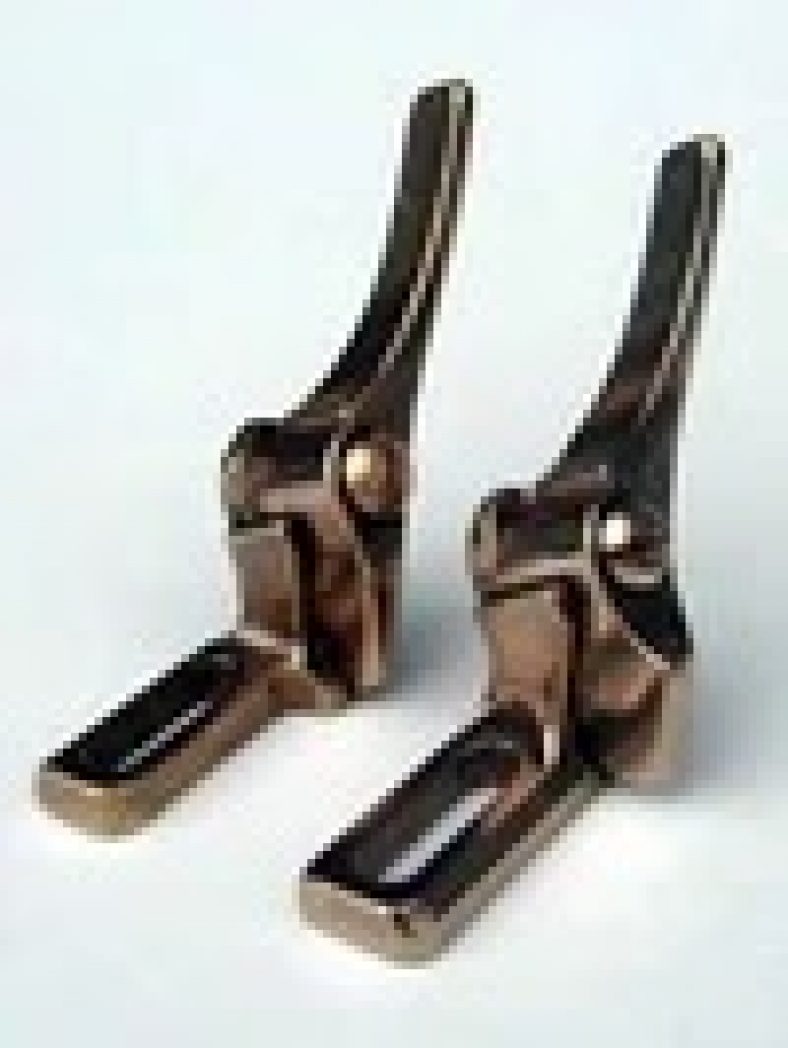 Designed in the Nineteen Eighties by Peter Brough of Britain, these are very solid cast bronze that minimizes distortion. Discover the "offsets" in the image which makes them easily accessible for regulation. The design – an inclined pivot on a machine screw – ingeniously uses string tension to hold the fret to the end stop. Nonetheless, an extremely popular lever, though not as usually seen in the US as in Europe. Peter makes these available to other luthiers and people who use them rave about them. They require ¼" bridge pin height – versus the more frequent ½" for levers similar to Loveland and Truitt. The offset design and smooth action permit a player to change several simultaneously with ease.
---
Camac Levers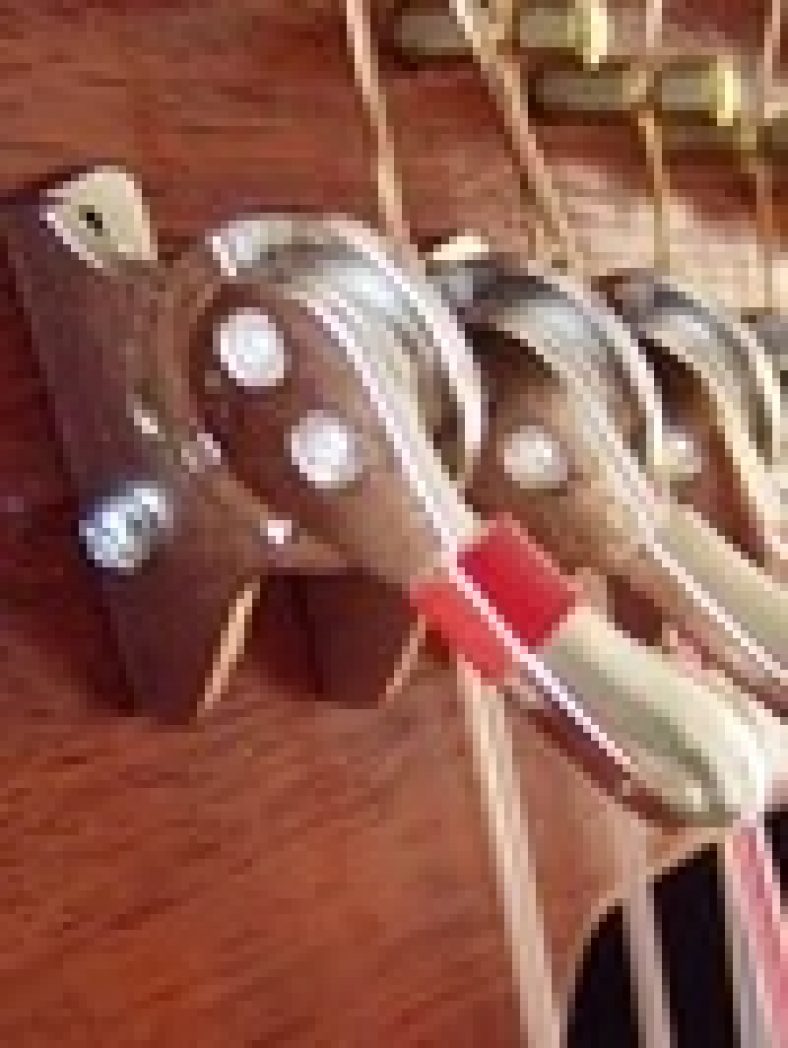 Launched by Camac of France, these levers have turned into extremely popular on high-end instruments. Camac levers can activate two fret pins that maintain the string centered and aligned. Very solid, heavy body, with reportedly no tone distortion and really smooth action. Requires special tools for regulation, which can be ordered from the manufacturer or Camac lever's local distributor. Some players don't like the quiet giant look, some love them.
---
Delacour Levers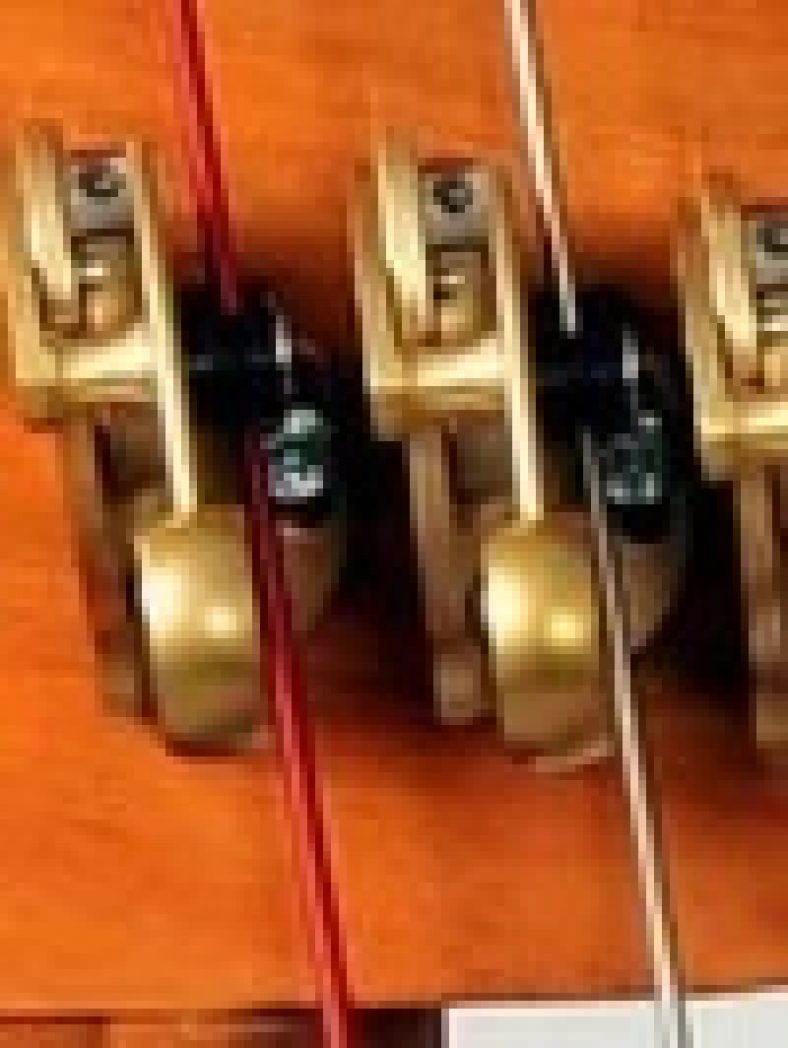 A recent entrant from France, the Delacour uses two discs/pins to engage the string, just like the discs on a pedal harp.
Handle design allows one to flip several levers at once. This lever has received rave opinions from numerous well-known luthiers.
Jordan Lever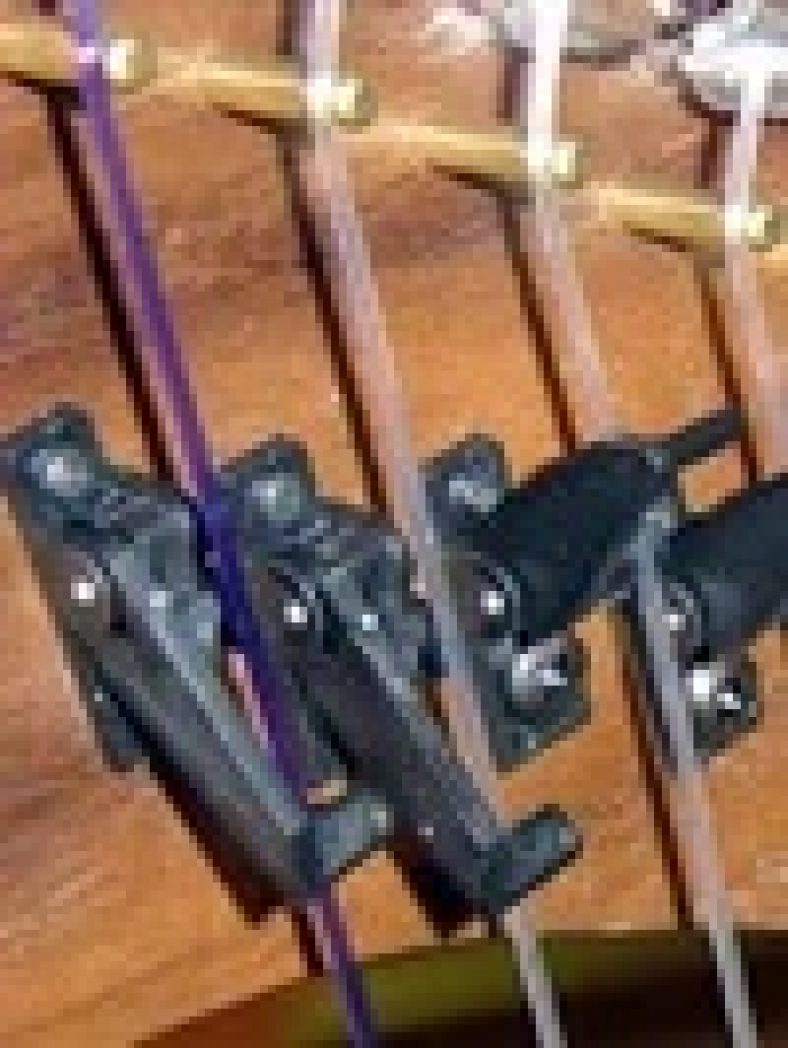 Jordan levers are plastic composites marketed through Music Makers. The sharping groove is built-in into the cam and one size suits all but the fattest strings. This lightweight economy lever might make the tone somewhat dull and will not be a good selection for higher-tension strings, however, it's a sound choice for lighter instruments.
---
Josephus Levers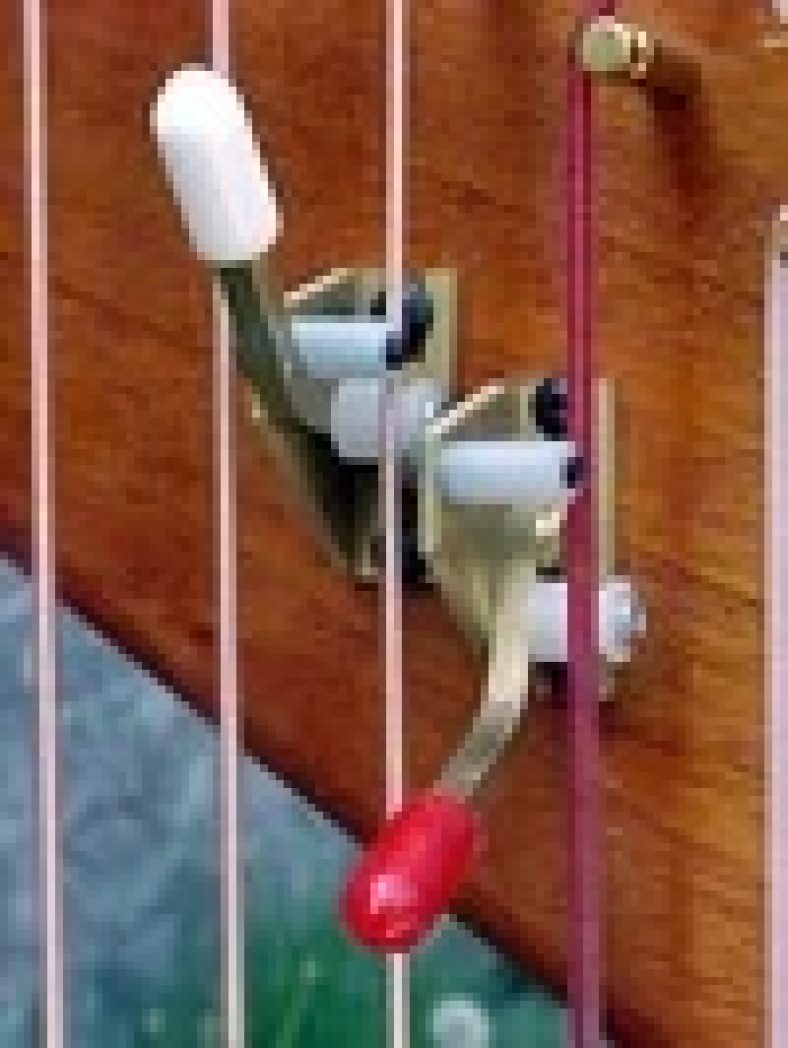 These levers are often installed on Josephus rental instruments, however, might sometimes be found on used harps. Like Robinsons and Loveland levers, these work by engaging the string vertically. Designed specifically for mid and bass-range strings; two frets engage the string which minimizes distortion or scraping/buzzing noise that may occur with single-point action.
---
Loveland Lever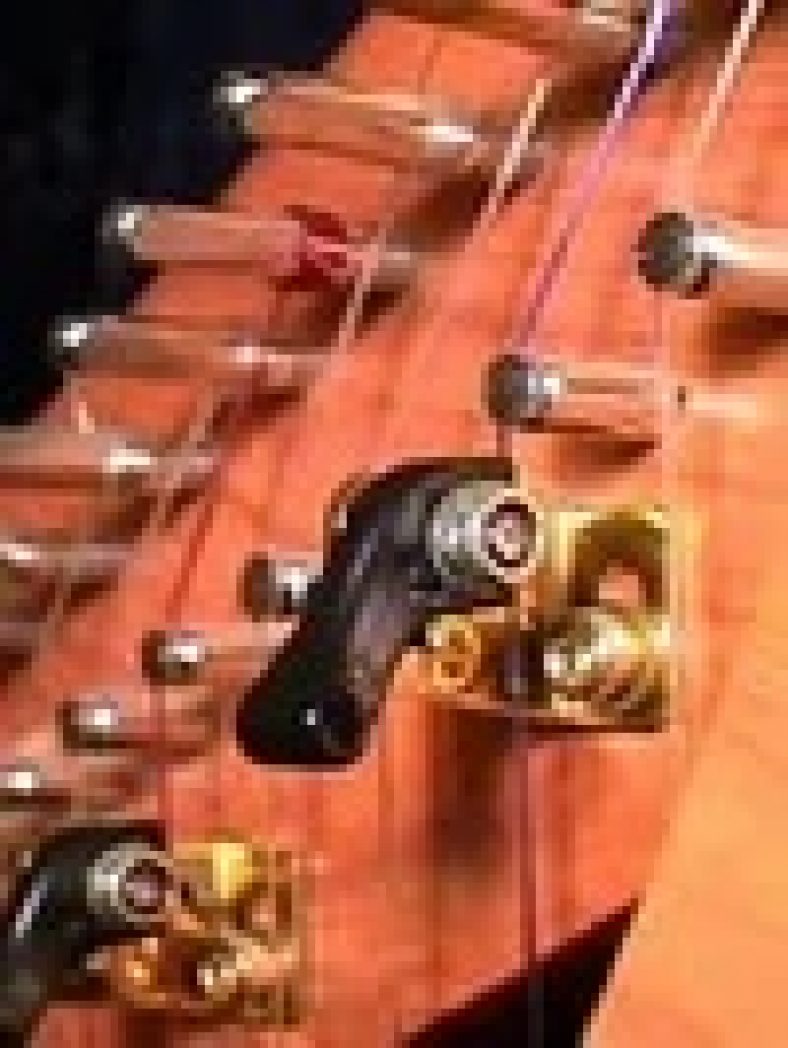 The Loveland lever is the next generation from the Robinsons and has turned into the "workhorses" of the lever harp world ever since. The cam is a heavy plastic composite pivoting on a machine bolt with compression washers and a locking nut. Completely different size grooves are present for different string diameters and the cams are simply replaced. Angle and height of the string are essential on these to prevent buzzing. Fixed to the neck with a hex head machine screw (some makers use wood screws), the Loveland is discovered on many high-quality harps. The longer cam handles specially used by Dusty Strings are now a standard feature on all their levered harps.
---
"Mid East" Lever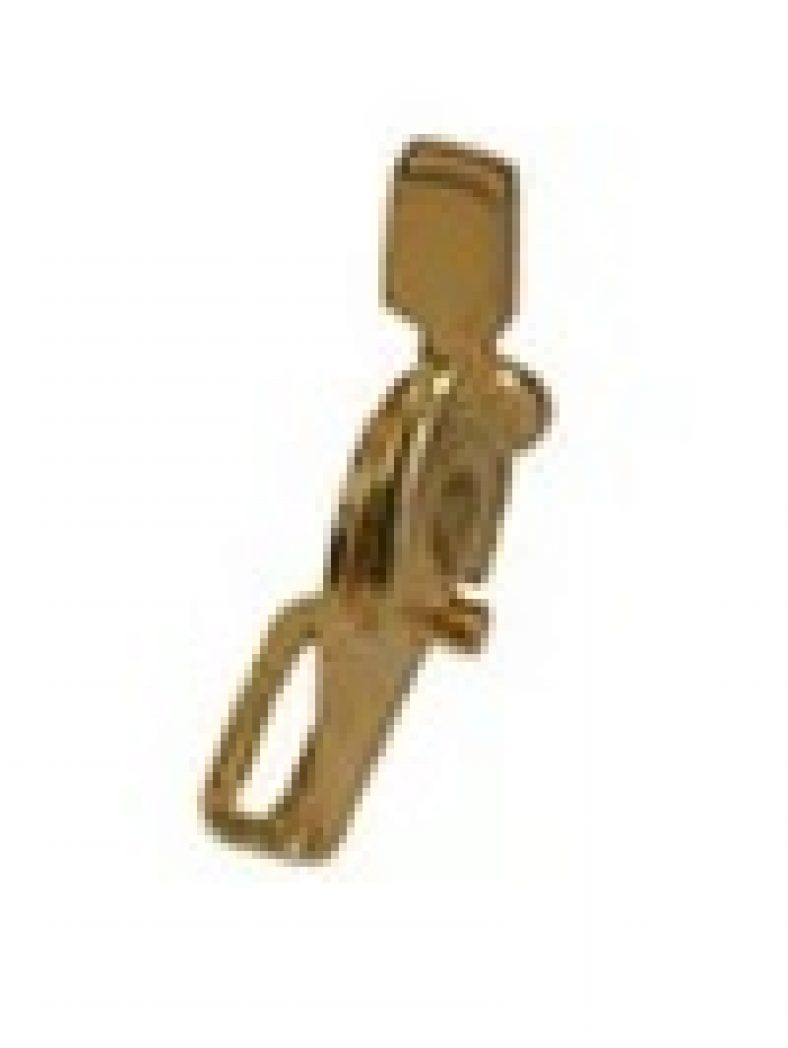 These levers are sometimes discovered on harps from Pakistan. Quality control is extremely variable although it has been reported to be enhancing.
It's most likely best to keep away from these or replace them if the harp is otherwise satisfactory.
---
Rees Lever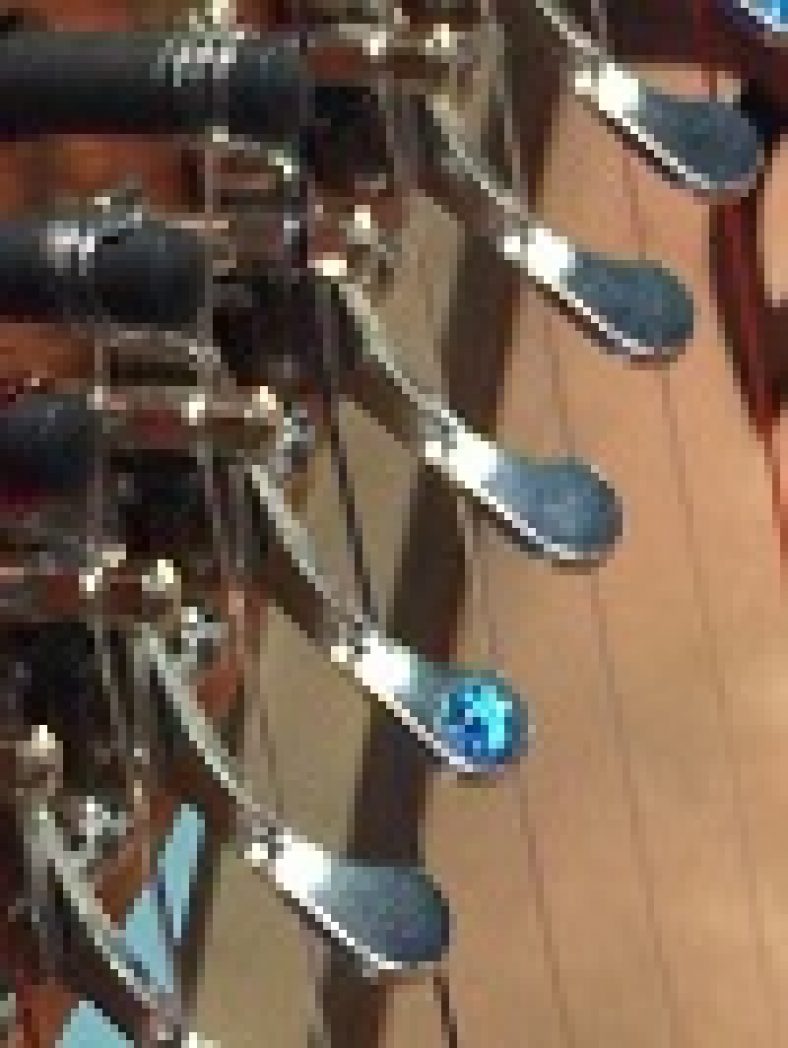 Rees' levers are pretty new in the marketplace; the action is much like Truitt's but with an "L" bracket like Lovelands. They're available from Robinson's Harp Store.
They're installed on Rees concert line harps and Harpsicle harps.
Robinson Lever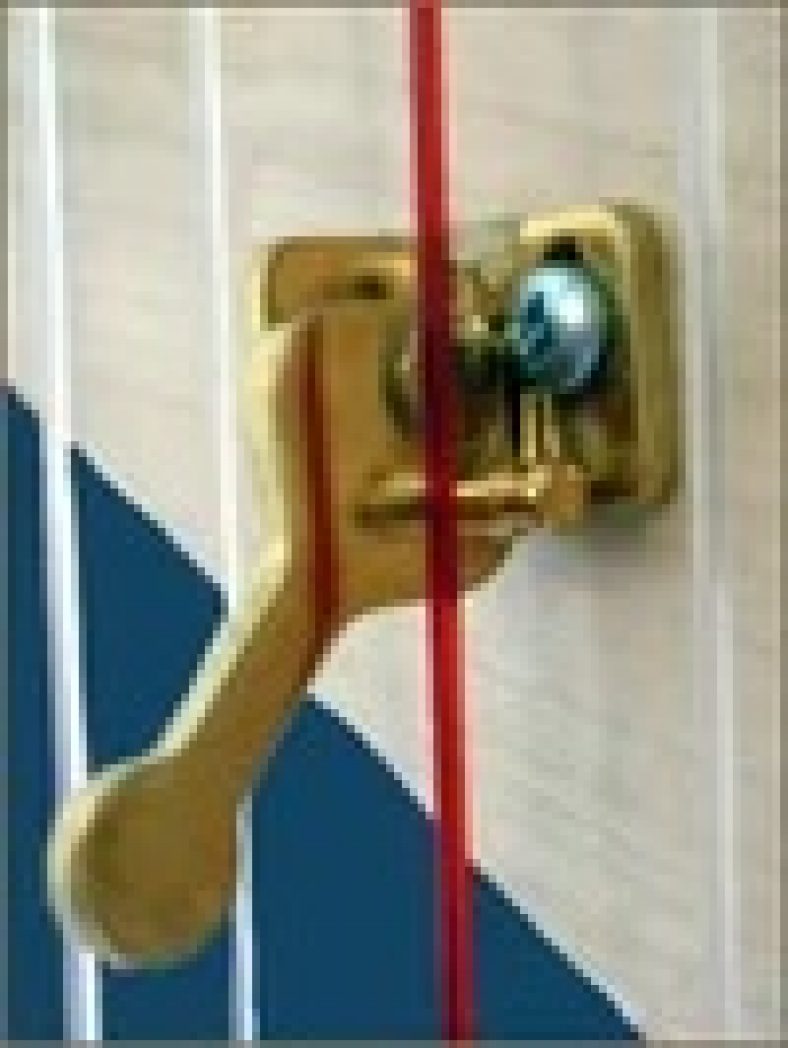 One of the earliest sharping levers, the Robinson lever remains to be discovered on economy harps and is helpful when the player expects to rarely encounter accidentals, merely changing keys from time to time. Several different-sized fret pins are present for various string diameters, and regulation is made by loosening a wooden screw and adjusting it up or down as required. The cam pivots on a rivet, which can loosen with use but could be adjusted by compressing the rivet with a hammer tap. Solid brass; is the least expensive of commonly encountered lever designs.
---
Salvi & Salvi Performance Levers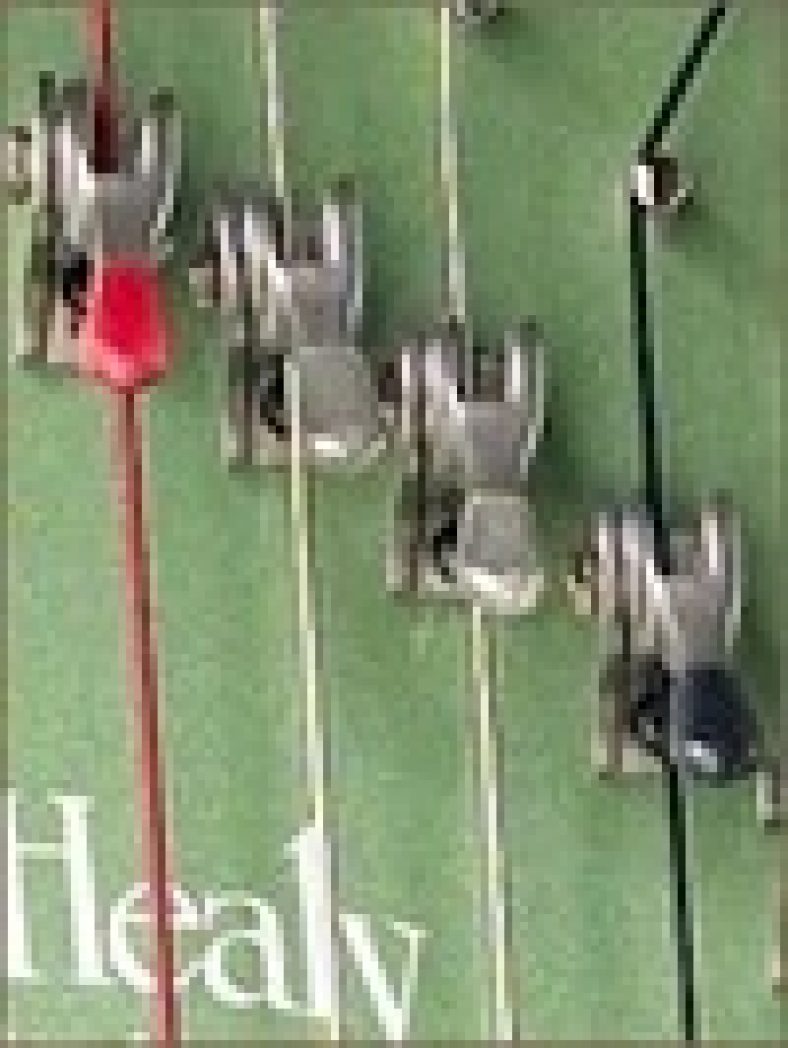 Usually discovered only on Lyon and Healy (Performance) and Salvi lever harps (Salvi lever), these work by pushing the string horizontally in opposition to a stop pin, rather than vertically, which helps to maintain the string in its unstopped alignment. These levers had some early "teething problems" but are actually considered good because of the high-quality lever.
---
Teifi Levers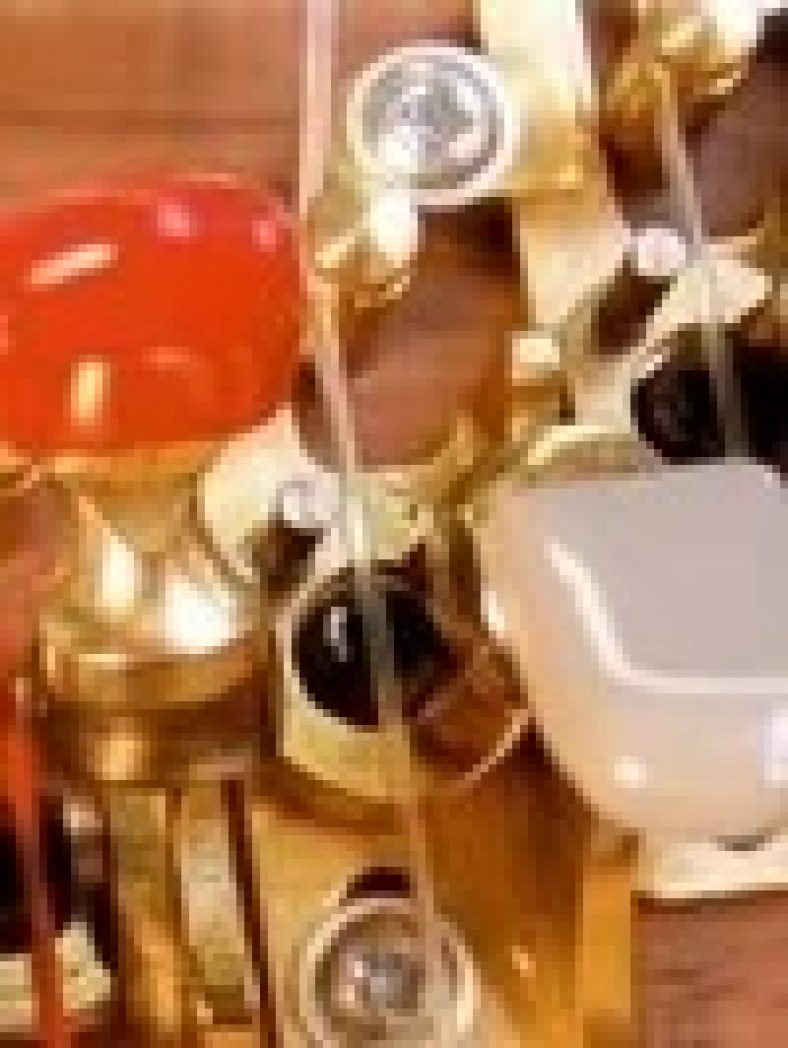 Designed by Teifi Harps of Wales, one of many premier harp makers, these levers are engineered to offer a very smooth and quiet up (on) and down (off) lever action, producing an unimpaired tone. Based on the concert harp principle of double forks, the strings aren't moved out of alignment when the levers are engaged and with very minimal string wear, even with frequent use. The design permits relatively simple regulation. A really solid lever body, with less of an "in your face" look than the Camac's and Delacour's.
---
Triplett Blades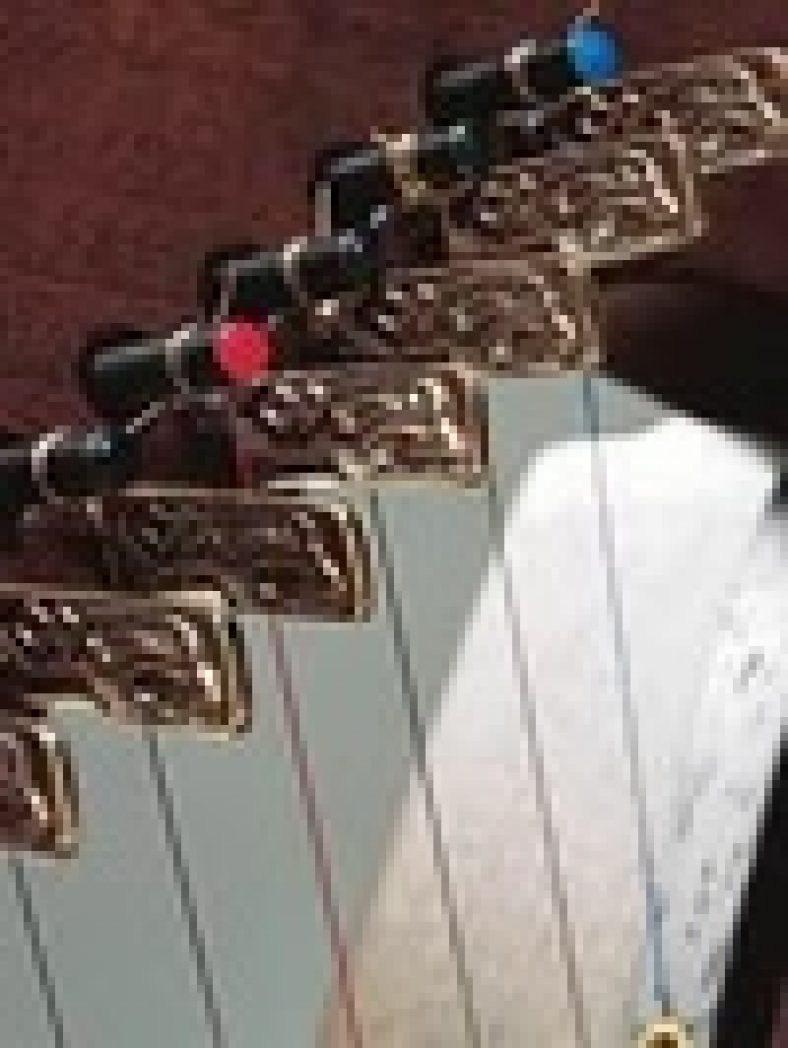 These elegantly carved brass blades are particularly intended for wire-strung harps with relatively thin strings compared to nylon or gut. Be aware that wire-strung harps don't have any bridge pins. Regulation is rarely required on such instruments, but when necessary can be done by moving the blade in or out. Conceivably these levers might be placed on nylon/gut-strung harps without bridge pins and small diameter strings.
---
Truitt Levers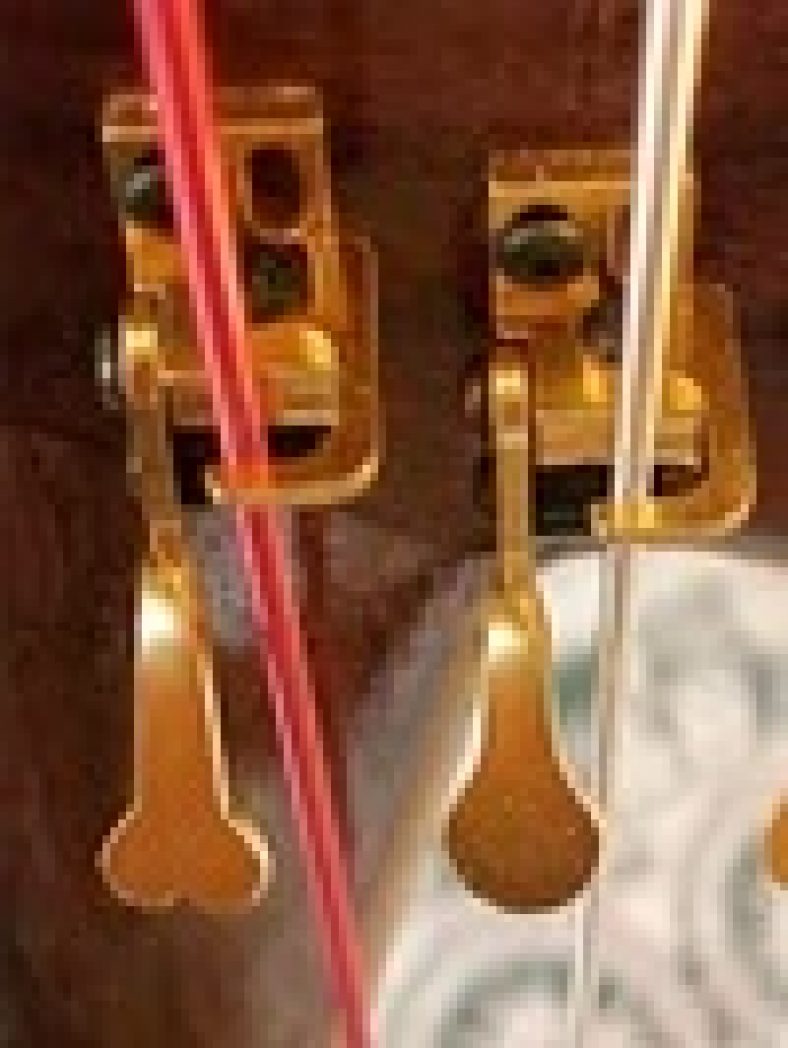 Considered by many to be the "Cadillac" of vertical action levers, Truitt's are simply mounted and regulated. Constructed of solid brass with gold plating, the levers include a variety of frets and stop pins for various string sizes, lengths, and compositions. The levers are held to the neck with two Torx machine screws (one in the very high treble). Little or no tone distortion is present. Some players discover the handles tough to see.
---
Universal Lever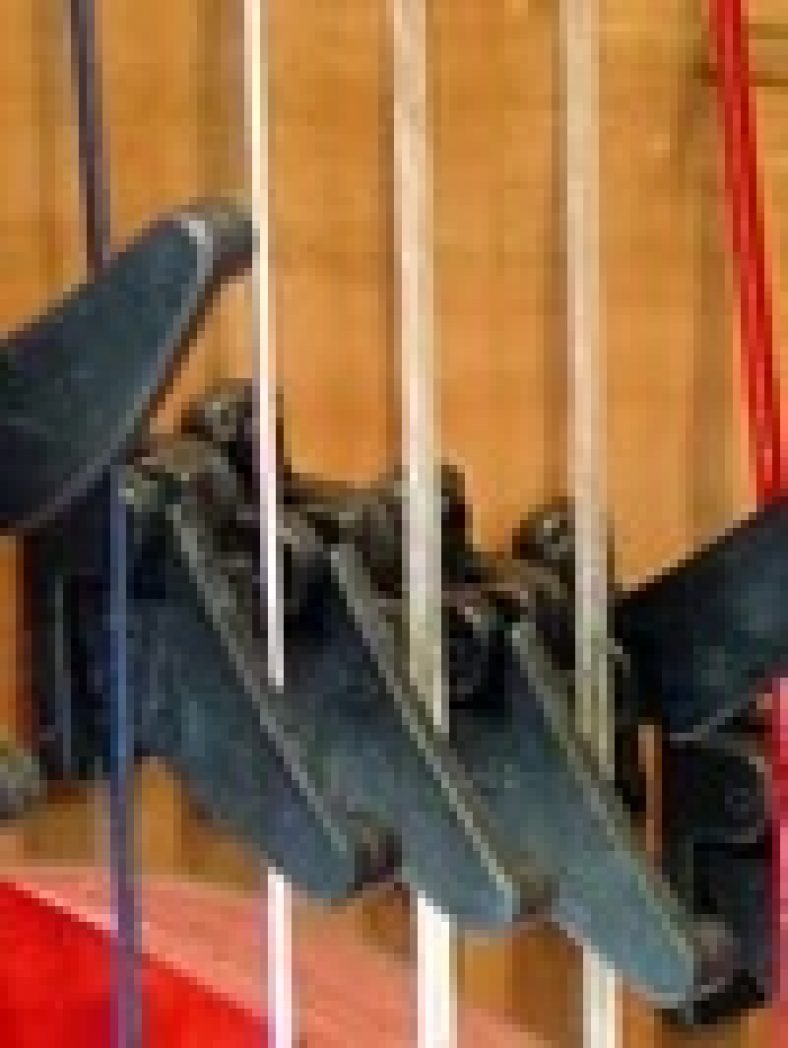 The cast metal model of the Jordan lever, the Universal Lever can be marketed by Music Makers. More robust than the Jordan, the Universal is an effective alternative for the hobby builder or to replace Robinsons on an economy harp. Levers pivot on a steel compression pin, which can need a drop of machine oil if heavily used.
---
Conclusion
So what is everybody else using? It's a combination. Some companies are constructing their own levers but a lot of the harp world has been evolving steadily into the latest generation of levers because they don't have the problems of their predecessors.
Rees, Truitt levers, and Camac levers voice very cleanly and provide some flexibility in string diameter. Moreover, these levers have experienced incremental improvements which have addressed some of the small initial manufacturing issues and provided for much more consistency and reliability.
The only remaining point with Camac and Truitt levers is the price. They're, for sure, expensive. Rees levers, which are the newest of the group, have a lever that meets identical performance standards but at a fraction of the price.