Ibanez RG550 Guitar (Genesis Collection)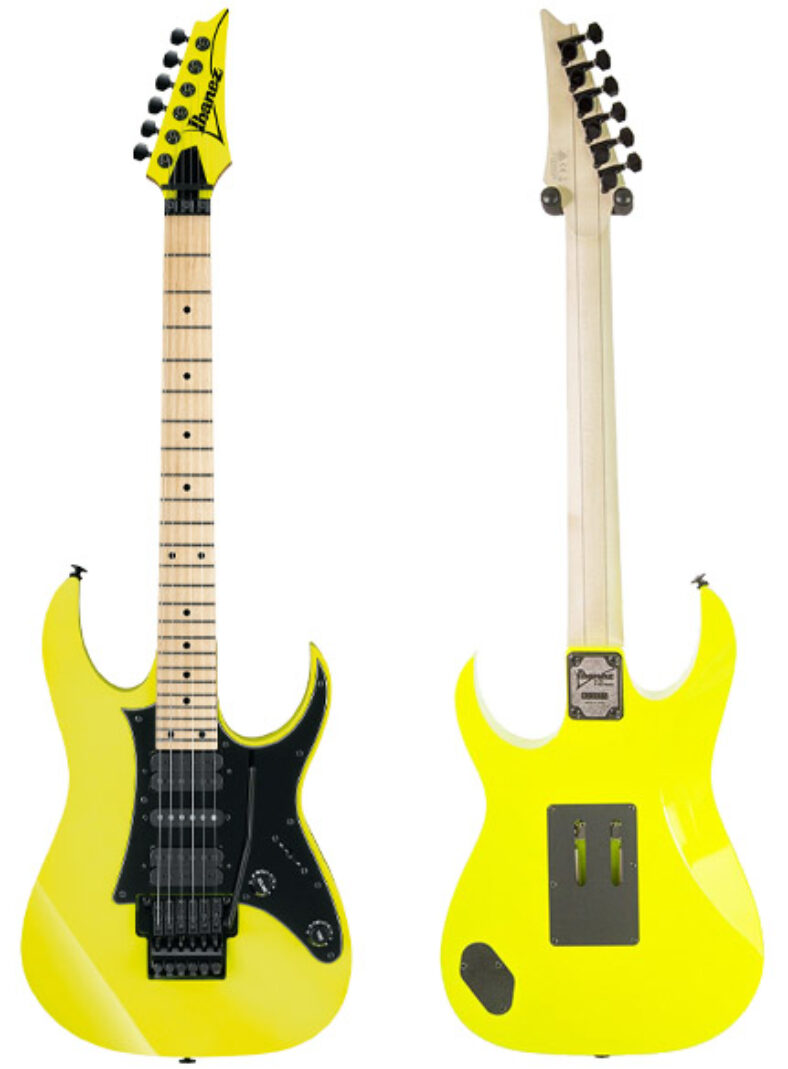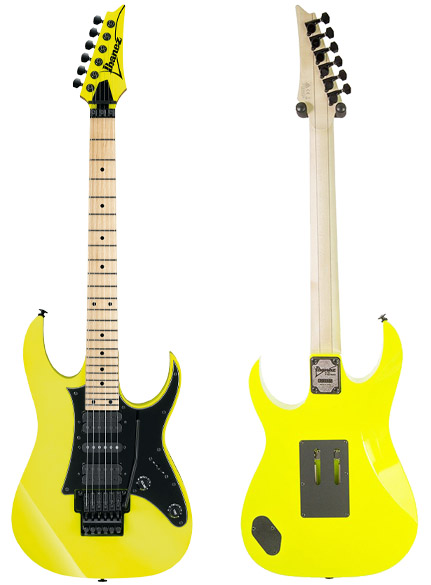 Great Build Quality.
Tonally versatile.
Good Value!
---
Ibanez Genesis RG550 Guitar Review
With its pointy horns, headstock, ultra-thin Wizard neck built for speed, and endless color options that typified the 80s, it was designed to appeal to a broad audience at a more affordable price. As originally designed as a mass-appeal, more budget-friendly version of Steve Vai's famous JEM777 model, it had characteristics not seen before.
RG550 Genesis guitars are essentially everything that's good about shred and metal guitars, as a modern-era tribute to the original.


Overall, the craftsmanship is exceptional. With the Wizard's neck, your hand glides effortlessly along it while the vibrato performs superbly during divebombs.
There is a lot of versatility in the tone of this Ibanez RG550 Genesis. The HSH configuration allows you to easily switch between different genres despite its pointy, shred-inspiring appearance.
Ibanez V7 bridge humbuckers deliver screaming, in-your-face tones, while V8 neck humbuckers offer slight compression at higher gain settings, making them ideal for lead lines. With a few modern touches, this RG550 Genesis has everything the world loved about the original.
---
Ibanez RG550
Guitar Features:
Genesis Collection series.
Body: Basswood.
Fretboard: Maple.
5-Piece Super Wizard neck: Maple/walnut.
Nut width: 43 mm.
Scale: 648 mm.
24 Jumbo frets with prestige fret edge treatment.
Edge Tremolo.
Pickups: Ibanez V7 humbucker (neck).
Ibanez S1 singlecoil (middle).
Ibanez V8 humbucker (bridge).
Black hardware.
Colour: Desert Sun Yellow (available in different colors).
Made in Japan.
---
Ibanez RG550 Guitar
Clearly, the Ibanez RG550 Genesis is one of the best guitars out there for high-gain music, as well as handling all other genres.
From the build quality and tonewoods to the electronics, let's take a closer look at some of the specifications of this guitar.
The Quality of Build
You can feel quality as soon as you pick up this instrument, it's everything you'd expect from an Ibanez built in Japan. It is evident from the base of the body to the top of the neck that this guitar has been carefully crafted.
The 5-piece neck is seamlessly crafted, providing maximum speed up and down the fretboard. Additionally, you can see that the neck joint was carved out with a lot of attention to detail.
A floating locking tremolo system designed by Ibanez gives you pinpoint accuracy when you tap on it, and its quality construction makes it easy to play harmonics and divebombs.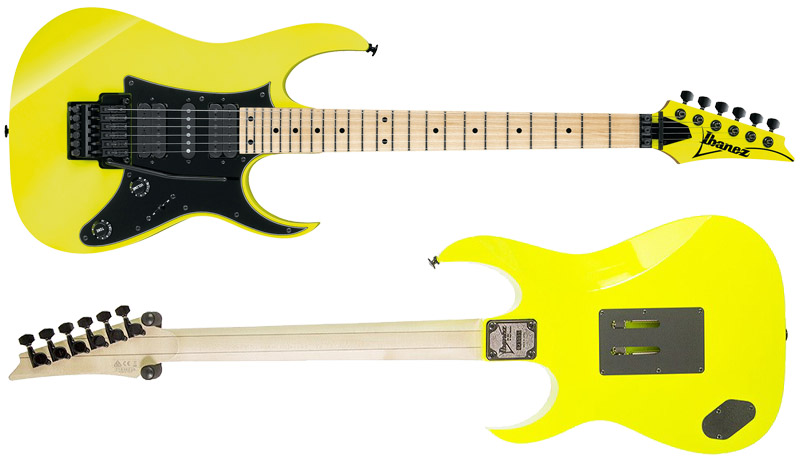 The Tone Woods
With the RG550 Genesis, you get the rich, harmonic tones you expect from an Ibanez guitar in this price range due to its basswood body.
Maple and walnut combine to make the neck, and maple is used for the fretboard. A maple fretboard's brightness balances well with the low richness of a basswood body.
Electronics and Hardware
Although the RG550 Genesis is a low-end guitar, Ibanez never skimped on hardware or electronics, utilizing many of the same features they use on their higher-end models.
The Sound of Ibanez RG550 Guitar
This RG550 Genesis can produce a rich array of tones and sound combinations with its HSH pickup combination. With a rich and smooth jazzy tone on the neck pickup, and a great strat-like sound in the middle position, this guitar has it all.
V8 pickups with alnico magnets are used in the bridge position on Ibanez guitars. A pickup like this one will give you all of the bars-to-the-wall metal tones you have come to expect from an Ibanez.
In the middle position, we have an S1 single coil alnico pickup. Throwing it in this position will give you a more Strat-inspired sound for some clean tones.
The neck pickup is an Ibanez V7 with a ceramic magnet, the only one on this guitar. It sounds great on high-gain settings, whether you are playing thick rhythm chords or lead lines. With this neck pickup, you can also get some really nice, creamy, thick jazz tones on a clean tone.
It also impressed us in the 2nd and 4th positions, splitting the single coil and humbucker pickups. The fourth position was especially good for funk tones, while the second position ended up being our favorite for clean chords.
---
In this video by "Ibanez Guitar" you can see the crafting process and hear the sound of this beautiful guitar!
---
Guitar Playability
The satin finish on the 5-piece Super Wizard neck, which feels amazing and improves the playability, contributes to the neck's fast speed as well.
The strings come with a gauge of 0.09, but you can change them as you see fit. Although they are a bit more difficult to bend, .10 gauge strings offer a fuller, more well-rounded sound.
Its classic tilt neck joint and stamped metal plate make it so enjoyable to play compared to the sculpted All Access neck joint found on most modern RG models. You will have easy access to the upper frets this way.

The Value
With a price tag that falls well below many higher-end Japanese guitars, this guitar offers good playability and a wide range of tones.
The great thing about this guitar is that it still comes with a lot of high-end electronics and hardware.
As long as you are not planning on spending a lot of money on it like the Prestige Series, the RG550 Genesis will be a great guitar for your money.
---
Ibanez RG550 Guitar (Genesis Collection)
An excellent piece of guitar made for intermediate and more experienced players!
Pros
Tonally versatile.
Great Build Quality.
Good Value!
Cons
Some people won't like the finishes.
---
Last Words
The RG550 Genesis delivers everything an RG should have while keeping the price low enough to be affordable by most players.
Ibanez RG550 Genesis might just be the right choice if you're looking for a shred guitar that will allow you to branch out into other genres as well.
Happy Strumming!