Introduction
The violin pickup is a small device you can clip or attach to your instrument to amplify its sound. The important thing is, that getting a trustworthy reproduction of your violin when it's amplified could be a difficult affair.
Finding a good-sounding and reliable best violin pickup is hard, especially if you don't know what you are looking for. All of us want to play our violins with excellent sound and volume, however, we can't all afford a costly microphone or amplifier.
The Violin pickups are mostly separated into two different types, piezo pickups, and magnetic pickups.
---
Piezo Pickups
These pickups work on the piezoelectricity principle which refers to the capability of various materials of producing voltage under pressure and converting the sound vibrations into electrical signals.
These are a type of contact microphones that may amplify the sound of the violin in the studio when recording or when used for live performances.
Apparently, these can be used together with magnetic pickups. These are designed not to pick the undesired magnetic fields and have a unique sound with a high impedance output.
---
Magnetic Pickups
As the name signifies, it's made through the use of a permanent magnet and a great quality copper wire which is used in the form of turns to wrap the magnet. This type of violin pickup is often attached to the violin's body.
When the strings vibrate, the vibrations produced are changing the magnetic flux. Then the signal is passed to either amplification or record equipment via cable. In addition, there can be a preamplifier (internal) added between the cable and pickup.
To put it in simple words, the pickups are the tiny units that are attached to the instrument physique for reworking the physical vibrations into digital signals. If you have to buy a pickup for enhancing the sound output, the very first thing you should do is identify your needs.
You will be able to choose from a wide range of options depending on whether you need one for occasional use or if you want that violin pickup to be permanently affixed to your violin.
Making the best selection is essential because it impacts your performance. Many are constructed for everlasting use. While there are some which are low in price, fast to put on, and simple to take off from the instrument.
---
Availability and our best picks
Lots of the pickups are also accessible online. Selecting from such a wide range could be difficult. However, we decided to do a list of the top 10 pickups you can buy in 2023 to help your selection.
Additionally, we have a great buying guide so you will get more information about pickups and which one may suit you best.
---
1. Kremona KNA VV-3 Detachable Passive Piezo Pickup for Violin and Viola
Kremona is a broadly recognized name that manufactures world-class pickups together with a variety of guitars and other musical instruments. It's a reliable selection regarding quality, sturdiness, and functional effectivity. The KNA VV-3 violin pickup is introduced by Kremona, and it's among the most commonly used Pickup for violins.
This one reveals exceptional craftsmanship, and it's handcrafted by the top professionals in Europe. The loud, clear, and pure sound delivered is backed by the wood-enclosed sensor.
The pickup offers hassle-free installation without any instrument modification and professional high-quality sound. An adjustable clamp is added that ensures the pickup stays in its place. Furthermore, the addition of soft cork keeps the varnish protected.
It's lightweight and carries just 1.6 ounces. The Piezo Violin Pickup is removable, however, it's also possible to keep it mounted (after the performance) if you want and it's one of the best violin pickups.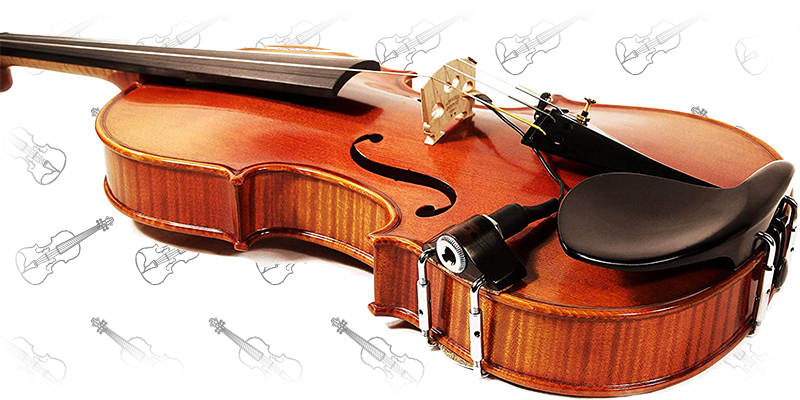 Features
Lightweight, wood-encased sensor.
Delivers the natural sound of your instrument.
Solid ebony, cork-lined 1/4″ Carpenter jack.
Holds firmly to the instrument via an adjustable cork-lined clamp.
Detachable, or may remain installed when not in use.
Professional sound with slight to no modification of instrument during installation.
Handcrafted in Europe.
You Can Buy Kremona KNA VV-3 Passive Piezo Pickup on the Link Below!
---
2. Barcus Berry 3100 Clamp-On Bridge Violin Piezo Pickup
Barcus Berry is a famous brand that is popular all around the world, and it's undoubtedly the primary name that comes to mind if you consider buying a violin pickup. They offer you a fantastic mix of quality, durability, and financial affordability.
The 3100 piezo Pickup mentioned right here is considered one of their best sellers and best violin pickups. It can clamp quickly to the instrument bridge and connect to the output jack via cable. Excellent string balance and a broadband frequency response make add to the perks of the piezo pickup.
Apart from this, the model is designed to reject feedback which ensures the delivery of the violin's pure sound. Both the installation and removal are handy, and you'd love the functional effectiveness.
The weight of this pickup is approximately about 1.6 ounces. If you would like an amplified pure sound with enhanced warmth, this pickup is what you need.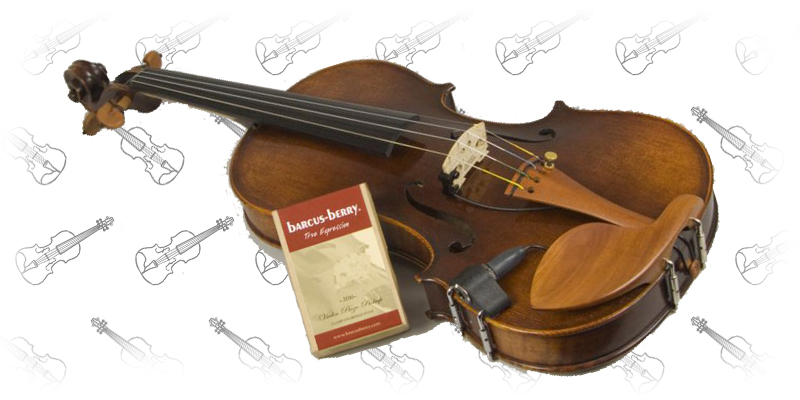 Features
Clamps easily to the violin bridge.
Connects via cable to the 3100P output jack.
Offers wide band frequency response.
Feedback rejection feature provides an excellent signal.
No additional tools or holes to drill.
You Can Buy Barcus Berry 3100 Clamp on the Link Below!
---
3. Fishman V-200 Classic Series Professional Violin Pickup
Fishman is one of those top brands that is dedicated to helping musicians in delivering the very best sound possible. Fishman as a company has been serving the music industry with top-quality products, and among the numerous range of its product categories, the pickups are probably the most prominent ones.
The V-200 is one of their top professional pickups manufactured by Fishman. It possesses all of the properties of the brand and provides excellent operational efficiency, a rich and warm tone, and clear sound at a reasonable price.
The ceramic piezo pickup is made to be very lightweight for lowering the muting. Apart from that, the installation is really easy, and you don't need to do any instrument modifications. It has carpenter style and has ¼ inches output jack
The pickup weighs 5.6 ounces, and the size dimensions are 0.5 x 2 x 3 inches. Professional violinists should give V-200 a try for a world-class experience since it is one of the best violin pickups you can get.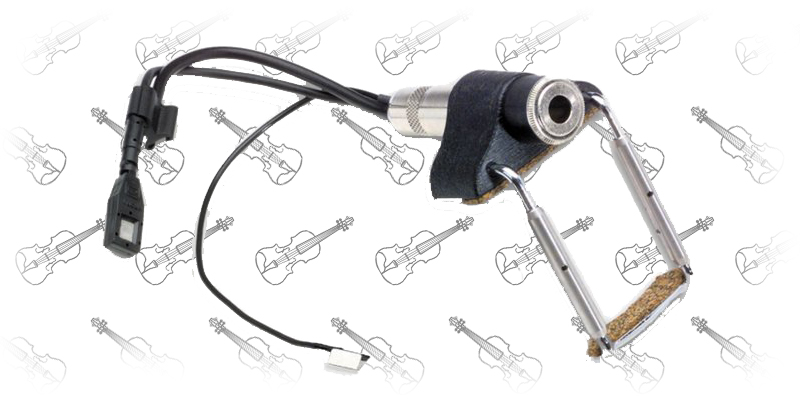 Features
Piezo-ceramic pickup.
Lightweight to minimize muting.
An impedance-matching preamp is recommended, but not required.
Easy installation with no alteration.
You Can Buy Fishman V-200 Professional Violin Pickup on the Links Below!
---
4. The Feather Violin Pickup by Myers Pickups
One of the best and most selling models of Myers Pickup is known as 'The Feather' violin pickup because this item by Myers is extremely lightweight. Whether you need one for short-term use or you require one for long-term use, it's a suitable choice.
The compact design makes the pickup an incredible selection that you can easily place on several instruments including violins.
This easy-to-install feather violin pickup requires no modification in the instrument and functions effectively to amplify the natural sound of the violin. Moreover, the feather violin pickup featured a powerful preamp that works to reproduce the richest sound sustaining the tonal high quality.
The mounting hardware is also included in the package deal. It comes with a pre-installed power supply, and every feather violin pickup is tested before delivery to make sure of high functional quality. In case you don't find the pickup as good as you anticipated it to be, you'll get a refund.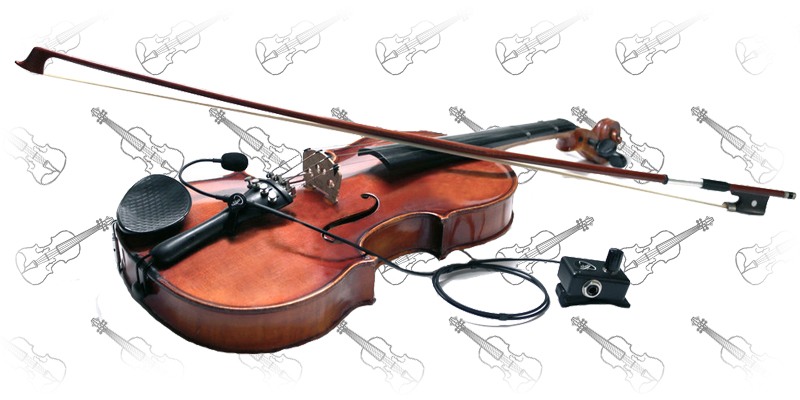 Features
So light that we they named it The Feather.
So compact that it can be positioned on a multitude of instruments.
Fully equipped with an internally powered, active preamp.
Power-source (included) is pre-installed and each pickup is meticulously tested before delivery.
No phantom power needed.
Compatible with most wireless systems.
Complete out of the box, plug-in, and play.
All mounting hardware included.
Instantly turn your instrument into an acoustic/electric instrument with volume.
Compatible with almost any musical instrument.
Made In USA.
You Can Buy Feather Violin Pickup by Myers Pickups on the Links Below!
---
5. KNA VV-2 Violin/Viola pickup
VV-2 is an ideal violin pickup for players searching for pure tone and simplicity with the flexibility to adjust output volume from the stage.
This violin pickup with volume control includes a potentiometer on the jack housing, which mounts safely to the instrument with cork-lined, fully adjustable barrel clamps.
Simply mount the pickup jack housing onto the lower bout, just under the waist on the 4th (G) string side of your instrument, and regulate the height of the barrel clamps to tighten the pickup to the instrument.
Players can control their output signal while onstage or in the studio, right from the pickup-mounted volume knob.
The jack housing is encased in laminate birch with a sublime and classy rosewood top and the piezo sensor has a lightweight wooden casing to achieve maximum tonal sensitivity and transmission.
VV-3V has a passive design that reproduces the natural and pure sound of the instrument with no need for a battery. The pickup comes with extra barrels for attaching the jack housing to bigger violin and viola bodies.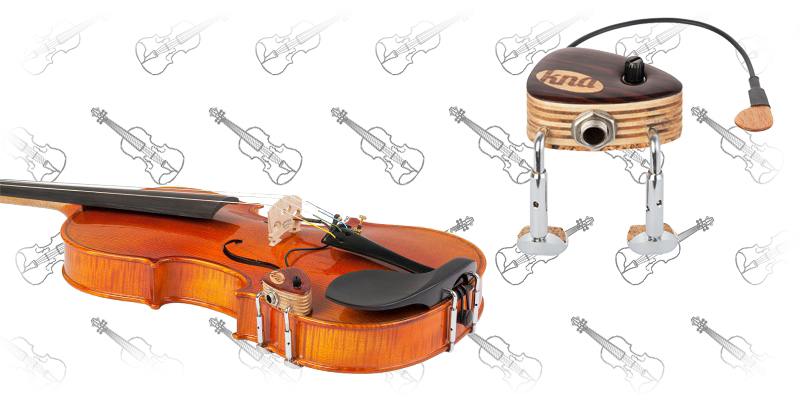 Features
Delivers the natural sound of your violin or viola.
Convenient volume output control knob featured on output jack housing.
Wooden sensor casing is lightweight, unobtrusive and installs in the eye of the bridge.
Detachable, or may remain installed when not in use.
Accepts 1/4″ cable jack.
You Can Buy KNA VV-2 Violin/Viola Pickup on the Link Below!
---
6. Headway The Band Violin Pickup System
Headway is a well-known British specialist in pre-amps, pickups, and several different accessories for acoustic instruments.
The Headway brand was established in 2006 and over all these years, the company has maintained its status for delivering superior quality. It's well-recognized for flawless workmanship and high professional standards.
The Band violin pickup system included here is an extremely recommended choice by skilled professionals. It features durable construction, compact design, quick fitting, and easy transferability.
You are not going to need any batteries because the pickup can be directly plugged into the combo amp or mixing desk.
The size dimensions of this band violin pickup system are 8.4 x 3.7 x 1.4 inches while the full weight is just 4.8 ounces. The pickup additionally minimizes the body boom and feedback and excludes the bowing noise. If you wish to enjoy the clarity and warmth of the violin's pure tone, it's definitely worth trying.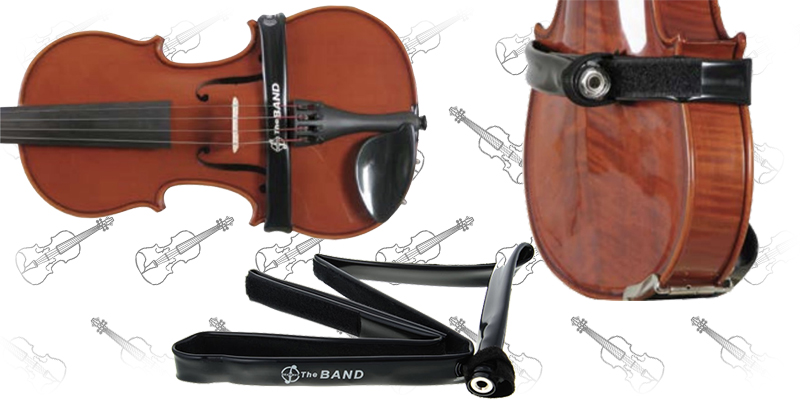 Features
Easy instant fitting and transferability.
Warmth and clarity of tone.
Reduced feedback and body boom.
No bowing nose.
No batteries required – Plugs directly into mixing desk or combo amp.
You Can Buy Headway The Band Violin Pickup System on the Links Below!
---
7. Fishman V-100 Classic Series Violin/Viola Pickup
The Fishman V-100 Classic Series Violin/Viola pickup mounts in, the wing slot of the violin bridge with Fishman's patented Floating Mount system.
The V-100 is very lightweight to reduce muting. It features a 1/8″ mini-plug jack that mounts to the tailpiece. A 10-foot 1/8″ to 1/4″ cable is included. An impedance-matching preamp is advisable, but not required.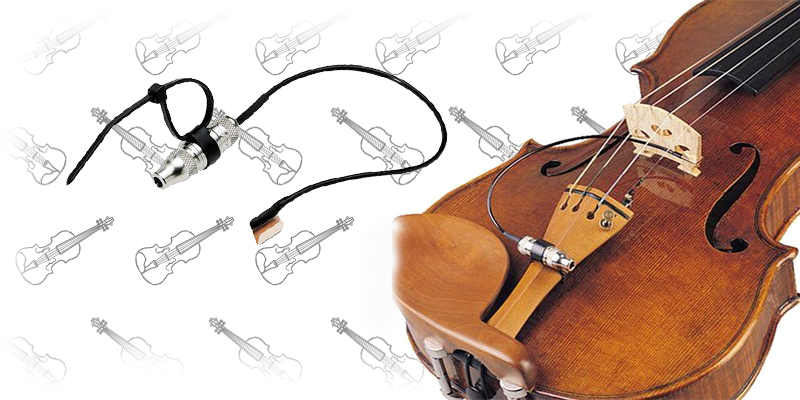 Features
Mounts in the wing slot of the violin bridge.
Piezo-ceramic pickup.
Lightweight to minimize muting.
Easy installation with no alteration.
You Can Buy Fishman V-100 Classic Series Violin/Viola Pickup on the Links Below!
---
8. Mighty Mini Pickup
Last Resort Music has always been a preferred choice of violin players. It provides a broad range of high-quality pickups for reproducing the violin's natural sound with high amplification.
This mighty mini pickup is a strong and powerful one, and it's usually recommended due to its exceptional tonal quality, warm tone, and enhanced sensitivity. In addition, it is very suitable for professional high-quality recording as well.
No bridge alteration is required, and no clips are needed. Simply plug into the amp, and that is all you need to do. The mini-pickup is simple to use, and that's the reason a lot of the players want to use this one.
It carries 1 pound weight. Easy installation, no instrument modification, and budget-friendly prices make the pickup a great option. Grab the mighty mini pickup for enjoying a powerful sound. The performing musicians would love this one for sure.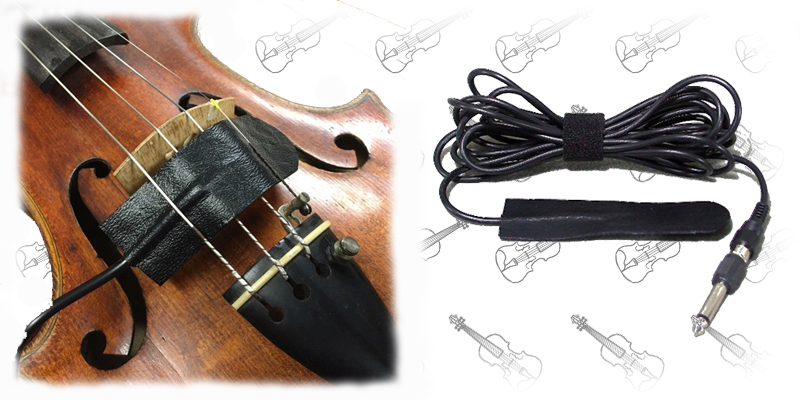 Features
Fantastic New Innovation in String Amplification.
Simple to Use.
Clear and Warm Sound Production.
Just plug into the amplifier.
Designed for all string instruments (including guitar).
Requires no clips and no bridge alteration.
You Can Buy Mighty Mini Pickup on the Link Below!
---
9. Violin Pickup Carpenter Jack with Micro-Gooseneck by Myers Pickups
Myer pickups are of top quality and made by one of the best manufacturers of pickups. It's recognized best for excellent structural design, great operational efficiency, commendable tonal high quality, and high sensitivity.
This specific model is usually recommended for professional players because it reproduces the natural sound and enhances your performance.
Take a look at this lovely little pickup made to deliver an amplified and highly effective sound. Although the pickup is a bit costly, it's really worth your investment. The model comes with a carpenter jack mount along with the flexible micro-goose neck that backs simple adjustability.
It's the smallest pickup at the moment available in the market. The best part is, that the Myers pickup comes with a money-back guarantee. In case you are not happy with the quality, you will get a full refund.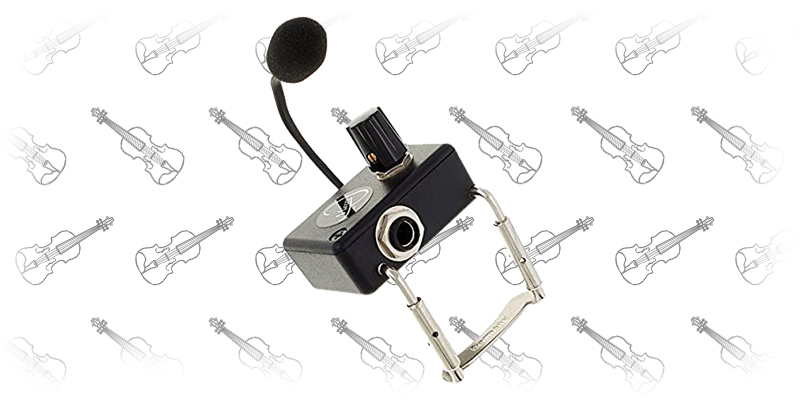 Features
Madolin Pickup with a flexible micro-gooseneck.
Includes the new carpenter jack.
The smallest (all-in-one) active/preamp pickup on the market today.
Instantly turn your instrument into an electric instrument.
Compatible with almost any musical instrument.
Perfect for String Instruments.
New flexible micro-gooseneck for even more adjustability.
You Can Buy Violin Pickup Carpenter Jack on the Links Below!
---
10. LR Baggs Violin Pickup For Acoustic Instrument
Right here we have another stunning choice for professional players. It's manufactured by LR Baggs which is a highly respected name. The company focuses on pickups, microphones, and other accessories for bringing out the very best in your performances by offering high-class acoustic amplification.
This model, particularly, is made with exclusive attention to sensitivity and it can rapidly catch the internal dynamics of the violin. In addition, the pickup contains a mini vibration transducer which is designed to capture the tone-rich bridge movement, reject the nasal sounds, get rid of feedback, and replicate the instrument's natural pure tone.
It is very lightweight and has 4.6 ounces of weight. Moreover, the size dimensions include 6.2 x 4 x 2.9 inches. The LR Baggs pickup is quality tested before sending forward to make sure that you get a fully functional and high-quality pickup. It comes complete with a one-year warranty.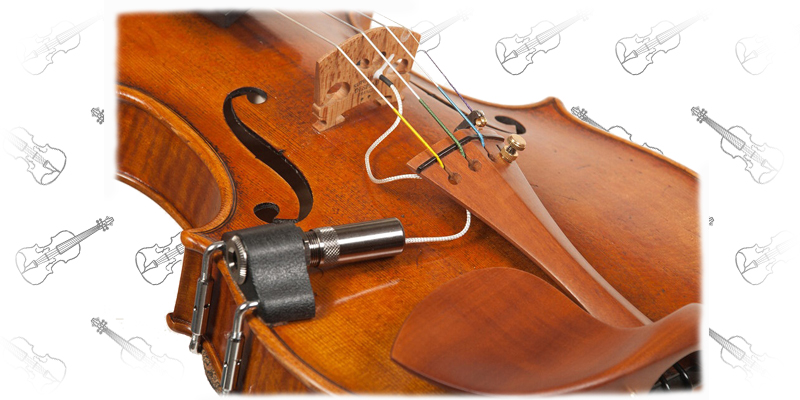 Features
Features a miniature vibration transducer.
Will not affect the tone of your favorite violin.
As an integral part of the bridge, it effortlessly captures the instrument's inherent dynamics.
The top choice of more top pros including Alison Krauss, Michael Doucet, Darol Anger, and Jean-Luc Ponty.
You Can Buy LR Baggs Violin Pickup on the Links Below!
---
How To Choose The Best Violin Pickup – A Buyer's Guide!
Types of pickups
With many different types of violin designs, completely different player needs, and different sound preferences, there are additionally many different types of violin pickup designs.
Violin pickups could be either detachable or permanent. Inside the detachable and permanent violin pickup categories are several different kinds of violin pickups as well.
Permanent Violin Pickups
Bridge replacement pickups are permanent violin pickups that are positioned where a violin's current bridge is.
Bridge replacement pickups are violin bridges. Nevertheless, these bridges are fitted with electronics that enable them to output the vibrations that they receive straight from the strings of violins.
Bridge replacement pickups are a great permanent violin pickup solution because you'll only need to hook your violin up to an amplifier when you'll want to electrify your violin. These permanent pickups should be professionally installed by luthiers. Due to this fact, installing a bridge substitute pickup on your violin could be expensive.
Removable Violin Pickups
Easy and simple-fit violin pickups are detachable violin pickups that are easy to fit onto a violin when they're needed. These pickups clip onto violins and are attached to another point of the violin so that the pickup can take the strings' vibrations.
These pickups are not always the most effective violin pickup choices when it comes to sound quality. Bridge-mounted violin pickups are quickly installed onto a violin's bridge, allowing them to receive the vibrations of a violin's strings directly. In turn, the signals that these pickup outputs are very accurate.
Some bridge-mounted pickups make alterations to the sounds of violins which can depend on your personal preference either good or bad. An under-the-bridge violin pickup is a kind of pickup that's temporarily installed beneath the posts of a violin's bridge.
This kind of pickup receives string vibrations directly from the violin's bridge and the top of its acoustic chamber, permitting it to produce an extremely accurate signal. You should know that under-the-bridge pickups could be tedious to install and uninstall.
You'll like under-the-bridge pickups if you want an amplified sound that's accurate to what you hear out of your violin, however, you could decide to maintain the pickup on your violin. A clip-on microphone could be attached to a violin to amplify its sound and is a kind of violin pickup.
Clip-on microphones have to be attached in specific positions on each violin to receive and amplify the very best tones. Due to this fact, putting in a clip-on microphone and reaching an optimal sound does take some time and persistence.
A contact microphone is a kind of violin pickup that receives vibrations by making contact with some area of the violin. These pickups work as both microphones and pickups, providing traits of both technologies.
Because of the fact that they're microphones, contact microphones have to be strategically positioned on a violin for the best results.
Important
Whenever you decide to shop or to look for an Electric Violin pickup, there are several features that you may prefer over the others.
Easy To Use
Another essential characteristic is how simple it's to set up your violin pick up and you want to search for one that's quick and easy to get going with. Many violin pickups are simple to set up, however, there is a number that aren't as well.
If you don't want to have to set your violin's pickup up each time you play, then a bridge replacement pickup could also be an ideal option for you. If you want an electric pickup that's delicate, then several models offer discreet designs just like the violin microphones.
Some electric pickups are noticeable and instantly alter a violin's look, while there are other pickups that audiences will barely notice on a violin. Alternatively, you'll be able to select a permanent bridge replacement pickup that has a small output jack.
The Sound
The sound that a pickup output is probably the most essential feature to think about when shopping for a pickup for your violin.
You need one which produces a natural sound that's pleasant, and enjoyable to your ears but also is the most natural to your violin's regular sound. Many pickups need pre-amps, to additionally increase the violin's sound.
You can also alter the sound of your violin using a wide range of electronic effects. Due to this fact, buying an electric pickup or even a violin microphone that provides the most natural sound will not be as important to you in case you are considering using effects with your violin.
The Price
Electric violin pickups exist within a high range of prices. You can find detachable pickups for as little as $40 and permanent pickups for nearly $500.
The Barcus Berry 3100, for instance, is slightly over $100. For those who select and buy a permanent pickup for your violin, additionally, you will have to think about the cost of its setup on your violin.
---
If you are interested to get more information about violins, especially for beginners you can check this really educational video below:
---
Conclusion
The chances are that if you're searching for a violin pickup, you're actually searching for a high-quality piece of equipment and aren't sincerely thinking you will get off cheaply.
We made this list and guide in order to help you search for a quality pick-up for your precious instrument.
Related Articles