Open Back Banjos – Buyer's Guide & Reviews
Open back banjo is usually played in folk or traditional style. Players use only two fingers to produce tone, normally the index finger and thumb. However, the open backed banjo might be perfect for beginners because this type of banjo is easy to be taught. One of the best open-back banjos produces a softer sound as compared to the bluegrass banjo. Are you a beginner player and need to buy the very best banjo for practicing?
The open-back banjo could be an excellent selection for you. However, choosing the proper banjo is a little bit difficult because there are lots of options out there available in the market. Fortunately, right here we'll review the top five finest beginners' open-back banjos in 2023 with a complete review and buying guide.
Top 5 Best Beginner Open Back Banjos
They are really the top line that is out there available on the market right now. Sifting through and researching all of the totally different banjos takes a ton of your precious time. That's why we did the work for you.
Without further ado, we present to you a few of the most outstanding open-back banjos available on the market.
1. Deering Goodtime 5-String Openback Banjo
If you need an open-back banjo that is top quality and that may produce a powerful sound when you play it, then there is no doubt that you'll be significantly benefited whenever you get the Deering Goodtime Banjo 5-String.
Actually, this open-back Deering Goodtime Banjo is made with ultra quality in regard to all its components and it will always produce the powerful sound that you crave each time that you play it. Because of this, it's no surprise that this open-back banjo is among the most preferred ones among open-back banjo players at the moment.
Indeed, this wonderful open-back banjo comes with a top-quality maple neck that also comes with the extremely desirable element of a truss rod that's adjustable. The rim is made from sturdy steam-bent maple that's noted as being three-ply. The fretboard is scooped for maximized comfort during playing.

This Deering Goodtime 5-stringed instrument comes with a cutting-edge compound angle head that may enhance your playing agility whenever you use this finely crafted open-back Deering Goodtime banjo.
Features:
Made of high-quality material
It comes with a deluxe padded gig bag
Blonde, slender rock maple neck
Durable satin finish
Geared 5 string tuner
Deering fiddle-shaped peghead
It comes with a coordinator rod for adjustments
PROS:
Easy to play
Durable and easy to maintain
Ideal for beginner
Travel-friendly
Lightweight and compact
Classic look and sound
It comes with a gig bag
2. Recording King RK-OT25-BR Madison Open Back Banjo
In case you are the kind of person who loves the sensational experience of an old-time type of banjo with an open back, then you'll be delighted that you're going to get that type of experience with the Recording King RK-OT25-BR Madison Open Back Banjo that demonstrates excellent quality in all its components.
Your music will sound just like the old-time songs while you pluck away or strum away on this banjo that comes to you with a beautiful maple rim that's steam-bent. This instrument is designed with a world-class Remo head and produces an old-time tone.
This instrument also comes with a comfortable armrest to make sure your maximum comfort for long banjo-playing expeditions for your utter enjoyment. It is noted that the hardware of the bridge of this banjo is designed with the usage of nickel-plated materials.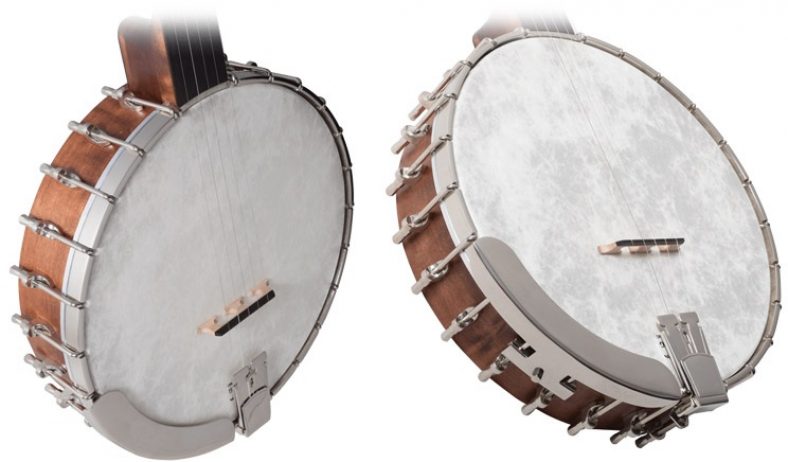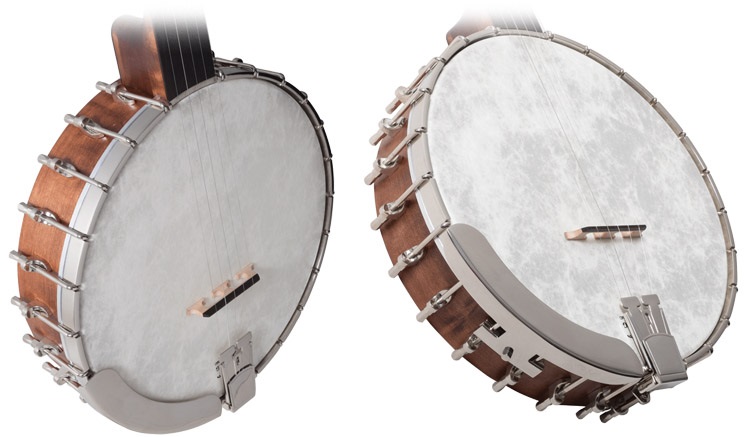 This banjo is relatively light in weight, which is why it's so satisfying to play. Moreover, as a result of the truth that it is light in weight, it's simple to transport with you if you end up traveling and can't be without your banjo or if you do a lot of banjo playing for groups of people at various venues.
Features:
Remo FiberSkyn head
3-ply steam bent maple rim
Maple neck with adjustable truss rod
Scooped rosewood fretboard
Specifically designed for old-time players
PROS:
Lightweight and compact
Easy to use and maintain
Travel friendly
Cozy armrest features
Perfect for beginners
Good quality hardware
Affordable
You Can Buy the Recording King RK-OT25 at the Links Below!
3. Gold-Tone CC-Mini Cripple Creek Banjo
If you need a banjo that plays with a powerful sound that isn't grating or tinny in essence, then you should get the Gold Tone CC-Mini Cripple Creek Banjo. It is a nicely constructed Gold Tone banjo that may most assuredly live up to your expectation when it comes to the production of a spectacular sound of actual quality that doesn't include any grating or tinniness.
The tailpiece on this Gold Tone is nice to use with this banjo for added assistance for a more balanced playing experience. The head is world-class and contributes to the fantastic quality of the music of this Gold-Tone open-back banjo. The strings of this Gold Tone banjo are ultra-durable, as a way to have the confidence that you will be able to play your songs through to completion without the strings breaking. The bridge on this Gold Tone banjo is of great high quality and the overall composition of the banjo is pleasant.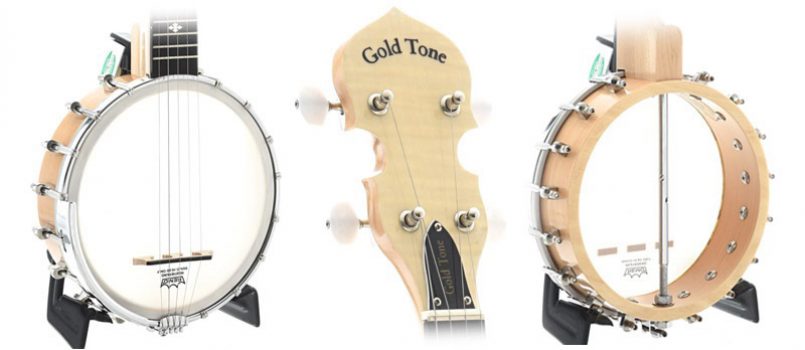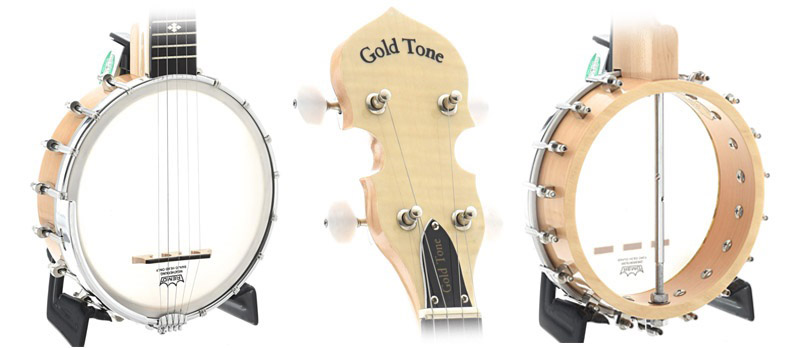 This Gold Tone banjo is easy to play because the strings are strong enough, yet they have the right kind of flexibility to accommodate comfy playing to easily produce notes which are on key with the good completion of each note.
You'll have the peace of mind that no note will die halfway through. Because of this, all notes will mix properly to satisfy the intent of the rhythm and melody of your song for actual enjoyment when it comes to top-quality banjo music.
Features:
Lightweight and portable
Tonewoods neck
Low string action allows great playability
Perfect for a young child
DotWood finish with vintage brown hardware nut
Guitar style tuner
PROS:
Travel friendly
Durable and efficient
Suitable for the younger player
Available at affordable price
4. Rover RB-20P Plectrum Open Back 4-String Banjo
The Rover RB-20P Plectrum Open Back 4-String Banjo is a pristine-looking banjo and it additionally produced music that's thrilling in quality that may make you seem like a banjo playing professionally even when you are just beginning out in the adventurous world of playing banjo music.
Rover RB-20P Plectrum Open Back 4-String Banjo The tailpiece is a terrific addition to boost your playing pleasure. Moreover, you'll be pleased to realize that the fretboard is developed in a scooped style, as this will assist to maximize your comfort when you're playing this enjoyable and impressive banjo that demonstrates actual quality in all its various components.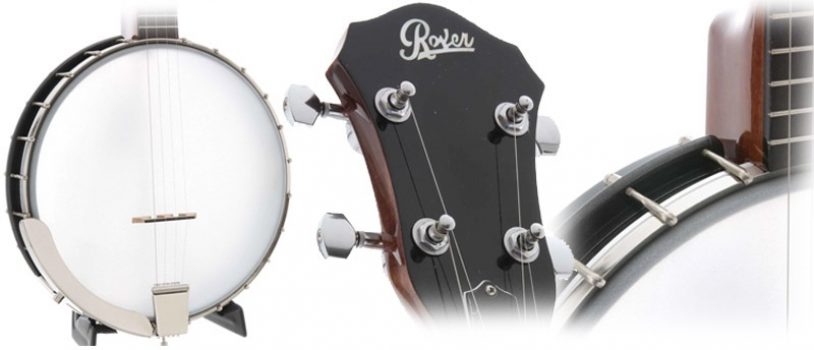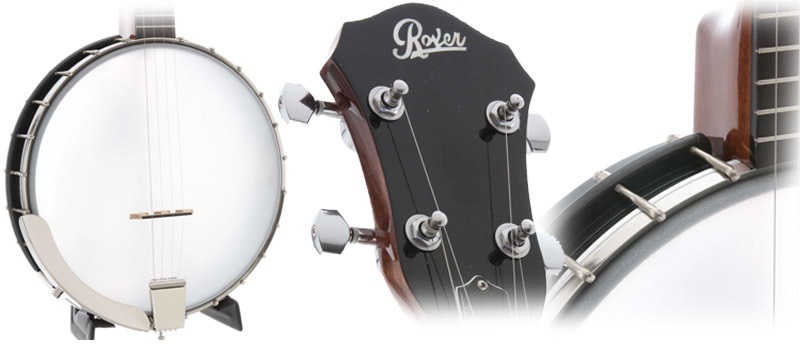 This banjo will indeed provide a sensational experience for all banjo users and can assist you to perform well the first time that you perform in public. Due to this fact, this banjo actually does boost your confidence as a new banjo player. The grey metal rim is beautiful and well made and the Remo's head is world-class, so what you know is that this banjo is made with actual high quality.
Additionally, the comfortable armrest will provide the support that you want, in order that you will be able to play this banjo for long periods of time during your practice sessions when you actually wish to advance well in regard to your banjo playing abilities.
Features:
Standard 11″ rim
Grooved tension hoop
F-2000 guitar style, geared tuners
Deluxe P-101 "Vega-style" armrest
Traditional P-115 "No knot" tailpiece
PROS:
Standard spacing using 24 Flat hook and nut set for head attachment
Exquisite mahogany neck with East Indian Rosewood fingerboard, inlaid dot position markers, and adjustable truss rod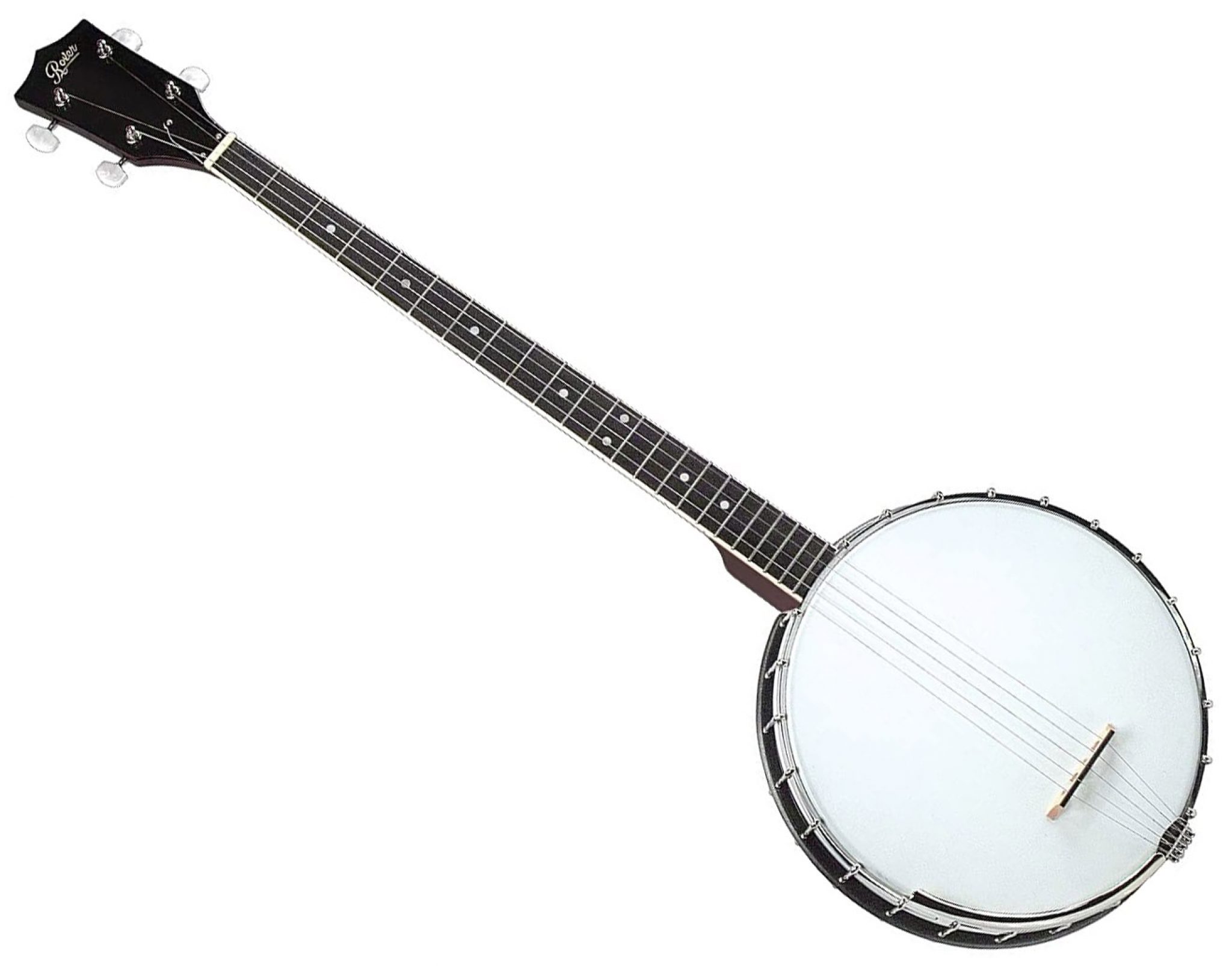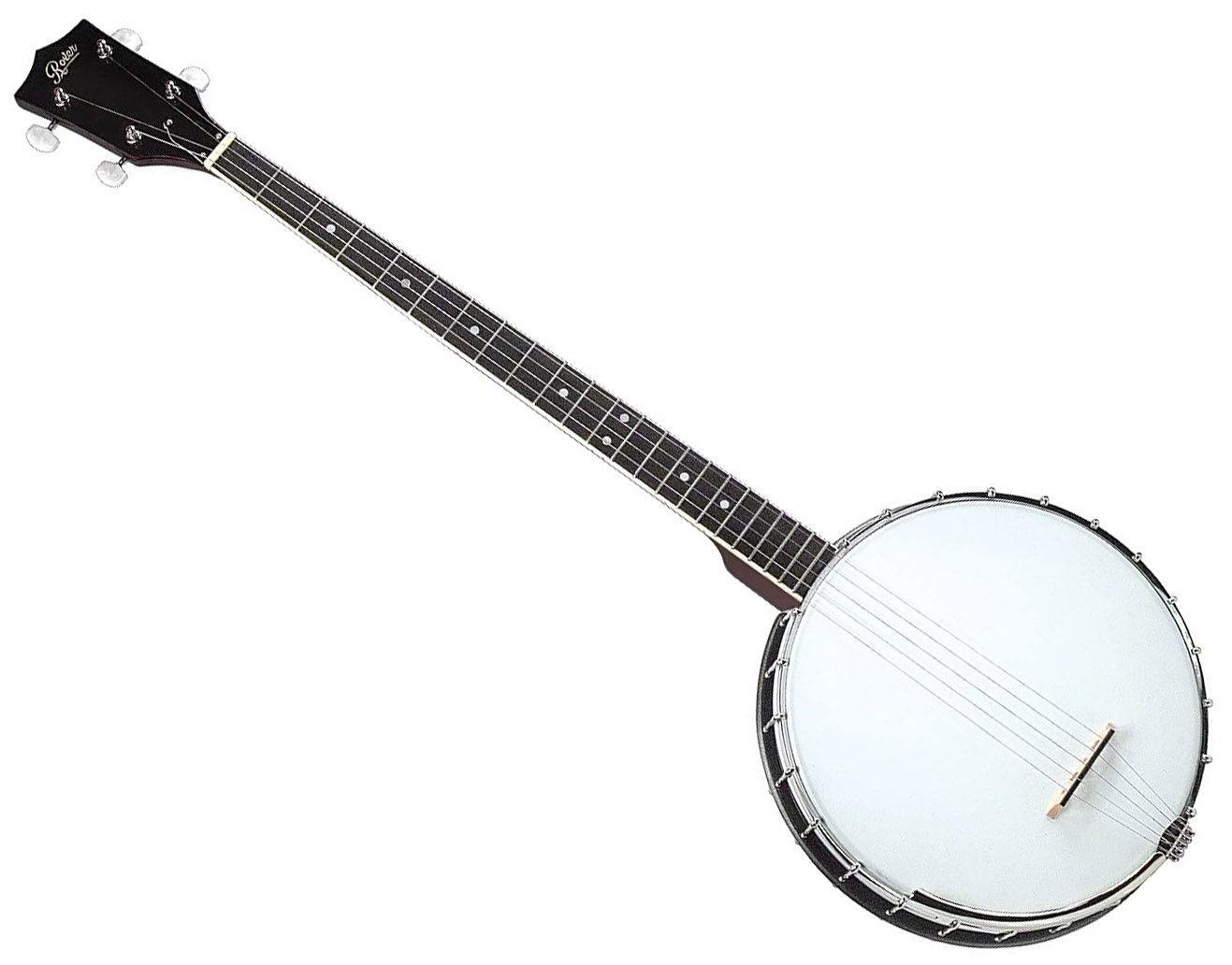 Standard spacing using 24 Flat hook and nut set for head attachment. Deluxe Vega style armrest Traditional No knot tailpiece.
5. Oscar Schmidt OB3-O-U Open Back 5-String Banjo
In such cases that you have been disappointed by other banjos that you've got tried on prior occasions that appeared not as solid around the rim as you would have liked them to be, then you'll be able to rest assured that whenever you get the Oscar Schmidt OB3-O-U Open Back 5-String Banjo, you're indeed getting a very solid banjo.
This is because of the fact that this excellent-sounding banjo has been crafted with solidness in mind since there's the application of a rim that's three-ply. You'll most assuredly admire the scalloped neck of this nicely tuned banjo that makes the playing experience comfier with much less tension on the hands.
Also, the low-end frets are impressive and there are no weak areas of the neck that sometimes could be present in other types of banjos that are available on the market at this present time. With this being the case, this is among the most preferred banjos among banjo players when it comes to the high level of comfort during playing.

This banjo isn't intended just for casual use just at home or with family and friends. It's really a high-caliber banjo that is of professional quality whenever you wish to play to entertain crowds with top-quality banjo music at the professional level. It's also coming with a gig bag and you will be able to keep it safe. This banjo is ready to keep up with all your plucking and strumming in order to produce clear notes and a good volume to make your music thrilling to listen to every time.
Features:
18 bracket tone ring
Nato neck
Remo head
Multi inlay rosewood fretboard
Gloss finish
PROS:
Handcrafted quality
One of the most affordable open back five string banjos in the world
Mahogany resonator and geared 5th string tuner and fingerboard scoop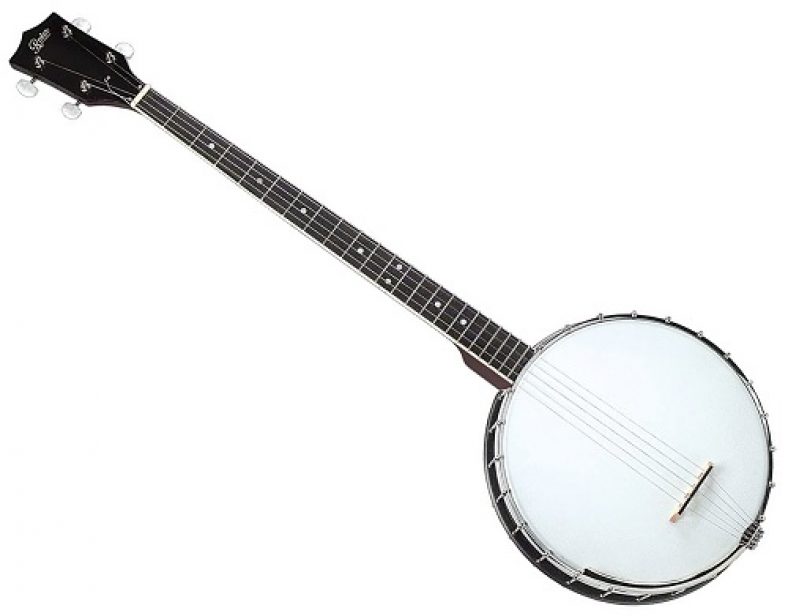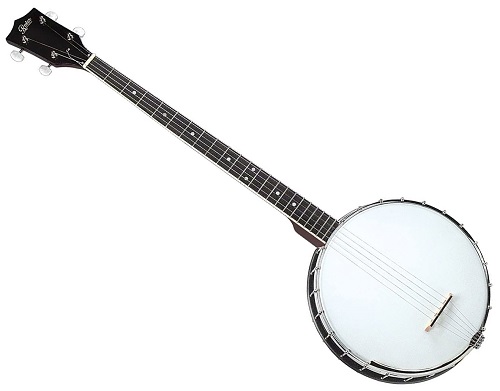 18 bracket tone ring. Ovangkol Fingerboard and Bridge. Geared 5th string Tuner. Nato neck. Gloss finish.
How to Pick the Best Beginner Open Backed Banjo
When you have decided to buy one of the best open-backed banjos for beginners, then there are some essential things that you must consider before buying. Here in the below list, we mentioned some things before shopping for an open-back banjo to keep these things in mind.
Quality
The quality of the product matters very much, so it's crucial if you purchase an open-back banjo that ensures full quality. All the time buy the banjo from a leading brand and check the product materials, warranty, and best experience reading buyer reviews concerning the product you wish to purchase.
Price
The open-back banjo comes at a different price when it comes to product quality and features, so always select the banjo according to your fund's price range. However, most banjo brands provide high-quality products at different prices; you simply have to perform a little effort and find the perfect open-back banjo at a really inexpensive price.
Brand/Manufacturer
Shopping for an open-back banjo from a brand that has years of business crafting their banjos to perfection is an effective way to not go wrong with any choice.
Best Open Back Banjo Makers:
Deering
Gold Tone
Recording King
Oscar Schmidt
Rover
Most beginners have no idea about the resonator; it's a metal plate that usually attaches to the back of the banjo, which is used to forward the banjo sound. The resonator helps to provide a louder sound, a fuller one with a perfect and efficient tune that makes the banjo perfect and durable.
Strings
Banjos come with 4, 5, and 6 strings, so ensure how many strings of banjo you should buy. However, 5-string banjos are perfect for beginners, but you can also purchase 4 and 6-string banjos as your desire. However, ensure the banjo which you purchase gives high-quality banjo strings.
Sound
Sound quality is everything in banjo; a banjo that doesn't produce an efficient sound then it's not very durable. All the time select a banjo that provides good sound quality.
Frequently Asked Questions
Can I Play Bluegrass on an Open Back Banjo?
Why not! You'll be able to definitely do it but keep in thoughts that it doesn't produce a sound as you want with a resonator.
Can I Attach a Resonator to An Open Back Banjo?
It depends on the banjo and brackets so, to attach the resonator to an open back banjo, do some research and then take any step. However, you'll be able to attach a resonator to an open-back banjo.
What is The Best Open Back Banjo or Close Back Banjo?
Open back banjo is usually used to produce traditional or folks-style tunes, while the close back banjo is used to produce a ringing sound. However, the open-back banjo is appropriate for beginners as a result it's easy to use. It additionally matters on your music taste whether you purchase open or closed back banjo.
Conclusion
In this open-back banjo guide, we mentioned the top five best beginner open-back banjos. Open-back banjo is a good musical instrument for practicing, so in case you love folk or old-time music, then you'll be able to enhance your skill by using the most effective open-back banjo. All these top five banjos are inexpensive at a price, so you'll be able to choose one of them according to your desire.