Godin G Tour Nylon Acoustic-Electric Guitar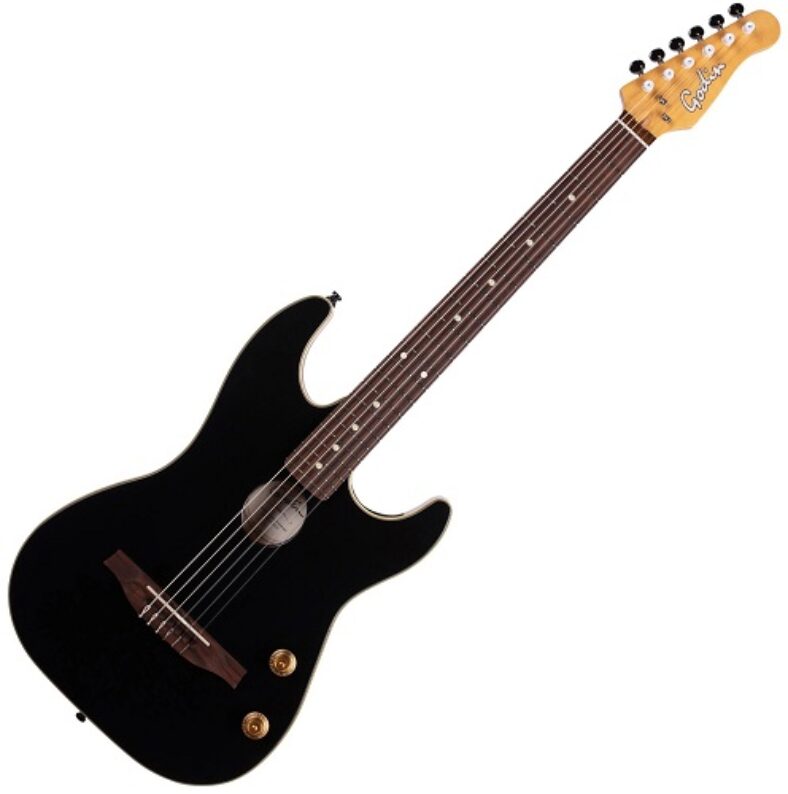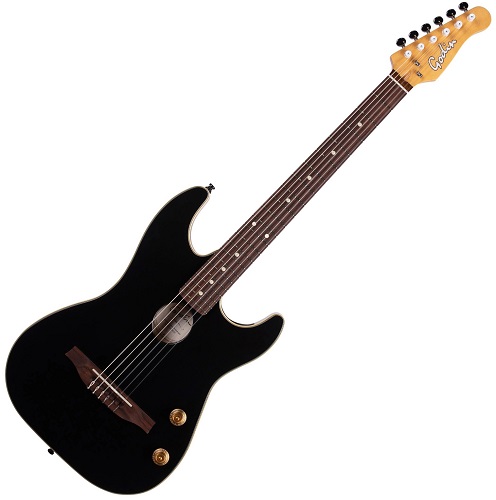 EPM Q-Discrete electronics
Rosewood Fingerboard
Made in Canada
Here's the new Godin G Tour Nylon, a nylon string guitar that delivers great plugged-in sound, and fits right in with any rack of electric guitars. The Godin G Tour Nylon guitar is for those who want the sound of nylon strings, but prefer the feel of an electric guitar. Featuring EPM Q-Discrete electronics with volume and tone knobs, this hollow-body guitar is equally compact, distinct, and comfortable.
There's no doubt Godin knows nylon string guitars. The Godin G-Tour delivers a rich, nylon-stringed tone with a chambered Silver-Leaf Maple body, solid Cedar top, and a unique fan-bracing design. Featuring a Hard Rock Maple neck with a Rosewood Fingerboard and a 1.65″ nut width, you'll feel like you're playing an electric guitar on stage. Due to its carefully selected tone woods and unique body profile, the G-Tour offers ample acoustic headroom with minimal feedback.
THESE ARE
The Key Features:
The Godin G-Tour is an original nylon string guitar made in Canada that easily fits into any musician's collection.
A combination of cedar, silver leaf maple, and hard-rock maple provides a tight, resounding sound.
Combined with pleasing acoustics and comfort, this nylon tone is perfect.
A bright output and clean look are provided by the active EPM Q-Discrete pickup under the saddle.
Featuring a standard "C"-shaped neck profile and semi-gloss finish, this guitar has unparalleled fret access.
The fingerboard is made of rosewood and inlaid with circular Pearloid.
Excellent intonation thanks to the 1.65-inch Graph Tech nut.

What Makes Godin G-Tour Nylon Guitar so Special?
Guitarists who want the comfort of a contemporary axe will love the Godin G Tour Nylon acoustic-electric guitar. While the Godin G-Tour has deluxe cedar, maple tonewoods, and nylon strings, it has the feel and style of an electric guitar. In spite of their different shapes, these nylon-string instruments deliver authentic nylon-string tones.
With a powerful EPM Q-Discrete pickup system and a volume/tone knob duo, you'll be able to dial in the perfect sound. Additionally, your G-Tour's appearance won't be compromised by unsightly electronics under the hood. If you've never played classical guitar on a tried-and-true chassis, the Godin G Tour Nylon guitar is for you.
Acoustic or Electric?
It's technically both, but the nylon strings make it seem like the latter. The contoured double-cut shape may look like an electric guitar, but its solid cedar, hard-rock maple, and silver leaf maple tonewoods propel a warm nylon tone. When the electronics are off, the G-Tour just functions as a classical nylon guitar. Do you want to explore the wonderful world of acoustic instruments? You've come to the right place thanks to the G-Tour.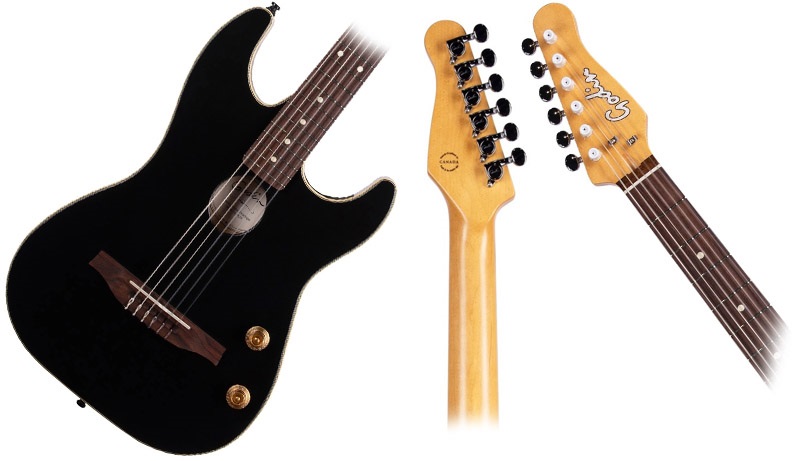 Inconspicuous Pickup Control
A Q-Discrete active electronics system is hidden inside the G-Tour's fan-braced body. There's a master volume and tone knob up top, so you can get the perfect classical-inspired sound for any occasion. Best of all, the Q-Discrete lies just under the soundhole and provides massive acoustic output with no electronics.
Improved Instrument Hardware
Its optimized hardware ensures that you get the job done in any scenario, whether you use it as an acoustic road warrior or a stage companion. "C"-profile neck gives you that familiar electric feel while letting you access the entire fretboard. Tuning machines with sealed tuning mechanisms allow easy intonation adjustment and keep you in tune all day long.
A rosewood saddle and top-hat gold bridge pins give the G-Tour a truly authentic tone, making it a great electric or acoustic guitar. Regardless of how you play or what your musical preferences are, the G-Tour is a high-performance instrument.
Godin G Tour Nylon Acoustic-Electric Guitar
With a chambered Silver-Leaf Maple body, a solid Cedar top, and a unique design, the Godin G-Tour Nylon guitar delivers a rich tone.
Final Thoughts
There is something beautiful about the way the guitar plays and sounds. The back of this particular guitar has a very beautiful finish! In any case, if you are a player looking for a nylon string sound, but who would rather have the feel of an electric guitar, then the Godin G-Tour is the ideal guitar for you. Featuring EPM Q-Discrete electronics, this hollow-body guitar features an equally compact, specific, and comfortable design, and its volume and tone knobs encourage players to "plugin", and turn it up!
Here is a list of more articles about acoustic-electric guitars that you might be interested in: