Amazing and Fun Facts About Guitars
Here are some interesting facts about the guitar, if you're a fan or just curious about this beloved instrument. Let's look at little-known cool guitar facts. Get ready to learn something new!
No matter what you're writing, whether you want to impress your friends or just have an insatiable curiosity about guitar, good guitar facts and information always goes down well. To make it more interesting, we've compiled 13 of the most interesting guitar facts – the biggest, smallest, and weirdest!

1. 13-Meter-Long Guitar is the Biggest in the World
It's true – the world's largest guitar is over 13 meters long (about 43ft), according to Guinness World Records. That's like a bus's length! What's even better is that it's more than just a model – it's a playable instrument, with each string playing the right note.
In the iconic shape of a Gibson Flying V, the guitar was built by the Academy of Science and Technology in Texas, weighed 2,255lbs (just over 1,000kgs), took almost a year to build, and featured aircraft cable for strings.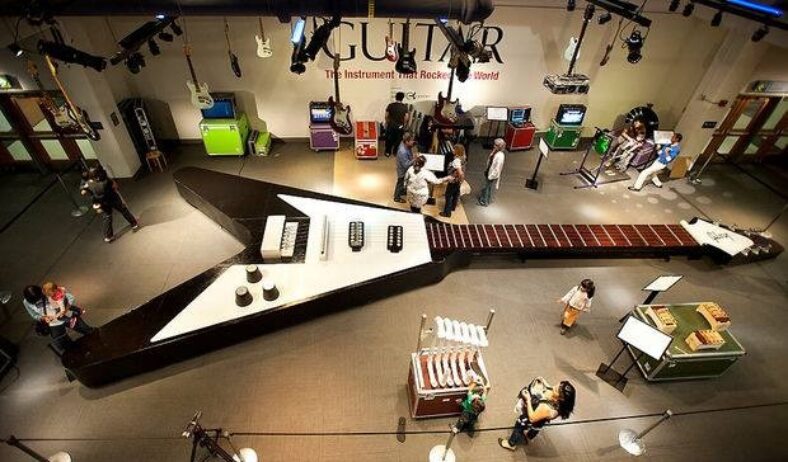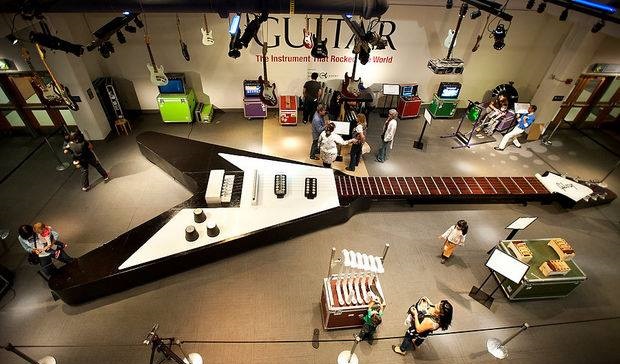 2. The Shortest is Just 10 Microns!
There's no way you'll be able to play this guitar, which measures 1/100,000 of a meter long (about the size of a single cell).
Researchers at Cornell University in New York built a double-cutaway style guitar with strings that could be strummed (with specialist equipment, obviously), though human ears can't pick up the high frequencies.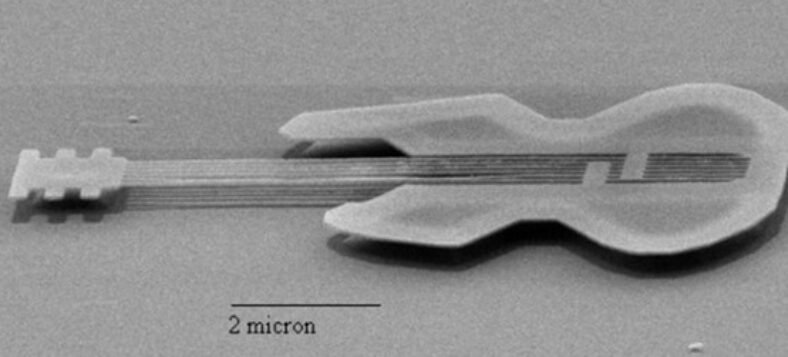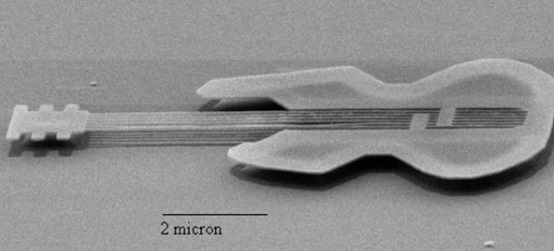 3. Guitars Were Invented in Ancient Egypt
Yes, in some ways, but the guitar-like instrument created 3,500 years ago (now, that's a vintage guitar!) is a long way from the guitars we play nowadays.
The instrument belonged to Har-Mose, a singer of the time, and was made from polished cedar with a rawhide soundboard, had three strings, and even had a plectrum attached. Cairo's Archaeological Museum has this intriguing guitar heirloom.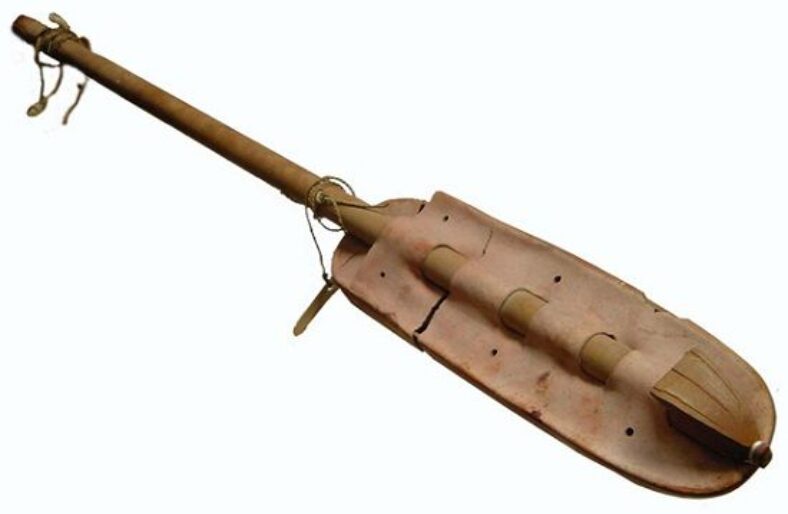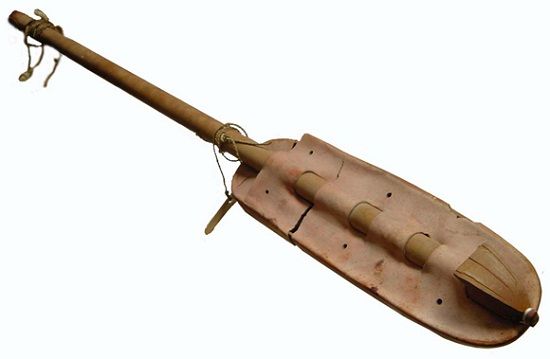 4. Guitar Sold for $2.8 Million – Most Expensive Ever
One-of-a-kind 'Reach Out To Asia' Stratocaster from Fender was auctioned off to raise money for tsunami victims.
Fender's white Strat is rumored to have cost around $20,000 to make, but the final price reached millions due to the unique decoration. As a result, 19 guitar icons signed the face of the instrument. Among them were Mick Jagger, Keith Richards, Eric Clapton, Brian May, Jimmy Page, David Gilmour, Jeff Beck, Pete Townsend, Paul McCartney, Sting, and Bryan Adams (who conceived Reach Out to Asia).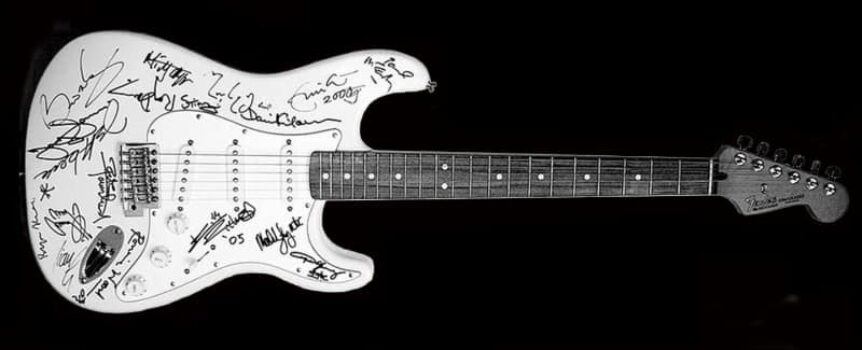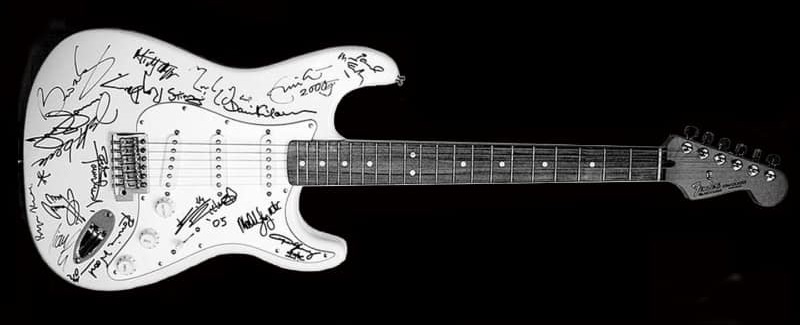 5. There is no Doubt That Gibson Made the Most Luxurious Guitars of all Time
Despite the fact that the Fender Strat we mentioned above was valuable because of the collection of iconic signatures, Gibson unveiled a guitar that was almost as valuable due to its opulent materials.
As part of Gibson's collaboration with jewelry designer Aaron Shum and musician and designer Mark Lui, the 'Eden of Coronet' features more than 400 diamonds and 1.6 kg of 18k gold. You can count us in for five!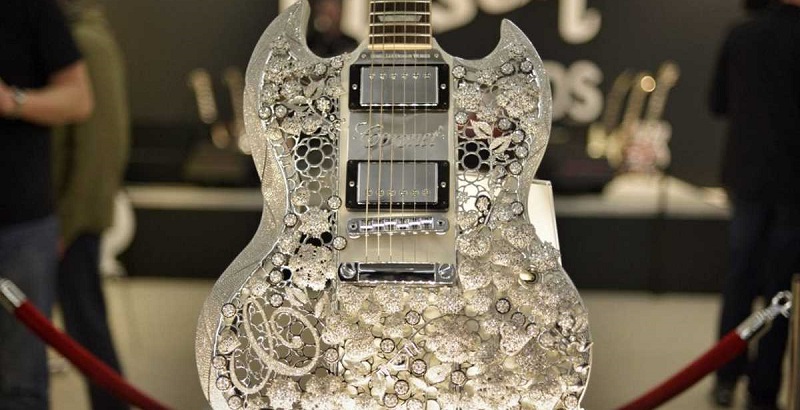 6. A Guitarist Once Played for Four and a Half Days
The Irish guitarist Dave Browne set a new world record for the longest guitar session ever recorded in 2011. From 12 to 17 June, the talented guitarist played non-stop for 114 hours, 6 minutes, and 30 seconds.
The mega session was held at the famous Temple Bar Pub in Dublin, Ireland (which remained open throughout the gig), and Dave took no more than 30 seconds between songs. In total, Dave played 1,372 songs on a guitar lent to him by Stevie Ray Vaughan, concluding with the U2 classic 'With or Without You'.
7. It Was Once Reported That a Man Married His Stratocaster
British musician Chris Black, after 35 years of 'dating' his red Fender Strat known as Brenda the Fenda, married it in 2001 after falling so deeply in love with it. The ceremony was conducted in a church in London by a friend who officiated.
As Chris was also married to a human woman at the time, the guitar was technically his second 'wife'. Chris was never one to take himself too seriously, stating, "It's just for a little bit of fun to cheer people up.".
8. The Stratocaster #0001 is Owned by David Gilmour…
A jaw-dropping serial number is attached to the Fender Strat owned by the legendary British guitarist. There are three single-coil pickups, a rare three-way selector switch, and a white finish on this noteworthy Strat.
However, in order to shatter the bubble slightly, it is widely accepted that David Gilmour's Strat is more likely to be an exhibition piece than an actual production model. No matter how you look at it, this is one hell of an iconic axe!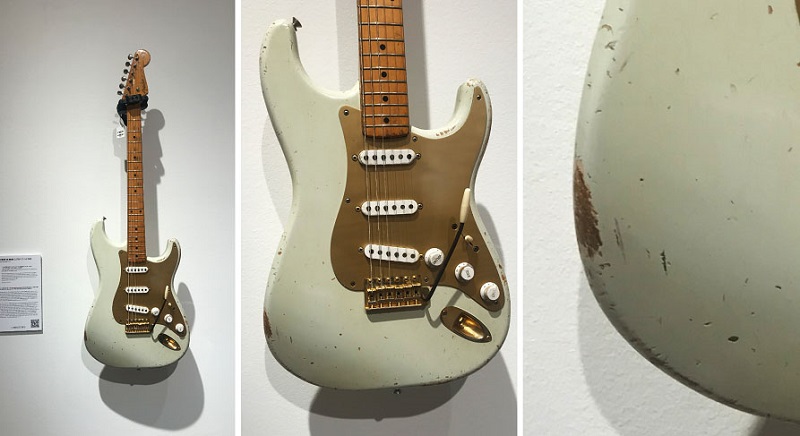 9. Although only George Gruhn Knows Who Owned the First Stratocaster
While David Gilmour owns the Stratocaster with the coolest serial number, the first Stratocaster (which actually came with the serial number #0100) was sold by George Gruhn's vintage guitar store in Tennessee for a staggering $250,000.
Despite the fact that the current owner is anonymous, George sold the sunburst-finished Strat – which was made in April 1954 – in 2014. The new owner has only revealed that he is not a professional musician.
10. The 7th and 8th Strings Have Been Added by Ibanez
Ibanez became the first brand to mass-produce guitars with both seven strings (introduced in 1990) and eight strings (arriving in 2007) while other brands, such as Fender, had developed guitars with extra strings.
It is interesting to note that the 7-string guitar originally consisted of a high A string rather than the low B string we are familiar with today. It went the right way, especially for metal!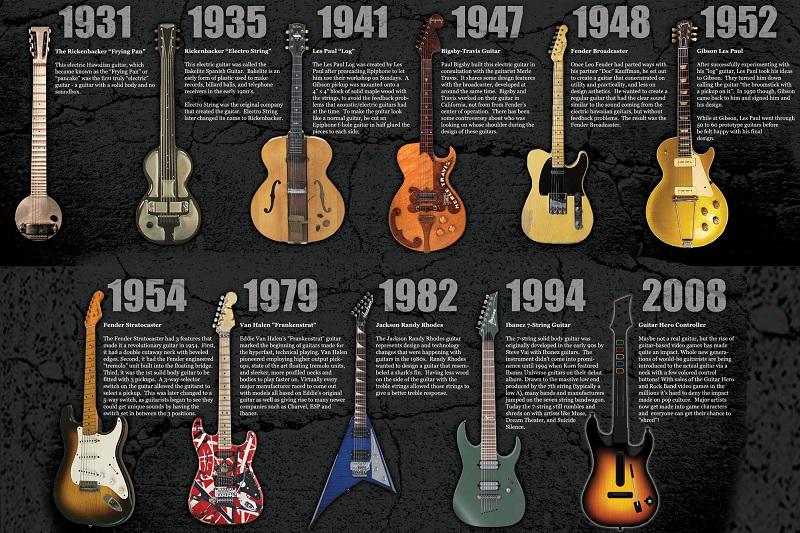 11. B.B. King's Lucille Has a Dramatic Story
It's no secret that B.B. King named his guitar Lucille. What's the reason? At a dance in Arkansas, two men started fighting over a woman. After a barrel of kerosene was knocked over, the dance hall caught fire, turning into an inferno.
Outside, King realized he had left his prized Gibson inside, so he dashed back inside to grab it. In honor of the woman who inspired the fight, he named his guitar Lucille the next morning. According to the great man himself, this was to make sure he never did anything like that again.
12. There's a Quad Guitar Owned by Michael Angelo Batio
The fastest guitarist in the world, Michael Angelo Batio, is famous for his double guitar, but did you know he also had a quad guitar built?
Featuring two 6-string necks and two 7-string necks, the guitar was built by Wayne Charvel at Gibson and used in the solo for Nitro's 'Freight Train'. Sadly, the axe got stolen soon after during a show in El Paso. MAB eventually found his guitar, but, as he explained, 'Years later, we found it in England, and I had to buy my own guitar back for £1,500! '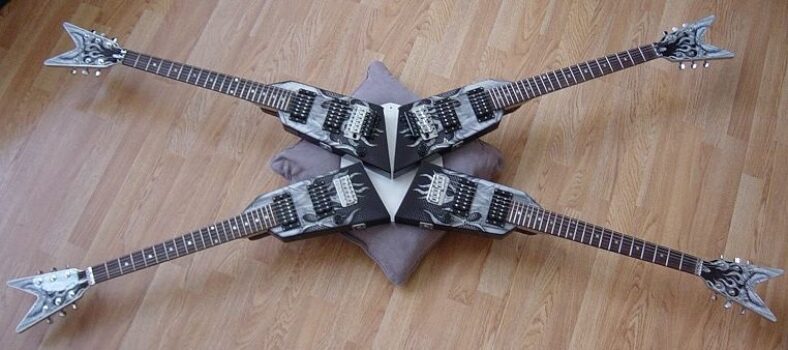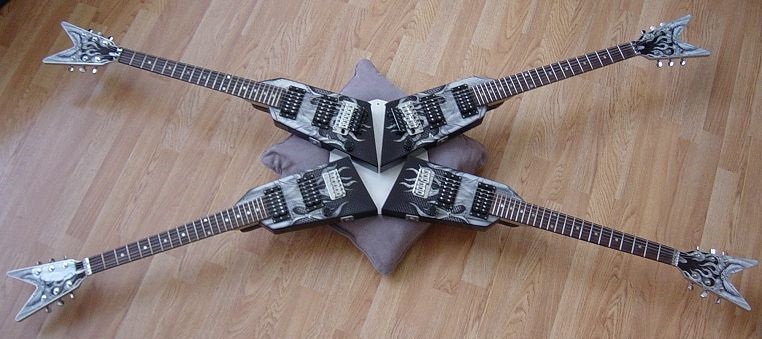 13. Hendrix Played an Upside-Down Right-Handed Guitar
One of the greatest guitarists of all time is Jimi Hendrix. In terms of how he played guitar, he was known for his unique style and experimentation. It was Hendrix's use of feedback and distortion that made his style so iconic.
As well as playing a right-handed guitar upside down, he was known for playing a left-handed guitar upside down. By using this technique, Hendrix was able to create new effects and work with a wider range of sounds. Additionally, it set him apart from other guitarists of his generation.
His ability to push the boundaries of what was possible on the guitar inspired other musicians and redefined rock music's sound.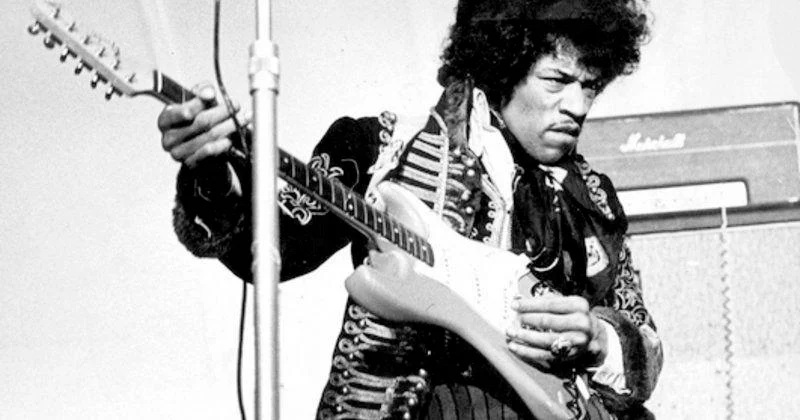 Here is a list of more articles about fun instrument facts that you might be interested in: