Donner DUT-4E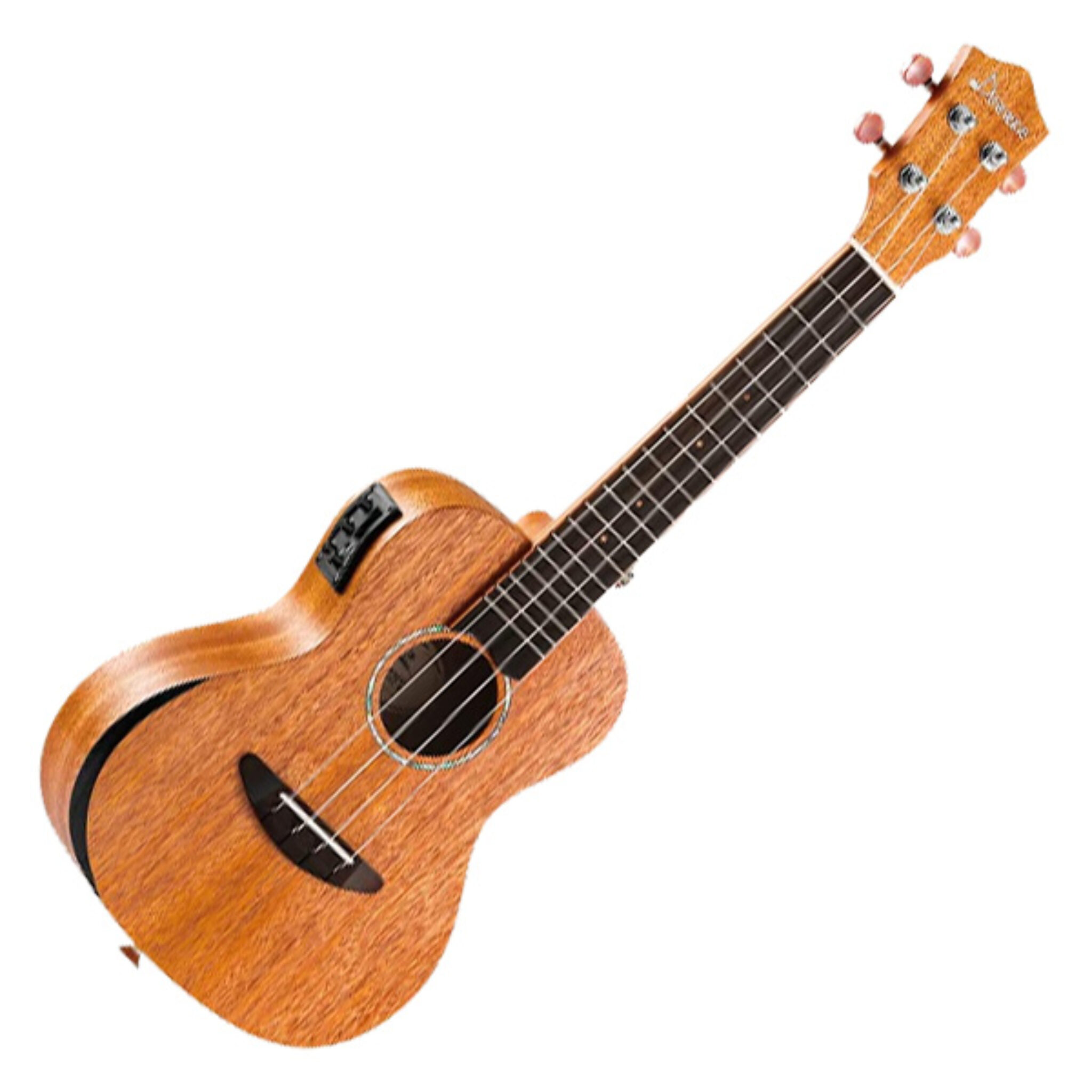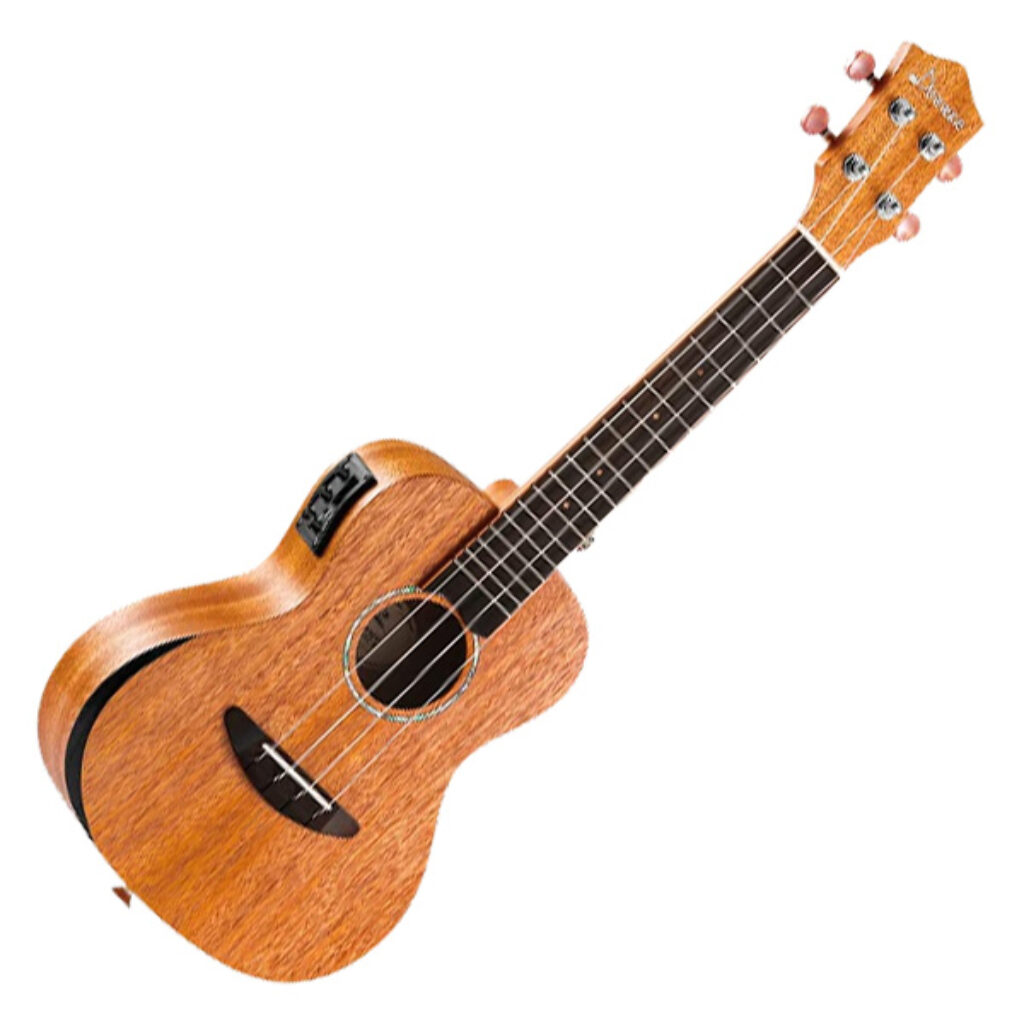 Material: Mahogany
Strings: Nylon
---
Donner DUT-4E Review
Donner is widely known for many various instruments they produce, and ukuleles are one of them. Being in the business for an extended period, you will be able to expect quality products from them, without any doubt.
And in this review, we decided to cover the DUT-4E tenor ukulele from them, as one of their acoustic electric models. With that being said, we believe that you are already acustomed to dual style of instruments that you can play acoustically, but still connect them to an amp and in a audio interface.


DUT-4E Design
When it comes to the design of this amazing instrument, you are gettina solid top mahogany ukulele, that will result in a more solid and sustained tone with amazing resonance. The color of the ukulele is natural and will have a positive impact on anyone who sees it. Also, the back material of the ukulele is made from mahogany and will be in tune with the rest of the body.
This instrument is 26 inches long, weights around 1.5 kilos and you will be able to find 18 frets that are made from brass. Also, there are fret positions marked on the 5th, 7th, 9th and 12th fret on both the neck and the fretboard.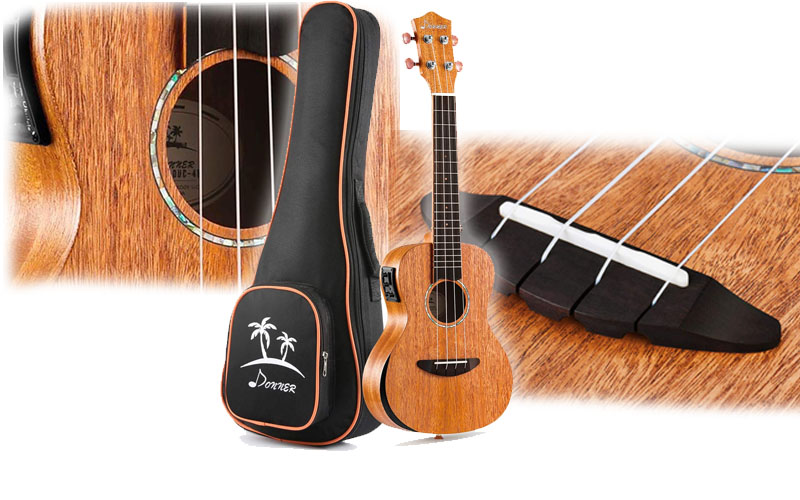 DUT-4E Sound and Accessories
In terms of sound of this beautiful ukulele, you can expect to get the traditional ukulele sound out of it without any issues or points that need to be taken care of. As per usual, when the ukulele is still new and the strings are new as well, it will take some time when they will reach their full potential and be stretched enough, so until then, you will need to frequently tune it.
After they get to the last point, the ukulele will be in tune for a very long time. We didn't tune the ukulele in approximately two months and there are no signs of detuning, meaning the strings and tuners are doing their job perfectly.
In the box, you will be getting the full bundle that you need to have with your new instrument. First and foremost, you will have a very nice and sleek padded gig bag with a nice accessory pocket in front of it. Along with that, you will have a pair of batteries for the electronic part of the instrument and you will need to put them in by yourself because the ukulele is shipped without them in it.
The electronic component can be found on the top of the ukulele. It has a little display that will show you the tuning of each string once played. This will save you from getting an extra tuner for your instrument because is already attached to it.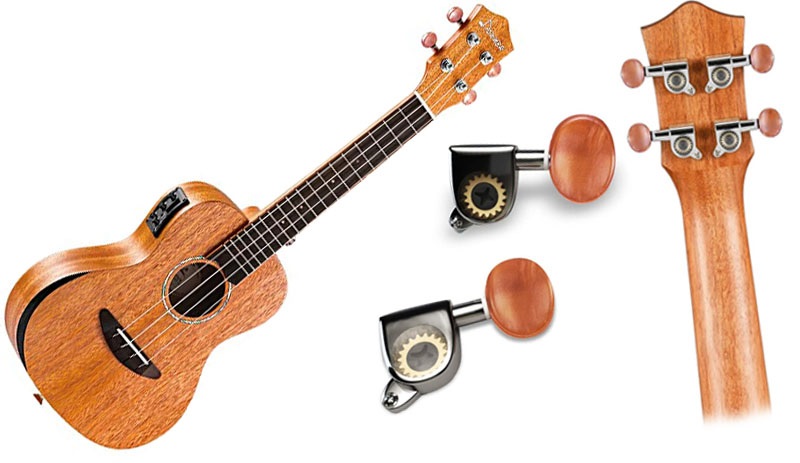 There are also four knobs on the electronic part – Volume; which can be used to adjust the volume of the instrument if you are connecting it to an amp or to your recording rig in studio and three EQ knobs. The EQ knobs will adjust the bass, the middle, and the treble of the instrument. There is no guideline on which frequencies are affected by these knobs, so you will need to figure them out by yourself and adjust them to your taste.
After that, you will get a nice braided ukulele strap that goes really well with the ukulele itself. At this point we like to mention that the ukulele already has strap buttons attached, so you wont have any hassle to add buttons or God forbid – to drill holes in the instrument and add them yourself.
Also, you will get spare nylon strings that are made from a clear Fluoro-Carbon material, a cleaning cloth, and 4 extra picks to play along. On the ukulele, you also will be able to find several brief maintenance manuals and a sheet with common chords that you can learn if you are a new ukulele player.
DUT-4E Brief Features
Size: 26 Inch
Color: Natural
Top Material Type: Mahogany
Back Material Type: Mahogany
String Material Type: Nylon
Finish Type: Polished
Instrument: Electric Tenor Ukulele
Item Weight: 1450 Grams
Operation Mode: Acoustic, Electric
---
Why To Go For The DUT 4E by Donner
This is a very practical and easy ukulele to have. With all the stuff that you are getting in the bundle, you will be prepared to hit the road and conquer any stage. The instrument is really compact and you are getting what you are paying for.
With an amazing price of around $75, you will get a premium instrument that won't break the bank. In our personal experience with this ukulele, we are really satisfied from everything that it brings to the table. Totally reliable!
Donner DUT-4E Review
Great tenor ukulele build by Donner.
Pros
In Build Tuner and EQ
Variety of Accessories
Amazing Sound
Cons
No manual for the EQ
Tuner needs to be turned off for maximum amplified sound
Conclusion
All in all, this is a great ukulele to possess. This instrument will be a good friend of yours for any travels or outside performances. Any busker will benefit from it, since is lightweighted and you will have all the needed accessories inside this bundle.
If you are having any questions or concerns about this ukulele from Donner, please let us know in the comment section below and we will be happy to answer any of your questions.