Check Out The Best Cordoba Ukuleles Available On The Market!
With the Spanish tradition, this brand is famous for making gorgeous and resonant Cordoba guitars. It happened that the company's CEO and founder went on a mission to present and bring nylon string guitars to as many people as he could at that moment.
With the same attention and detail orientation as on their guitars, they started producing ukuleles. In collaboration with Cordoba, Pepe Romero Jr of Romero Creations shared his guitar-making expertise with the expertise of Cordoba's luthiers.
Most of the Cordoba ukuleles are made in China, however, some of them are also manufactured in Portugal. Their price range goes from 99$ up to 850$. Cordoba offers Soprano, Concert, Tenor, Tenor Cutaway, and Baritone types of ukuleles and is a good option for beginners.
There are a lot of Cordoba ukuleles to choose from, but in our review, we have mostly picked Cordoba mid-range ukuleles. In order to bring you closer to this brand we made this Cordoba ukulele review.
Cordoba ukuleles review:
1. Cordoba 20CM Concert Ukulele
The quality of this Cordoba concert ukulele is excellent, and the entire impression feels way more high-end than a budget option.
With a solid mahogany physique and top-of-the-line Aquila strings, the sound this Cordoba model uke produces can match some far costlier products.
This is a very reliable model and high-quality instrument, which has everything that you need for the best possible sound.
The overall aesthetic is elegant, sophisticated, and stylish. This uke is a superb investment in case you are just beginning.
In case you are searching for a premium concert Cordoba ukulele, this can be a great option for players of all skill levels.
The solid mahogany material construction is both durable and stunning and Aquila strings ensure a top-quality sound every time you play.

PROS:
Very well built and designed to last.
Good, rich tone with clarity and a broad range.
Comes with good-quality strings for a great sound.
CONS:
Price may seem higher when compared to similar models.
Key Features:
Satin finish.
Aquila strings (GCEA).
Rosewood fingerboard and bridge.
Solid mahogany back, top, and sides.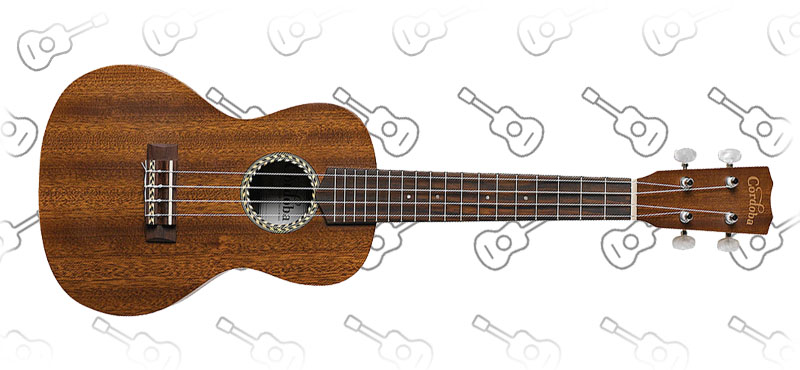 You Can Buy Cordoba 20CM Concert Ukulele on the Links Below!
---
2. Cordoba 15CFM Granite Gray Ukulele
The Cordoba 15CM uke is a perfect choice in case you are making your first tentative steps into a concert ukulele and provides a rich and bright sound encased in a sturdy mahogany body. The design is simple, classic, and best for an entry-level uke.
The strong mahogany finish signifies that the sound and appearance of this piece are equally great, and the overall effect is a great-quality budget instrument that was designed particularly to suit new players.
Regardless of this intention, this can be a purchase that will still be high quality –there is no need to feel like you are sacrificing anything simply because you have paid less.
The design is quite plain and simple. This aspect could also be a bonus for some players, however in case you are used to something a bit extra detailed and elaborate, it might come as a disappointment.
The Cordoba 15cm concert ukulele is a nice budget choice that provides quality sound and is great worth your money.

PROS:
Affordable – a good choice for students and new starters.
Offers a very rich, clear, and high-quality sound.
Mahogany build.
CONS:
High action is sometimes too high, and this can hurt its playability.
Key Features:
Aquila New Nylgut strings (7U).
Abalone rosette.
Mahogany sides, top, and back.
Granite Gray Satin.
Concert size.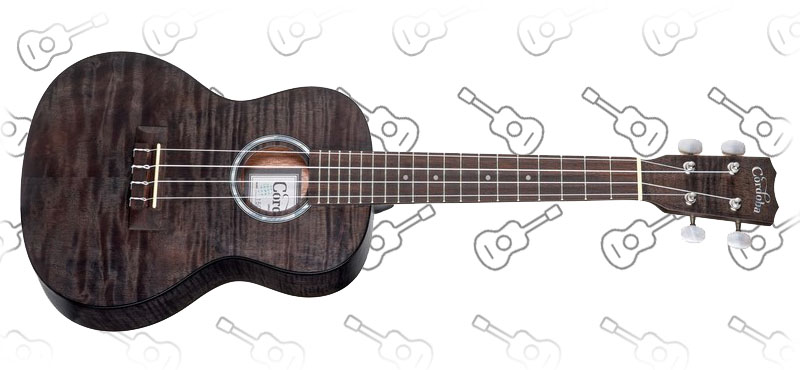 You Can Buy Cordoba 15CFM Granite Gray Ukulele on the Links Below!
---
3. Protege Cordoba U100SM Soprano Ukulele
The Protege soprano ukulele is an elegant and sophisticated uke that combines a rich, sweet sound with a timeless and stylish design.
It's an excellent choice for learners on a budget and proves that there isn't any need to settle for poor quality because of a cheaper price tag.
This uke is a good addition to our Cordoba ukulele reviews and has earned its place on our list. This model is the best budget instrument, excellent for students and new players, and a good way to help you put your skills and experience on a higher level.
It's additionally small and simple to transport, and lightweight so that you can play for a long time comfortably.
While the strings that are included with this model are good strings, they appear to be poorly chosen for this instrument and are prone to snapping. You will probably have better luck with classic guitar strings.
In case you are a new ukulele student, or you are just starting your journey, this model undoubtedly ranks high in our Cordoba ukulele review.
It was made and designed for this market, and gives an affordable way to start your new hobby on top of that, it comes together with a gig bag for free.
Again, the poor string choice is disappointing, as players might be required to pay for upgrades before they can get a good sound out of the instrument, however that is the only actual flaw.

PROS:
Beautiful, clear sound.
Stunning mahogany finish.
Very travel-friendly.
Ideal for beginners.
Excellent value for money.
CONS:
Strings replacement will be required.
Key Features:
Comes with a gig bag.
Mahogany top, back, and sides.
Aquila Nylgut concert strings (GCEA).
Satin (matte) finish.
Soprano size.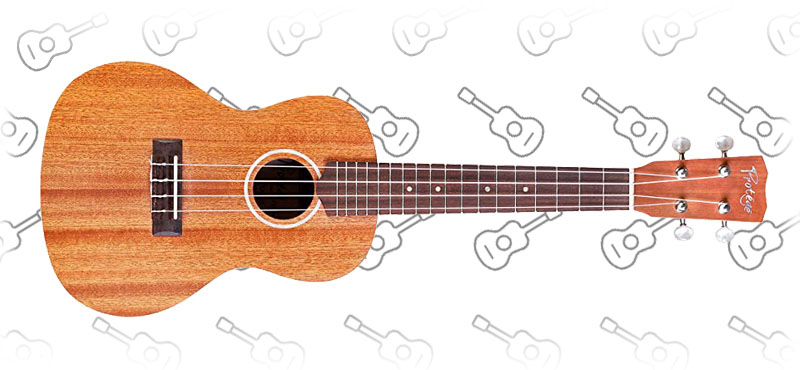 You can check Protege Cordoba U100SM at the links below!
---
4. Cordoba 15TM Tenor Ukulele
When it comes to the basic tenor choice it will be hard for you to find a better match than this Cordoba ukulele model. It offers a bright, rich tone, and has a stunning and durable mahogany body which feels far costlier than its price tag would say.
The craftsmanship of those Cordoba ukuleles is great and they provide a beautiful, clear sound.
Each and every detail of this instrument is carefully considered with great attention, and the overall effect is a premium instrument that looks, feels, and sounds far costlier than the actual value.
This uke is a good choice for anyone who is searching for a premium quality instrument, while still sticking to a budget.
The craftsmanship and construction of this model help set its head and shoulders above its "friends", and it provides a top-quality experience for half the worth of a more advanced or professional instrument.

PROS:
High-quality wood (great sound).
Exquisite craftsmanship and a top-quality build.
A rich, deep tenor tone.
Affordable price.
CONS:
Price can be higher compared to other budget options
Key Features:
Laminated mahogany body
Rosewood bridge
ABS binding around top and back
Pearl tuning buttons
Composite nut and saddle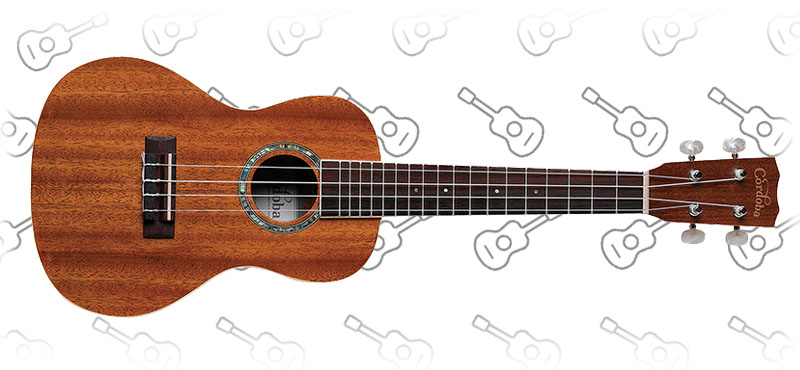 You Can Buy Cordoba 15TM Tenor Ukulele on the Links Below!
5. Cordoba 25T Tenor Ukulele
Cordoba's 25 series provides a premium option that is best for intermediate players searching for a reliable upgrade, or for the less experienced in search of a top-quality first-time instrument.
Excellently completed, with a smooth satin feel, they have plenty of soulful character. Acacia wood has Koa-like tones with the open resonance of Mahogany. Additionally known as the Mimosa or Shower Tree, these tropical trees are cousins of the Hawaiian Koa tree.
They've attractive striped patterns of light and dark brown and have a deep colorful tone that matches their visual beauty. The look of the Cordoba ukuleles 25 series is traditional with a nod to the classic ukuleles of the recent past.
Ebony and maple marquetry binding and soundhole rosette are properly inlaid, including a distinctive but understated decorative touch to an instrument with an already great level of finish.
In step with nearly all of Cordoba's offerings, this exceptionally enjoyable uke features a wider nut width compared to other brands and has Open Gear black and silver tuners.
The Cordoba range turns out to be a favorite with players preferring extra room on the fretboard and a slightly wider feeling neck. For players who find spacing a challenge, Cordoba ukuleles are a recommended selection.
The Cordoba 25T delivers the entire sweetness and characteristics related to the best-made Acacia Koa instruments.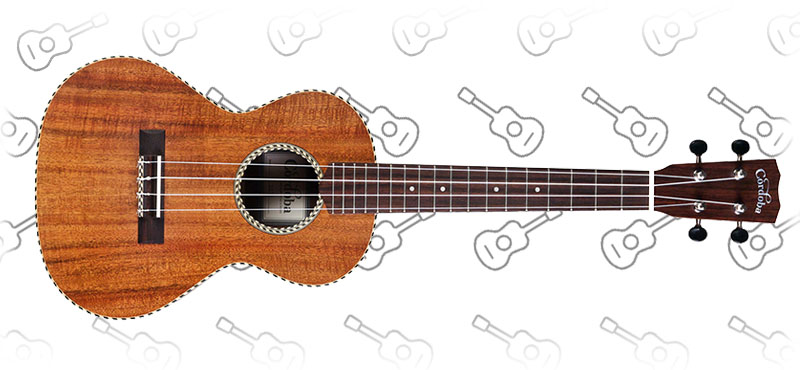 PROS:
High-end quality.
Great sound.
Thinly applied satin finish.
Aquila strings.
CONS:
The bridge can be a weak spot
Key Features:
Tenor Range.
Acacia Top, Back, and Sides.
Mahogany Neck / 17″ Scale.
Composite Fingerboard and Bridge.
Soundhole rosette.
Cordoba 2 Band Preamp/Undersaddle Pickup.
Open Gear Black and Silver Tuners.
You Can Buy Cordoba 25T Tenor Ukulele on the Links Below!
---
6. Cordoba 25SK Soprano Ukulele
Cordoba has so much to offer. Right here there is another exceptional Cordoba uke that's usually preferred by professionals and skilled musicians. It's particularly famous for its solid structure and traditional Portuguese ornamentation.
Try one of the most-selling handmade ukuleles built greatly using high-grade tonewood that enhances its performance and ensures high durability. Whether or not your priority is seamless craftsmanship or you need a focused and bright tone, you're covered.
For those who can afford to spend a bit more of their money, 25SK soprano would not disappoint you. Play with Cordoba's top-rated model and enjoy easy playability along with comfy tuning.
Moreover, it's made with extensive attention to detail, and the wood used is chosen to make sure you get a high-quality instrument. The 25SK soprano uke is built with tropical acacia that is among the best tonewoods.
Ukulele's top, back, and sides all comprise Acacia wood which makes it a strong and long-lasting instrument.
Other specific features include an ebony fingerboard and a matte natural finish. Additionally, you will get a sturdy gig bag with this ukulele at no cost.

PROS:
Bright loud sound
Aquila strings
Solid Acacia body
Going with a Cordoba bag as a gift
CONS:
If it's not stored properly, weather conditions can do harm to the body.
Key Features:
Solid acacia top and back.
Acacia sides.
Natural satin finish.
Ebony fingerboard.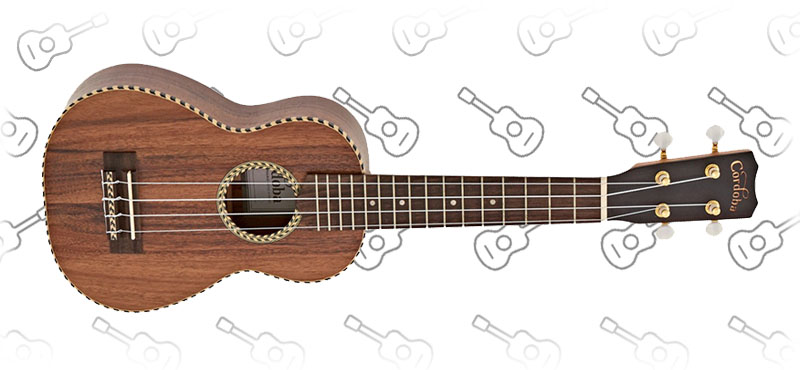 You can check Cordoba 25SK Soprano on the links below!
---
7. Cordoba 25TK Tenor Ukulele
Tenor-sized ukulele, the Cordoba's 25TK is a well-structured instrument. For professional players who want to buy a high-class ukulele to deliver great performance and delighting tone, it's a very appropriate choice.
You could find it costlier than some of the other models, however, when you analyze its construction quality, smooth playability, and excessive sturdiness, this is worth spending some money on.
Featuring excellent resonance, good voice projection, and powerful tone, it is one of the most popular choices by professionals.
It is completely handmade with particular attention to detail. The top, back, and sides are made from strong acacia and it has an ebony fingerboard. You'll love its natural matte finish that makes the outlook very attractive.
Try it if you need an easy-to-play and simple to-tune option. One of the best things is that it comes with a very good quality gig bag. It will help you carry your ukulele around with great ease and comfort.

PROS:
Bright excellent sound.
High-quality body structure.
Handmade.
Aquila strings.
Going with a Cordoba bag as a gift.
CONS:
You may find it costlier than other models.
Key Features:
Ebony fingerboard.
Solid acacia top and back.
Acacia sides.
Natural matte finish.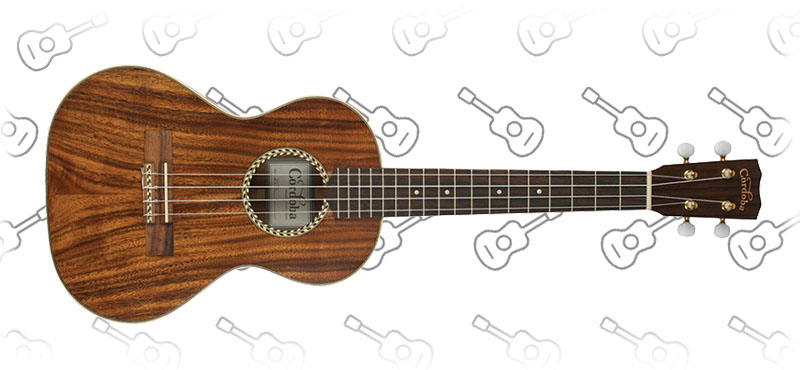 8. Cordoba 25C Concert Ukulele
This is a concert-size ukulele that comes in natural color. A very thin layer of natural matte finish is added to boost its attractive look. This model is known best for its unmatched construction quality and delightful tone.
If you wish to get a strongly structured and extremely durable concert ukulele at a reasonable price, go for 25C and you'll have a joyous playing experience.
Furthermore, the incredible rope weave binding makes it a more fascinating choice. You'll love its bright but warm tone and it's designed to deliver wonderful sound quality.
Its weight isn't much and it measures 5 pounds. Speaking about its body, it has a strong acacia top paired with Acacia back and sides. This Hawaii native tropical wood is preferred as a superb tonewood.
The integration of wooden top binding in rope style makes it a more attention-grabbing instrument. Additionally, the natural matte end makes it more attractive and adds to its beautiful feel.
The addition of Aquila nylgut strings makes it more reliable and the authentic ukulele has a nut and saddle of bone. This model is also available in soprano and tenor sizes.

PROS:
Natural matte finish.
Great construction quality.
Acacia top paired with Acacia back and sides.
Wooden top in rope style.
Aquila nylgut strings.
CONS:
The bridge can be a weakness.
Key Features:
Solid acacia top.
Acacia back & sides.
Natural satin finish.
Rope weave Binding.
Aquila Nylgut Concert strings (GCEA).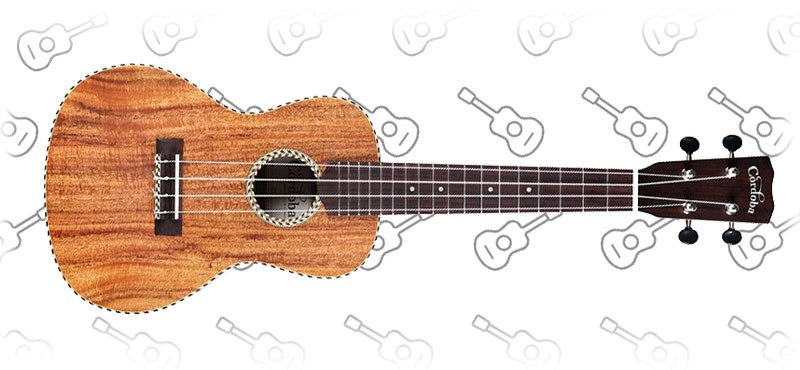 You Can Buy Cordoba 25C Concert Ukulele on the Links Below!
---
9. Cordoba Protege U1-M Concert Ukulele
In case you are searching for a concert-sized ukulele and you wish to purchase a more economical one, you should definitely consider the Cordoba Protege U1-M Concert.
The simply made ukulele displays an elegant and decent outlook. Its structure is robust and good quality wood is used to boost its durability.
Therefore, to enjoy a great performance with a long-lasting ukulele at a low cost, you should try this one. You can't get such incredible quality at a low cost elsewhere.
What you'd love probably the most about Cordoba Protégé U1-M is its natural wood color. Not only does it appear to be attractive, it feels nice as well.
The total weight measure of this instrument is only 1.75 pounds. Being light in weight, it's very easy to carry and also enhances portability. High-grade mahogany top, back, and sides and it delivers a strong tone.
Moreover, the abalone style rosette and natural satin make it really likable. This instrument is an ideal choice for newbies.
Begin with this affordable and well-structured ukulele and you'll have a superb learning experience.

PROS:
Low Price compared with the instrument quality.
Made of good quality wood.
Lightweight and portable.
Ideal for beginners.
The top, back, and sides are made of high-grade mahogany wood.
CONS:
Strings replacement may be required.
Key Features:
Mahogany top, back, and sides.
Mahogany neck.
Abalone-style rosette.
Rosewood fingerboard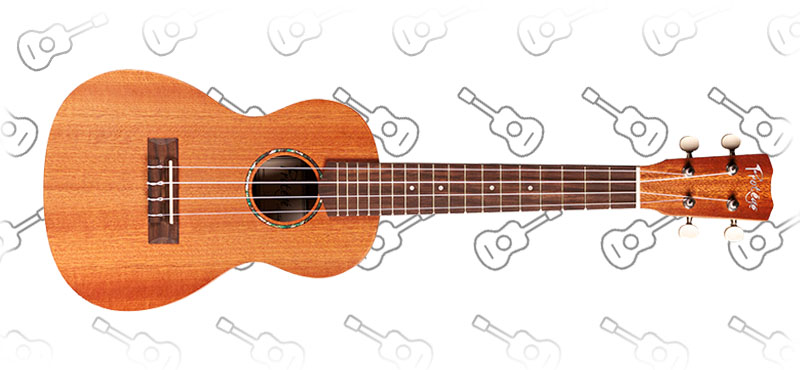 You Can Buy Cordoba Protege U1-M Concert Ukulele on the Links Below!
---
Last Words
You should always reconsider your needs before buying a ukulele.
Your needs and skills should determine what type of Cordoba instrument is most suitable for you because the needs would be different for different players.
Another factor that can play a crucial role is what kind of music you would like to play, some models will offer a deeper tone than the others and you should choose considering your needs.
We hope that our Cordoba ukulele review will help you choose the right ukulele and you will have a great playing experience.
Related Articles