Introduction – Mitchell ukulele review
When it's about music, you need to rely on the best brands. Mitchell's line of first-class instruments is probably the most reliable you can possibly get. These Ukuleles have been a popular brand in the world of Ukes.
They have some of the top-rated ukuleles such as Mitchell MU40, MU70 12-Fret, MU75NM, and MU80XCE models have been the top-rated instruments with musicians far and wide.
Mitchell is very well known for producing very distinct ukulele instruments over the years. That's primarily because of their selection of parts that are traditionally not seen in ukuleles.
What is actually amazing is that they somehow make it all work together to make some unique and pleasing sound ukuleles.
We made this Mitchell ukulele review in order to present you with the best models made by this brand and hopefully help you choose your new ukulele.
---
1. Mitchell MU70 Concert Ukulele Natural
The Mu70 is a great pick for many reasons but one of them stands out. A high percentage of the ukuleles, you will find available in the market are created from the likes of mahogany, basswood, or koa wood.
This is the usual build which is then coupled with a rosewood or walnut bridge and fretboards. However, with the MU70 the case is totally different. This also stands for the sound signature. From a concert ukulele normally, we expect a punchy, rich, and loud sound tone.
Rather than using rosewood for the fingerboard, Mitchell has decided to go with rosewood but on the sides and back. For the top, they used a spruce laminated satin finish so it can have unique look. The result is simply what you'd expect, a top instrument that feels great in the hand.
The fingerboard is made from Indian rosewood and the bridge is made from rosewood. One of the issues that you may have with this model is with the nut and saddle as well as the tuners because they have average quality.
The rosewood build is very sturdy which means that if it's used with care, this great piece may last for a lifetime. Mitchell's MU70 instrument has a surprisingly rich and vibrant tone when you consider its size. Additionally, it has 16 fretboards fitted with 4 nylon strings.
Mitchell's MU70 sound stays balanced and clear throughout the 16 frets for an even and pleasing tone.

PROS:
Rich vibrant sound
High-quality rosewood and a spruce finish
Good quality strings.
Durable and sturdy.
CONS:
The average quality of tuners.
Key Features:
Spruce top
Rosewood back and sides
Arch back design
Indian rosewood fretboard
Concert-size ukulele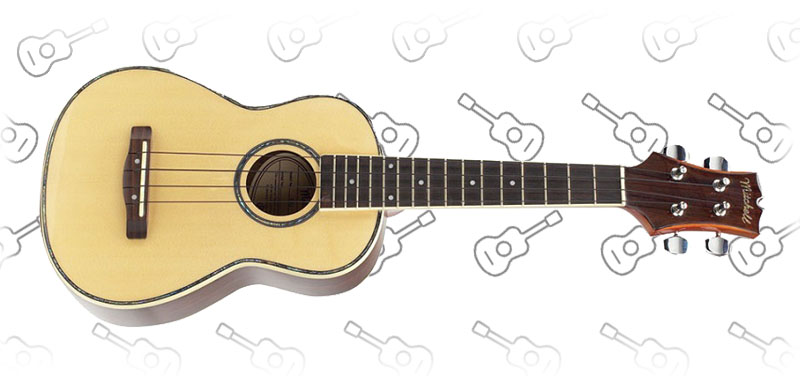 You Can Check Mitchell MU70 Concert Ukulele on the Link Below!
---
2. Mitchell MU40 Soprano Ukulele Natural
If you are searching for fun soprano ukuleles that won't break the bank, you should check out the MU40 Ukulele.
This entry-level uke from Mitchell has won many hearts as a great value for money. This instrument delivers on every front and holds one of the top positions on our top list.
The MU40 is an all-linden wood-built ukulele and we all know how much impact the wood has on the performance and the sound of the instrument. Linden wood is just as good as mahogany, and basswood is better for certain preferences. The build quality is impeccable and Mitchell went with a unibody approach along with a satin finish.
Overall, the durability of this MU40 ukulele is great and it is worth every penny. With the usage of linden wood, many players expected something new in the sound signature. And exactly that happened but in a really pleasant manner. These ukuleles have traditional warm tones with clear and loud tones.
The fretboards are made from Indian rosewood which is supposed to give this instrument a smooth hand feel and it does. It makes a contribution to the rich creamy sound and makes it even more balanced.
From the design and price range, it's clear they geared the MU40 toward learners. The marked frets together with adequate frets distance will certainly assist the beginners to get hold of things quickly.

PROS:
All Linden wood build.
Chromed tuners for easy handling.
Comes with several accessories.
Creamy rich and well-balanced tone.
CONS:
The sound signature is not for the purists.
Key Features:
Lindenwood top/back/sides.
White ABS binding (top/back).
Bound rosewood fingerboard.
Rosewood bridge.
Open-gear vintage-style tuners.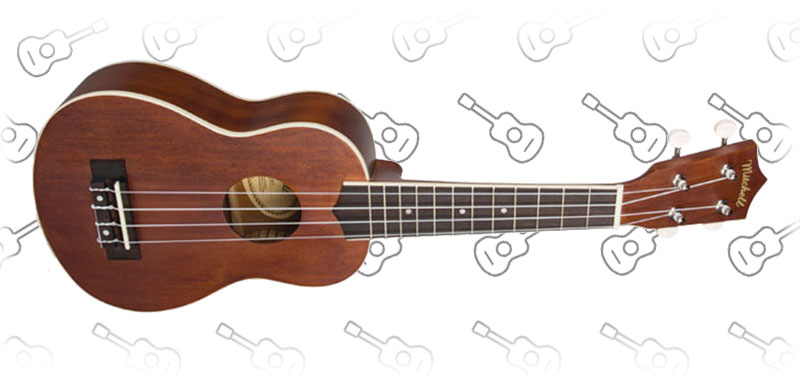 You Can Check Mitchell MU40 Soprano Ukulele on the Link Below!
---
3. Mitchell Concert MU75NM Ukulele
This Ukulele is the Natural Mahogany variant of the extremely popular MU75BK. This model is priced a little over $100 and is a great option for everyone who takes their music seriously from curious learners to professional musicians.
The body is all Mahogany concert type which ensures that it gets a warm and rounded tone. The finish is shiny along with an abalone rosette and purfling. Using mother-of-pearl mini dots lends it a classic look.
The big size lends it simple and easy playability with a large sound and projection for all playing situations. It includes a compensated saddle that helps to enhance the tuning and intonation.

PROS:
Extremely affordable under $100.
Fit to be played for all player levels.
Beautiful and premium looks.
Concert-sized with pretty good grip and hold.
Strong and rich sound with excellent projection.
CONS:
Strings may need replacement based on usage.
Fret adjustments and tunings are required.
Key Features:
Rosewood bridge.
Indian rosewood fingerboard.
Compensated saddle.
All-mahogany construction for a warm tone.
Abalone rosette and purfling.
Attractive mother of pearl mini-dots.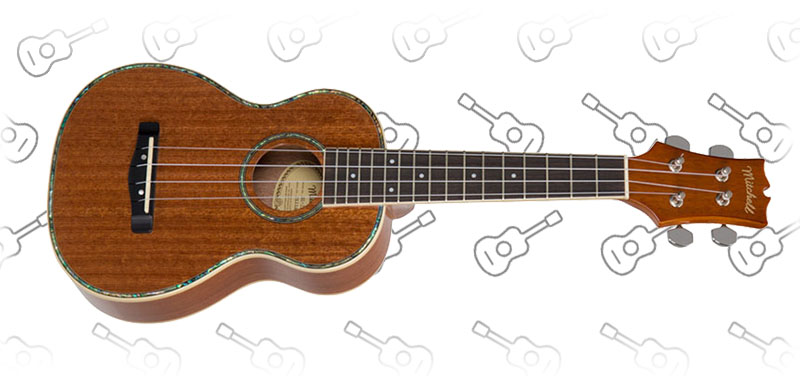 ---
4. Mitchell Concert MU80XCE Ukulele
This MU80XCE concert model is one of the top products made with great attention to detail to cater to everything a musician would be needing out of it.
It's made out of high-quality parts and Maplewood that makes it look unique, exotic, and upscale. The body is made to make it simple and easy to hold and play with.
It's a cutaway instrument, the body is a product of Maplewood, the neck is made from Mahogany, and the fretboard of Rosewood. This instrument comes with 26 frets and 4 strings.
Coming to its sound, this one comes with a preamp from Fishman Kula and an EQ that helps you get the best sound. It additionally includes a chromatic tuner that allows you to tune up whenever you need it.
With many different and unique characteristics, MU80XCE Ukulele can be an asset to any musician who loves his music. The value is a little over $200 however with all that it can offer it is worth every penny.

PROS:
Made out of Maplewood, Mahogany, and Rosewood.
Appropriate for intermediate to advanced player levels.
High-end Uke model.
Concert-sized with pretty good grip and hold.
Comes with preamp and EQ options.
Exotic and upscale looks.
CONS:
Not fit for beginners.
Price is on the higher side.
Key Features:
Cutaway, concert body style for easy playability.
Exotic top, back, and side wood selections.
Mahogany neck with rosewood fretboard and bridge.
Fingerboard and full body binding.
Fishman Kula preamp with 3-band EQ and tuner.
Compensated bridge saddle.
Includes instruction book.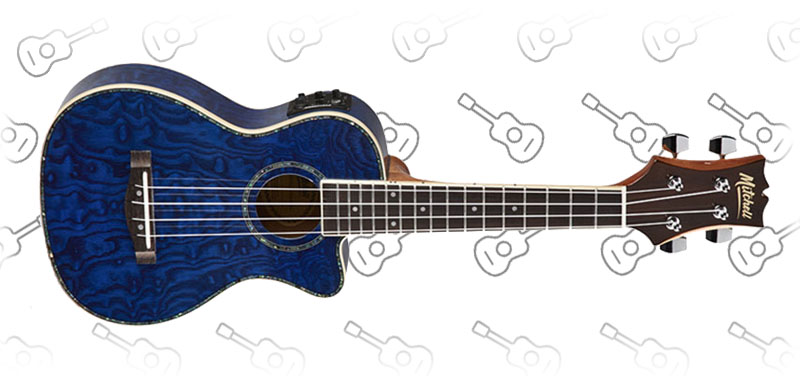 ---
5. Mitchell MU100CE Ukulele
The fact that most of them have this really unique head is one of our favorite things about the ukuleles from Mitchell Guitars.
Something special about the MU100CE is the fact that it's a concert uke with 19 frets. Most concert ukuleles have about 17 frets. The MU100CE has a really sweet beachy sound with some long-lasting sustain.
The MU100CE has a really professional setup. It's an acoustic/electric uke – concert size with a cutaway for reaching those higher notes. It includes a Fisherman KULA preamp with a built-in tuner.
This uke has a rosette and cream binding with an abalone purfling. Another great feature is that the binding goes all the way up the sides of the neck.
Having a compensated saddle is something you should definitely get because it aids in your strings remaining in tune as you make your journey up the fretboard.
Mitchell Guitars are doing an excellent job! You should definitely consider buying this uke, but it's highly recommended for intermediate to professional ukulele players.

PROS:
Unique head.
Abalone rosette and cream binding with an abalone purfling.
19 Frets.
Recommended for intermediate to pro players.
CONS:
The compensated saddle is a must.
Key Features:
Highly recommended for intermediate to professional players.
Unique Head.
19 Frets.
Has a Fisherman KULA preamp with a built-in tuner.
Fret markers on the side of the neck.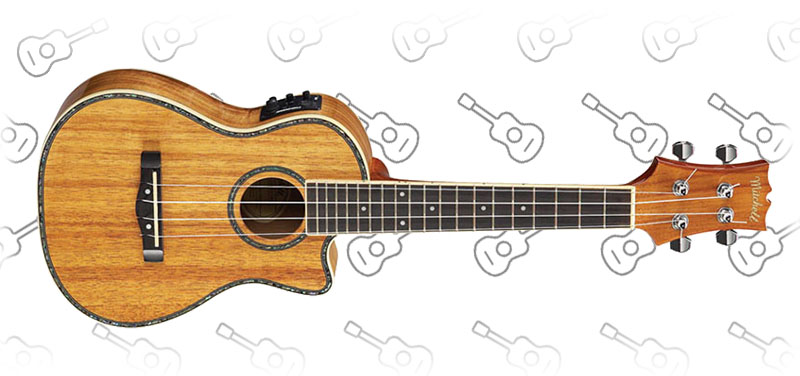 ---
6. Mitchell MU45FCHY Exotic Soprano Ukulele
The MU45FCHY Exotic Ukulele is a really good ukulele and also a fun-to-play instrument. With unique wood and finishes, excellent for anyone searching for a lovely instrument that's easy to play and a great collection piece.
And the MU45's low string pressure and included instructional guide make learning a breeze.
With real flame maple tops and matching headstocks, abound, black walnut fingerboard, bound body, plus genuine open-gear, vintage-style tuners, these ukes will make an impressive addition to anybody's instrument collection.
Accessible in eye-catching Blue, Cherry, and Natural finishes, and in addition it has a nice affordable price.

PROS:
Walnut bridge.
Soprano body ukulele.
Flamed Maple top, back, and sides.
Laminate neck.
Cheap price.
CONS:
It may be small for some fingers.
Key Features:
12 Fret neck.
Bound, black walnut fingerboard.
Bound body.
Flamed maple veneer top and matching headstock.
Open gear, vintage-style tuners.
Includes easy-to-follow instruction booklet.
Available in Blue, Cherry, and Natural finishes.
---
Conclusion
In our Mitchell Ukulele review, we found these top 6 ukuleles to stand out in terms of build quality, body finish, sound quality, and many different characteristics.
The selection is easy with the Mitchell ukuleles, for beginners, your best pick should be the soprano ukulele which is specially designed for learners.
And in case you're an experienced or an intermediate player, then you should consider the concert one because it offers more customization as well as intricacies.
Regardless of which one will be a perfect fit and your choice, you will have a ukulele that speaks volumes about high quality and reliability.
Try it out and you'll definitely not regret setting out on this musical journey. We hope our ideas will help you choose your new uke from the Mitchell brand.
Related Articles
Happy Strumming!