Check Out The Best Viola Stands Available Now!
Using different instruments created from several materials and things in order to generate, produce, and create a melodious tone for different purposes began hundreds and maybe thousands of years ago.
It is a practice that dated back to the time of man's existence on earth, and a number of other cultural and traditional concerts and events started in every race, language, and tribe.
Things have not changed a lot if not for the development of the use of musical instruments adopted from different cultures and races. Another thing that has changed is the usage of stands and holding materials that help to preserve, protect, and prevent the endless damage of musical instruments.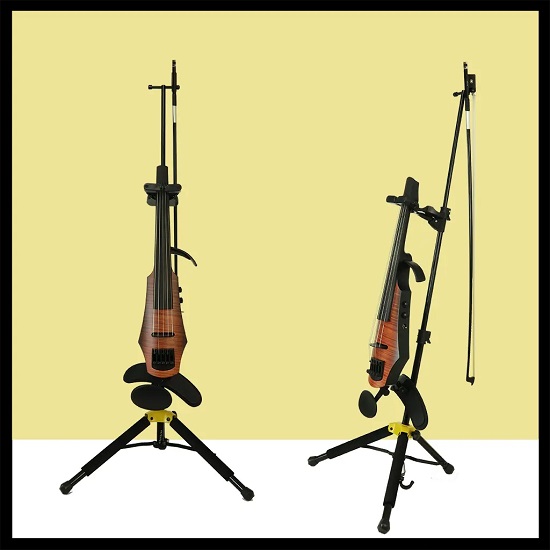 Many instruments have stands to hold them when they are not getting used, and just like there are holding stands for violas, trumpets, violins, and similar instruments just like the ukulele, banjos, and mandolins have stands that can help keep them protected from falling and breaking.
Viola stands are made with varying materials such as wood, aluminum, steel, plastic, and other materials. Viola/Violin stands additionally vary in foldability, adjustability, weight, and portability.
These are aspects that buyers need to take into account when they are looking to buy a viola or violin stand. Buyers should additionally be aware of the size of the viola or violin they use so as to be able to purchase the very best and most compatible viola stand.
In order to help you with your selection, we made this article with the 7 best Violin – Viola stands available on the market in 2023. 
---
1. Viola, Violin, and Guitar Stand Folding, Portable, and Lightweight
The reason why instrument stands have earned so much recognition is that they are useful and very easy to use. Rather than having to constantly take out and put the instrument back into the case, you just set up the stand and keep the tool at hand for music practice.
This premium foldable violin stand can be used for plenty of musical instruments, including electric guitars. In case you own a violin, ukulele, banjo, or mandolin, you'll definitely appreciate this stand.
Because of the multi-stretch feature, the unit folds up to a transportable size in just a few seconds. Like this, you'll be able to take the stand with you in your instrument case every time you need to go to class or perform at a gig.
The crucial aspect is that the item is really lightweight and created from aircraft-grade long-lasting aluminum. Because it weighs less than 1 pound, you are not going to feel a burden when carrying it with you together with your musical instrument.
As the name implies, this product is lightweight. At under 1 pound, as we said it is made of aircraft-grade aluminum so it won't bend, chip, or break easily. It is designed for improved versatility and universal practice hours, which means you can use it at work, in the comfort of your own home, or even at concerts abroad.
This great violin viola stand is delivered with a premium carrying bag to absorb shocks and keep it away from dust, debris, dirt, water, and stains. It is obtainable in three different color selections, including metallic silver and red, to help you easily stand out from the crowd and match your outfit or guitar color.
The only thing that can make problems is the fact that telescopic legs are a bit difficult to extend, even when your arms are strong enough. This may become a problem when youngsters or children are using this viola stand.
Features
Premium folding stand recommended for most acoustic & electric guitars, violins, ukuleles, bass's, banjos and mandolins.
Fits a variety of instruments due to its multi-stretch features – Folds to portable size in matter of seconds.
Ultra lightweight and durable stand made of aircraft-grade aluminum.
The perfect all-around stand – Ideal for home, studio, work and travel – Comes with Premium Carry Bag.
Comes with an unbeatable Lifetime Warranty!.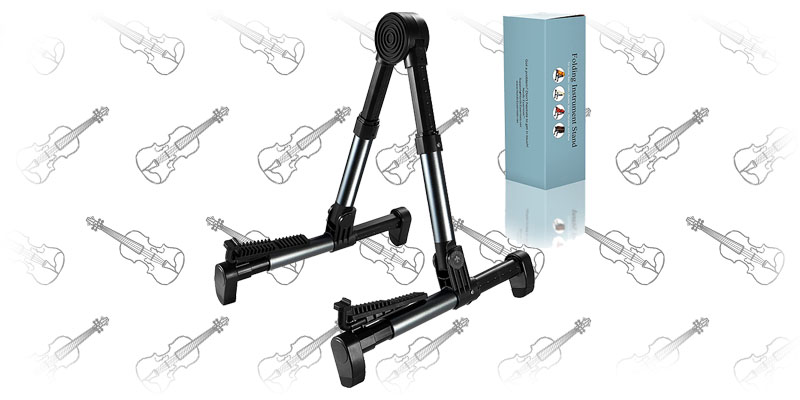 You Can Buy Viola Stand Folding, Portable, and Lightweight on the Links Below!
---
2. Stagg SUVM-A100BK Foldable A Stand for Violins
The worst-case scenario is when you need to constantly stress about your musical instrument falling to the ground because the stand can't stay steady because of the additional weight.
In case you're worried that you are not going to find a good piece that can maintain your viola or violin intact, you can say 'bye' to these emotions because this unit includes a sturdy steel construction that can't be knocked down by anything which is one of the best stand features.
Apart from this feature, the stand has the best weight and excellent design which makes it appropriate for holding multiple types of musical instruments.
Furthermore, the product is equipped with two cradling hooks (similar to a string swing violin hanger) and a backrest that has a soft rubber covering which is useful for protecting the instrument and preventing potential scratches.
Because of the locking mechanism, the stand can be handled safely. Plus, you won't have any problems folding this adjustable violin stand after every music session. To offer plenty of portability, the unit folds completely flat for suitable storage.
The product is particularly designed to accommodate various instruments, including violas, violins, mandolins, and ukuleles. It includes a sturdy steel construction that is not going to bend, break, chip, or corrode, so you'll be able to easily rely on it for many years.
It folds flat for improved portability and convenient storage, even in limited spaces or in your bags. The locking mechanism is ideal to keep the stand safely open every time you are using it and stop your instrument from falling.
Features
Steel construction.
2 cradling hooks and back rest w/ soft rubber covering to hold instrument securely and prevent it from scratching.
Locking mechanism to keep stand safely open.
Folds flat for convenient storage and portability.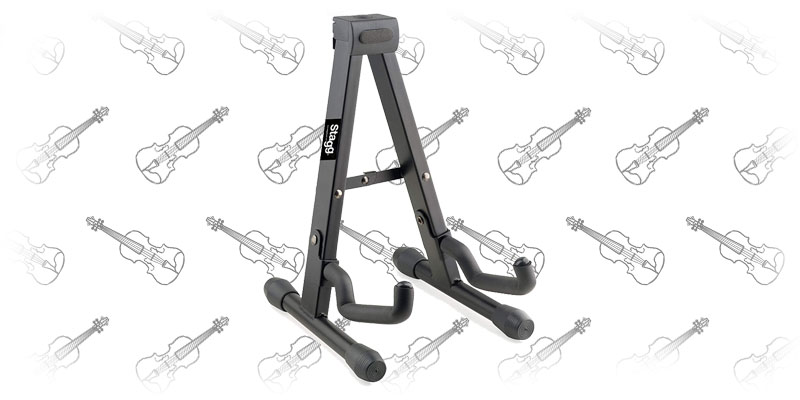 You Can Buy Stagg SUVM-A100BK on the Links Below!
---
3. K&M 15550 Wooden Violin Stand
Music players respect good-quality instruments because it allows them to play music just how they prefer it. Having a great tool is necessary if you need a clear and crisp music sound. However, if you want to be sure that your instrument is stored in a secure spot, you have to put money into a stand that has the goal of maintaining it intact and scratch-free.
Even in case, you have a whole collection of instruments in your home, like a viola, violin, mandolin, and ukulele, you'll be happy to understand that all of them fit in this music stands. Basically, every time you're in an artistic mood, and also you need to practice using a specific tool, you can get it out of the case and place it on the stand.
Given the compact structure of the unit, the instruments are displayed front and center which is the absolute best way to do it. The body of the stand is made with a beautiful redwood finish and has rubberized arm supports that prevent the instrument from harm.
The product is specifically created for professionals and boasts a clean, timeless construction, appropriate for most violas, violins, ukuleles, and even guitars (almost all string instruments).
German engineering represents the guarantee of a sturdy and long-lasting design that will keep its original form and finish years from now on. This wood stand is made from strong wood that won't chip or break easily, and, regardless of its strong construction, it is simple to assemble.
It is low sufficient to not show too much, which is ideal if you want a product that gives the required support for your instrument without occupying too much space or being seen from afar.
Since it is made from wood, it isn't adjustable, so ensure your instrument matches the dimensions of this stand before buying it. We mainly suggest using this product when you're practicing at home because, despite the fact that it can be assembled relatively fast, it isn't designed to resist heavy wear.
Features
Fits viola, violin, mandolin, and ukulele.
Perfect for displaying instruments.
Quick, easy, snap together assembly.
Attractive Redwood finish.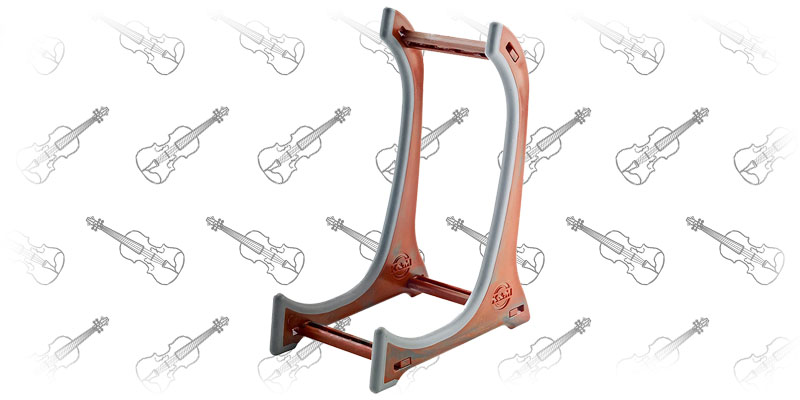 You Can Buy the K&M 15550 Wooden Violin Stand on the Links Below!
---
4. Eastar EST-006 Viola Stand
This universal stand can accommodate both violins and violas, and it will maintain your instrument protected because of the double support design that makes use of two wide feet in order that the whole stand can stay anchored to the ground securely. It has a safety button that can lock the instrument in place, and it can be operated using just one hand.
Another benefit of this model is its functional design which includes a retractable built-in bow holder with a bow shell that is able to house violin bows of up to 32.68 inches in length. The stand is manufactured from a hard composite material that is corrosion-resistant, sturdy, and waterproof. All these features enable it to deliver long-lasting performance.
The stand is also designed not to damage your viola or violin since there aren't any surfaces that might scratch or do another type of damage to your precious instrument. It additionally has a portable design that can be folded neatly down to 13 inches.
Stand stability is achieved because of the improved design of the unit that makes use of double supporting feet which are opened at the same time and connected by gears. The stand comes geared up with a long bow holder, which provides a clear advantage because the holder won't cause the bow to drag to the ground.
Due to its folding construction, it is very easy to carry the stand with you in performances and orchestras since after folding, the stand will measure only 13 inches in length. The head safety lock is very simple to operate using just one hand to be able to put the instrument on the stand and then lock it without taking your other hand off it.
There's no lock for the legs, but fortunately, the design appears sturdy enough to stop them from sliding in which makes this one a really sturdy stand.
Features
Double support stand design, two supporting feet open at the same time, closed at the same time, for more stability.
Retractable bow shelf, can place the longest 32.68inches/83cm violin bow, violin protection button.
After placing the violin can be locked, play a role in protecting the violin from toppling.
The longest size after folding is 13inches/33cm, which is a very portable stand and easy for musicians to carry out.
Made of hard composite: It is waterproof, corrosion resistant, and strong in strength and durability.
Packaging includes: Eastar EST-006 Portable Violin Stand.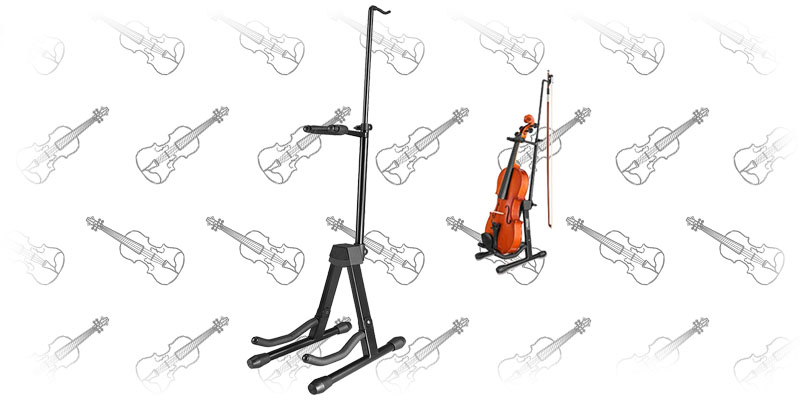 You Can Buy Eastar EST-006 Viola Stand on the Links Below!
---
5. Stagg 14581 Folding Viola Stand with Bow Holder
When you decide to invest your finances in a viola, the very last thing you want is to get your musical instrument damaged because you didn't keep it properly. So, ensure you get an additional stand that appears and feel strong, similar to the piece described in the continuation of this post.
Manufactured from durable aluminum material, the stand is totally black. Apart from this, it includes a metal base construction with ABS support. This translates to plenty of functionality without sharp edges that have the potential to scratch the surface of your viola.
When the stand isn't holding your musical instrument, just fold it up to a suitable size so you'll be able to either store it inside your viola case or put it someplace in the corner of your home. The interesting thing is that the stand comes with a holding hook that holds your bow in full safety.
Additionally, the maximum height of the neck rest is nearly 22 inches while the space between the supporting arms and the neck rest area is 19 inches maximum. The product benefits from a simple, traditional but functional design that can help you easily use it anywhere you are. It is excellent for home use, school or concerts.
It folds down for suitable and compact storage and, because of the lightweight construction, you'll be able to carry it with you wherever you need without having to stress about hand, arm, shoulder, or back fatigue. It's suitable for many instruments, including violas, violins, and ukuleles of all sizes and shapes.
The scratch-resistant powder coating will enable the product to maintain its unique and original appearance for longer. The bow holder can't be removed however you'll be able to fold it right down to the bottom to prevent it from displaying.
Features
Foldable stand for Viola.
Holding Hook for Bows.
Max. height of neck-rest: 21 5/8 in. / 55 cm.
Distance between supporting arms & neck-rest: 15 3/4 in. / 40 cm (min), 19 in. / 48 cm (max).
Black Aluminum.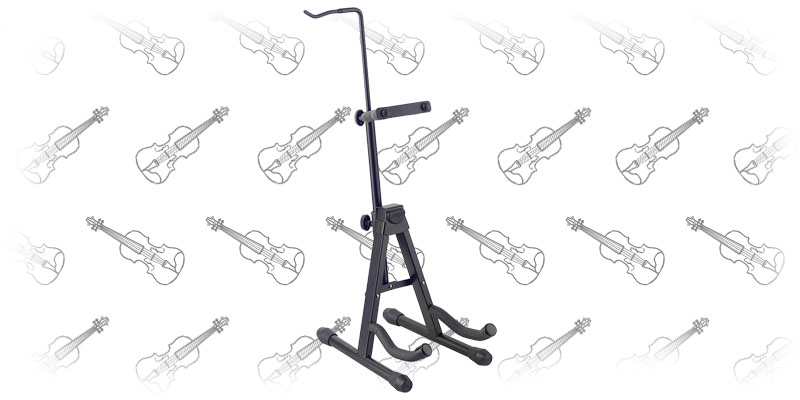 You Can Buy Stagg 14581 Folding Violin Stand on the Links Below!
---
6. HERCULES DS571BB Violin/Viola Stand
This premium model provides superior stability because of the triple feet construction that's just like the time-tested design of a tripod. It has a load capacity of as much as 11 lbs. and the unit itself weighs only 1.3 lbs. It is easy to take it with you wherever you go, especially considering that it can be folded right into a compact shape that is able to fit in the included carrying bag.
One function that makes this model stand out from the rest is the Auto Grip System which will quickly and safely lock the instrument in place. The Auto Grip System makes use of the weight of the instrument so that when you place it on the stand, the arms will be activated by its weight, and the violin is going to be stored securely on the stand.
You shouldn't worry about your instrument getting scratched since all the contact points are wrapped in a specially formulated foam that is really soft.
The stand comes with an extended arm that has a lot of room to carry two bows, and it additionally features a small removable tray that you can use to keep a cake of rosin or other equipment close.
The sturdy tripod base will hold your instrument in place securely so that there's no danger of it toppling over. The stand is made from long-lasting aluminum, and this enables it to weigh just 1.3 pounds, which implies that it is light enough not to be a burden when carrying.
The stand can fold compactly so that you could easily transport it together with your musical instrument, and also you get a free carrying bag included in the package.
Features
The built-in Auto Grip System safely locks the instrument in place.
Specially formulated foam (SFF) fully protects instrument from all contact points.
Folds compactly for easy carrying and utility holder is detachable for easy storage.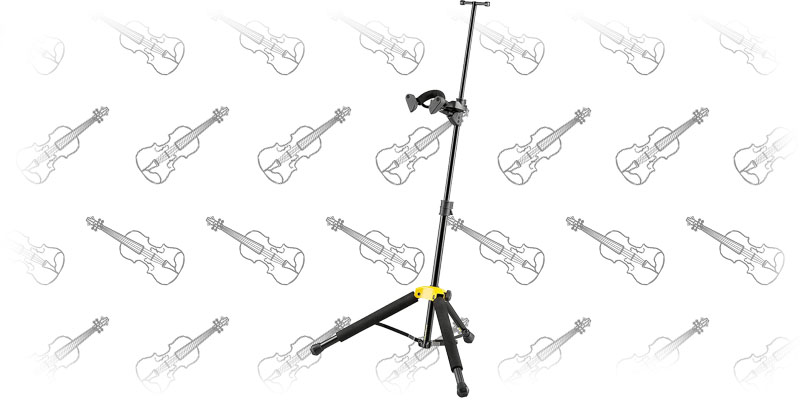 You Can Buy HERCULES DS571BB Violin/Viola Stand on the Links Below!
---
7. Zither Wooden Violin or Viola Stand
For people that are looking for something stylish and sleek, this beautiful violin stand is the ultimate selection. You can forget about ugly and flimsy things made from steel tubes because this finely crafted unit means that you can show off your instrument and impress everybody with your fine taste in musical instruments and equipment.
One important aspect related to this item is that it's made completely from hand-carved strong wood that ensures lifetime durability. The color of the stand is natural and similar to the color of wood while the top boasts a hand-rubbed natural oil finish.
There's actually no need to spend hours attempting to assemble the music stand because, with the assistance of a screwdriver, you'll be prepared in a matter of minutes.
With age, the product will look better and better because of the natural oil used on the surface. The product is sturdy enough to last for an extended time period so be sure to use it every time you have to keep your violin or viola close by.
Why stick to a boring accessory when you can opt for an elegant one that can perfectly match the dimensions, weight, and design of your instrument? The product is particularly designed to accommodate every kind of instrument personally, so you get to select from one made for violas, bass guitars, cellos, saxophones, ukuleles, or violins.
This product is handcrafted using premium solid wood, the furniture-quality stand will last you a lifetime without breaking, chipping, or losing its natural shine. Buy it in your favorite wood finish, including mahogany, walnut, maple, or red oak. It's delivered with a USA-made string swing cradle, one of the best available on the market today.
Purchase the stand and also you'll receive a bonus consisting of a bottle of lemon oil to maintain your stand looking new and shiny on a regular basis.
The stand isn't tall enough to perfectly work with a regular 34-inch scale electric bass guitar, so you should adjust your body position.
Features
Show off your prized instrument in any environment with a finely handcrafted violin stand.
Handcrafted using premium solid wood – No particle board or laminate.
Furniture-quality stands that last a lifetime.
Each stand is unique in color and grain pattern and has a beautiful hand rubbed natural oil finish.
Features the USA-made String Swing cradle, the finest available, safe for nitro finished instruments.
Fast and Simple assembly.
BONUS – Free bottle of lemon oil included to keep your stand looking shiny and new.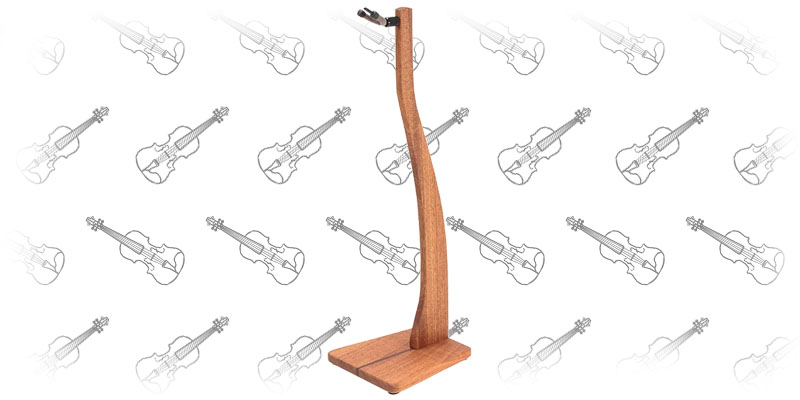 You Can Buy Zither Wooden Violin or Viola Stand on the Links Below!
---
Best Viola Stands – Buyers Guide!
Violin stands are essential for any music player because there's nothing more dangerous than leaving your viola on a bed or corner of your living room only to discover that you unintentionally misplaced it and caused the top of your valuable instrument.
While you may not admire this small accessory, in reality, it can make your practice and performance much more enjoyable. So, in case you want to buy the very best stand for violin and you're undecided about what features to consider, check out the information showcased below.
Different types of Stands
Based on a number of reviews of violin stands, you have to understand first that there are several types of stands to select from. Depending on your own preferences, you need to take into consideration the space that you have available for displaying your instruments and also your finances.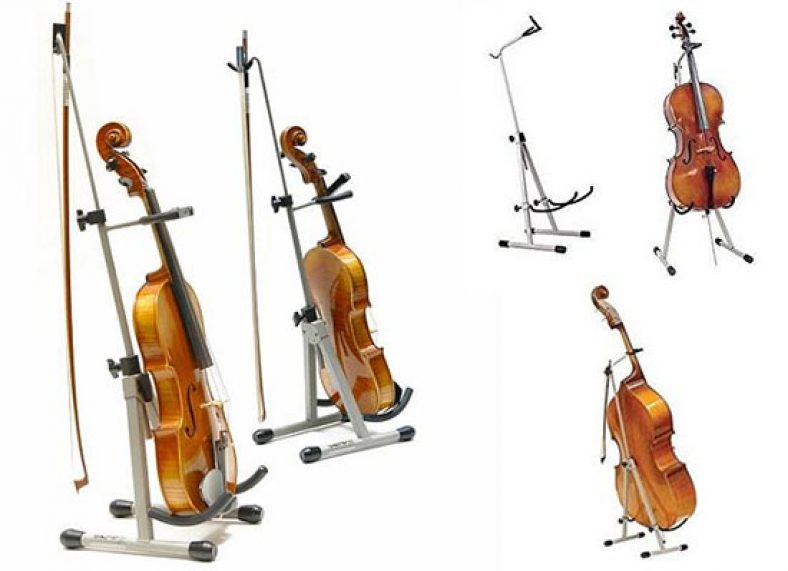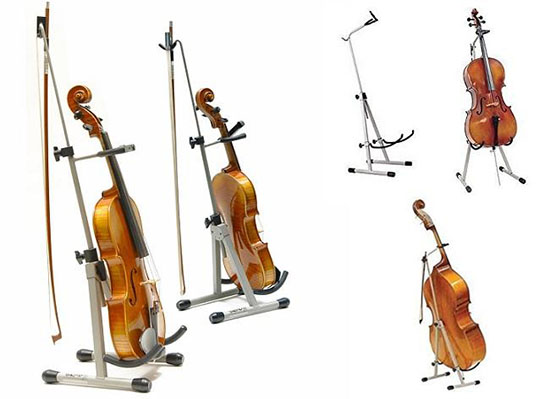 For example, in case you're on a tight budget and you need to find a low-cost violin stand similar to an A-frame unit that includes a simple design. These are useful for performing at gigs but, because they lack stability, they have a bad status for being rickety while positioned on the ground.
However, in case you're sure that there's no probability to bump into the stand, you can use this good violin stand without having too many issues. Plus, you'll encounter nice offers such as ingles violin stand which is practical and simple to use.
The primary advantage this violin music stand has is that it collapses down easily and transforms into a portable unit that matches completely your gig bag or instrument case.
When trying to purchase a viola stand, you'll discover that tripod stands are usually more popular. The reason is quite simple. Because they are inexpensive and stable, they do a superb job regardless of the instrument you use.
Although they appear similar to A-frame units, they are outfitted with three legs that improve the level of sturdiness in addition to a neck that enables security. If you want to purchase a violin stand with a bow holder, you need to go for a tripod model.
Just remember that many violin stand reviews consider these units much less portable. So, if you need to carry the stand with you throughout your travels, you might need to rethink your choice.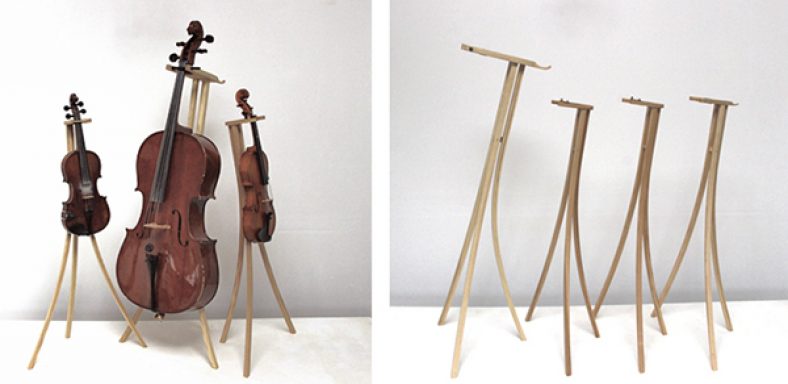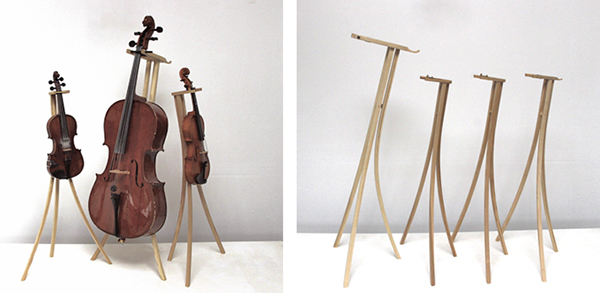 Premium stands similar to wood viola stands or electric viola stands are basically the best choice. Despite the fact that a tad pricier than usual, they arrive with certain features that are impossible to ignore.
Sometimes, these items provide support for the instrument via the neck cradle while the body is leaned towards the legs of the tripod stand. Not to point out the fact that they offer loads of functionality because they fold up effortlessly.
What features to consider?
When it comes to viola-violin stands, you must consider the stability. This characteristic is crucial because accidents can happen, so the instrument must be safely secured and standing in an upright position.
Another factor that you should consider is the portability of the product. Some stands are fully foldable and are able to transform into a small-sized item that fits your bag. Others stay too big, so it's crucial that you read the product characterization and verify the measurements of the stand.
Last Words
We have shown you the best viola stands available on the market for your music room and music performance, as well as an excellent buyer's guide which should help you choose the right stand for your instrument.