Check Out The Best Viola Bags And Cases Available On The Market!
Once you search for a Viola case online or in a brick-and-mortar store you will understand that viola cases have very different prices. There are products that come very affordable, while there are also bags and cases at a rather high price.
Most definitely you want the very best case for your viola, however, you also must keep in mind that there are a number of factors that will influence your final selection. The price tag shouldn't be the only one that dictates what to buy, although it is very understandable if it is one of the most important.
We made this guide in order to help you choose your new Viola case that will accommodate your instrument perfectly. Here are the best Viola cases that are available in 2023!
---
1. BAM 5101S Stylus Black Viola Case 16'' 3/8
A stunning and practical case made by BAM, covered with Cordura material that isn't simply resistant to wear and tear, but is also able to resist water. The construction additionally enjoys ABS reinforcement, so the case isn't as light as it might seem, offering appropriate protection.
On the inside, high-density polyurethane foam, so your viola can be protected in this case. And, although it closes with zippers, the case includes a lock that uses number combinations to prevent the lock from being opened by anyone besides you. It additionally has two back straps which are padded and could be removed, plus a side and subway handle, for simple handling.
Features
Water-resistant Cordura fabric.
2 anti-slip backpack straps with pad, adjustable, removable. Side handle. Subway handle.
Zipper with a number combination lock for the zipper pulls.
Inside cradle made of high density polyurethane foam.
ABS reinforcement in the structure.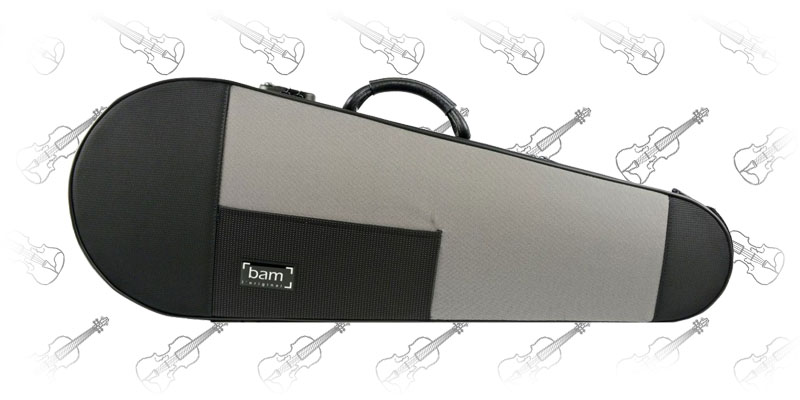 You Can Buy a BAM 5101S Stylus Black Viola Case at the Links Below!
---
2. Protec PS2165DLX Deluxe Viola PRO PAC Case
If you're not looking for viola cases that are formed like a viola and you want a case that appears professional but neutral at the same time, you will probably like this one. It has a rectangular form and it is covered with high-quality nylon on the outside. Only the inside is molded, to supply a comfortable fit to your instrument.
The used materials are gentle so that your viola risks no scratches. Apart from a compartment for your shoulder rest and clips for 2 bows, the case additionally offers a large compartment for additional equipment. When transporting the case, you will have a side strap, plus a shoulder strap, which could be adjusted and also removed.
Features
Solf molded interior with non-abrasive velvoa lining.
Interior features two bow clips, shoulder rest storage strap and a large accessory compartment.
Adjustable shoulder block to custom fit to your viola.
Two large zippered exterior pockets, the backside accommodates sheet music.
Includes a removable and adjustable shoulder strap and ID tag.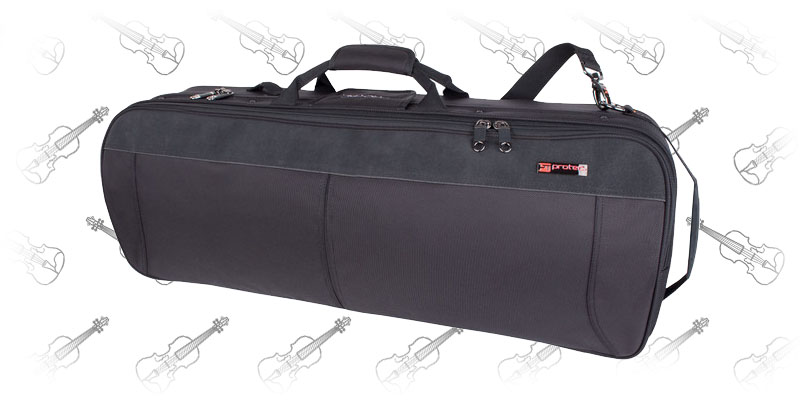 You Can Buy Protec PS2165DLX Deluxe Viola Case at the Links Below!
---
3. Protec Viola MAX Shaped Case, Model MX015
Do you mostly love a lightweight case since you mostly do local traveling along with your viola? Well, then you will undoubtedly appreciate this practical case. The case is extremely light, however, this doesn't mean that it won't provide enough protection.
It includes a frame that protects against hits, while the soft velvet lining on the interior and suspension padding will provide additional protection to your instrument. The case is covered by extremely sturdy nylon on the outside, while additionally being equipped with EPS foam, so the case is indeed reliable in case of shocks.
Features
Ultra lightweight impact-resistant frame lined with soft velvet and suspension padding that protects your viola from damage.
Shock resistant EPS foam frame featuring an extremely tough 600D nylon exterior.
Dual corded handle design sewn onto the case with comfortable padded handle wrap.
Convenient subway rope handle, and quick-lock to securely shut an empty case without zippering.
Strong plastic hardware, molded rubber feet, and secure zipper closure.
Includes adjustable shoulder straps that can also make the case backpackable.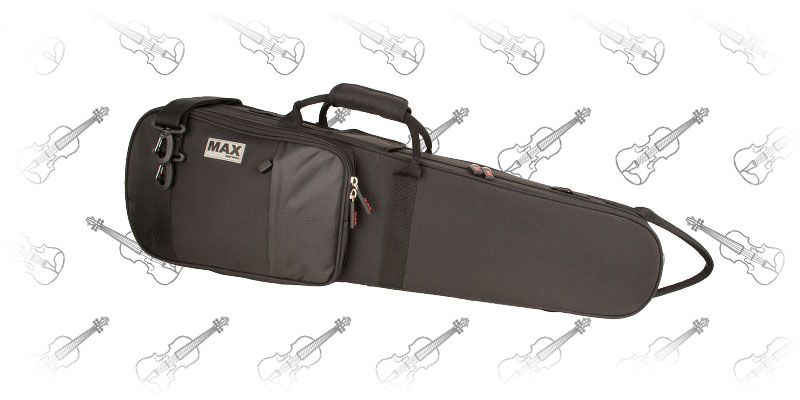 You Can Buy Protec Viola Case, Model MX015 at the Links Below!
---
4. SKB 15 & 16 Viola Case
SKB Viola case is the type of case to have in handy while you're taking part in local gigs or you're bringing your viola to music classes. It is a simple but useful viola bag, able to offer an ideal degree of security. It's formed just right for your instrument, which makes it compact and simple to carry.
It has backplates as additional support, so you don't have to stress about the security of your instrument. This case is even geared up with valances that will let you add D-ring straps to it if you need them. Till then, you can use the ergonomic handle that is already attached to it.
Feature
Model 1SKB264.
Perfect fit valances with D-Ring for strap.
Reinforced with backplates.
Interior storage compartment.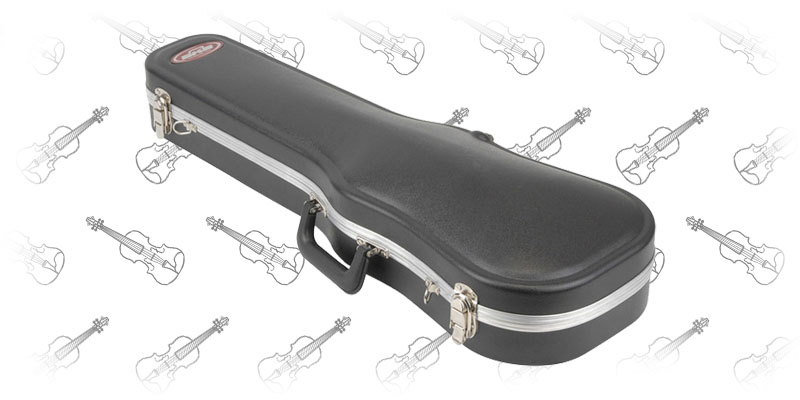 You Can Buy SKB Viola Case at the Links Below!
---
5. BAM Viola Hoody Multi Color, Contoured
BAM Viola case is perfect for local gigs, rehearsals, and covered other short distances that include bringing your viola with you. It's useful and light weighted and coated with a waterproof material, so don't be afraid to make use of it even when the weather outdoors is bad.
The interior is lined with a smooth material, that will keep your viola from getting scratched. This nice viola hoodie is able to withstand lots of wear and tear, even if it may seem light. Just do know that the case is specifically made to fit the BAM violas, so do verify the dimensions before buying, as it could not fit your particular viola.
Feature
Made to fit BAM Hightech Contoured Viola Case.
Weather resistant with quilted exterior.
Soft lined interior.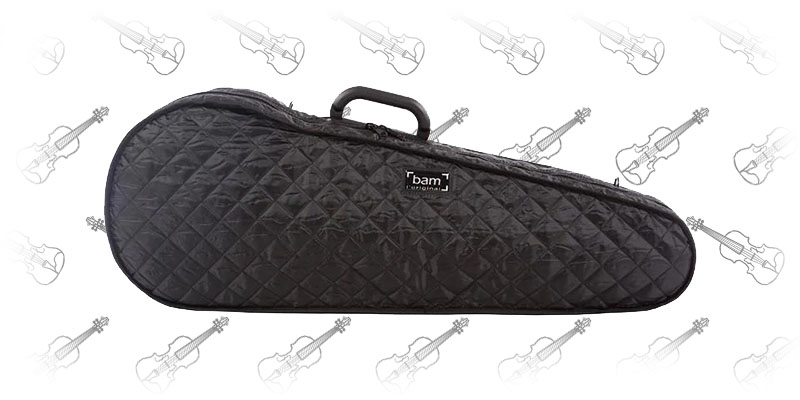 You Can Buy BAM Viola Hoody Multi Color, Contoured on the Links Below!
---
6. Paititi 16-inch Professional Viola Hard Case with Hygrometer
Paititi's 16-inch Professional Viola case is sturdy and offers nice security, but without being bulky and heavy. It additionally appears elegant, because of its oblong design and brown velvet on the interior.
Apart from the velvet, there are suspension cushions that will not only secure the viola inside the case but will also keep it protected in case of shocks and bumps.
The two bow holders and a modifiable shoulder strap will make the transport of the case a simple job. It additionally comes with accessory pockets both on the inside and outside, and a hygrometer so that you could regulate air humidity levels.
Features
Brand New luxurious oblong violin case, desirable features yet it is lightweight and durable.
Interior and exterior accessory compartments, two (2) bow holders and adjustable shoulder straps.
Suspension cushions that keep the violin centered so as to minimaze the impact on instrument.
Features hygrometer, full length music sheet pocket on top this case with strong zippers.
Case comes with a matching blanket.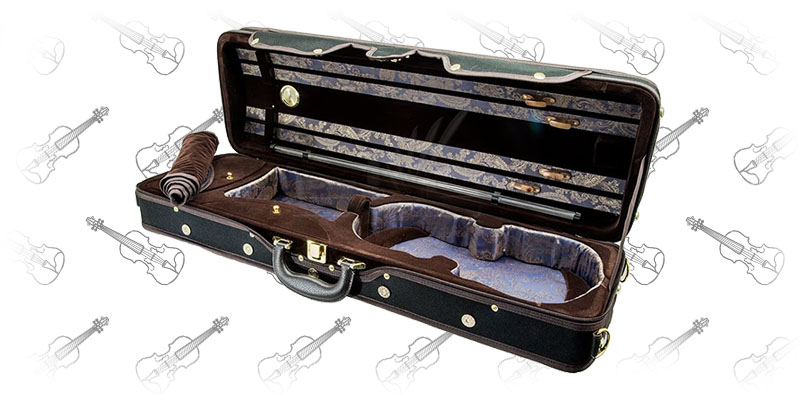 You Can Buy Paititi's 16-inch Professional Viola Hard Case at the Link Below!
---
7. Gewa Concerto 331 Adjustable Viola Case
In case you prefer to keep your choices open, then this functional case will let you modify its size when needed, as it can accommodate violas of both 15 and 16.5 inches. The case is made out of a Thermo shell and had bad weather flaps on the surface and a pocket for music sheets.
Additionally, a Deluxe Swiss latch will secure the case when closed, so that you won't have to stress about it. The interior is covered with blue velour and features suspension pads, for good protection. You'll transport this case with ease, because of the backpack straps and D-rings, made to be carried on your shoulder, attached to the case.
Features
Adjustable for 15″ to 16.5″ Violas – Suspension with a beautiful BLUE velour interior.
Thermo shell shaped case – Screw attached black cover with music pocket and weather flaps – Deluxe Swiss latch.
Accessory pocket – Instrument blanket – hook-and-loop neck restraint – 2 bow holders – String tube – Tail block sponge.
2 shoulder straps – D-rings for shoulder or backpack options – Lower bout maximum width is 10″ – Weight is 5.5lbs.
The ultimate in viola protection – GEWA QUALITY.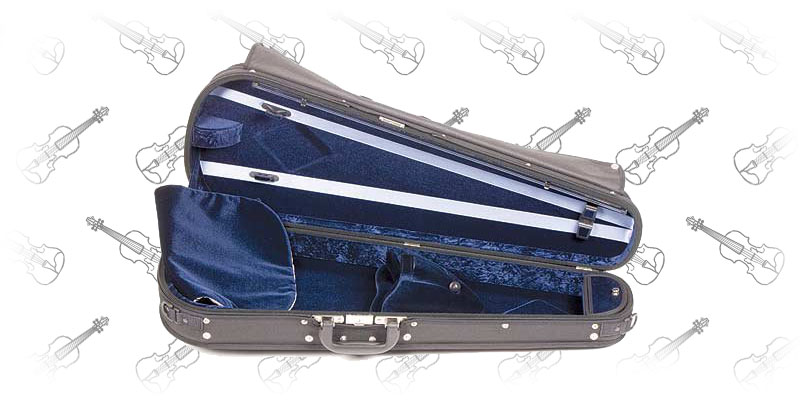 You Can Buy Gewa Adjustable Viola Case on the Links Below!
---
8. Crossrock Backpack Viola Case
Crossrock Backpack Viola Case is another backpack-style case that is hard and probably one of the best travel-friendly but also the sturdiest case on the market. It features a rugged molded ABS exterior which is also resistant to scratches.
One of the best options is that the case can be used for multiple sizes of violas and violins which makes it one of the most famous choices among musicians. Inside the case, there is a high-density hard foam core with plush lining and additionally there are 2 compartments for accessories.
Features
Designed for 15′-15.5′ Viola.
Rugged molded ABS exterior. Scratch resistant.
High-density hard foam core inside with plush lining.
2 accessory compartment with lid and 2 bow holders.
A pair of backpack straps. Sturdy aluminum valance and hardware.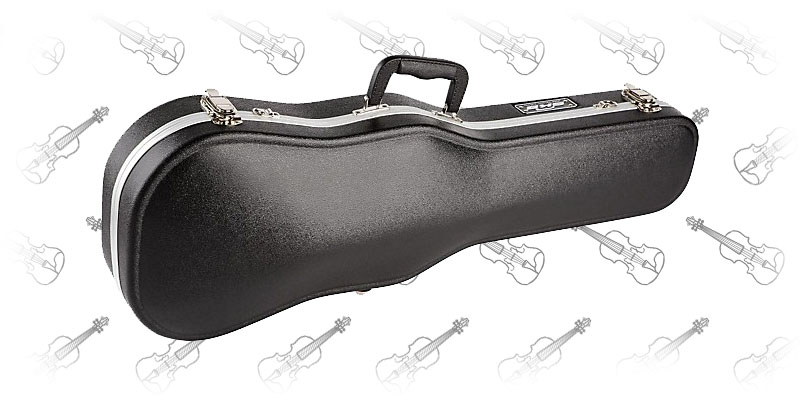 You Can Buy Crossrock Viola Case on the Link Below!
---
9. Woodnote Pro DVAC-950 Wooden Viola Case
Woodnote Pro DVAC-950 Viola case is probably one of the most elegant viola cases that we have on our list. The DVAC-950 has a sturdy build, and back straps, and flaunts the greatest fabric. This case is lightweight and slim which means that your instrument is not going to jiggle in the case when carried.
The most interesting part is that actually, this is a double viola/violin case. If you are one of those players that are playing both instruments and you do not want to be bothered carrying two separate cases then this is the perfect case model for you and your needs. All you need to do is ensure that both instruments will fit correctly into the case.
Features
Wooden Double 4/4 Violin/Viola case(Adjustable) – Model: DVAC-950.
Exterior Measurements: approx. 32 X 14 X 6 (inches).
Fit: 1x 4/4 violin with body length – 355mm & 1x viola with body length up to 420mm.
Weight: Approx. 3.3 kg – our scale.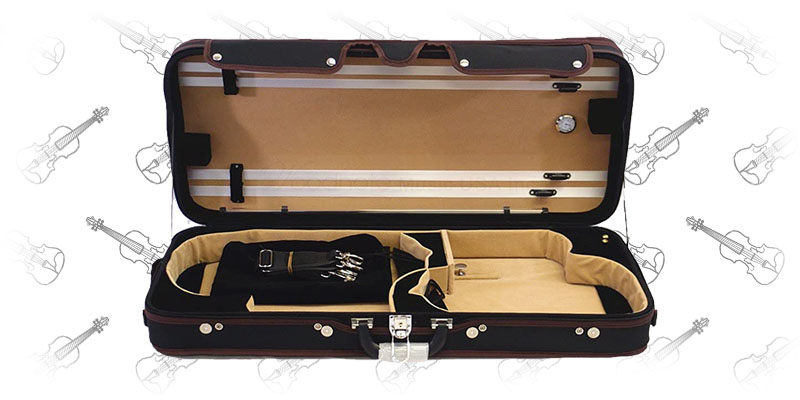 You Can Buy the Woodnote Pro Viola Case at the Link Below!
---
10. BAM Hightech Contoured Viola Case
This excellent viola case will round up our top 10 viola cases. Bam Hightech contoured viola case is adjustable and able to fit instruments up to 17″. The case has an excellent suspension system and a plush interior. It is highly resistant to pressure and shock but at the same time is the lightest and most compact viola case that you will be able to find on the market.
The design is very smooth and the carbon black exterior is just perfect. The interior compartment is black and small, however, it is sufficient to keep the instrument secure together with a couple of accessories that you are using.
Features
The BAM Contoured Hightech Viola Case is adjustable and can fit instruments up to 43cm (17″).
It is considered the most resistant, suspension system, lightest, and most compact viola case in BAM's line.
Plush interior, Extremely shock and pressure resistant. The very modern design of carbon black exterior.
Two protective anti-wear and anti-skid rubber guards as well as an airtight valance seal.
Only 3 1/2 lbs. Also available in Tweed exterior.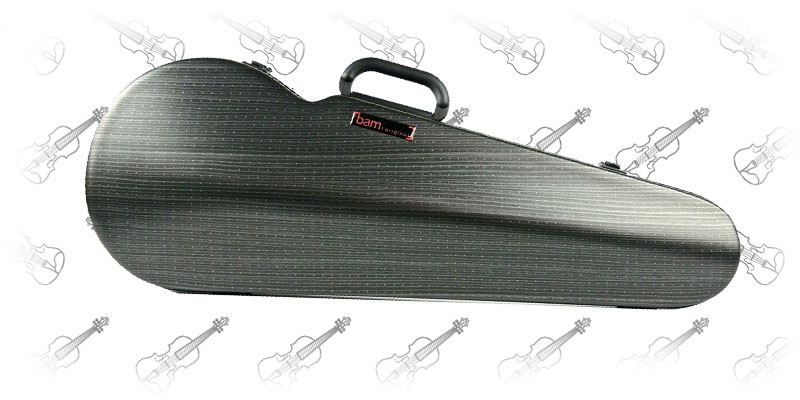 You Can Buy BAM Hightech Viola Case on the Links Below!
---
Getting The Best Viola Case – Buyers Guide!
Viola Case Vs Violin Case – What is the difference?
When comparing violas and violins, we can see there are more similarities than differences. One, they are both stringed orchestral instruments, and two, each of the instruments are played on the shoulder using a bow (they arrive from the same family of instruments).
However, where cases are concerned, the differences outweigh what every instrument has in common. Violas, in comparison with violins, are bigger in dimension, wider, and thicker. Additionally, they are heavier and the bow is extended. So, their bags are made to complement those features. Although they are not available in set sizes, thorough measurement does wonder.
What parts of the Viola should be measured so you can get a Suitable Case?
In contrast to violins, violas normally are available in 4 different sizes with a 12″ viola being the smallest, and a 17″ viola being full-sized. The difficult part is that the lengths and widths of every viola can vary. You shouldn't worry because here you can see the measurements and understand them better in order to get a great viola case for you.
Body length
The longest part of the viola's soundbox, the body size stretches from the button below the neck to the end button. It's often between 14″ to 17″ with the majority being between 16″ and 16.5″ and rarely being 12″.
Lower bout
The widest part of the viola's soundbox, the lower bout, is positioned close to the end button and its measurement stretches the length between both its peak sides. The lower bout of a viola often scales between 9″ and 9.75″ however can even exceed 10″ on some bigger violas.
What to look for when buying a Viola case?
Once you measure your viola you will be able to go and search for a new case for your instrument. However, in order to get a nice case for you Viola, there are some other different things you need to look for.
In continuation of this buyer's guide, you will be able to see the other things that should be considered before you decide which case is best for you.
Construction
The primary focus of instrument cases is safety. Case makers often craft the exterior shell from wood (as per tradition), fiberglass, and carbon fiber.
Wooden viola cases are heavier in weight but sturdy, impact-protective, and reasonably priced.
Fiberglass viola cases are excellent for student violists with an eye for aesthetics. Though they are heavyweight, it adds to their protecting functionality and they are inexpensive.
Carbon fiber viola cases are a preferred selection among professional violists mainly because they are lightweight and have a sleek construction.
For enhanced safety, ensure the viola case additionally contains adequate padding inside and a suspension system.
Case Durability
Orchestral instruments just like the viola are sensitive to temperature differences and it can have an effect on their tone. Wooden viola cases have great temperature resistance and are able to resist extreme climates. Polycarbonate viola cases are an ideal choice for violists that want a lighter-weight case that is able to withstand heat as well.
Case Weight
Violas are quite heavy on their own and the very last thing a musician would want is added weight from the case. Fortunately, case makers have constructed cases that are lightweight but also impact-protective. Not only do the cases protect the viola, but they additionally keep the musician's posture in check.
Case Shape
Apart from the viola's length and width measurement, its form can also be an essential factor in deciding the best case. Viola bags are primarily constructed in three sizes: oblong, shaped, and half-moon.
Oblong viola cases are a traditional shape. They are spacious and sufficient to carry sheet music pouches and shoulder rests and is usually made from wood which is why they are also heavyweight.
Furthermore, the contoured viola cases, are a traveling musician's best discovery for their compact construction and lightweight. Half-moon viola cases are well-known for their distinctive shapes, oblong-like room inside to accommodate any accessories and contoured-like lightweight.
What do you have in your Viola case? Check out this interesting video with Cong Wu!
Additional Comfort
Younger musicians, beginners as well as violists that are traveling a lot, all want a viola case that does not hurt their backs and keeps their instrument protected.
Because of that reason, manufacturers have deployed different methods for better carrying, especially for heavyweight cases like fiberglass and wood. Most of them have padded shoulder straps, wheels, and even safe locks for convenience.
Fitment
For musicians that want a foolproof viola case that matches their instrument nicely, there are adjustable viola cases that have a sliding neck cushion to help fit varying lengths of the viola. Ensure the case doesn't have any exposed hardware that has the potential to scratch the back of the viola.
Last Words
When it comes to Viola cases you can see there are a lot of choices available on the market right now. We hope that our guide will help you get a nice case that will fit and protect your instrument perfectly.