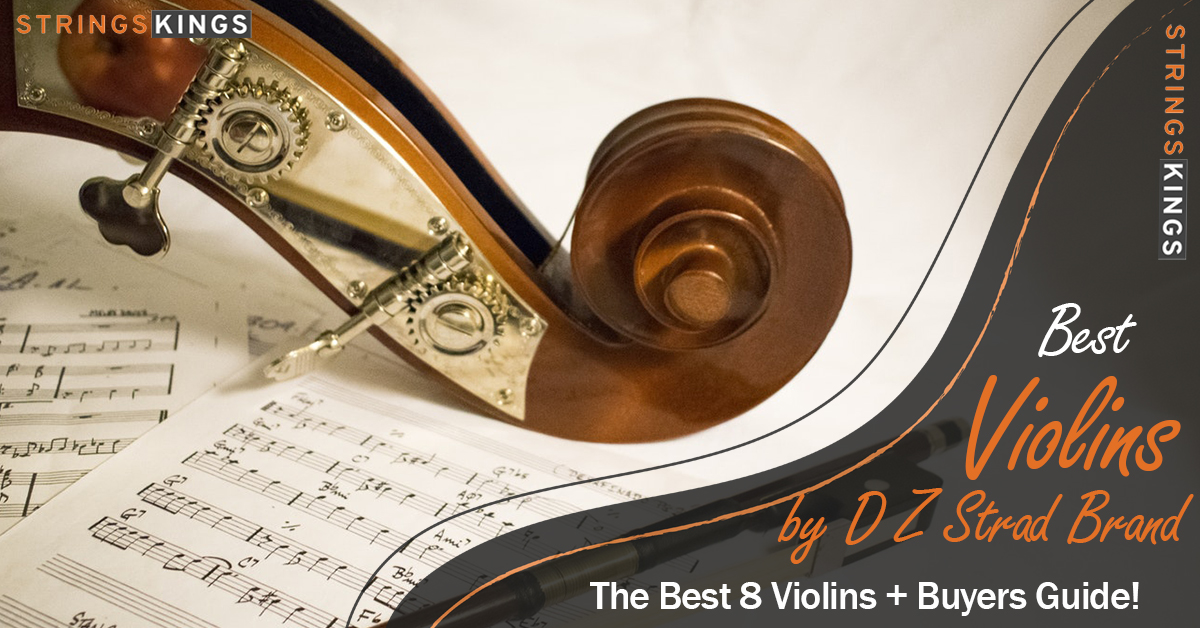 Check Out The Best D Z Strad Violins You Can Buy In 2022!
Introduction
As a violinist, you have to think about and understand who makes your instruments and what the quality of your violin is.
Because the quality of your violin might extremely affect the quality of your performance, you need to ensure your violin comes from a respected and well-known brand and one of the best violin brands is DZ Strad violins.
In case you don't know already, D Z Strad is a company that produces instruments of all categories, and it's situated near the center of New York, United States. This company is known for its audience-targeted violins and different instruments of traditional beauty and high quality.
The reason why this company is favored amongst lots of people is their instruments' capacity to satisfy the needs of all ages, especially in the violin category.
Most of their violin models are made of quality materials with excellent sound quality and great-aged tonewoods. Also, some of the D Z Strad violins have gold-plated fine tuners which bring some additional beauty to these musical instruments.
D Z Strad violins are easily accessible and their potentials are ready to be tapped with ease no matter if you are a pro, an intermediate, or a novice player.
For you, we made a list of the 8 best D Z Violins you can find in 2022 and a great Buyers Guide in order to help your decision.
1. D Z Strad Violin Model 800
Model 800 is the most advanced DZ Strad handmade Violin, also one of their most popular models available. This Model 800 is made with beautifully aged wood from the Italian Alps and enhanced with a fine varnish that brings out the woods' pure character.
The light varnish helps this model to produce a clean and powerful tone; Making it a perfect instrument for those searching for cutting projection and pure resonance.
With a carefully selected seasoned Engelmann Spruce top, naturally, air dried (over 15 years), this instrument is an excellent choice for professional solo performances.
Handmade instrument by prize-winning luthiers and each instrument from D Z Strad is meticulously graduated, rewarding the player with a powerful and refined tone.
This value-packed violin outfit has quality features and contains violin, violin case, two bows, rosin, etc. The case and bows are worth $600 in the market. Chosen Maple Back, Ribs & Scroll, naturally air-dried. Comes with a Bricks Pilot case and Carbon Fiber Bow or Cobra Brazil Wood bow (you can choose).
Features
2. D Z Strad violin Model 601F
The D Z Strad violin Model 601F is a masterfully crafted handmade instrument that includes an attractive double purfling design.
Both the top and back plates have been expertly inlaid with dual purfling, featuring a tightly alternating dot-and-diamond pattern and made of high-grade, select Spruce and Maple tonewood.
The final result is an elegant instrument that produces a malleable, sophisticated sound with color and depth.
The Model 601F is also subjected to a light antiquing process to provide it with the look, feel, and sound of a vintage-style instrument. Its tone is full, even, and perfect for the advancing players.
Features
3. D Z Strad Violin – Model 700 – Light Antique Finish
By many customer reviews, this instrument from DZ Strad violins is love at first sight! Real wood, correctly aged, grown in Europe, hand-carved in California USA! Varnish that is not too thick or shiny.
Real maple table, finely flamed two-piece spruce back! Pegs are correctly fitted, so this D Z Strad violin model 700 is really easy to tune, with one effective tuner and it is really easy to play with good intonation.
Stopping two strings with one finger easily offers a perfect fifth. The violin is set up superbly, with the amount of bridge curvature for someone to expect for an intermediate-level player.
Initially, the tone may be somewhat muted, which means it had not been played a lot recently. The muting will most likely be much less pronounced after an hour's playing, and it continues to project increasingly more as you proceed with playing.
You are going to be very grateful to have one D Z Strad violin that appears and sounds like a hand-carved violin! The case, with violin and two bows in it, weighs approximately 5 pounds.
Features
4. D Z Strad Violin Model 326 – Gasparo da Salo, 1590, "Adam" Copy
Gasparo da Salo was one of the greatest Brescian makers and also one of the earliest recognized makers of the modern violin.
About eighty of Gasparo da Salò's instruments are known to have survived to the present day.
They stand confidently among the many works of Stradivarius, Guarnerius, Amati, Jacob Stainer, and his pupil Giovanni Paolo Maggini as unique examples of the very best mastery attained in European violin making of his period.
The DZ Strad Violin Gasparo Da Salo Model 326 is a favorite instrument for violin teachers, students, and professionals due to its features.
This superbly hand-carved violin is completed with a top-quality spirit varnish to be able to deliver out the very best sound from its aged maple wood. This handmade violin produces an open and clear tone when it's used.
Additionally, it is capable of pulling off a consistent quality as it's been used through the years. The violin comes in an outfit that features a bow, a case, dominant strings, and rosin.
Features
5. D Z Strad Model 515F (#4001)
Antonio Stradivari was indisputably the best violin maker of all time and, in every respect, the "Hellier" is certainly one of his personal masterpieces.
Applying an astonishing quantity of decorative inlay with lightness and finesse which by no means disturbs the harmony of the violin's natural form, Stradivari additionally enhanced the simple beauty of the instrument's lines.
The DZ Strad Model 505F is an homage to this 1679 masterpiece, producing a malleable, sophisticated sound with color and depth. Compared to the DZ Strad Model 302, this instrument features higher grade, select Spruce, and Maple tonewood.
Both the top and back plates have been expertly inlaid with dual purfling, which includes a tightly alternating dot-and-diamond pattern.
The DZ Strad violin Model 505F is also subjected to an antiquing process that distinguishes the instrument in a more classic fashion than the Model 302 offers. Its tone is full, even, and perfect for the advancing player.
Features
6. D Z Strad Model 501 – Old Antique
If you decide to buy this D Z Strad violin, you will additionally get a case, bow, string, and rosin. Excellent craftsmanship in every element.
This model from DZ Strad violins has collection value over time with Loud Sound and Clear Tone. It is a professional-level violin.
The result is a strong violin with a nice full voice. This D Z Strad violin is spirit varnished in seasoned.
The Engelmann Spruce is from Russia, recognized for its hardness, making a good full tone possible. When you are playing violin it achieves excellent projection and volume through the carefully calibrated high archings.
Features
7. D Z Strad Violin Model 509
The D Z Strad Violin Model 509 is handmade to perfection by the brand's luthiers. It's made out of naturally seasoned tonewoods, particularly Alpine/Italian Spruce top, and selected maple back and sides, it is well constructed.
It additionally features an antique varnish finish which replicates the look, sound, and feel of older instruments. When used, such violin produces a malleable but sophisticated sound with color and depth.
The model 509 is meticulously graduated with a powerful and refined tone. It comes in an outfit that features a case, a brazilwood bow and a carbon fiber bow shoulder rest, and a piece of rosin. The Model 509 comes with Dominant violin strings.
Features
8. D Z Strad Model 220 Violin
The D Z Strad Violin Model 220 is another high-quality instrument and perfect option that you should definitely consider if you are looking for a great Violin.
It's a beautifully hand-carved violin that is completed with a top-quality spirit varnish to be able to deliver the very best sound from its aged maple wood material. The violin is able to produce a warm and round tone. Its hand-feel, consistency, and playability will certainly keep violin players motivated to play some extra.
The violin comes with an outfit that features a brazilwood bow, a shoulder rest, a case, and rosin.
Features
D Z Strad Violins – Buyers Guide!
What to look for in D Z Strad Violins
No matter if you are a beginner who wants to begin playing the violin or an expert who is searching to find a better set or better single model, you need to be aware of the features of DZ Strad Violins or any other violin you will be looking for.
Since they have different features, you need to keep in mind that you should always check those features in order to understand if you are getting the right instrument for your needs.
The Violin Construction
One of the first things that you must consider is the construction of the violin. You need to be sure that the violin is built from sturdy material which will guarantee the violin high quality (many of the DZ Strad violins are made from aged tone-woods).
Therefore, there shouldn't be seams or cracks seen on any part of the violin. Furthermore, no creaks should be heard whenever you gently apply pressure to the instrument.
The Violin Material
The second thing that you need to pay attention to is the wood used. Often, high-quality violins are made of spruce wood for their top and maple wood for their back and sides, and some of them have gold-plated fine tuners.
Ebony can also be an important wood used in numerous parts of the violin. It is worth noting that the quality of the wood used impacts the tonal quality of the violin.
These are just some of the things that you need to think about before picking any D Z Strad violin.
You should know that information about the instrument's key features will really make your job of selecting the most appropriate instrument easier.
In our review of the DZ Strad violins, the list we made is for the models made of high-quality wood and you won't have to make so detailed checks about instrument materials.
Conclusion
We made this review in order to help you choose your new Violin from one of the best brands that you can find.
This list was made with the very best fresh selection of D Z Stand Violins Brand and all of them are available on Amazon right away!
If you are looking for additional Violin reviews feel free to check our Top 14 Violins for Professionals and Best Violin Pickup in 2022!