Fender CD-140SCE Guitar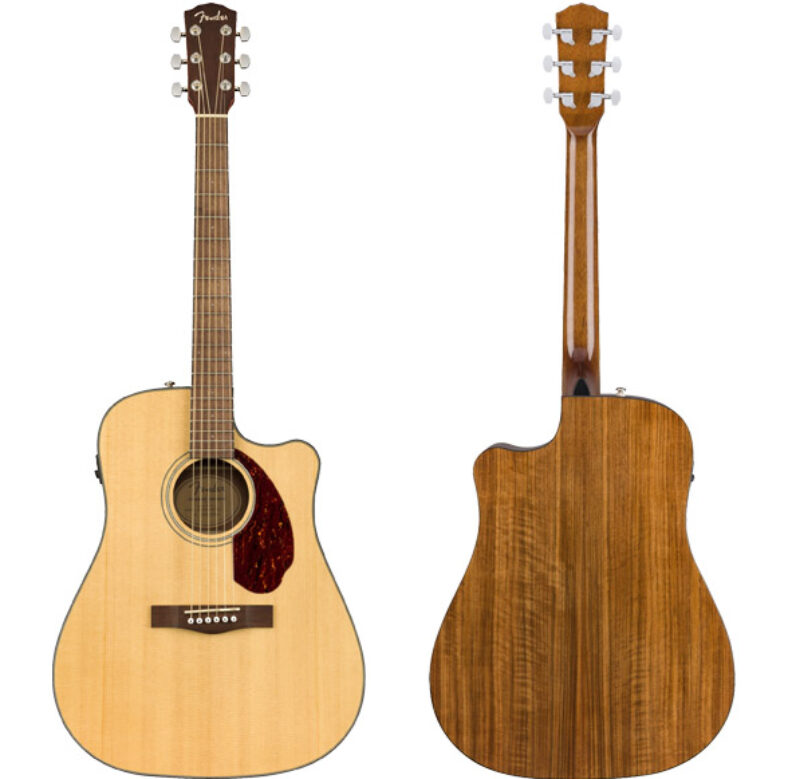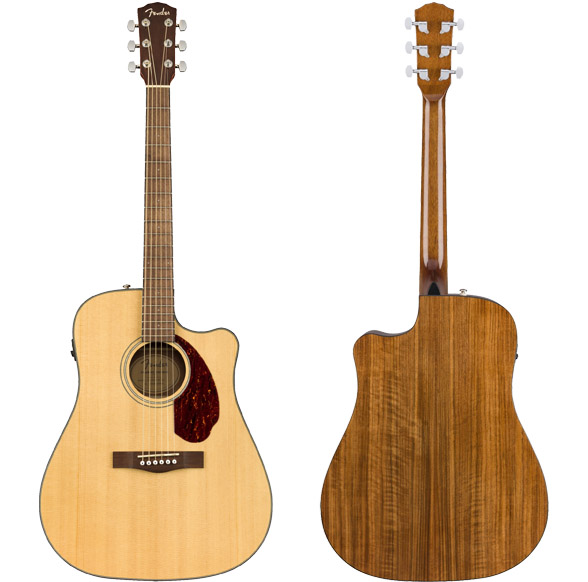 Great Quality Instrument.
Reasonable price level.
Gig bag included.
---
Fender CD-140SCE Review – Acoustic/Electric Guitar!
Acoustic guitars by Fender have always been underrated and overlooked.
It's hard to beat the classic and very impressive electric guitar models like the Telecaster, Stratocaster, Jaguar, Mustang, Jazzmaster, and many more. There are, however, some excellent acoustic models available from the brand that are sure to please any guitarist.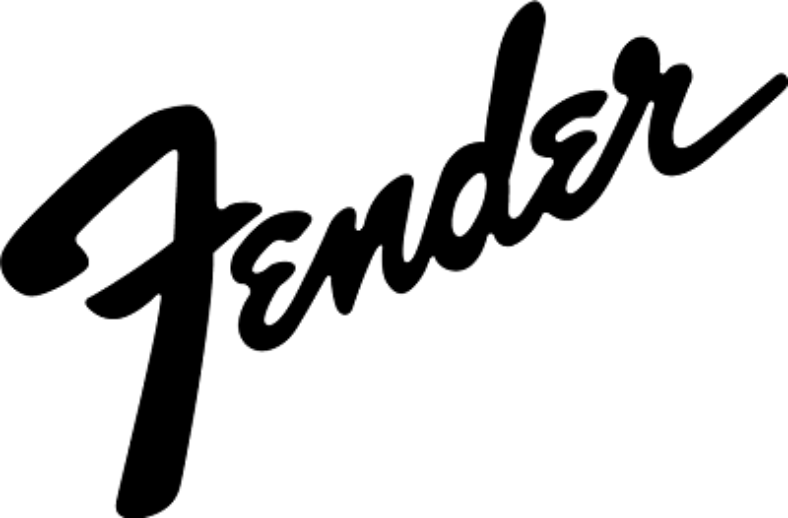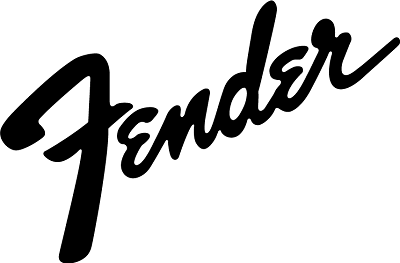 Our goal has always been to find guitars that are built well, play well, and sound great for the cheapest price. The Fender CD-140SCE is recommended by some experts to deliver all that, so let's see how it performs.
Target Group
Fender has always prided itself on being a premium guitar manufacturer. The brand has chosen to leave the production of budget-based models to its subsidiary, Squier, as Epiphone does for Gibson.
This is why the Fender CD-140SCE is such a surprising model. Although it is not exactly budget-friendly, it remains fairly reasonable considering what it offers.
In reviews, the acoustic-electric model has been praised as a great choice for guitarists who wish to play plugged in. As we have reviewed several acoustic-electric models from the company, such as the Fender Newporter, we are confident that this one will perform just as well. It is worth taking a closer look at.
Technical specifications and features
An acoustic-electric guitar does not typically have a lengthy feature list, but when Fender is involved, you would expect it to, and the CD-140SCE is no exception.
Fender CD-140SCE
Tech Specs
Number of Strings: 6.
String Type: Steel.
Strings: Fender Dura-Tone, .012-.052.
Body Shape: Dreadnought.
Color: Natural.
Finish: Gloss.
Top Wood: Solid Spruce.
Back & Sides Wood: Laminated Ovangkol.
Soundhole Radius: 12″.
Neck Wood: Mahogany.
Neck Shape: Easy-to-Play design with rolled edges.
Tech Specs
Fingerboard Material: Walnut.
Fingerboard Inlay: Pearloid Dots.
Number of Frets: 20.
Scale Length: 25.3″.
Tuning Machines: Die-cast Chrome.
Bridge Material: Walnut.
Nut/Saddle Material: GraphTech NuBone.
Nut Width: 1.69″.
Left-/Right-handed: Right-handed.
Electronics: Fishman Presys.
Case Included: Hardshell Case.
It is evident from looking at the specifications and feature listing of this guitar that you are dealing with a high-quality instrument. Whether it will translate into actual practical performance remains to be seen, but let us examine its features first.
The Build Quality
Among the most interesting features of the Fender CD-140SCE is its remarkable craftsmanship, which has been praised by many users.
There is always an expectation that Fender produces guitars that are beautifully built with attention to detail. However, many of the models that are manufactured in Mexico have not met this expectation.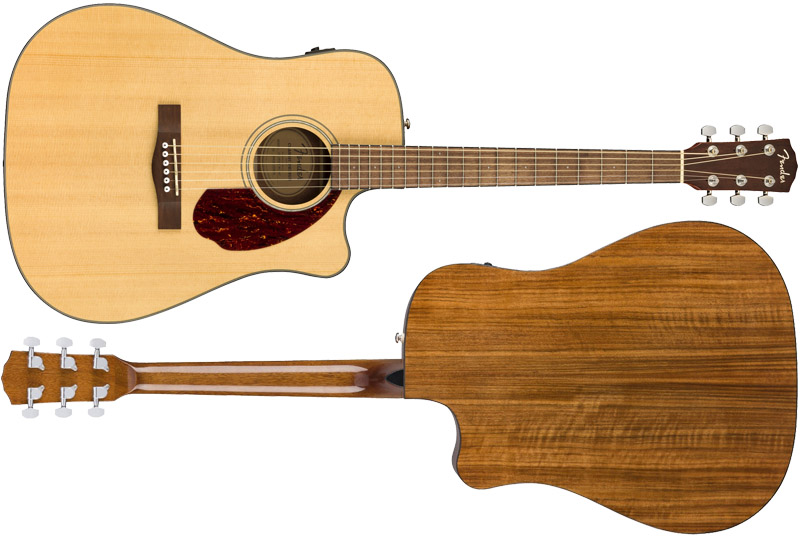 The guitar does not have traditional solid mahogany construction which is another surprise. As an alternative, the company has chosen rosewood tonewood with a spruce top.
As a result, this combination of tonewoods produces a warm and smooth sound that works well with a wide range of musical styles. This sound works especially when played at higher volumes resulting in deep resonance and warmth.
Bracing Design
Furthermore, the Fender CD-140SCE features an interesting scalloped bracing design, making it extremely responsive and having great bottom-end performance. In addition, this style of bracing has always been louder than other types.
Neck
A mahogany neck is used on this guitar, which is quite comfortable to play due to its slim shape and modern design. Fender has designed this guitar with their Easy-To-Play slim profile, which incorporates rolled fretboard edges making it ideal for playing. On top of that, the rosewood fretboard is always an excellent choice for its 20 jumbo frets.


Head
In the headstock, there are chrome die-cast tuning heads that are pretty reliable. There is an excellent Dual-Action Truss Rod on top, which is pretty stable and allows you to adjust your guitar's action to your liking.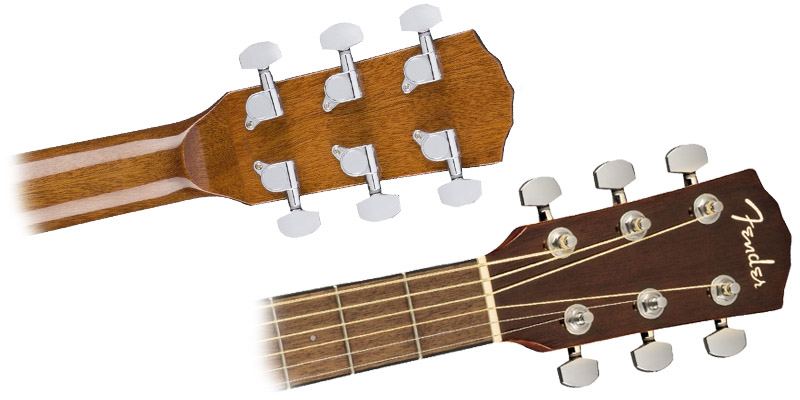 Electronics
Before moving on to electronics, we must mention that this Fender CS-140SCE model has Graphtech NuBone saddle and nut that work very well.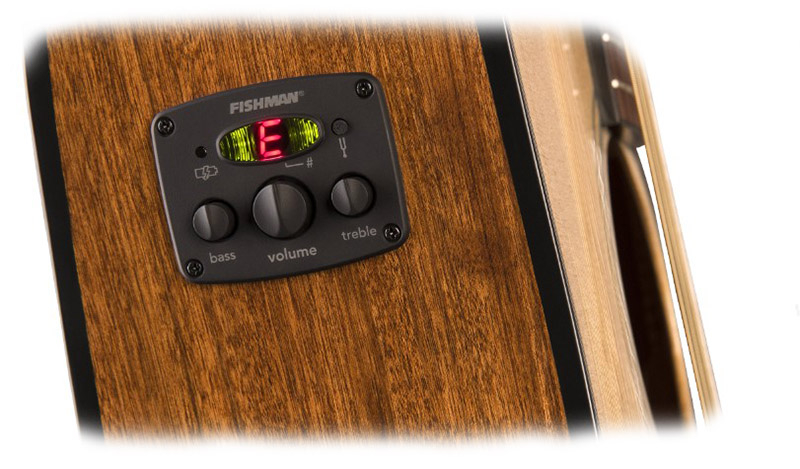 In terms of its electronics, it is equipped with an excellent Fishman Presys pickup system that has an onboard tuner and preamp. In terms of performance, this should give you plenty of power when you plug it in.
Our First Impressions
Having grown up with Fender instruments, we have always expected stylish instruments from the brand. A more traditional design has been chosen this time.
There's no denying that it's attractive, but it's also kinda understated and classic. With a natural finish and a classic jumbo cutaway body shape, this guitar is pretty simple. The instrument does not feature a lot of decorative touches, but it is a straight-to-the-point instrument ready for action.
On the other hand, the craftsmanship is excellent and the guitar feels very sturdy. Besides the rosette around the soundhole, the fretboard has 3mm Pearloid dots to embellish the look. You will find that the headstock is pretty attractive as well, and the more you look at this instrument, the more you will like it.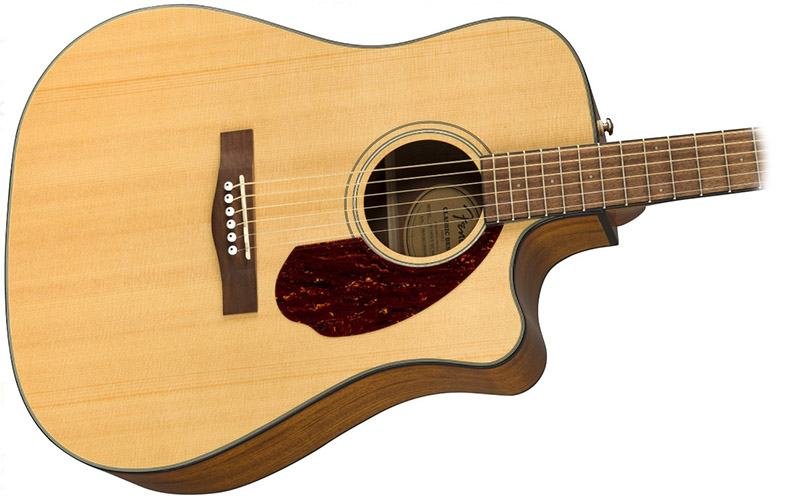 You can feel how comfortable it is when you hold it in your hands. Even though it isn't the lightest instrument around, it feels pretty good in your hands and hangs nicely around your neck. Tortoise-shell pickguards are also a pretty stylish addition to the guitar. Nothing wrong with them.
The controls on the electronics are also quite nice and should allow you to shape the sound to your liking. On the control panel, there is a tuner, volume knob, bass, mid, and treble 3-band EQ, along with a phase button.
There is no doubt that it makes a good first impression on everyone. On top of that, it comes together with a hard case so it can stay beautiful and protected!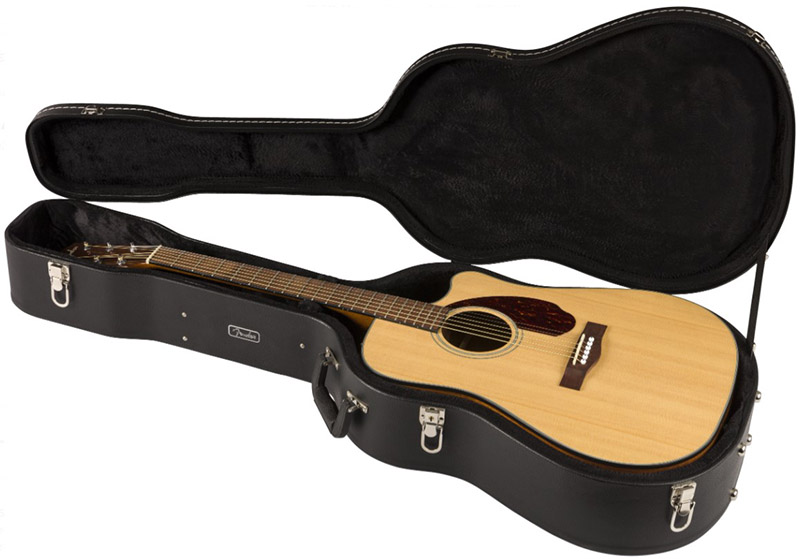 Playability and Sound Quality
In the first place, I can say that the Fender CD-140SCE is extremely playable, mainly because of its easy-to-play neck shape.
You will notice this guitar is alive in every aspect as you play it further. Considering the fact that the guitar costs less than $1,000, that's not bad. When connected to the Fender Acoustic 100, the lows were pretty good, while the mids and highs were adequate.
There is also a natural twang and brightness to it, which makes it feel good. The fingerstyle was appropriate. This guitar is one of the best guitars we have ever played for blues and folk music because of its strumming performance.
---
Here you can check the Fender Acoustic CD-140SCE Demo and hear this guitar's beautiful sound!
---
Fender CD-140SCE Acoustic/Electric Guitar
The best thing about this guitar, it is the perfect balance between price, build quality, and sound quality!
Pros
Solid spruce top with scalloped "X"-bracing
Easy-to-play neck
Electronics: Fishman CD Preamp
Includes Hardshell Case
---
Last Words
In conclusion, this guitar delivers fantastic value for the price when all factors are taken into consideration.
Our biggest recommendation for mid-range guitars is this guitar, and it is not surprising to see it be so popular.
The Fender CD-140SCE is a great choice for guitarists who want a premium acoustic-electric guitar with big brand quality at an affordable price.