About the SKY Music Company
This is a US company, that is a maker of quality musical instruments for beginners, starting from string instruments to wind to percussion.
As a family business founded in 1995, they produce such a variety of products, that they will not be dedicated to the fine craftsmanship of constructed violins. However, SKY Violins offers a good baseline quality in all their products.
The SKYVN102 is a testament to that sense of quality instruments for newbies. They've been a useful partner of schools across the US and North America.
1. SKY Violin SKYVN102 Overview
The SKYVN102 Solid Wood violin is a 4/4 full-sized violin that comes from SKY, a builder of respectable high-quality violins at an inexpensive price. This specific outfit is made for absolute beginners.
You can find it priced lower than 100 USD, it is a wonderful selection for money as a starter's violin. This violin is very useful in case you're not yet sure you'll still be playing the instrument a few years down the road.
Constructed professionally in the US, the SKY SKYVN102 violin is produced from a solid spruce top and solid highly flamed maple back, sides, neck, and head scroll. With a little bit of help and information in the setup, you'll be ready to begin playing.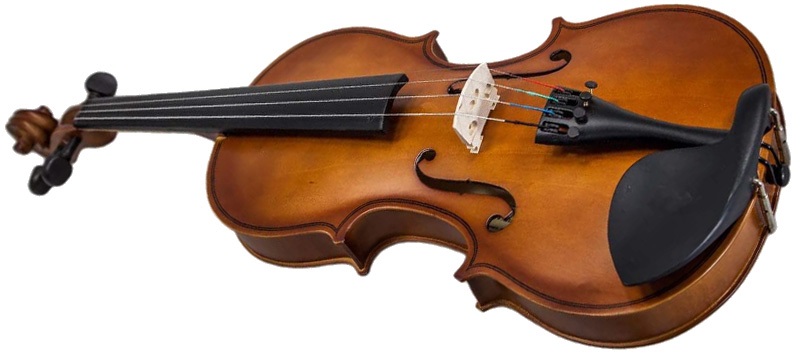 A Great Violin for Beginners
The SKYVN102 Solid Wood Violin finds its niche with absolute beginners who may be getting their very first violin to begin learning in classes. It has no bells and whistles and comes with all the things important for a beginner.
It's made to last you for the first couple of years of studying, preparing you to upgrade to a better violin outfit in time as you build playing confidence. If you search for a violin for your child there are products that are also well suited to kids.
In case you're not sure whether they would persevere in learning to play the violin after a few years, the SKYVN102 will make a small and painless investment to get them started.
Professionally Made for Beginners
The SKY Solid Wood Violin is produced from a solid spruce top, and solid highly flamed maple back, sides, neck, and head scroll, with a varnished finish. The purfling, pegs, fingerboard chinrest, and tailpiece are made from solid maple wood as well.
The violin is fitted with high-quality strings out of the box, and you will receive a set of spare strings. The instrument has all the things you would want to get started, and it comes at an unbeatable low price of lower than 100 dollars.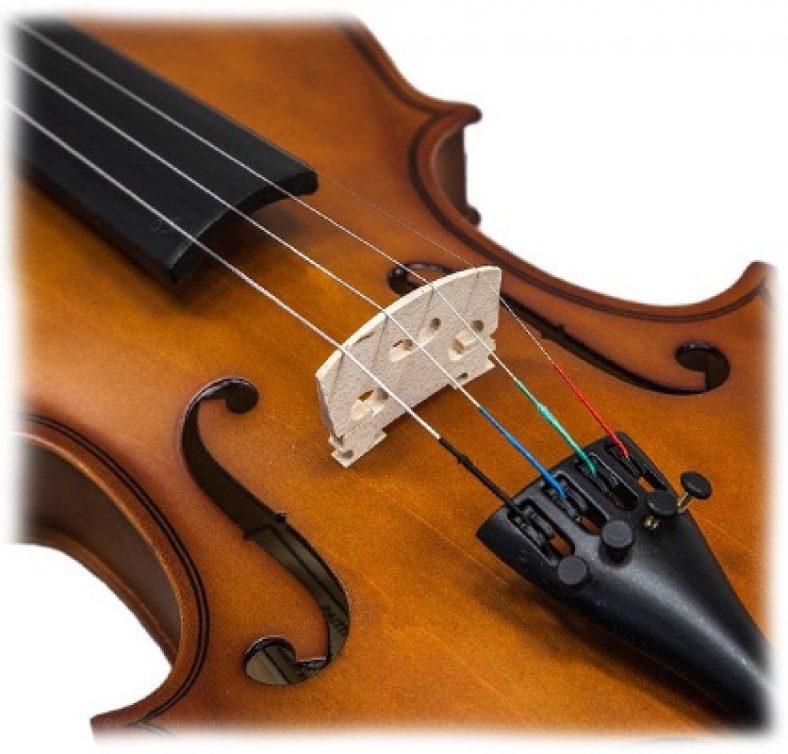 Getting Started with the SKY Solid Wood Violin
While very reasonably priced, you may want guidance from your instructor or a professional mentor to bring out the best of the SKYVN102 Solid Wood Violin. When using the violin straight out of the box, the rough wood pegs don't seem to do their job very effectively.
You would possibly notice them slipping from time to time, losing their tuning ever so slightly. This problem could be difficult for a beginner to see, but it will be evident to a trained ear.
However, this problem is easily fixed by correctly setting up the pegs. Simply remove them one by one, sand them down, and apply a layer of chalk before putting them back into the headpiece.
When you're doing this, you may also adjust the bridge slightly lower than the default place, which is just a little too high.
Lastly, you will also want to apply a good layer of rosin onto the bow before it could pull sound well. Watch out not to tighten the bow too much, as it might warp the shape of the bow.
Simply tighten it enough to get the correct amount of tension on the hairs of the bow, and you'll be good to go. With the right initial setup, the SKYVN102 will sound great and will likely be easy to play, even for a newbie violinist.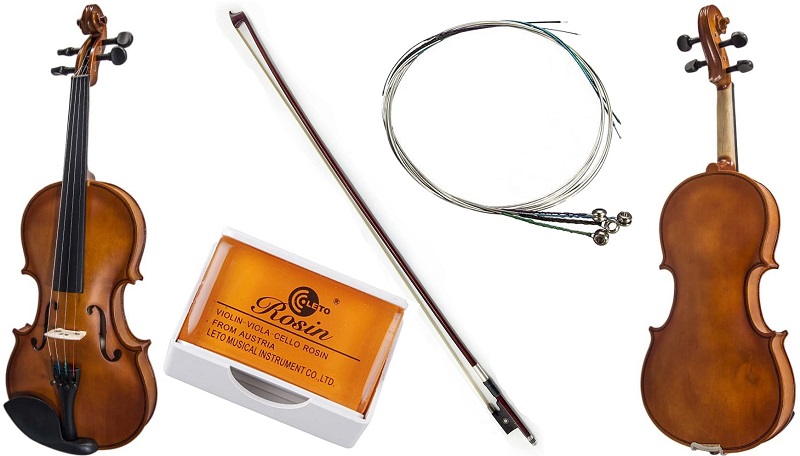 Rain Proof Canvas Case
The SKYVN102 Solid Wood Violin is available in a lightweight triangular carrying case, which fits the violin snugly. The case contains space for a bow, a compartment for accessories and spare strings, and a front pouch for tucking away sheet music.
The case sports shoulder straps so that you can carry it like a backpack. Its rainproof canvas exterior protects it from wet weather.
The SKYVN102 additionally comes with a Brazilwood bow with genuine unbleached horsehair and double pearl eye, in addition to a cake of high-quality Austrian rosin cake.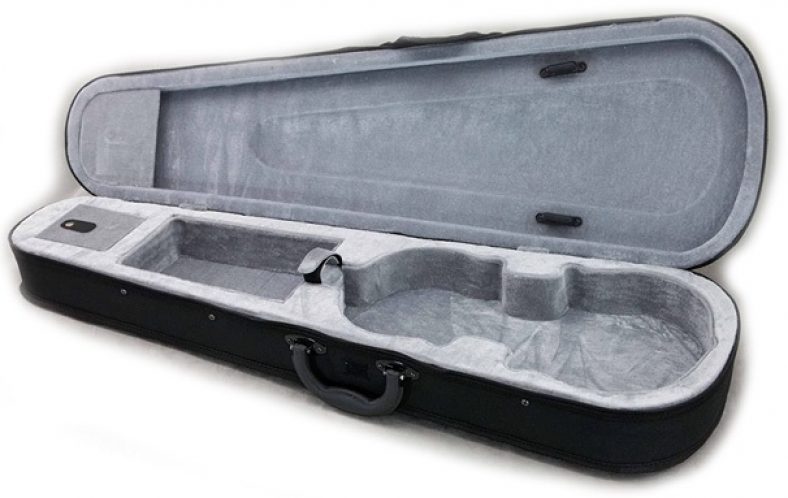 Unbeatably Low-priced Starter Violin Outfit
The SKYVN102 is an unabashedly reasonably priced starter violin, and it prides itself as such. With decent sound and build high quality, it's priced at the same level as most other starter violin outfits.
But it surely offers significantly better performance than its peers. However, do take note that it is what it is – a starter violin. You shouldn't expect to use this for more than a few years.
You'll eventually have to upgrade to a better violin as this may no longer suffice in terms of tone and sound quality after a couple of years.
What We Like:
Lightweight triangular case with shoulder straps for easy carrying on one's back.
Brazilwood bow with real Mongolian horsehair.
Unbeatable price.
What We Don't Like:
Not ready to play out of the box; requires minor setup before tuning and correct application of rosin.
Beginners would possibly want a little bit of help before jumping into this starter violin outfit.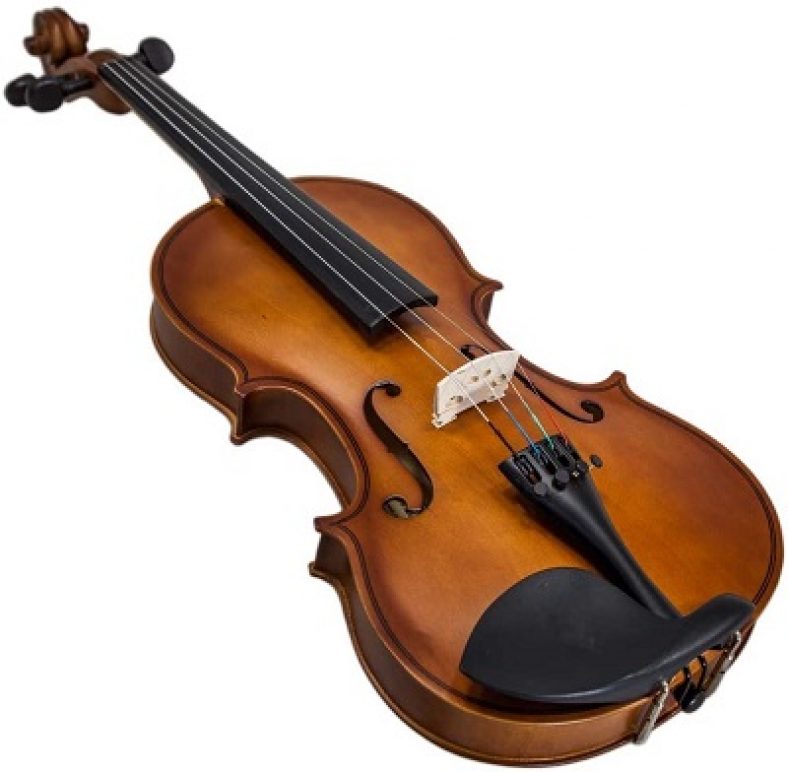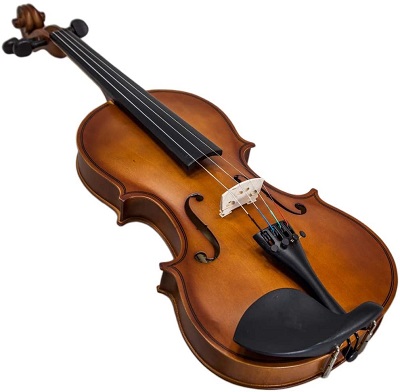 Package comes complete with 1 Brazil wood bow, 1 lightweight triangular violin case and 1 high quality rosin.
2. Sky 201 Violin Review
Okay, we really like this violin from Sky Violins. The one reason it's not higher up on my list is that it doesn't come set up, or able to play. You'll need to set the bridge up yourself, which could be tough for beginners.
Body & Neck
Solid-wood body? Check! Handcrafted? Check! We simply love this violin. It has a spruce top and beautiful flamed maple back and sides. We mean, in case you rock up to your lessons with this violin, you're going to stand out, I'll inform ya that much. Sorry, got a bit carried away there.
In this article, we will see that the Sky 201 is finished with a wonderful oil varnish. Oil varnish stops the violin from getting that horrible "tinny" sound that most cheap violins have. It additionally allows the grain of the spruce to shine through. Gold stars all around for this violin!


Bow & Hardware
Okay, the hardware does let this violin down just a little bit. The pegs are a bit slippy and the bridge is a little bit on the thick side (sorry bridge). However, don't worry as I'm here with some more top tips for affordable violins. To begin with, before you try to tune your violin, take the pegs out and sand them ever so slightly to offer them a little bit of grip, then they won't slip so much!
Second of all, you would put up with the bridge nevertheless it does make the violin sound somewhat muted. So, I'd suggest shopping for another bridge (like this Aubert Teller one).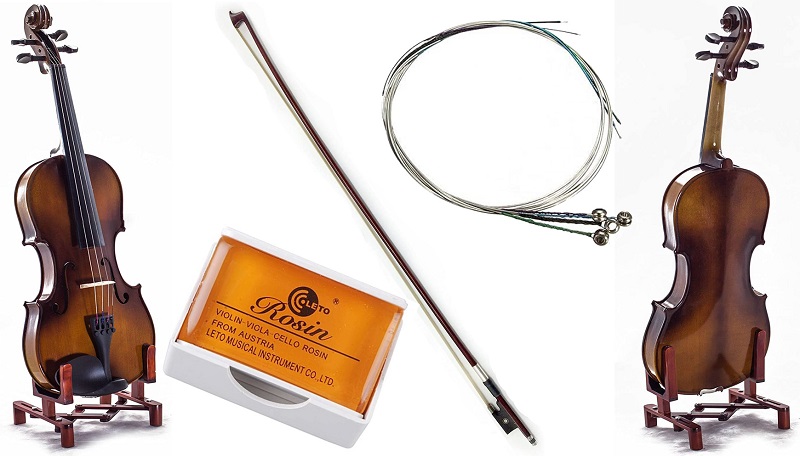 Sound
In case you play the Sky 201 with the bridge that it comes with, it sounds nice but it doesn't have much volume or resonance. However, in case you swap it for a good-quality one, it sounds absolutely pretty. We're talking mellow, colorful, and resonant!
Spec Summary:
Body Material: Spruce top, maple back and sides
Neck & Fingerboard Material: Maple
Strings & Tuners: Strings, maple tuning pegs, fixed fine-tuners
Bow: Brazilwood
Nut & Saddle Material: Maple
Bridge: Sky Music
Tailpiece & Chinrest: Maple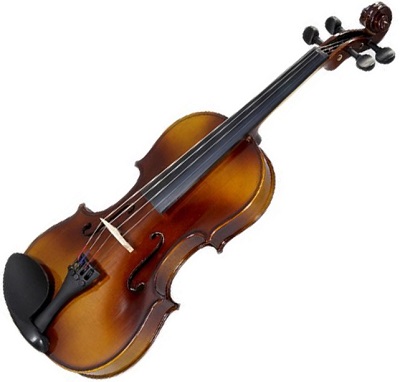 Beautiful oil varnished, solid spruce top and solid highly flamed maple back, sides, neck and scroll.
Conclusion
Apart from the dodgy bridge, we really like this violin and we hope that you will like it too. The Sky 201 violin is another nice reasonably priced possibility for beginners. In case you're a violin collector and enjoy doing a little bit of work to your instruments to make them sound better, you'll most likely love this one. It's well-made and may sound stunning with the right hardware.
While not one of the best of its class in performance, it's the clear winner when it comes to low price, with no cheaper violin available in the market with comparable sound and builds quality.
Regardless of its limitations, it serves its area of interest exceptionally well. In case you're searching for an affordable starter violin, it is best to look no further.