---
Deering Goodtime Americana Review
A Goodtime Americana banjo is made at Deering's Spring Valley facility in California and features high-quality materials and excellent workmanship. As Deering's first 5-string banjo with a 12″ rim, the Goodtime Americana delivers a much warmer tone and stronger bass response.
Adding a 12″ Renaissance head to the larger rim further enhances the fullness and warmth of the banjo, providing the banjo with both an aesthetic and a musical complement. Furthermore, this banjo features guitar-style tuners, a rock maple neck, nickel-plated hardware, and hardwood inlays.
There are two main differences between the Americana and the original Goodtime open-back: the Americana has a 12-inch head (the original Goodtime has an 11-inch head) and a new 12-inch rim with a thick three-ply wall.


Want some fun read? Check these fun banjo facts!
---
Americana Design
Goodtime Americana features a wider Grand 12″ rim, giving the banjo a more distinct tone and enhanced bass response. The Renaissance head complements the Grand 12″ rim to further enhance the banjo's sweet, warm sound. Featuring a scrollwork design, the Americana name, and the Goodtime logo on a beautifully engraved peghead.
In keeping with Goodtime's long-standing philosophy of providing the best value American-made banjos, the Americana is the lowest-priced 12″ banjo available today and is distinguished by its distinctive natural blonde finish. A rock maple neck, nickel-plated hardware, and hardwood inlays are also included with this banjo in keeping with the rest of the Goodtime line.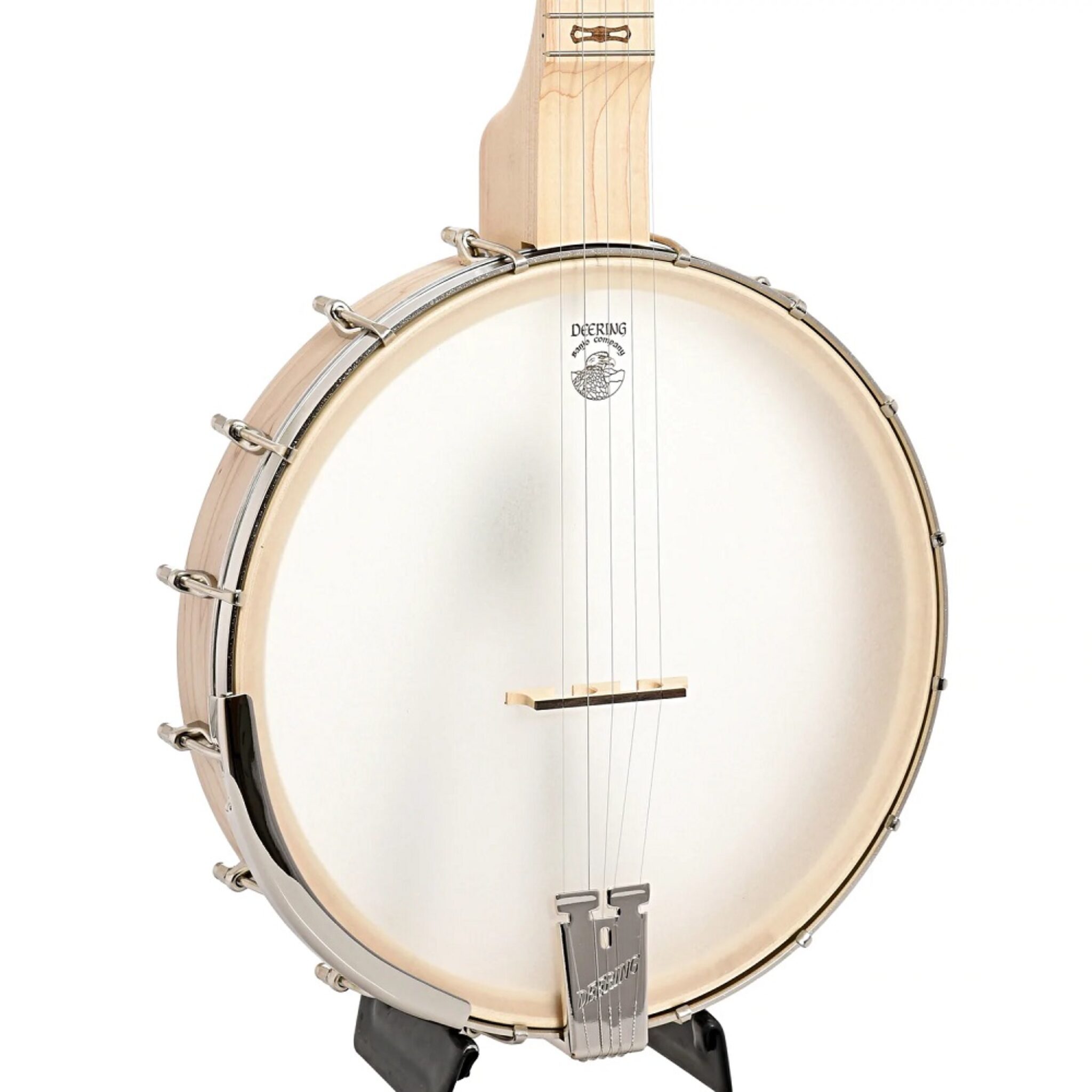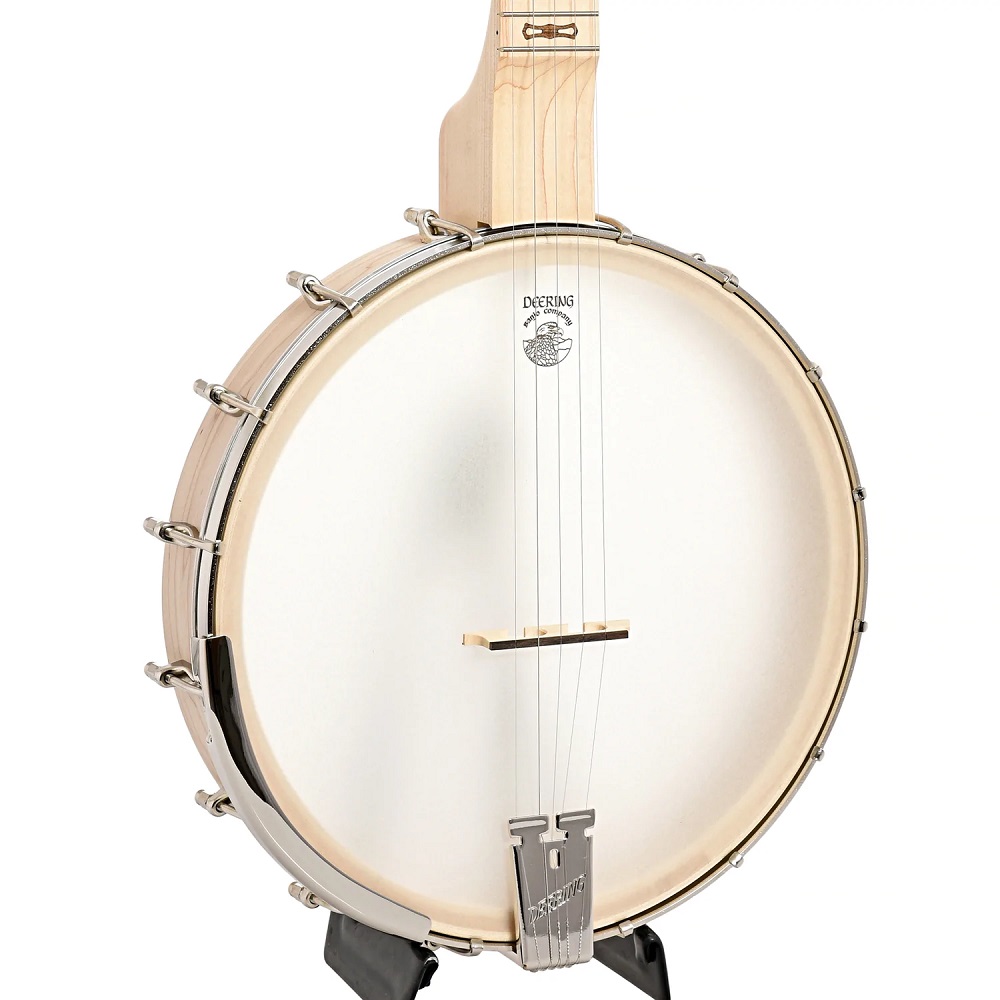 Playability and Sound
A 12″ pot and Renaissance head make the Americana an ideal banjo for clawhammer players. It is with these new features that you will be able to obtain the pluck, cluck, and sound that you would need in order to master the clawhammer banjo.
In playing the Americana with an old-time style technique, you are reminded of banjos from the past, when larger rims were more prevalent, which makes the 12″ an excellent choice for playing old-time music. With a frosted top head, traditional 11″ banjos have a brighter sound and will cut more effectively.
Because the combination of the Grand 12″ rim and Renaissance head produces an exceptionally laid-back sound, the Americana lends itself very well to musicians looking to use the banjo as a backup instrument to vocalists or other instruments, rather than as a lead instrument.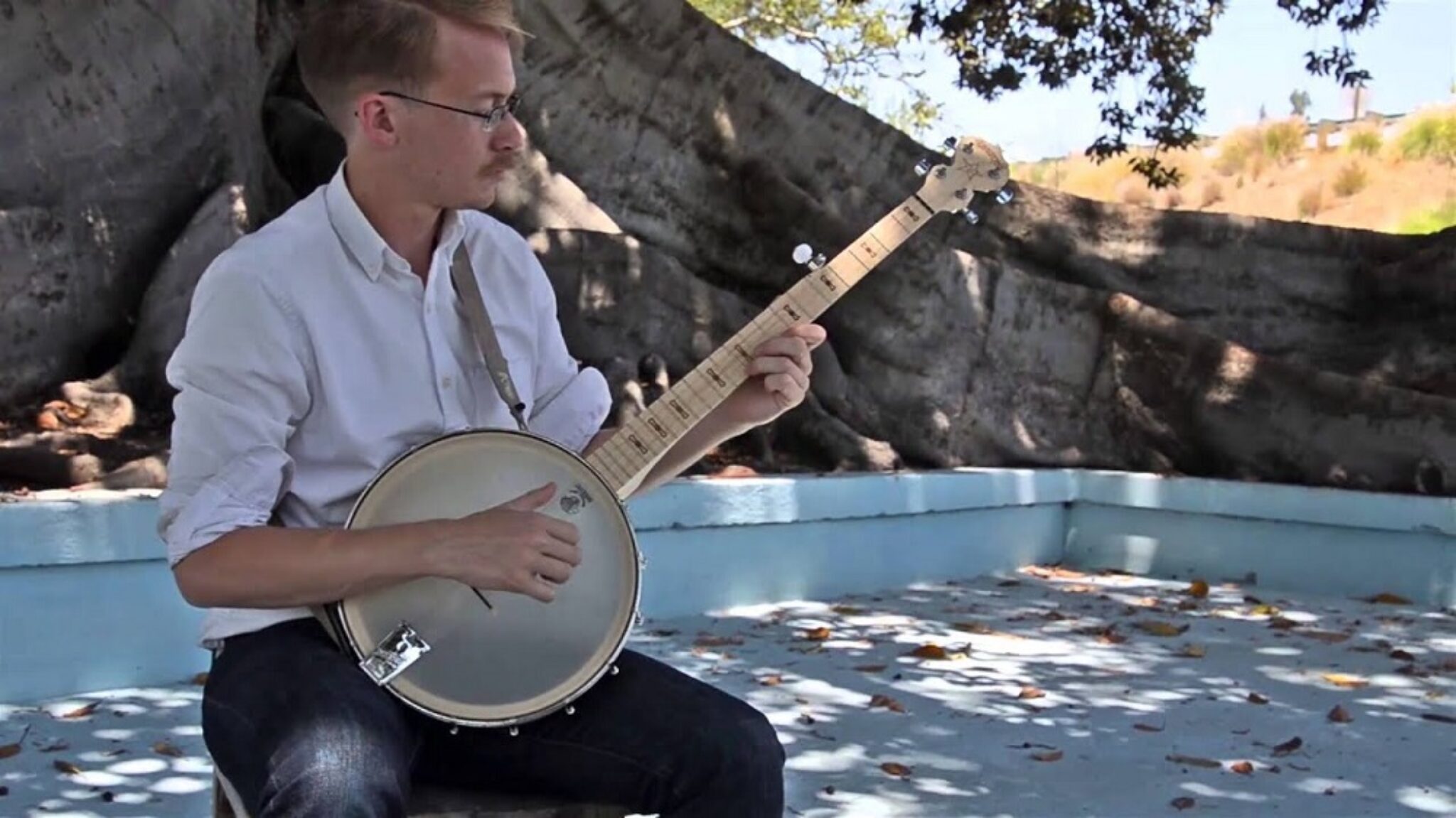 In terms of tone, you will immediately notice a rounded, bassier sound. You are definitely getting some extra body mass due to the larger rim diameter and thicker 3-ply size of the Americana. It has been recommended as a good instrument to accompany a vocalist or use as a singer-songwriter because it is not as snappy and in your face as a typical open-back. Don't forget, it still has a very traditional banjo sound.
Today, banjos are used in a variety of musical genres, not just country and bluegrass. It is no secret that Deering is a leader in all things banjo, so the fact that they are also catering to the lower price point is an excellent opportunity for anyone interested in entering the world of the caper.
In addition to being sprightly and clear, the Americana takes advantage of its 12″ rim for tones that can be used with a sing-along or to produce rolls when needed. Compared to heavy and bulky closed-back models, these Goodtimes weigh less than two kilograms.
Americana Brief Features
Neck Wood: Rock Maple
Neck Shape: Comfortable "D" Shape
Stain: Natural Maple
Finish: Satin
Nut Width: 1 1/4″
Nut Material: Lexan Polycarbonate
Tuners: Sealed Geared Tuners
5th String Tuner: Goodtime Geared 5th String Tuner
Frets: 22 Pressed In Nickel Silver Frets
Rim: 3-Ply Violin Grade Maple
Rim Diameter: 12″
Head: 12″ Renaissance Medium Crown
Tension Hoop: Beveled Steel Tension Hoop
Hooks and Nuts: 16 Flat J-Hooks with 9/32″ Nuts
Armrest: Goodtime Armrest
Hardware Plating: Nickel
Tailpiece: Deering Patented Goodtime Tailpiece
Finish: Hand Rubbed Polyurethane with Carnuba Wax Finish
---
Why To Go For The Americana
If you are a person that respects the older type of banjo sound, then this is the right banjo for you. Americana is a unique banjo that you can benefit from if all the points and features above suit your playing style.
With its really affordable price, every new and old banjo player can get it and have another instrument in their arsenal. We highly recommend it if you are after a new banjo.
Deering Goodtime Americana Review
As Deering's first 5-string banjo with a 12″ rim, the Goodtime Americana delivers a much warmer tone and stronger bass response.
Pros
12" Rim Diameter
Great Design and Color
Old School Sound
Cons
Might have excessive bass
Conclusion
The Americana is really nice and sweet banjo. There is no doubt that you will be getting an amazing instrument since Deering Goodtime developer is one really known for creating banjos for a very long time. That shows us that they are serious about their work, and this banjo is no exclusion when it comes to the quality.
If you are having any questions about this amazing banjo, please let us know in the comment section below and we will be more than happy to answer you. Also, if you are having some extra questions, do not hesitate to reach out to Deering contact center as well.