Cremona SV-500 Premier Artist Violin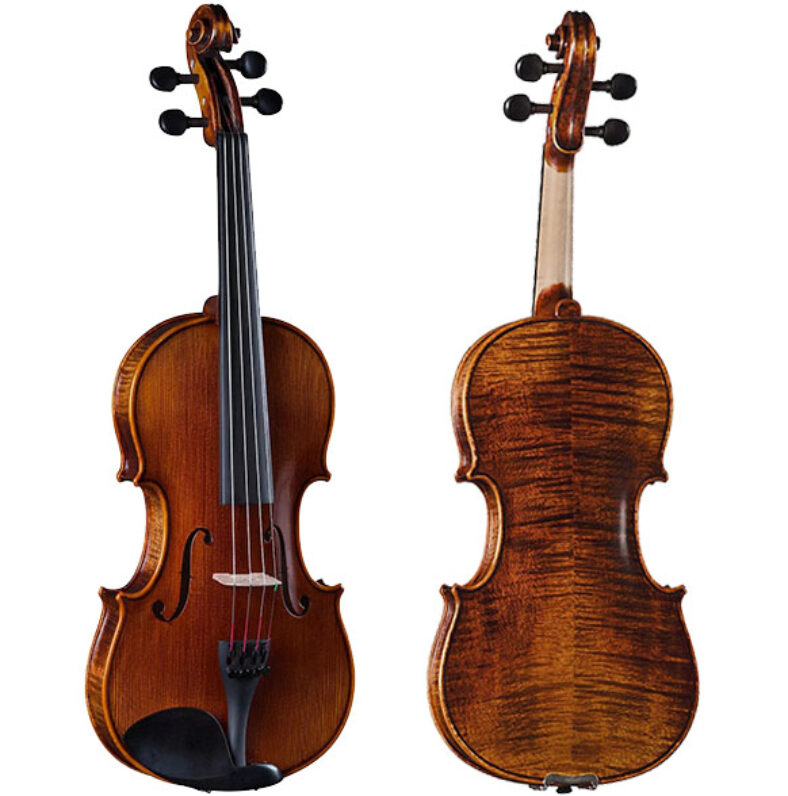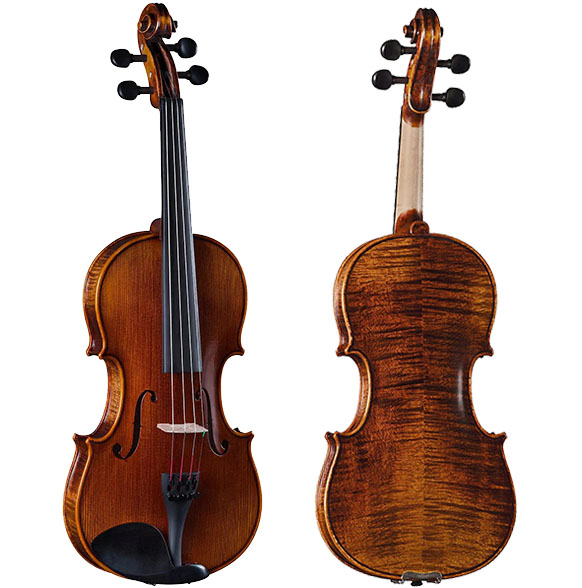 Top: Solid spruce
Back and Sides: Figured solid maple
Neck: Solid maple, unfinished in the playing area
---
More Info About The SV-500 Model
Today we have Cremona SV-500 Violin Review made just for you. With its well-chosen tone woods and transparent varnish highlights, the Cremona SV500 premier artist violin is a handcrafted masterpiece.
The smooth tones and clean sound of this model come from solid maple and straight-grained hard spruce.
Almost all consumers were pleasantly surprised by the ease with which this model could be tuned, handled, and played. This isn't something you'd expect from a cheap instrument.
This low price is not due to standard issues, but because Cremona is a Chinese manufacturer. The company has an excellent reputation in the industry and deserves it.
Cremona SV-500 Violin Review!
When you're a beginner, finding the right violin can be tricky, especially if you don't know how to recognize signs that it doesn't offer the quality you're looking for. However, this Cremona model is truly unique.
Historically, this Chinese violin manufacturer has produced high-quality pieces at affordable prices, and they really outdid themselves with this instrument.


This model is not only suitable for beginners, but also for advanced students and professionals. It comes with a lightweight rigid foam case and a balanced bow. There is a lot to like about this starter package, including style, longevity, and overall quality.
In addition to the first-rate workmanship and tone, the lightweight four-tuner tailpiece and prelude steel strings provide users of any age with only the best tone quality. Additionally, a solid, genuine horsehair bow and violin care products are included with the violin along with a hard-shell case.
Cremona SV-500 – Body and Neck
In spite of the fact that we love a good-looking instrument, we can't deny the fact that this violin looks amazing! With its tight grain and deep, warm varnish, this spruce top is really eye-catching. This violin's body is handcrafted and expertly carved, as is the case with all Cremona violins.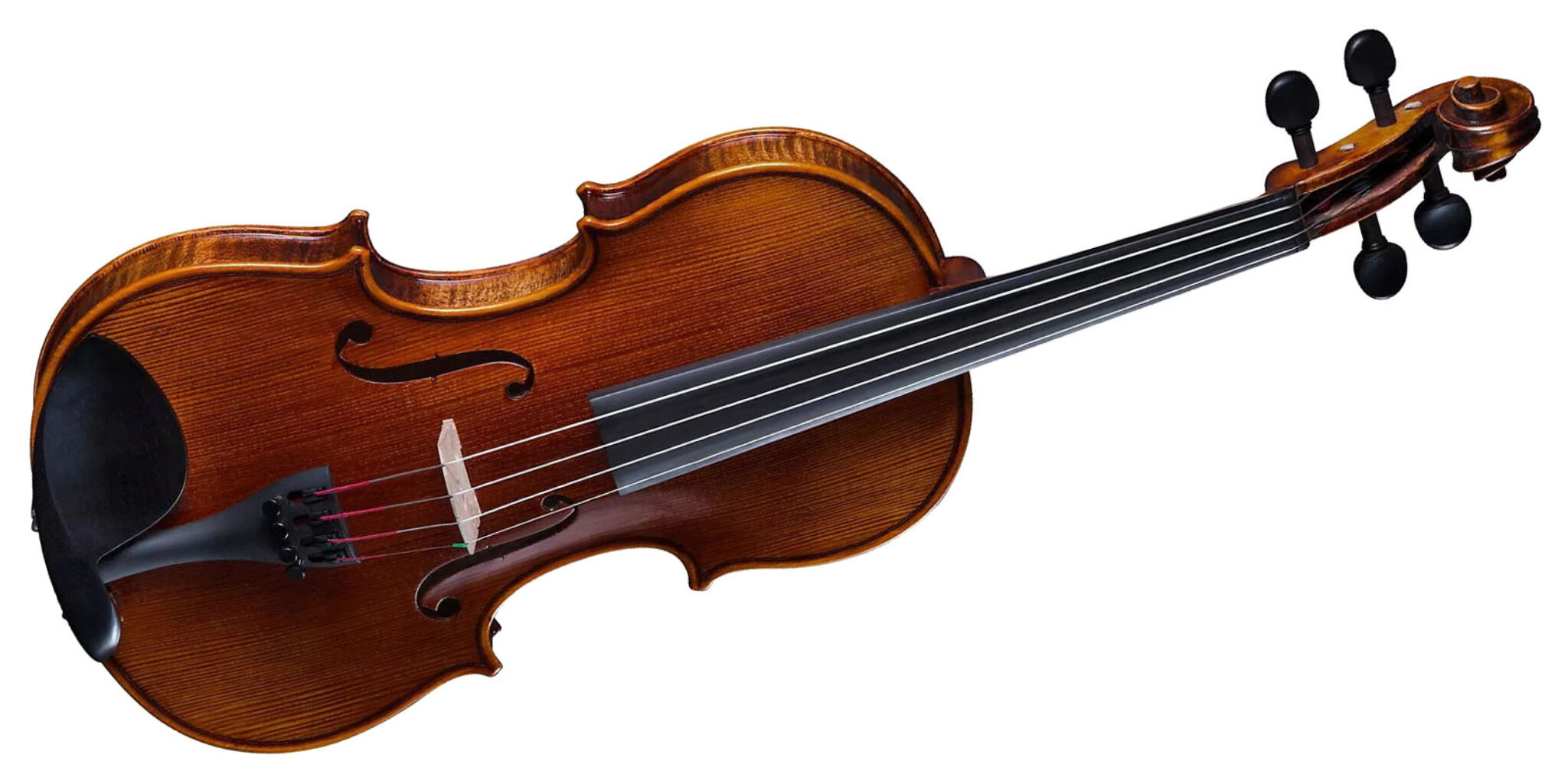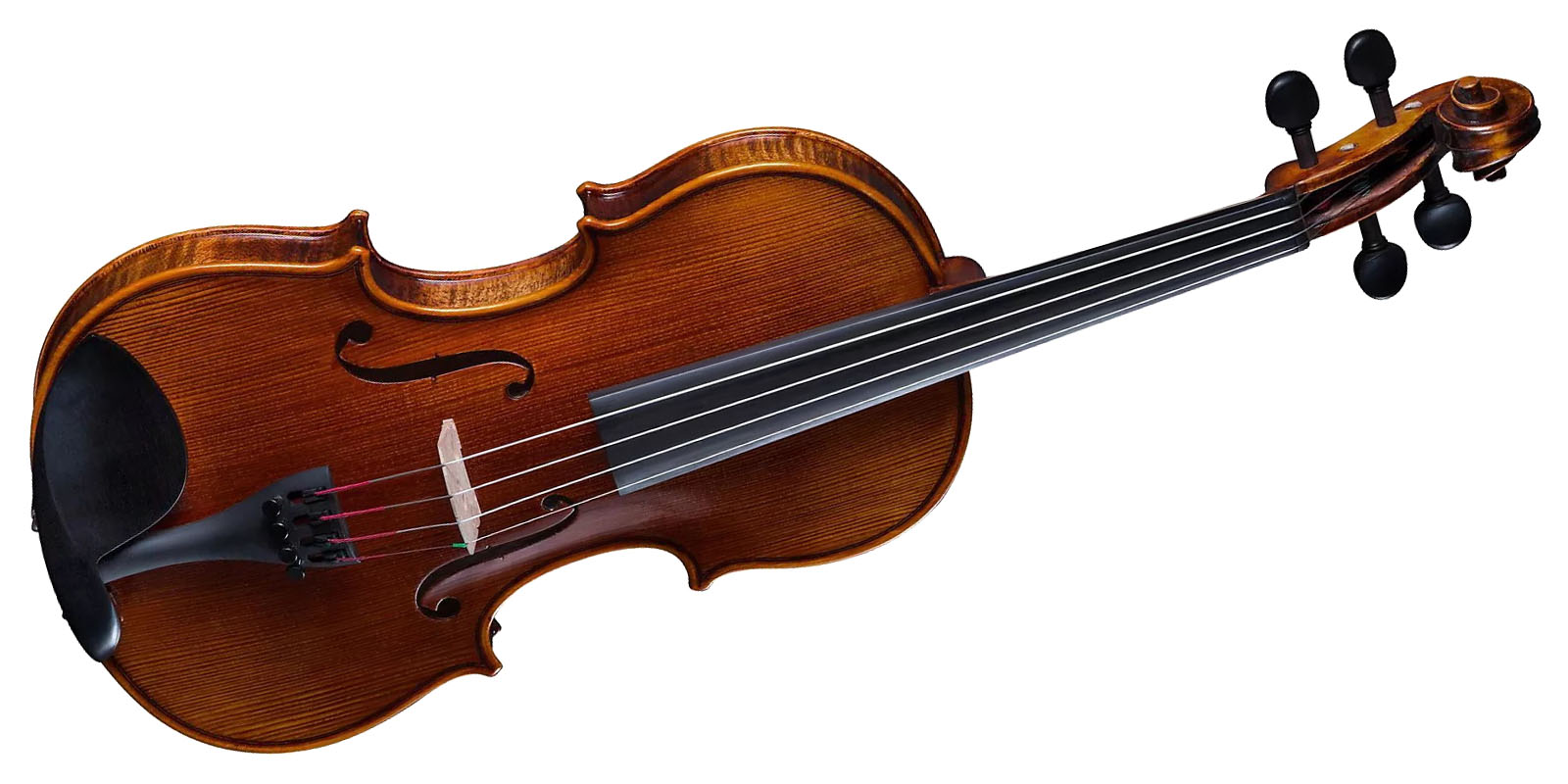 The highly flamed maple back is also one of our favorites. It's absolutely gorgeous. We love the varnish because it has such a beautiful shine, but it isn't a thick lacquer.
It's great to hear Cremona put some extra love and attention into their violins since many glossy violins these days have a tinny sound.
Cremona SV-500 – Hardware and Bow
There are genuine ebony fittings on the SV-500, which are very durable. When it comes to tuning your violin, ebony pegs hold it extremely well, so if you want to spend a little extra, look for one like this.
The fact that we dislike fixed fine-tuners is just a matter of personal taste. There is a strong tendency for students to rely on fine-tuners quite a bit, so you are probably one of them! This violin has fixed fine-tuners and composite tailpieces, which are lighter than ebony tailpieces.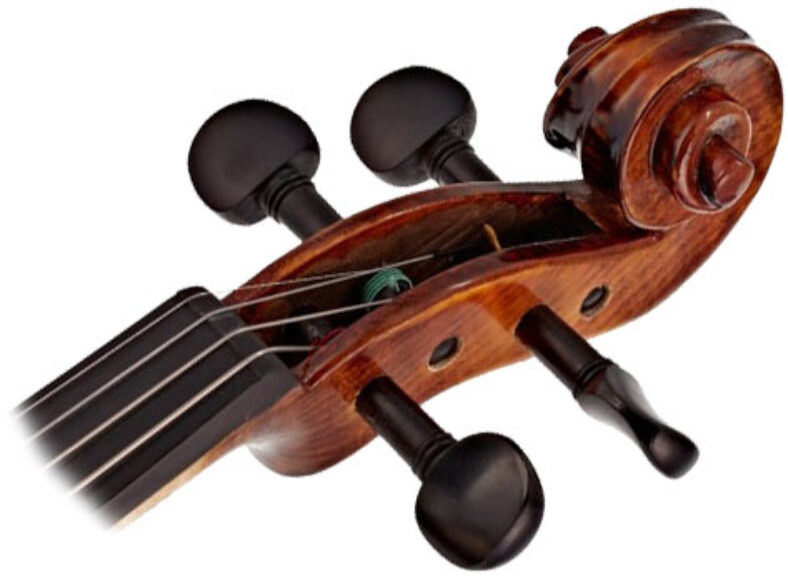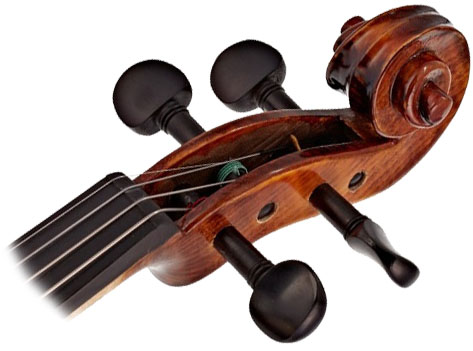 A Brazilian wood bow is also included with this Cremona model. Despite not being the most amazing bow we have ever used, it's still a nice student bow.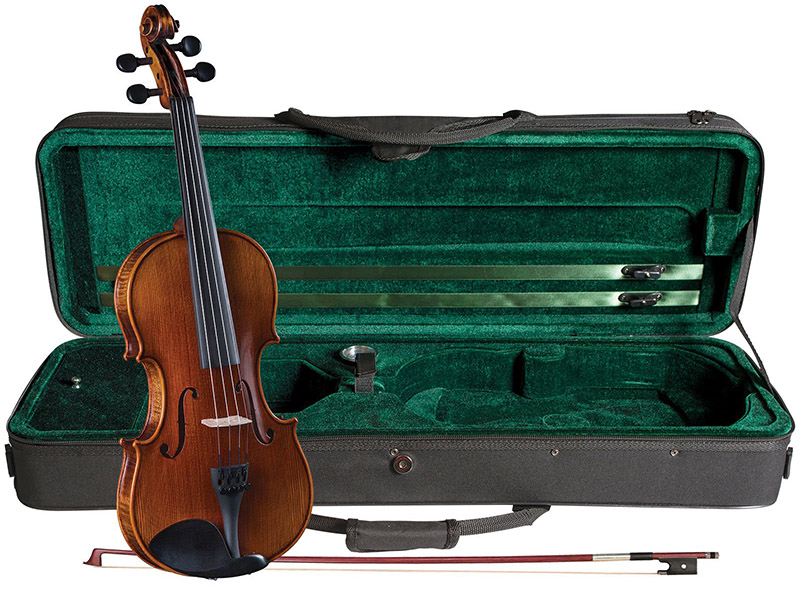 The Sound of Cremona SV-500
There is no doubt that the SV-500 has an amazing tone. Considering their price, Cremona violins always sound so much better than you would expect.
We have heard many beautiful student violins, but this one has amazing volume and resonance. This instrument has a gorgeous, mellow tone that matches its warm body!
---
In this video, you can see what this beautiful Cremona model sounds like!
---
An overview of the SV500's advantages
This is the violin you've been searching for if you want something more than just a beginner's model.
The sound of this model is very open, making it a suitable choice for advanced players as well. As a result of its solid construction, it's perfect for beginners and young players.
Among all beginner instruments, this model offers the highest tone quality for the more advanced student. Flamed maple and hand-applied red and brown varnish create an elegant and professional appearance.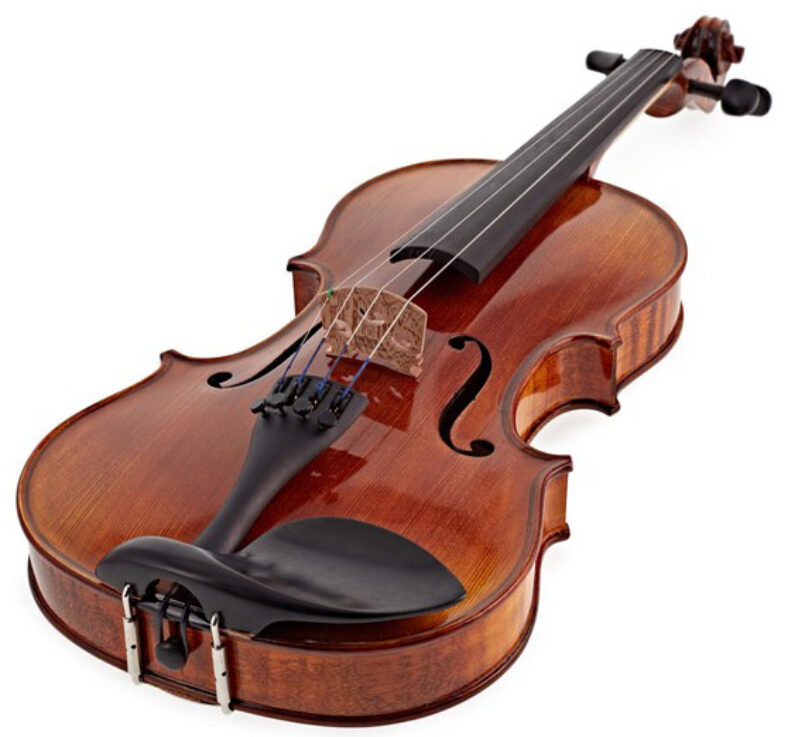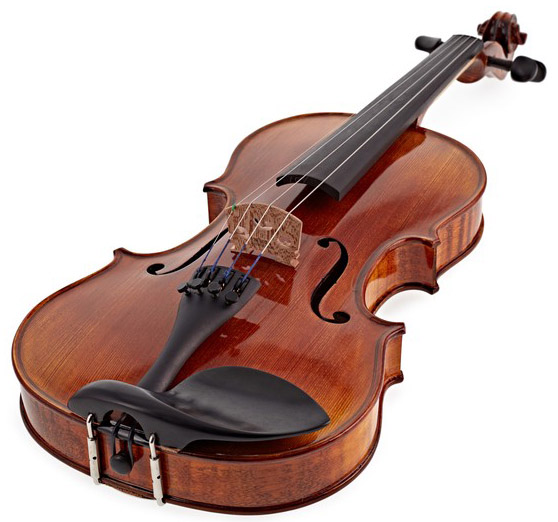 A Stradivarius chin rest has a comfortable shape. It includes an ebony fingerboard and fittings as well as a lightweight composite tailpiece that are all hand-carved.
Handcrafted details on the solid body give this violin the appearance of a professional instrument.
Moreover, consumers reported a quick response time and quick resolution to quality issues from the customer service team. In general, Chinese companies are not known for their excellent customer service, but Cremona is one of the exceptions.
---
Cremona SV-500 Violin
Top: Solid spruce.
Back and Sides: Figured solid maple.
Neck: Solid maple, unfinished in playing area.
Fingerboard: Select ebony.
Fittings: Select ebony.
Tailpiece: Lightweight composite with four built-in fine tuners.
Chin Rest: Guarneri-style.
Tech Specs
Bridge: Aubert aged maple.
Purfling: Inlaid wood.
Strings: D'Addario Prelude.
Finish: Shaded brown-red varnish.
Bow: Balanced deluxe brazilwood with horsehair.
Case: Lightweight oblong rigid foam with four bow holders and hygrometer.
---
Cremona SV-500 Disadvantages
It has been reported that pegs tend to slip during tuning, but peg dope can remedy this problem.
Violin bodies are generally described as beautiful, but the neck looks more like it was tacked on afterward. While it works perfectly, it doesn't give the impression that the component was given the same care as the body.
Although some customers complained that the violin's sound post was shorter than usual, this did not have any noticeable impact on the violin's sound.
---
Cremona SV-500 Premier Artist Violin
Cremona SV-500 is a beautiful, well-crafted violin.
Pros
Great for students.
Solid construction.
High-quality sound.
It comes with a gig bag!
---
Last Words
A beginner violin with a clean sound, the Cremona SV500 Premier Artist Violin offers excellent quality, which is why we also recommend it to more advanced players.
The overall quality and style of this model were rated four and a half stars by consumers.
It is a beautiful, well-crafted violin. Due to its affordable price, this is a great deal, and its Chinese origin shouldn't be an issue. It is well-deserved that Cremona has such a stellar reputation.