EarthQuaker Devices Spatial Delivery V2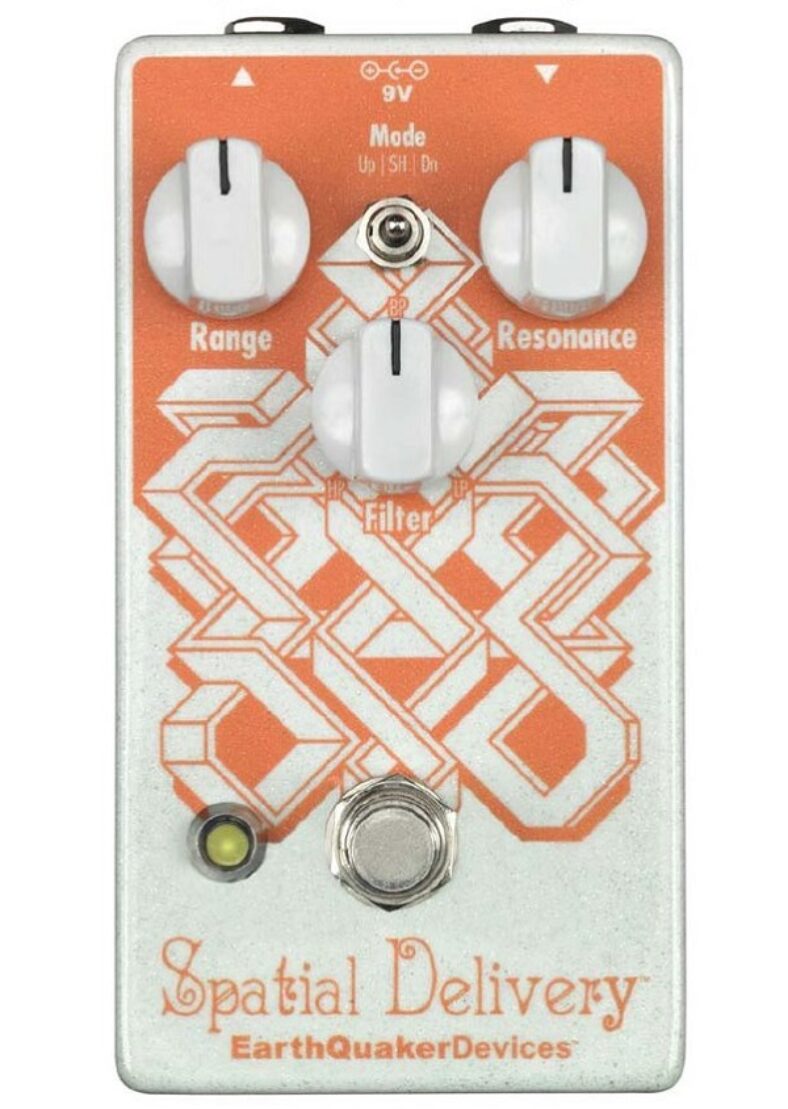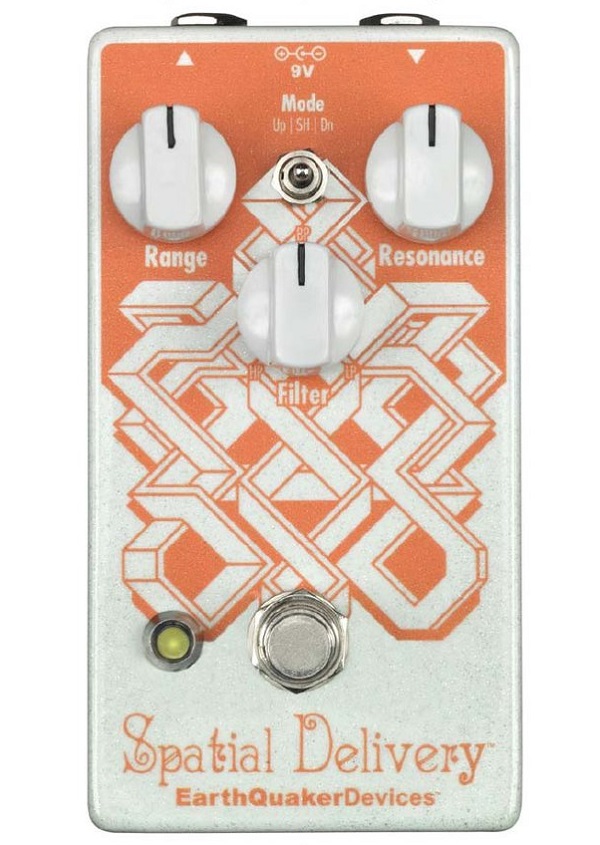 Filter Pedal;
Dimensions (L x W x H): 117 x 64 x 57 mm
Power consumption: 69 mA
---
Review of EarthQuaker Devices Spatial Delivery V2
Spatial Delivery V2 by EarthQuaker Devices is a voltage-controlled envelope filter which combines momentary and latching switching to provide a greater degree of control. To fine-tune the response to your pick attack, use the Range control to sweep between Lowpass, Bandpass, and Highpass filter modes.
It is possible to make the effect sound as subtle or as extreme as you desire with the powerful Resonance control. Whenever it is necessary, guitarists know they can rely on the EarthQuaker Devices Spatial Delivery V2 pedal.


Spatial Delivery V2 Features
It appears that the Spatial Delivery layout is straightforward. A total of three knobs are provided for controlling the range (sensitivity), the resonance (feedback), and the filter (the cutoff frequency). Additionally, there is a small toggle that can be adjusted to three different settings (up, down, and sample and hold).
There is a silent relay switch and top-mounted plastic jacks on the effect enclosure, which is standard 125B size. A tidy circuit board is filled with old-fashioned through-hole components. There is a standard 9V power supply used by Spatial Delivery. There is no battery option available.
Despite having relatively few knobs, Spatial Delivery offers a wide range of resonant-filter sounds. There is an important control that the pedal does not have: a filter-mode selector. There is often a switch that allows the user to choose between a low-pass, a high-pass, or (possibly) a band-pass envelope filter. Here, however, the filter control alternates continuously between low-pass, band-pass, and high-pass, meaning that a wide range of filter variations is readily available.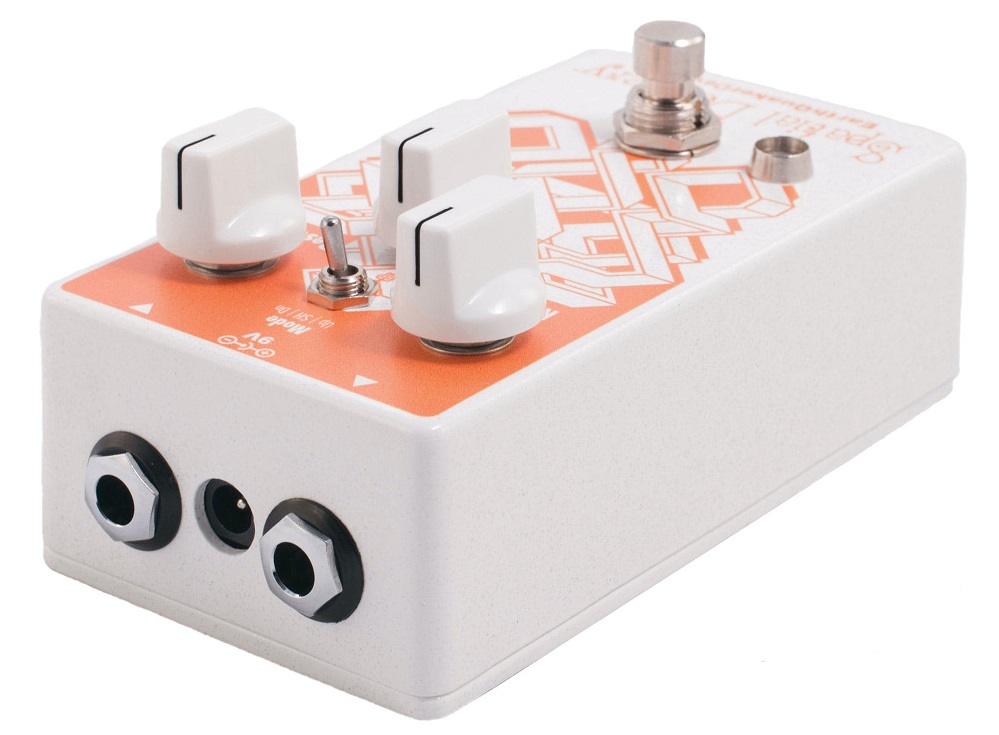 Among the three modes of the Spatial Delivery V2, you will find an Upward Filter Sweep, a Downward Filter Sweep, and a Sample & Hold mode. With the Up and Down modes, you can perform highly precise tone sweeps by using a variety of filters.
It is possible to achieve subtle phaser-like modulation or whistly resonant peaks using the Spatial Delivery's controls for "Range," "Resonance," and "Filter." By adjusting the "Range" control, you can control the overall sensitivity of the envelope when responding to pick attacks.
The resonance knob adjusts the filter feedback. A counterclockwise setting leads to a rounded, subdued tone, while a clockwise setting leads to a sharp, peaky tone. By using the "Filter" control, you can alternate between Low-Pass, Band-Pass, and High-Pass filters, so that only the good bits of your signal is distorted.
A random voltage controls the filter in Sample & Hold mode, which causes bleeps and bloops, and honestly, it's just good fun. When you are in this mode, you can control the speed of the effect by using the "Range" control. If you figure out what the other controls do, please let us know. If you add an octave before or after the Sample & Hold, you will create a deep-fried computer freakout for droids!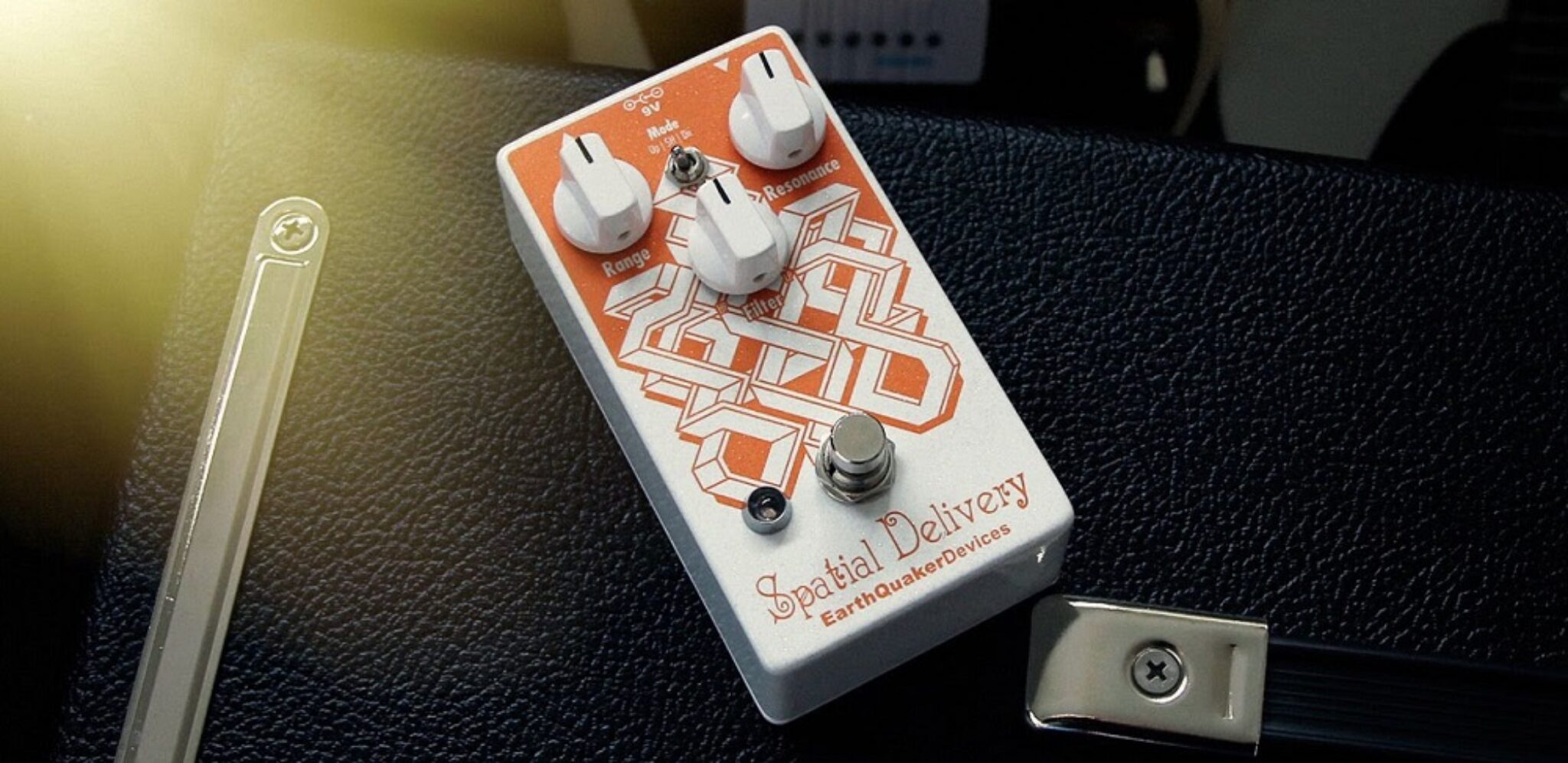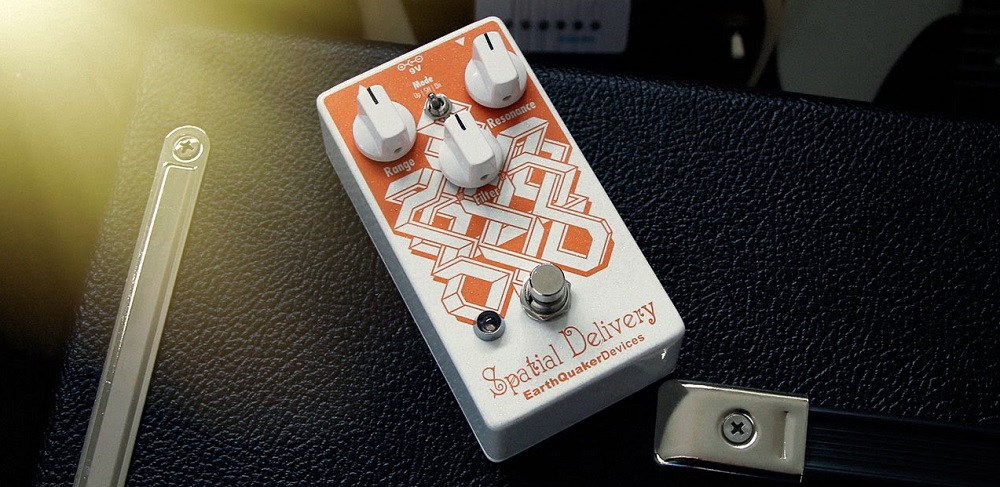 Powered by a standard 9-volt DC power supply with a negative center barrel of 2.1mm, this device takes a standard 9-volt DC power supply. It is always recommended to use a pedal-specific, transformer-isolated wall-wart power supply or multiple isolated output power supplies.
Pedals will make more noise if the power is rippled or unclean. A switching-type power supply, a daisy chain, and a non-pedal-specific power supply do not purify dirty power as effectively and allow unwanted noise to pass through.
Spatial Delivery V2 Brief Features
Auto-Wah and Voltage Controlled Envelope Filter
Effects are dynamically controlled by velocity or random
3 Modes: Up Sweep, Down Sweep, Sample & Hold
3 Controls for range, resonance and filter
Noiseless relay-based soft-touch circuit
Footswitch works as a latching and momentary switch
6.3 mm Mono jack input / output
Status LED
Bypass footswitch
Power supply via 9 V DC power supply (2.1 mm x 5.5 mm hollow plug, polarity (-)
Handmade in USA
---
Why To Go For The Spatial Delivery V2
If you are after something new and something a little bit different compared to the other filter pedals, this is the right one for you. With this pedal, you will be able to generate really funky sounds that are nice for a leading guitarist in the band, so that is a huge perk to have when you are after something really unique.
It is advisable to use a compression pedal after this one in order to tame any unwanted jumps in the volume, but anyway, neatly positioned on a pedalboard will give you some amazing results.
Great for experimentation for artists that want their guitar to sound a little bit different when they compare themselves with the other lead guitarists in their genre. And for the price that it comes, you are getting a really good deal – so for us, this one is a no-brainer purchase!
EarthQuaker Devices Spatial Delivery V2 Review
Spatial Delivery V2 by EarthQuaker Devices is a voltage-controlled envelope filter which combines momentary and latching switching to provide a greater degree of control.
Pros
Great for Experimentation
Amazing Features
Affordable
Cons
No battery feature
Wah feature not perfected
Conclusion
Even though it has a simplistic appearance, this pedal is no simple at all. With enough experimentation and dedication to learn it inside out, you can get some great sounds out of it. With the amazing multi mode filter you should have lots of fun in terms of filtering and we believe that you will love this unit if you get it.
If you are having any questions about this pedal for EarthQuacker, please let us know in the comment section below and we will be more than happy to elaborate it with you and provide you some answers. Also, if you want more detailed answers on it, reach out to the developer contact center and you are good to go!